It only takes one glance inside Scott Moore's downtown home to know an artist lives here. A series of abstract paintings line the wall above a paint-stained drafting table, and wooden canvases are strewn throughout the living room in sizes varying from a few inches to an in-progress eight-foot panorama of McMillan Mesa. 
Moore and Sydney Francis make up Liquiterra Designs, a fine arts collaboration that emphasizes the process of creation. They are wrapping up several new pieces—one of which is a large century plant painted on a half inch-thick plank of Baltic birch plywood measuring 7 feet by 3 feet—ahead of the May First Friday ArtWalk for their exhibit at Rendezvous.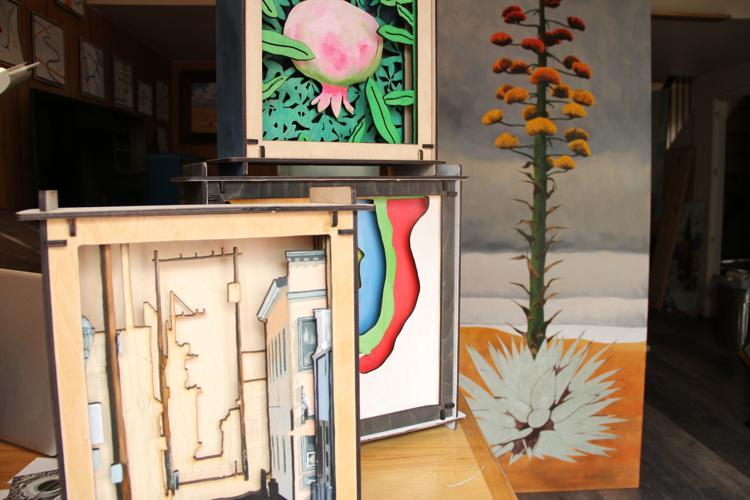 "When we started, we were thinking of doing smaller pieces," Francis says with a laugh. "I don't know what happened exactly." 
The two first considered an artistic collaboration shortly after they began dating.  A Christmas gift from Moore further ignited the idea two years ago. He painted and engraved a solar and lunar calendar map on a piece of recycled wood for Francis. A bell-shaped curve represents the location of the earth around the sun with the summer solstice at the peak while smaller dips across the center of the piece act as the phases of the moon throughout the year.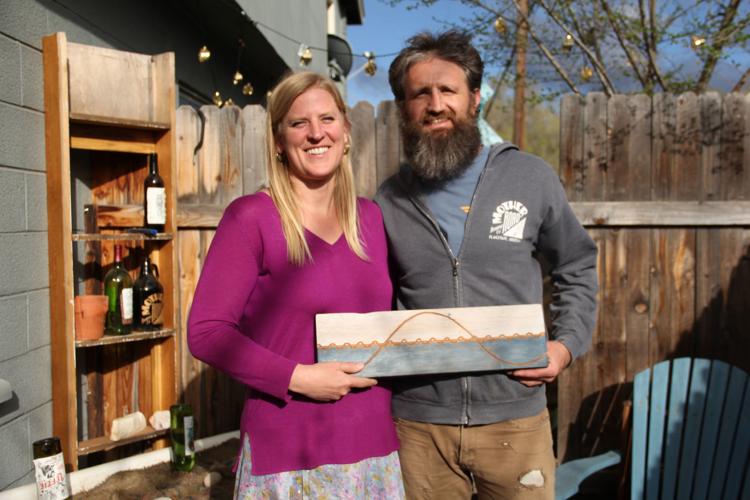 Moore and Francis debuted their work at Firecreek Coffee Co. in December 2018 with an exhibit that showcased pieces from their individual portfolios as well as several large paintings created together as Liquiterra Designs such as "Portrait of a Pomegranate." 
"That was kind of our showstopper, but it was also the most challenging piece that we did," Francis says. 
At 6 feet by 3 feet, the portrait demands attention. A lone pomegranate in soft shades of pink and green hangs from a branch set against a forest of leaves, each line carved out with a trim router to make the vibrant acrylic inks further pop from the wooden canvas. The artists were inspired by a photo Moore had taken of a pomegranate—which they later ate—growing from a tree at his parents' house in Sedona.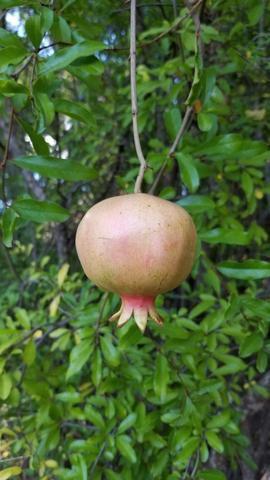 "We knew how cool the pomegranate was and how we felt about it, but to see other people have a similar reaction when they saw it, that's one of the most satisfying things," Moore says. 
The pomegranate design has since been transformed into a series of prints as well as a light box as part of the artists' newest series. Liquiterra Designs worked with AZ Custom Plastics to laser cut several panels of wood. In this new iteration of the design, the panel in the foreground contains a few leaves that cast a shadow on the second panel which features the pomegranate hanging from its branch. The back panel makes use of negative space to suggest where the rest of the leaves are and a string of lights installed inside the frame creates a glow from within the image. 
Moore and Francis have turned two other designs into light boxes. One comes from an abstract watercolor painting Francis did of the inside of a bell pepper. The other was inspired by a photograph Moore took of the alley outside of SoSoBa and Aloha Hawaiian BBQ. 
Although these light boxes are far from where they initially thought this collaboration would lead them, it simply goes to show there's no project too big for them, whether in scope or size. 
Their century plant painting is a foot taller than "Portrait of a Pomegranate," but softer. Warm oranges and yellows make up the ephemeral bloom growing from the green and silver agave base, standing in stark contrast to the cool tones of the muted grey sky. 
"What I like about this painting—well, I like a lot of things about it—but the base of the century plant is so spiky, kind of masculine energy, rigid and sharp, but then up here in the flower they're like little jelly beans," Moore says. "It's all luscious and curved. There's this dichotomy of it that I think is really cool." 
That dichotomy is carried over through their respective art backgrounds and interests that work to complement each other.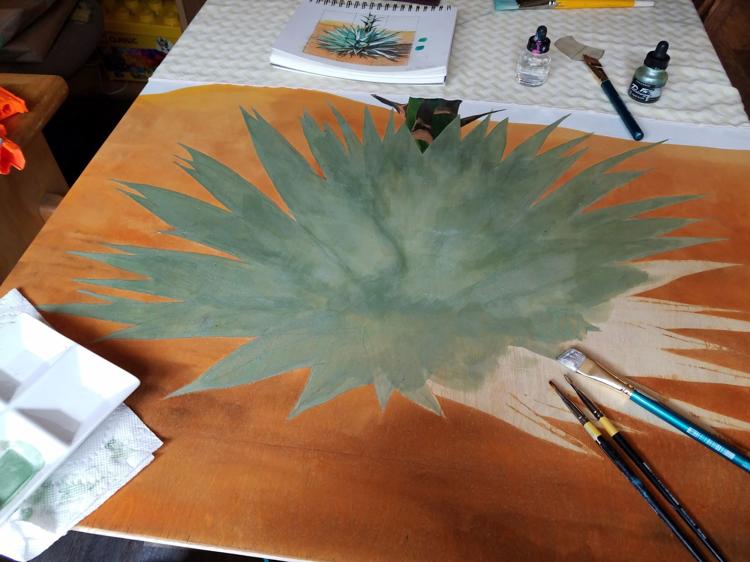 You have free articles remaining.
Register for more free articles
Stay logged in to skip the surveys
"We'll look at the same picture and I'll see all the shapes and the lines," Moore says. "I can look at a picture and not even notice what the color is, but Sydney will look at the same picture and see all the color and shading and tones." 
Francis worked as an art teacher for various grades from kindergarten through college for more than 15 years before turning her focus to Liquiterra Designs full time, and Moore's background is in woodworking, a subject which he currently teaches at Pine Forest Charter School. 
While Moore says he grew up surrounded by art and was encouraged to create by his mom, who was an architect and dabbled in other mediums like quilting and painting, this has been his first foray into displaying his artwork outside of his woodworking business.  
"When we had the Firecreek show we didn't know what to expect," Moore says. "It's very vulnerable." 
Although Moore and Francis initially planned to make smaller designs that could then be reproduced on merchandise like cell phone cases and mugs, the large-scale direction they've taken has led to opportunities in the commercial business realm where they've been able to build off of connections Moore has made through past woodworking clients.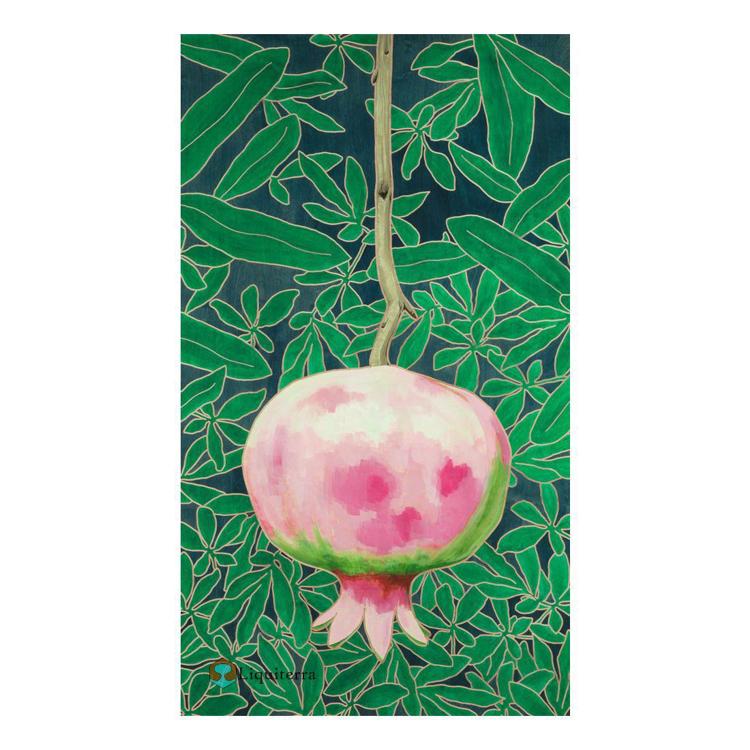 "We've had all these different ideas of routes to go, but it's like, where is it going?" Moore says. "It's definitely been a lot of persistence on our part because you're putting something out there and you have no idea how it's going to be received, you kind of just have to believe in yourself." 
"I remember thinking like, 'This seems crazy, but I'm going to do it anyway,'" Francis adds. 
Ideally, the future will hold even more big ideas for the two who recognize and embrace that they are stronger together. 
"I'm interested in space and have done stuff, but the things that Scott can do on wood and design on CAD, I never had the skills to execute at that level even though I've had visions," Francis says. "Now, together, we have this whole other level of ability." 
She dreams of immersing others in her visions. For her MFA thesis project at Goddard College, Francis had built a labyrinth to explore ideas of how space can be transformative and has the potential to lead people on a journey. She mentions Meow Wolf's House of Eternal Return in Sante Fe and light and space artist James Turrell as two of her guiding lights when she thinks about what sort of projects she hopes to work with in the future. 
The constant struggle for any creative type, however, is staying motivated. There will be bursts of inspiration, but how does one reconnect with it when it inevitably disappears? On the Liquiterra website, Francis draws from her teaching background to write posts on their Stay Inspired blog that offer mini lessons and workshops complete with writing and drawing exercises meant to challenge the way art is approached. 
"It kind of comes out of our conversations and then I use my gut, like, what do I feel like I can write about this week? What am I interested enough in?" Francis says of each subject she explores. 
Topics range from the magic of imperfection to symmetry in nature, but the blog always returns to its root of finding inspiration.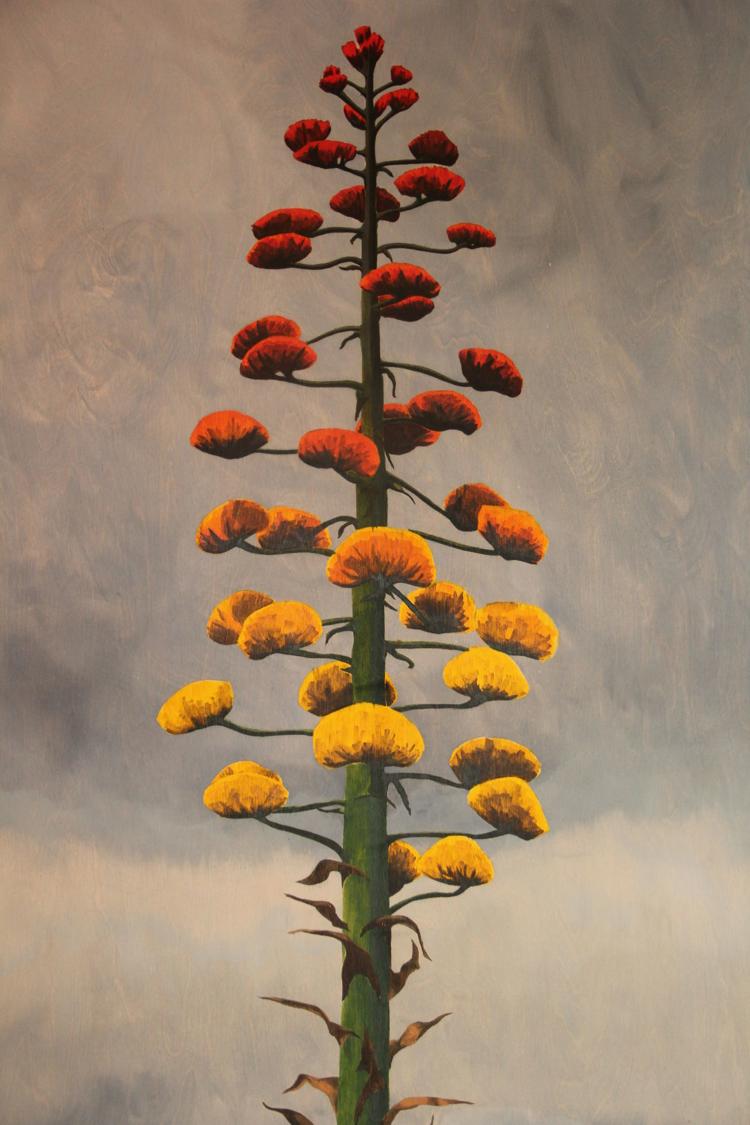 "A lot of days it's just a mystery," Moore says. "I want to paint, but it's like writer's block. So for me, figuring out how to stay in that zone has been kind of a personal mission." 
Written on a whiteboard near Moore's workspace in the living room are some of his tried-and-true techniques that help him rediscover that motivation, such as clearing his desk of clutter and preparing snacks so as not to disrupt the creative flow when it deems him worthy enough to grace him with its presence. 
In the end, it all comes down to just putting pen to paper or ink to wood. You never know what may come from it. 
Sydney Francis and Scott Moore will have their work on display at Rendezvous inside the Hotel Monte Vista, 100 N. San Francisco St., through May. The exhibit opens Friday, May 2, during the First Friday ArtWalk. 20 percent of profits from art sales during this show will be donated to Art35N. Visit www.liquiterra.com for more information.