Following a few years of noticing a reoccurring theme at Indigenous Comic Con, Tony Thibodeau decided to pursue an answer.
Or at least provide artists the opportunity to offer one.
Thibodeau, the anthropology collections manager for the Museum of Northern Arizona, spearheaded the creation of The Force Is With Our People, which opens to the public Saturday following Friday's members' preview. The exhibit will consist of more than 50 works of art from more than 20 contemporary Native American artists attempting to show the influence of Star Wars and why it resonates within their communities.
Returning to Indigenous Comic Con, now called Indigenous Pop X, in 2018, Thibodeau sought out multiple artists to pose a question. Conducting interviews at the event, Thibodeau tried to see if the exhibit was a realistic possibility.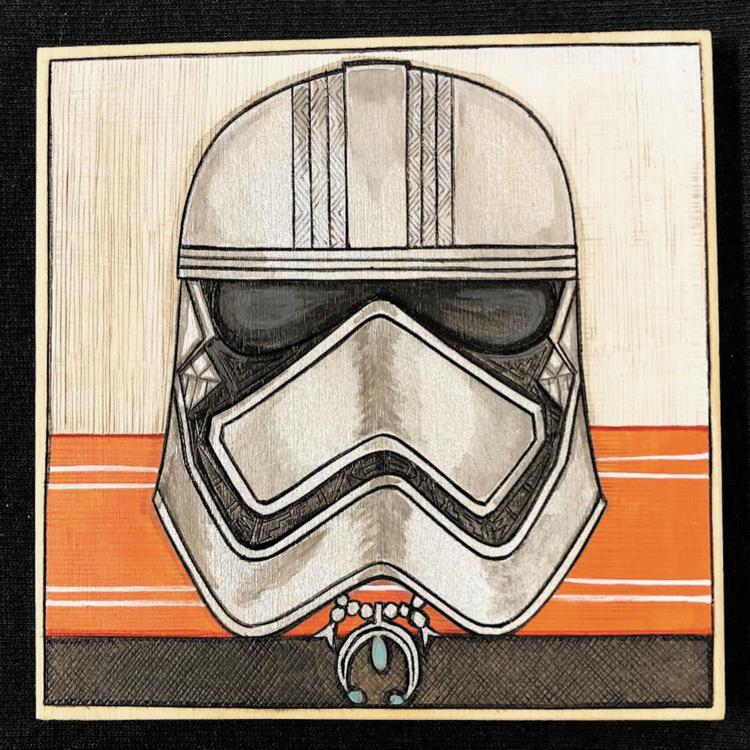 "Why does Star Wars resonate so much with these native artists, and native communities on the Colorado Plateau in general?"  Thibodeau says, citing the 2013 release of A New Hope in Diné by the Navajo Nation Museum and Lucasfilm as a contributing factor. "I wanted it to come from them, so I did those interviews and that's going to be reflected in this exhibit. There's text in the exhibit that is general interpretive text, but there's going to be a lot of artists' statements and quotes from those interviews."
Works within the exhibit range widely, from beadwork in the shape of the films' characters and lightsabers, C3PO and R2-D2 depicted as Navajo code talkers and a Navajo-inspired cosplay costume of Rey.
A CHANCE TO EDUCATE
Ryan Singer (Diné) treads carefully when offering explanations of his artwork. He'd rather each person generate their own opinion and meaning upon seeing it for themselves.
"There might even be more than one thing I am trying to say, I might be trying to say 20 different things in one painting," Singer says. "Each person is going to get a different perspective out of a piece, each person will see something different."
The exhibit comes as somewhat of a culmination for art Singer has been creating for years. Reminiscing to when his kindergarten class in Many Farms traveled to Phoenix to see A New Hope in theaters, Singer says he started drawing the characters and ships from the film from that point forward.
Singer's surroundings aided his imagination. Tuba City—and much of the American Southwest—resembles Tatooine, the home of Luke Skywalker in A New Hope and repeated location throughout the original trilogy from the 1970s and 80s, as well as the prequel trilogy from 1999 and the 2000s.
"Tatooine just looked like my grandma's sheep camp. That just fed into the whole fantasy playing with the toys and running around the desert," Singer says. "When you are a kid, your imagination is so strong. And being an artist too, my imagination would intensify that much."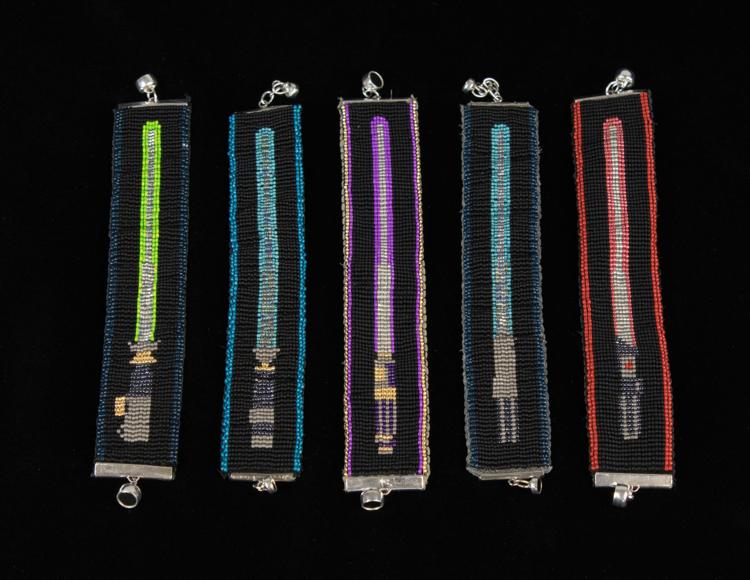 The similarities between Tatooine and Tuba City helped inspire Singer's 2011 "Tuba City Spaceport," which will be among his pieces on display in The Force Is With Our People. Depicting a trading post with 19th-century Navajo people alongside Tusken Raiders, Jawas and a Bantha, Singer explores the idea of the two worlds coming together.
"The idea behind that was time travel or the idea of parallel universe. A whole other world where there's Star Wars characters intermingling, trading at Navajo trading posts on the reservation like it's happening in real time."
Extending beyond the idea of simply placing characters from the films in the reality of daily life, Singer's feelings on Star Wars' sense of inclusion also prompted both his long-standing connection to the series as well as inspired him to pull from them in his works.
"When I first saw A New Hope I didn't really think about it, but the idea of all these different alien creatures and people from different planets, they all just kind of accepted each other," Singer says. "There was no real racism or segregation, they didn't freak out that this guy had giant claws or scaly skin, it wasn't about that. They just kind of treated each other at the same level. Humans can't do that; humans are kind of not at that point."
On the other end of the spectrum of Singer's paintings is "(De)Colonized Ewok" (2019), which attempts to offer a history lesson to those who may not be aware of events from the 19th and 20th centuries. Showing the well-known tribal hunter-gatherer Ewok at the left, the right side of the painting offers a view of what an Ewok may look like after being assimilated.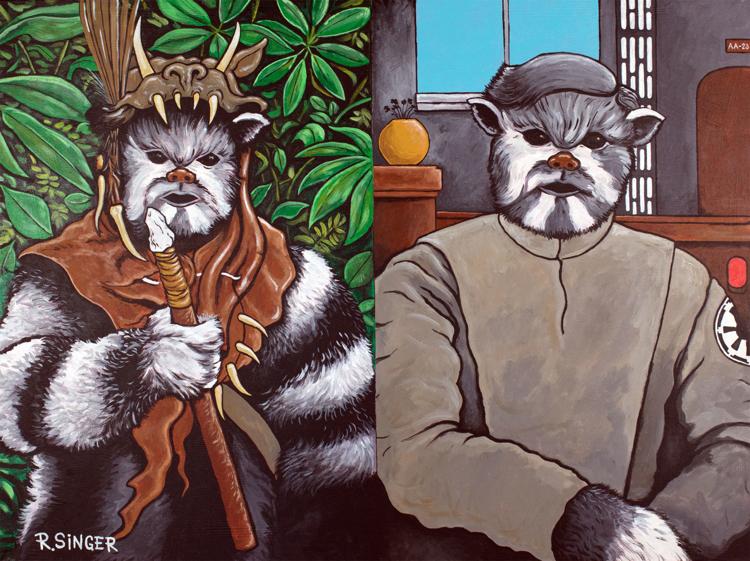 "They can learn about what did happen to that native generation, it's like a boarding school generation," Singer says. "And that still has an impact and effect on my upbringing, my childhood, my peers, my relatives. It's affected all of those people."
Singer explains the painting offers a social commentary on historical events of the past that were either not taught or ignored in schools. Using the recognizable image of an Ewok as the "hook" to bring people into the discussion, pieces like "(De)Colonized Ewok" can serve as a tool.
"It's a way to teach younger people... To get people to think or educate people. And it's not just for native kids, it's also for non-native kids to sort of figure out what was going on and get them educated," Singer says. "The whole thing is about education, about knowledge. It's not about pointing fingers or whatever. It's just about what the real history is and that's what happened. It's better to learn from that than to repeat history."
EXPRESSING A MESSAGE
Both Thibodeau and Duane Koyawena (Hopi-Tewa) say they did receive pushback from some regarding the use of traditional native art alongside Star Wars images.
For Koyawena, who, among other pieces, contributed the watercolor "HOPI 8" (2018) and painted the life-size R2-D2 replica "Hopi-R2" built by Joe Mastroianni, the chance to influence children outweighed the concerns.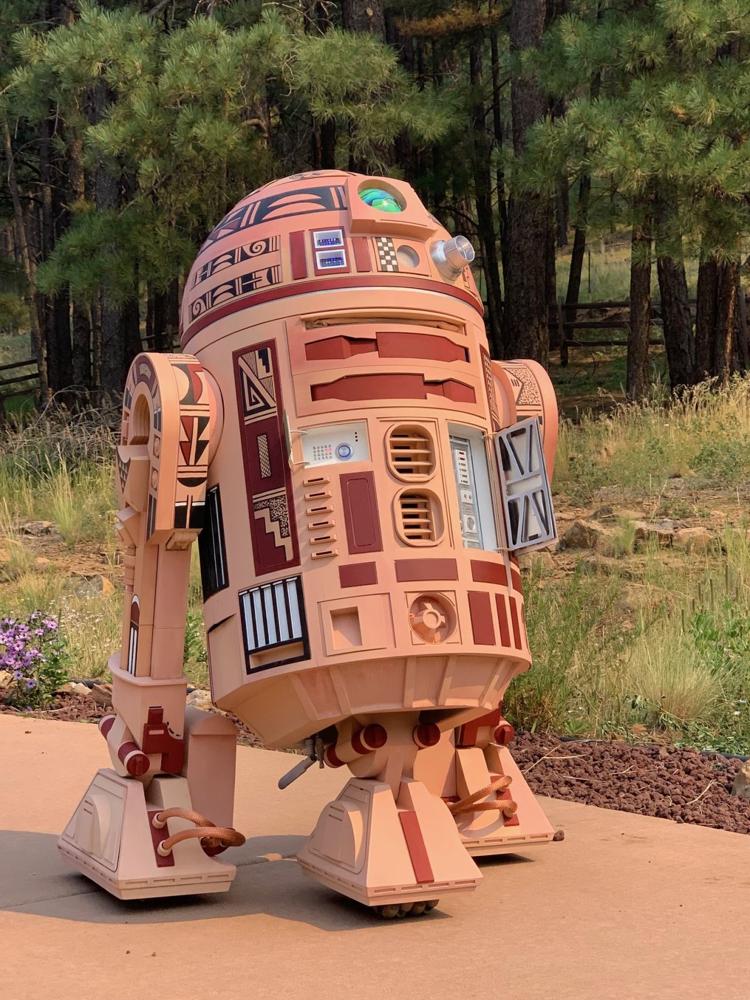 "The little bit of barriers of traditionalists not really seeing the connection and kind of throwing, I guess, that opposition. There was a little bit of that," Koyawena says. "I like to paint stuff that I like in my Hopi culture. Now with Star Wars and that whole combination, this is who I am as an artist, this is what I like. So being able to convey this and also giving young native kids that inspiration and helping them connect... I feel like it broadens the picture."
Fighting through personal struggles, Koyawena says he looked to both his Hopi culture and Star Wars for words to inspire a turnaround. Relating the two periods in his life to the dark and light sides, the opposing sides of the Force in Star Wars, Koyawena found strength to push through.
"I have had my struggles in life with alcoholism. That whole life before I got sober was dark. I manipulated, I cheated, I have done some things that I am not proud of," Koyawena says. "I was going down a path in life that I didn't like, which I identify as the dark side. Now on the light side, being almost 11 years sober, it definitely has a play into that.
"As far as Hopi culture, our strive in Hopi is to live in a good way, live with good heart. Everything we do in Hopi, whether it is ceremony, whether it is planting our fields, or being an uncle or brother, it's all done with good heart."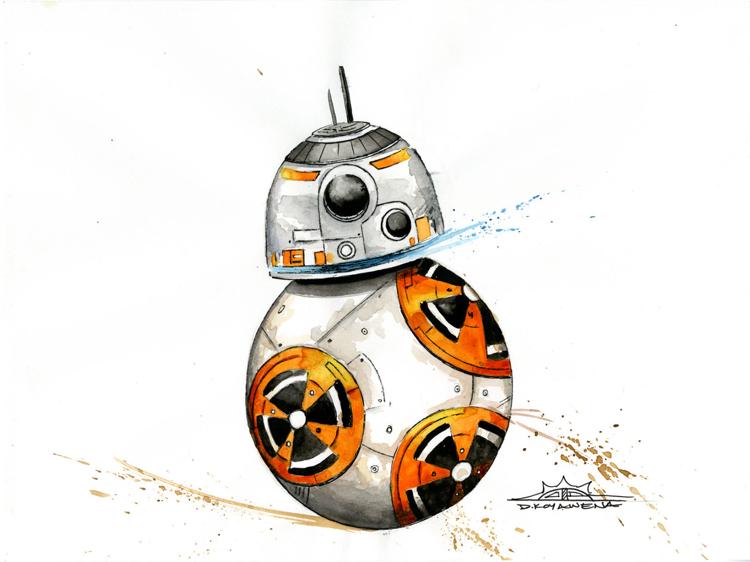 Now able to share his past experiences with a younger generation, through his words and his success as an artist, Koyawena again looks to the Star Wars films for inspiration to stay on the right track and remain humble amid success.
A scene from the prequel trilogy, when Obi-Wan Kenobi instructs Anakin Skywalker to remember humility in the light of his newfound abilities, resonated with Koyawena. Now filled with knowledge useful for those seeking to remain sober or simply hoping to develop as an artist, Koyawena says staying connected to where he came from is important.
"I could use my skill, share it with them and be like, 'This is what I have done.' Same thing in sobriety, you gain this knowledge, to where you could really be effective and be an asset," Koyawena says. "Some people can really take that to their head and just be boastful and ugly, but some people can really use it, share it and be used as a tool to help other people."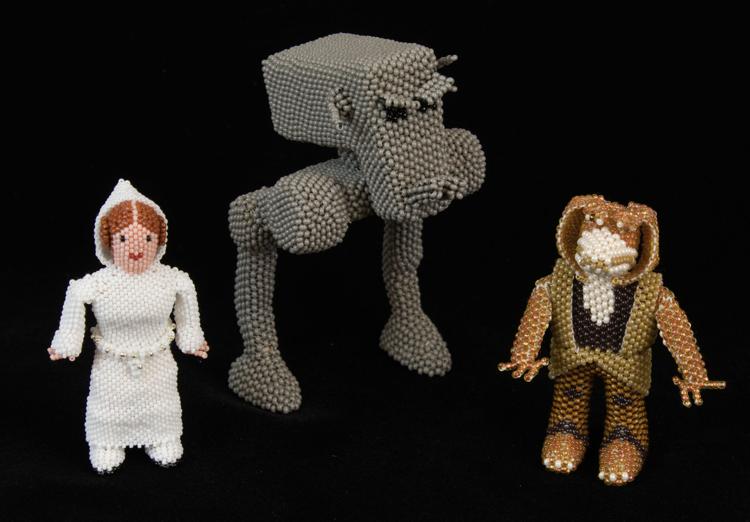 The Force Is With Our People will include a variety of media including paintings, prints, posters, T-shirts, jewelry, figures, carvings and pottery. Multiple tribes from the Colorado Plateau will be represented in the exhibit which will be on display at the Museum of Northern Arizona, 3101 N. Fort Valley Rd., and will run from October to March.
After the exhibit opens to the public at 10 a.m. Oct. 5, curator Tony Thibodeau will be joined by Ryan Singer (Diné), Duane Koyawena (Hopi-Tewa), Shandiin Yessilth (Diné) and Jonathan Nelson (Diné) at 2 p.m. for a panel discussion about their work and creative process.
Be the first to know
Get local news delivered to your inbox!