At 13 years old, Ryan Green had his first brush with fame. He won a video game competition at his local Blockbuster store and was awarded a special privilege.
"By winning, you got a card that gave you a year of free video game rentals," he recalls. "It said 'Blockbuster Video Game Champion' or something on it."
But, come the fateful day to claim his accolades, Green found his celebrity woefully under-recognized.
"I remember going to use it, thinking I was so cool. Going up to the counter there was this cute girl employee," he says. "I go to rent my game, and I hand over my Blockbuster Champion card… and she looks at it and goes, 'What is this?'"
Centuries of human grief know no devastation like that endured by Green, humbled before a crush at the video rental store. He collapsed into a stammer, and his attempts to convey his importance to her were to no avail. His moment in the sun dimmed before it began.
"She had to go get a manager," he admits. "I was expecting it to be my big glory moment, showing my VIP card, but generally nobody who worked there had any clue that this card existed. I was just an annoyance of a customer; I wasn't the hero of the store."
It would hardly be a hazard to guess that 13-year-old Green could not have predicted what glory the future might hold. Now, as one half of the nationally touring, critically acclaimed duo Ryanhood, Green has seen stages much brighter than video game rental counters.
Named "Best Group/Duo" in the 2014 International Acoustic Music Awards, Ryanhood has gone on to collect a number of impressive titles, including "Best Folk Band" and "Best Rock Band" awards from their native Tucson. The name itself, "Ryanhood," combines the names of Green and his musical partner, Cameron Hood.
The Arizona Daily Star called their partnership "a match made in radio heaven." More accurately, it was made at the University of Arizona. Green and Hood became acquainted as students and, soon after graduating, they relocated to Boston where they joined the ranks of street performers at Quincy Market. 
Through the rigors of street performing, Ryanhood honed its performance by wooing unexpectant audiences.
"You're playing a show for people who are not even there for a show at all," Green says of singing on street corners. "You have to turn it into a show and convert people into fans."
Challenging as that may be most anywhere, at Boston's Quincy Market, stiff competition placed Ryanhood on a fast track to developing its set.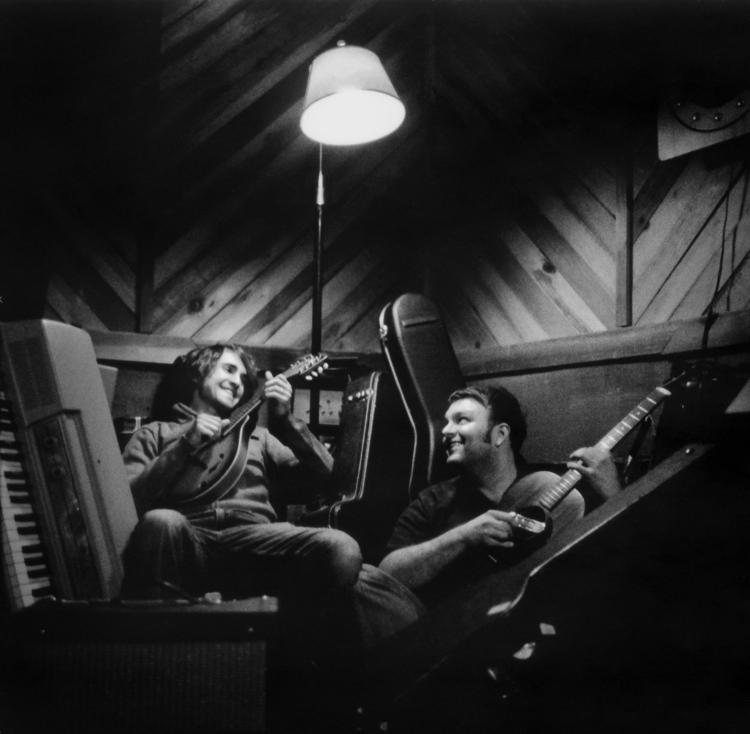 "That's where we began to view ourselves almost as more than musicians, as entertainers," Green says. "Before we street performed, we used to perform seated on stools, and it was a more mellow thing. As we began street performing, we were literally in competition with the other street performers there who were acrobats and magicians…so we had to add more theater to our show to compete with that."
The duo quickly put more tricks up its sleeve.
"We'd play standing, mostly upbeat material," Green says of Ryanhood's developing act. "A lot of theatrics, a lot of humor, a lot of fiery guitar work—big guitar solos to get people's attention, harmonies. Once you get that ring of people around you, you're sort of set. The momentum carries on and it grows and grows."
Grow and grow it did. At the famed Boston market, Ryanhood caught the attention of promoters who swept the band into the college-touring circuit. Soon, Campus Activities Magazine would hail the duo as "one of the most requested acts by college buyers all across the country," ensuring ample bookings to come. Sharing stages with Train, Jason Mraz, Lifehouse, Five For Fighting and countless others, Ryanhood toured relentlessly through the college-concentrated Northeast for years.
In an instant, Ryanhood was introduced to a litany of different stages.
"It's a wide range of shows," Green says. "Sometimes you're playing in their theater for parents' weekend, and it's a big event. Sometimes you're playing in the outdoor mall, and people are coming and going. You might be playing a lunchtime set in a cafeteria, and it's not as glamorous." Still, Ryanhood was always up to the challenge of captivating audiences, no matter the setting. "Coming from street performing, it's not that different."
It could, however, be exhausting.
"We've at times done 140 dates a year, and if you're doing long stretches it does get hard to find the spark during a show," Green concedes. Off the college circuit, Ryanhood has found a more comfortable groove. "We're doing about 75 shows a year now, and that's a great pace because we're generally not hitting that burnout ever."
Built around high-energy performances and enthusiasm, avoiding burnout is key to preserving the quality of Ryanhood's act. Also intrinsic is the creative dynamic brought by the varied artistic dispositions of Green and Hood. Recently, they have put a lot of emphasis on collaborative co-writing.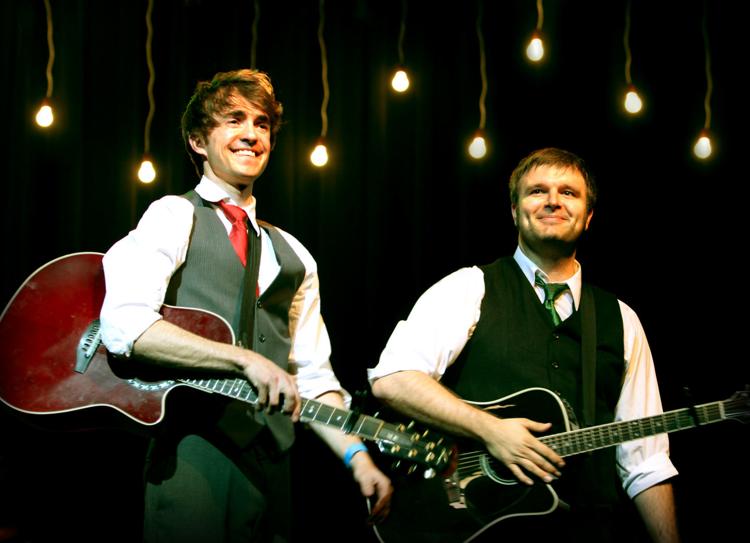 "Over our 15 years playing together, the songs that have tended to rise to the top are the ones that we've worked very hard to write collaboratively," Green says. He ascribes this trend to a sort of balance made between their differences.
"Cameron and I are pretty different," Green elaborates. "At heart, he's a lyricist—that's his priority.  For me, I tend to be very interested in the music itself. I'm less concerned with lyrics."
Green believes that individual creativity exposes their own weaknesses.
"Left to my own devices, I may come up with stuff that's a little too left field for people's ears, he may have lyrics that are a little too heady," he says. "We both pull each other a little to the center. When we're both contributing, the result is going to be something more unique but also more palatable." 
Regardless of what happens on the page, when it's time to take the stage, the two operate seamlessly as one. Watch any of their online footage, and you'll immediately perceive the effortless, telepathic presence. It's a force earned through practice—lots of practice.
"We've played over a thousand shows together," Green says. "The benefit of having been through so much together is that we have a lot of confidence. We both feel very confident having each other at our sides, that we'll both be able to rise above whatever mishap might happen."
As an example, Green shares a story from a tour they did with Jason Mraz. 
"They were by far the biggest shows we'd ever done, and it was the second of these shows," he says. "A few songs in, I broke a string in the middle of the song."
Fortunately, Green has had some experience with broken strings.
"The instinct might've been to panic. But when I was in my college band playing electric, I broke strings a lot, and I got really good at changing strings fast on stage while the band kept playing."
Of course, those performances had much lower stakes than those with thousands of onlooking eyes during an opening set for Mraz. This time around, though, Green had Hood.
"I broke my string, and Cameron let the audience know, and we turned it into almost a race," he says. Without missing a beat, Hood "was getting the audience on my side, saying, 'Let's see if he can get this in before we get to the guitar solo.'"
Green took the chance and played along, racing to get the string on as the audience cheered for him. He got the new string on his guitar just in time to rip into the solo. This small example of skillful showmanship left no shortage of impressions.
"It was sort of the thing that everyone was talking about after the show. It went so well, became such a highlight, that people started asking if we had planned it," he says with a laugh.
To Green, crises are opportunities.
"If you handle something the right way, those tend to be the best moments," he says. "The moment that the power goes out or your gear malfunctions … you just rip the cord out of your guitar and step off stage into the crowd and play unplugged with a circle of people around you, that can actually be the best part of the show."
Having come a long way since his Blockbuster days, one wonders how Green might've staved off embarrassment had he had Hood's company in the face of the cute counter girl. Hell, she may have become their first diehard fan.
Ryanhood will be coming through Flagstaff this weekend to kick off Heritage Square's Summer Concert Series. It's certain to be a good show, but, if we're lucky, something will go wrong and turn it into a great show.
See Ryanhood perform Friday, May 31, at Heritage Square. The free show begins at 6 p.m. Visit www.ryanhood.com for more information.