How does one capture the essence of something as vast and complex and multi-layered as the Grand Canyon? At more than a mile deep in places and with north and south rims separated by a 15-hour-plus hike, it's not a view that lends itself easily to oversight.
Still, people try. Confined to the screens of millions of smartphones every year are shots taken at Mather Point or at the top of the Bright Angel trail, at Phantom Ranch or just outside the El Tovar hotel; these photographs become pieces of a long legacy of framing the canyon.  Every time a shutter goes off or someone pushes that circular button on their iPhone, unbeknownst to them, they reference the cameras of the brothers Ellsworth and Emery Kolb, the first to document the Colorado River on film in 1911 and two photographers whose former home and studio is inseparable from the history of Grand Canyon. Similarly, Fred Kabotie, the Hopi painter, and Thomas Moran sought, each in their own style, to commit the Grand Canyon to canvas.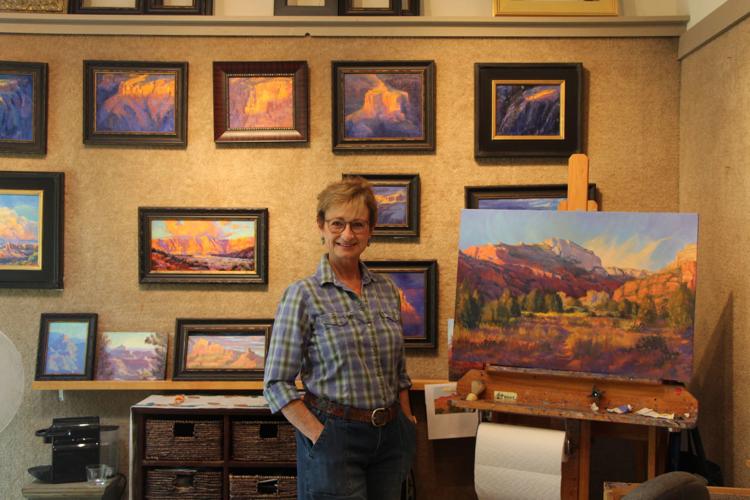 In the eyes of artist Dawn Sutherland, it isn't the entirety of Grand Canyon that needs to be squeezed into one image, but a moment, a particular overlook or time of day suffice to give the senses a slice of that massive world wonder. Often Sutherland paints en plein air, getting out her easel and brushes at a spot she's chosen and settling in for the day. A sip of coffee as the sun rises.
"Sometimes the site will say, 'Yes, I've been waiting for you to paint here.' I like the excitement of, 'I'm going to get something on this canvas.'" Sutherland says. "Then there are the bird calls, the smell of cliff roses and sage."
Every year for the past 11 years, 25 or so artists gather to paint the Grand Canyon as part of the Grand Canyon Celebration of Art. For a week, they set up on location and paint the day away, culminating in one or several works that are later auctioned off at the famous Kolb Studio. Featured at the studio are also paintings each artist begins working on upon invitation to the show the year prior. All proceeds from the auction go to the Grand Canyon Conservancy to build a multimedia arts center on the South Rim, something the organization hopes will further its mission of preservation. 
"When you go to a place like Grand Canyon, it's not something everybody can just describe in words, but painting or artwork sometimes [can] express the feelings you have about it," says Mindy Riesenberg, director of marketing and communications for Grand Canyon Conservancy. "It's an emotional reaction, and artwork can translate that feeling sometimes better than words."
Grand Canyon Celebration of Art has grown in prestige over the years, with participation by artists determined on a purely invitational basis.  When Sutherland was first invited in 2014, she says she could hardly believe it.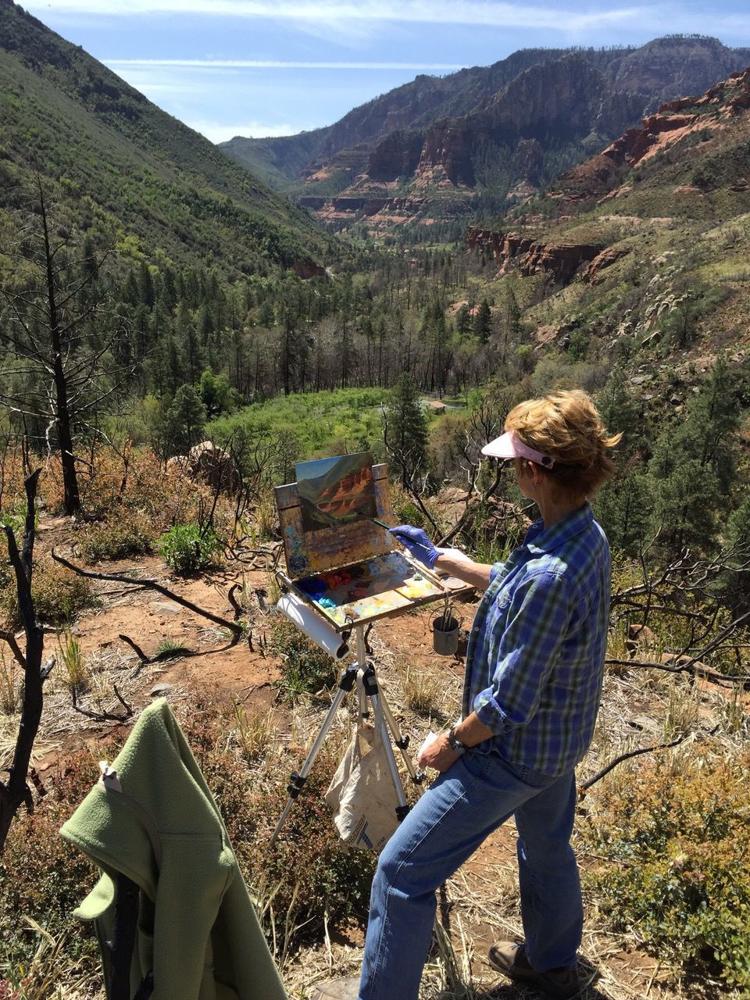 "It was, 'Yay, I'm in,' and then, 'Oh God, I'm in… with all these big dogs,'" she says. "Luckily I did very well that first year and things sold. That paid off and it took a couple years to get juried but I was confident of painting the canyon—as confident as you can be with the canyon. It's a beast."
The former kindergarten teacher then high school counselor didn't start painting until she was 47. Now with 18 years of oil painting—her chosen medium—under her belt, she was given the opportunity to retire early all those years ago and took it. Her husband encouraged her to enroll in painting classes.
"[My instructor] might have seen a shred of talent there under the novice work. Nobody gets to see those early paintings," Sutherland says with a laugh. "Sooner or later things started to shape up though. You get the rules. You ask for help. If you're determined to get better you say, 'Maybe that next canvas I put on the easel will be better than the last one.'"
Crucial to Sutherland's artwork are the hours she puts in each day. Often that means going back to the same spot over and over until the colors and contours begin to look right, or scrapping a painting if it isn't satisfactory and starting over. Practicing and practicing until one day, "It clicks."
In the years since she started painting, the Grand Canyon has become Sutherland's muse. At her home studio, a space replete with windows and warm lighting, can be found the occasional painting of the San Francisco Peaks, or an experiment she did recreating Monet's water lilies. But the star of the show is the purple, orange, chiseled and cavernous canyon, which Sutherland has captured from countless angles and overlooks. Sometimes from the river bank, other times from the top of the rim and everything in between.
Her contribution to this year's Celebration of Art is titled "Evening in Elysium." In it, the Colorado River flows gently as the sun sets, its glassy, mirrored surface reflecting the colors that only twilight at the Grand Canyon can conjure. Its viewer can practically hear the piece, the birds slowly ceasing their calls, the wind dying down, maybe the distant laughter of a river party setting up camp somewhere nearby.
It's clear how important light is in Sutherland's paintings. It's a variable that she loves and has become closely acquainted with.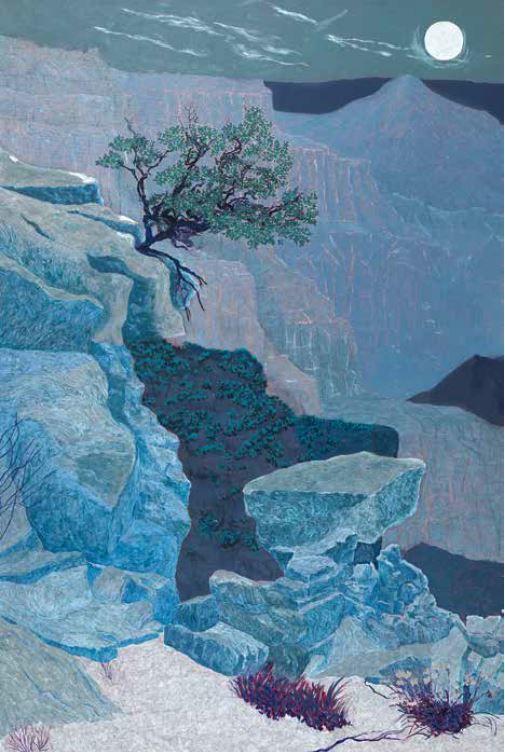 "Since I paint the canyon a lot there's a lot of perspective and depth and I've learned a lot about carrying that. The more you take those into the picture, the more dimension the canyon will have. You get more purples typically in the afternoon. Shadows in the morning tend more toward greens and blues but in the afternoon the air is tired, it's filled with dust, and the greens and blues are filtered out."
The 11th annual Grand Canyon Celebration of Art, which begins Sept. 7, is a testament to the variation that exists within interpretation. Every artist is looking at the same place, perhaps from different points, on occasion their easels set up close to each other. Still, one person might pick up on a certain rock, while for the other a bird in the distance becomes the focal point. For individual artists, what they see day to day changes too, something Sutherland is keenly attuned to.
"I often compare painting to handwriting. Some days your handwriting is different than other days; it's muscles, it's what's connected to your brain, motor and emotional," she says.
The 11th annual Grand Canyon Celebration of Art will take place Sept. 7-15 at the South Rim. Visitors can watch as artists paint on-site as well as view completed works on display in the Kolb Studio. For more information, visit www.grandcanyon.org/
Be the first to know
Get local news delivered to your inbox!