This weekend marks the second year of Flagstaff's FemFest. The music festival—which seeks to place at its center femme-identifying, gender non-binary, black, brown and queer makers—boasts a lineup that includes 14 bands and musicians in its 2019 iteration.
Headlining the festival is Fea, the San Antonio-based Chicana riot grrrl punk outfit that sprung out of drummer Phanie Diaz and bassist Jenn Alva's longtime indie group Girl in a Coma in 2016.
Singer Letty Martinez and guitarist Aaron Magana completed Fea that same year and the band was signed to Joan Jett's Blackheart Records. Their first album was produced with help from Alice Bag (The Bags), Lori Barbero (Babes in Toyland) and Laura Jane Grace (Against Me!).
Fea's current guitarist, Bobby Rivas, replaced Magana in late 2017.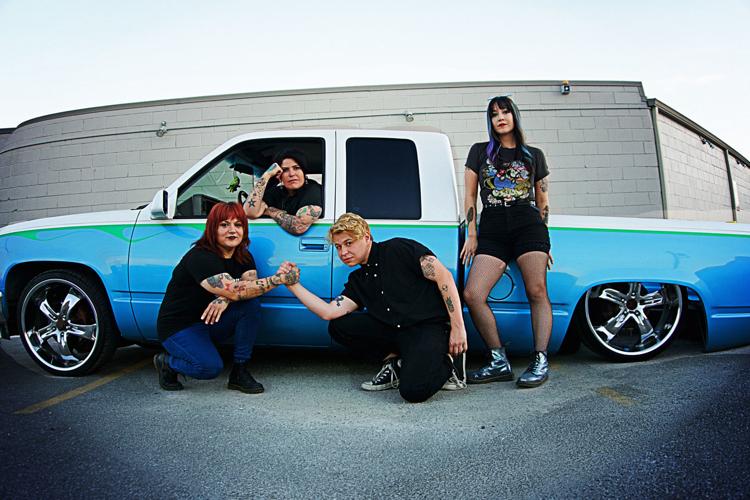 Listed among Remezcla's "7 Queer Latinx Punk Icons You Should Know," Fea's songs tackle racism, sexism, rape culture, politics and religion; Martinez's clear, hard-hitting tones bolster the music that keeps both body and brain in motion.
"[Jenn and I] always had that idea of wanting to be in a political band and talk about subjects like being a minority, like being queer—now that we were able to start this band we have the voice to do that," Diaz says.
Diaz and Alva met in middle school. Assigned to adjacent seats, the two immediately began talking music, Diaz remembers, bonding over bands like Bikini Kill, L7 and Babes In Toyland.
Similarly to Bikini Kill's ethos—the band is considered the vanguard of the riot grrrl movement—Fea's self-titled 2016 album is made up of songs that unpack, dismantle and scrutinize. Not only that, but Fea was able to take over where Girl in a Coma left off, carving a niche in which to speak to issues that had, over time, become top of mind for both Diaz and Alva.
"Back when we started the band Girl in a Coma we didn't want [people saying], 'Oh, they're a girl band,' or, 'They're a queer band,' or, 'They're a Mexican band,'" Diaz says. "We were trying to be taken seriously, like, 'No, man, we're trying to run with the boys.'"  
Wary of compartmentalization and being placed into "the gay band box," Girl in a Coma strayed away from labels. But as the band began to move around and tour, young girls started approaching the members after shows.
"Young girls, girls of color saw us, ordinary girls, not necessarily looking the part of musician, and we realized it was making girls feel more comfortable in their skin, like, 'She looks like my neighbor, she looks like my friend'—it started to become important," Diaz says.
Fast-forward a few years to the release of Fea, featuring 12 tracks that take on the patriarchy and push for representation of marginalized communities.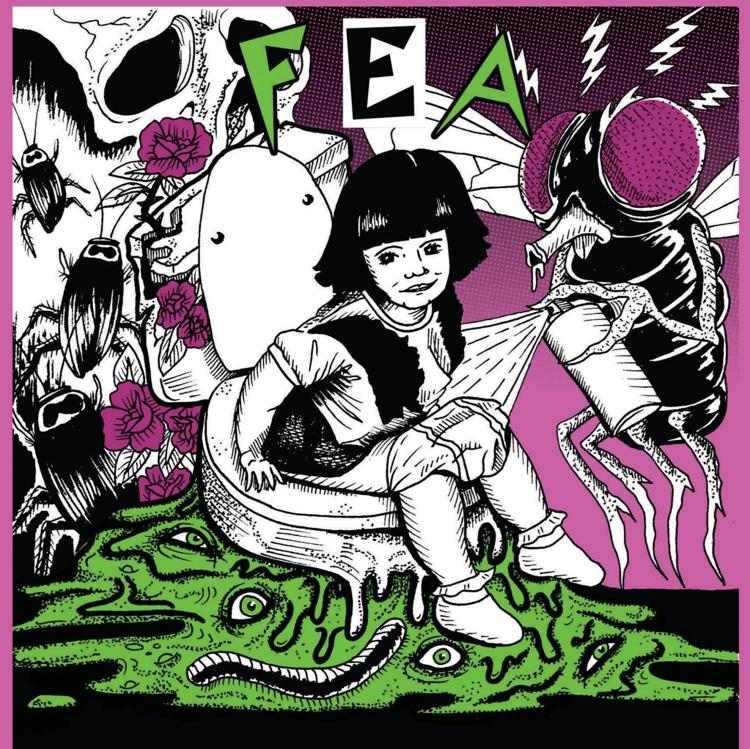 Take the second track "Feminazi." The song examines the term popularized by radio host Rush Limbaugh. In other words, it reacts. Repeating the phrase "I am a feminist" in Spanish, French, German and Japanese, the refrain fuses together a song that is at once catchy and poignant.
"I don't want to bring you down, man/ I just want us to meet in the middle," Martinez sings.
Her voice besets news clips of Donald Trump and Philippine President Rodrigo Duterte as their remarks about women flash across the screen.
"Feminazi" seeks to define, for the group, what it means to be feminists.
"Even though we identify as feminists, we're not here to bash men; all we're asking for is equal opportunity," Diaz says.
The band's exploration of discrimination is not confined to gender, instead acknowledging the latter is linked to other forms of oppression. The song "No Hablo Español" chronicles the attempt to silence Spanish and Latin American cultural histories within the classroom. Think Arizona's 2010 ban on Mexican American studies in schools K-12, a law that was ruled racist by a federal judge in 2017.
"We grew up hearing from our grandparents and mothers how it's frowned upon to speak Spanish, if you came to school speaking Spanish you were put into a group of kids almost like you had a disability," Diaz says.
Several of the band's songs incorporate the language, something that Diaz says prompts those who don't speak it to take the time to look up words and educate themselves.
And the name Fea, meaning ugly in Spanish, came as the most logical decision when naming the band.
"We were experiencing being judged for how we looked rather than our music. Compared to male bands where it looked like they had just rolled out of fucking bed, God forbid a woman show up and didn't give a shit about their appearance," Diaz says.
"Fea is a play on that; it's a way of turning something into a positive."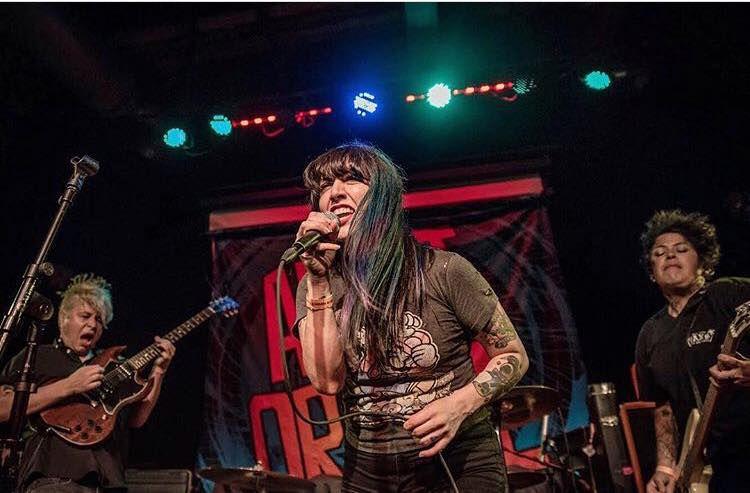 Martinez, Diaz and Alva all help in the creation of Fea's songs. The band has a lot of chemistry in that way—they communicate on the same wavelength, Diaz says.
This harmony is apparent in "Mujer Moderna," the title track on the record. Martinez wrote the lyrics and Alva directed the video, which is set up as a Fea show. Through the course of the night, several scenarios play out as women—trans, cis, gay and straight—face unwanted attention from a group of men, introduced simply as Los Necios, the fools.
Fea performs on stage as one man gives a woman nonstop unwanted attention and another plops a pill into one of two drinks he's bought; his victim, aware of the move, switches the glasses while he isn't looking.
"That's exactly what we were trying to show is, this is stuff that goes down, but also to showcase the range of different types of women who it affects," Diaz says.
The show ends with the pill-slipper unconscious on the floor, drugged by his own toxin, as band and audience leave the venue—a kind of final justice has been served.
Fellow musicians and critics alike have sung Fea's praises. In a 2017 interview with Rolling Stone, Iggy Pop mentioned the band alongside British punk group Crass.
"…I like Fea, out of San Antone—a girl band, pretty raunchy, extreme packaging and all that, and that's a good punk band," Pop told Rolling Stone's Ben Ratliff.
"I was completely shocked," Diaz says.
Fea is currently working on its second album, and as with the first record, Alva, Diaz, Martinez and Rivas do not intend to shy away from the political.
"But it kind of goes everywhere, there's relationship songs too. Normal human shit," Diaz says, laughing.
Fea will be headlining Flagstaff FemFest with a show at the Green Room, 15 N. Agassiz St., on Saturday, March 2, at 10 p.m. The festival begins at 11 a.m. with performances and workshops all day at the Green Room as well as The HeArt Box, 17 N. San Francisco St., Suite 1B, The Hive, 2 S. Beaver St., and Re-Birthday Info Shop, 2 S. Beaver St., Suite 125. Find Flagstaff FemFest 2019 on Facebook for the full list of performers and times. Tickets are $15 day-of, and all events at The HeArt Box and Re-Birthday are free.