On Sunday the Navajo Nation became the area with the most COVID-19 cases per-capita, edging past both New York and New Jersey, two epicenters of the deadly respiratory virus that had, until recently, been leading in the grim statistic.
A spike on the Navajo Nation was something that tribal members, experts and activists had seen coming—those familiar with the legacy left by settler colonialism on the largest reservation in the United States knew that a combination of lack of access to running water and longstanding health care disparities (oft-long drives to hospitals and chronic underfunding of the federally-run Indian Health Service, to name a few) were among factors that would bring danger if immediate action was not taken. In Flagstaff, mutual aid groups like Kinlani/Flagstaff Mutual Aid foresaw that cases would spike among unsheltered indigenous people, that elders in places like Black Mesa would need supplies brought to them; it was these groups, alongside others like K'é Infoshop and the Navajo & Hopi Families COVID Relief (NHFCR), that sprang into action first.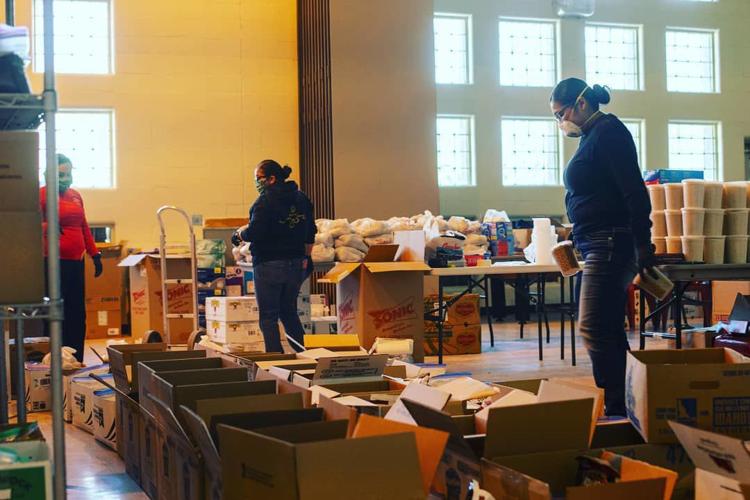 Local filmmaker Deidra Peaches (Diné) began documenting the pandemic and the work of NHFCR in early April, donning her Tyvek suit, mask, face-shield and gloves in order to capture the pandemic in real time. Her work started long before national news attention had shifted to the reservation, which encompasses parts of Arizona, New Mexico, Utah and Colorado. Peaches' filming has focused primarily on the efforts of NHFCR, which carries out food, water and maks distributions across Arizona and New Mexico, including a water donation by actor Jason Momoa's Mananalu Water; she and fellow filmmaker Sakya Calsoyas have also been gathering stories of Diné people and families affected by the pandemic for an installment of Al Jazeera's short video series AJ+.
Documenting the realities on the Navajo Nation and other indigenous communities across the globe has constituted Peaches' work for the greater part of the past 11 years and she is no stranger to telling difficult stories. And yet, the sheer magnitude of the pandemic makes her work exponentially more difficult—emotionally, physically, mentally. She accepts the long days, however, mask itching, sweat building in the hot sun, because filming also means conveying truth, logging something into collective memory.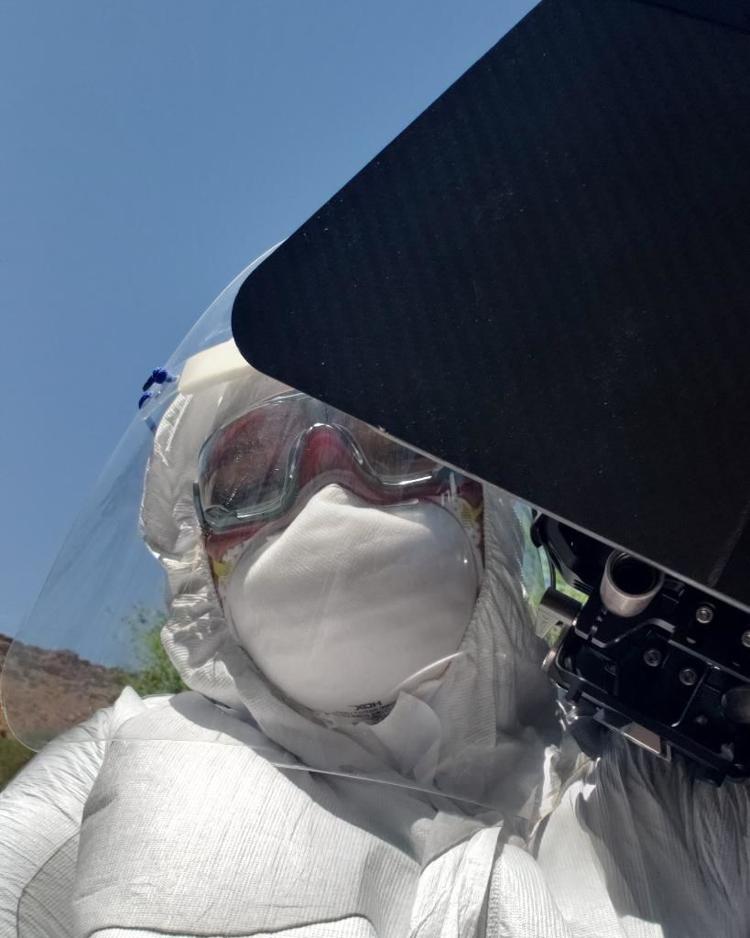 "The circumstances of this being a pandemic and also putting myself on the line, [are stressful] not knowing what is going to happen, trying to be precautious about everything. So I try to be as humble as I can about it and what I do. My grandpa, my nálí, would always say, 'The gift that you have isn't just yours, it's for everyone,' and that's something that always resonates with me—my gift of storytelling is not just mine to have, it's a gift I can share and this [documenting] fulfills that I guess."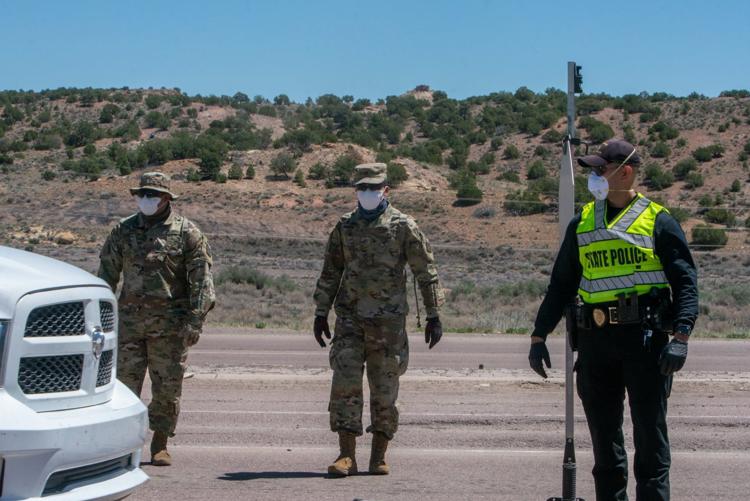 Documenting the pandemic has brought Peaches across the southwest, to the eastern side of the Navajo Nation, from Gallup and Newcomb, New Mexico, to Tuba City and Flagstaff, Arizona, as she and volunteers from NHFCR often set out before dawn, driving several hours at a time to grocery shop, then deliver food and water to remote homes. Normally, filming might see Peaches staying the night at one of the locations, but COVID-19 has shifted normalcy in the world of filming, too. Navajo Nation MANANALU, for example, was shot and edited for Momoa's team in a little less than a week, and saw Peaches at the Tuba City donation center over the course of two days, always in full PPE gear.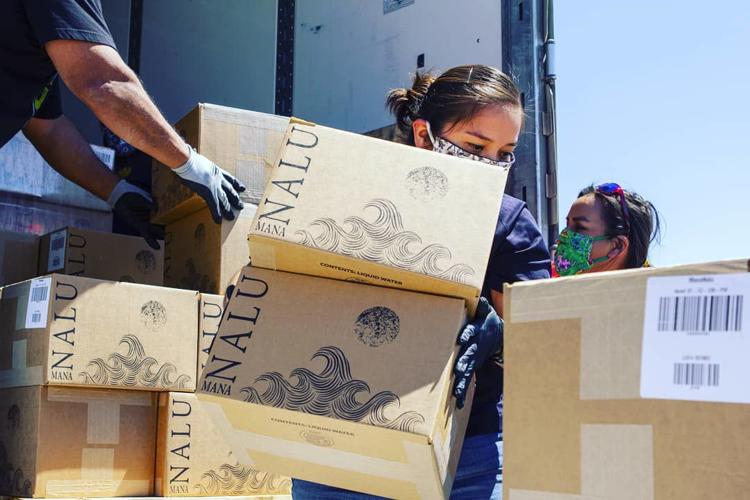 At the time the video came out, the Navajo Nation had 1,197 positive cases and 44 deaths; as of Monday, May 11, those numbers had risen to 3,204 and more than 100 deaths. According to the most recent 2010 census figures, about 173,667 people live on the Navajo Nation, which translates to about 1,786 cases per 100,000 people.
Momoa shared Peaches' video on his social media pages, later thanking her and the volunteers for their hard work—something that felt like a shout out to the entire tribe, Peaches says. It also appeared on the Ellen DeGeneres show.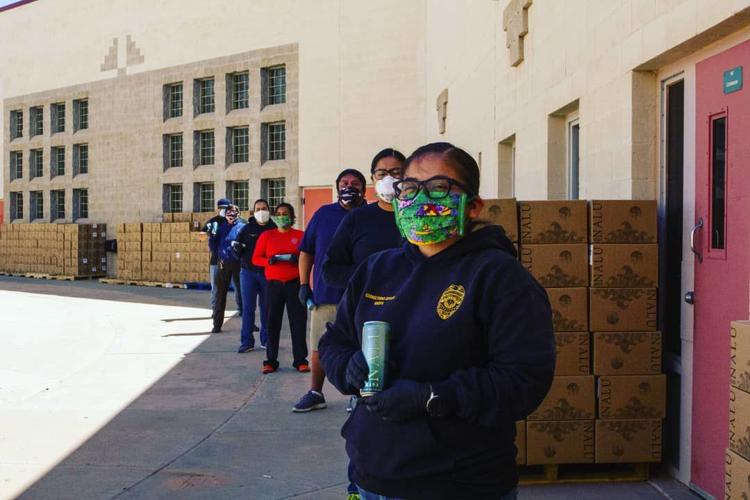 Text flashes across the video as volunteers load boxes of supplies into waiting cars at the NHFCR distribution center in Tuba City. A third of the people living on the Navajo Nation do not have electricity or running water in their homes. Three of the twelve Hopi villages largely do not have running water or electricity.
Water is of particular importance in Peaches' work, past and present, as well as on Dinétah, its inaccessibility and history only becoming more apparent as the health crisis takes hold and the Centers for Disease Control and Prevention stress the importance of hand washing.
"When it comes to the situation of water and why the Navajo Nation is having the spotlight on them right now, it really pertains to the history of colonization and also the disenfranchisement of water rights that have been put upon the Diné and Hopi people," Peaches says.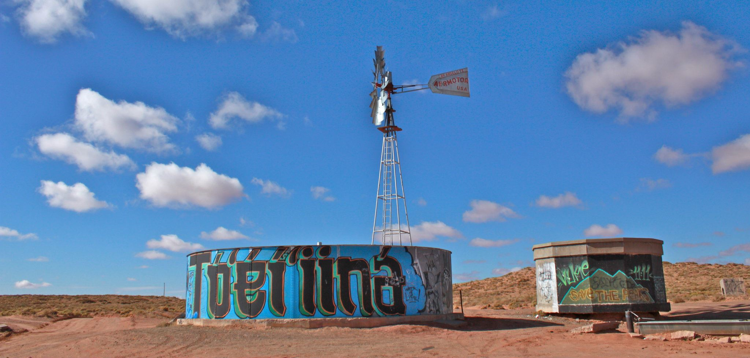 Hand-washing stations and drinking water drops have been another part of the efforts of NHFCR and mutual aid groups, all addressing an issue that remains systemic. Peaches points to the Central Arizona Project—the state's largest aqueduct that diverts water from the Colorado River to municipalities in Maricopa County, leaving out much of the Native people who have relied on the river for generations—SB2109 (Navajo-Hopi Little Colorado River Water Rights Settlement Act of 2012) legislation introduced by retired Senator John Kyl and John McCain, asking Navajo and Hopi people to waive their priority water rights to the surface waters of the Little Colorado River, and the damaging of water sources by coal and uranium mining.
"That's preposterous when it comes to situations like this and the reason why we're being impacted so much by [COVID-19]—without water and basic needs—and that has been imposed by the government and that's the system that puts Native people at a disadvantage," she says.
Though documenting the pandemic has taken up a great deal of her life recently, Peaches stresses the importance of it being captured and relayed by a Diné person.
"I feel like it's crucial for a Navajo, a Diné person, to be documenting what is happening to our people because at the end of the day a reporter can just leave but as a Diné person you're there in it, living it and it's a part of you and having that direct lineage and connection is super crucial to a storyteller. It develops empathy and, I think when you're looking at a pandemic or lack of resources or climate change, it's important for a Diné person to speak on it from their perspective and their hardship."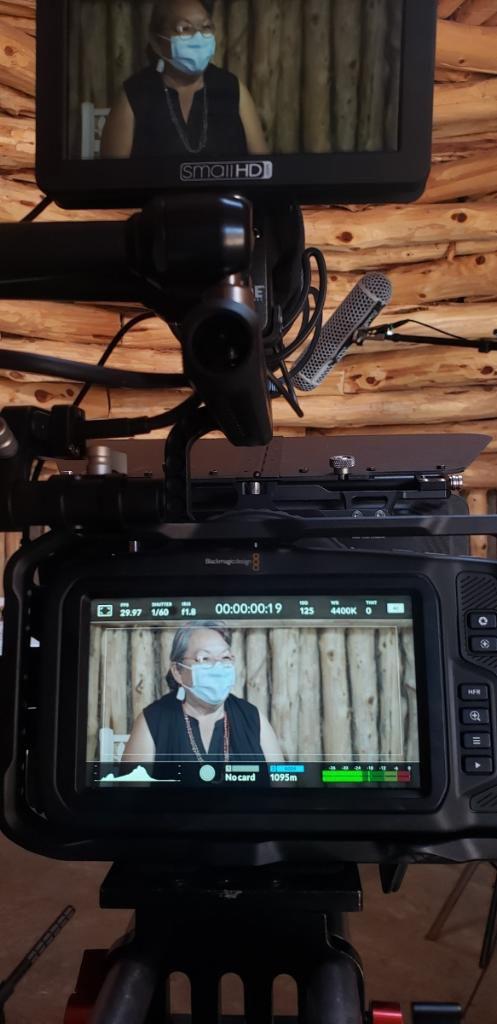 What accompanies that, however, is a deep emotional toll, Peaches says. Through her documentation of NHFCR's work, Peaches has captured stories of grandparents--many of whom who are primary caretakers to children--becoming sick, unable to go to the store, or families that are unable to leave and need to wait for water and food until the next volunteer delivery comes. The filming of heavy police and military presence in places like Gallup, where Peaches and Calsoyas got stuck alongside families who were forced to turn around when the recent lockdown hit. Past films interviewing people who live next to open pit uranium mines. The list is long and the work often draining, but Peaches chose to enter the documentary field so she could learn the stories of her people and share them with others.
"Documentary filmmaking was a way to make that connection and learn more about my culture and myself," she says. "It's been hard over the years seeing all the traumas and travesties happening right in front of you and trying to tell all you can in your capacity while often feeling like your voice isn't being heard. But what I've learned with filmmaking is it makes a lot of narratives timeless."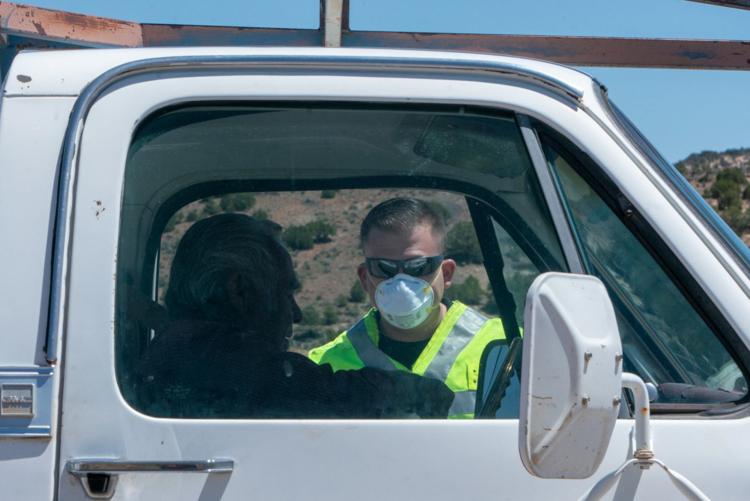 "I think it's important for me, knowing that the work that I'm doing is something that can benefit people in the long run, because I'm sure when people 10 years from now look at the pandemic they would want to use videos to learn how everyone was reacting, and all the Diné people have been doing on a larger scale because it's telling our stories and also giving a glimpse to future generations of what we went, and still go through."
In the name of self-care, Peaches reminds herself to rest, that she is allowed to give herself time—time she spends riding her bicycle, tending to her plants, writing poetry and playing Guitar Hero. She will likely receive a call any minute setting up her next shoot with Navajo & Hopi Families COVID-19 Relief, and she'll be off filming again, resting at home when she can, and then repeating. Her current routine is one she will maintain for as long as it is needed.
"Documenting is a part of my culture, and when I get old and I become a grandma, I'll become one of those gatekeepers of knowledge. I think being a filmmaker prepares me for that responsibility because I'm learning people's stories, not only in my age demographic, but the older age demographic, people like grandmas and grandpas," Peaches says. "I think for a lot of it, we have these stories that keep us tied to our culture and our place and also remind us that we're human. There's all these universal factors of love and they all play a part in the cosmos and the epidemiology of things."
Be the first to know
Get local news delivered to your inbox!