Fresh off of his eight-year artist residency at the Museum of Northern Arizona, Hopi and Tewa artist and musician Ed Kabotie is grateful to have been given the opportunity by then-director Dr. Robert Breunig. During his time at the museum, Kabotie contributed to programming through storytelling, wrote hundreds of songs—some of which make up the five albums he has recorded with reggae band Tha 'Yoties—and created art that spoke out against environmental racism like artificial snowmaking on Nuva'tukya'ovi, the San Francisco Peaks, a sacred mountain range to many Indigenous communities.
"I was able to grow as an artist at the museum, both visually and musically," he says. "It's been a really productive and growing time for me. To be able to meditate there under the shadow of the mountain, you know, that's priceless."
During a recent phone interview with Flag Live!, Kabotie discussed how he has continued to use his platform to help educate audiences. The following Q&A has been condensed for clarity and space.
MacKenzie Chase: You often use the term "edutainment" to describe your art. How do you feel art and music can serve as a powerful form of education?
Ed Kabotie: Edutainment is a phrase that we've stolen from—and when I say we, I'm thinking of myself and Tha 'Yoties—Walt Disney [laugh], and Walt Disney coined the phrase when he was introducing his True-Life Adventure series, but I think it's really a powerful concept, combining art and music to share a message.
Some people listen for hard facts and things of that nature. Other people listen with their heart, they feel and think and discern from a place of more conscious thought. I think it's important to try to share messages in all forms. Different forms speak to different people, and sometimes somebody might listen to a song more readily, or the information might soak in a little bit better, if it's also presented in another form.
In what ways have you been using your art to bring awareness to issues the past few months? I noticed your Coyote Inna Quarantine live stream series on Facebook.
Spring is a very culturally focused time for me, and so I'm usually spending time at home. And when I say at home I mean Santa Clara Pueblo in New Mexico. So the pandemic hit at a time when that has usually been my focus from year to year. A lot of that focus just got channeled into a little bit of a personal pilgrimage here around Flagstaff. While I still had some time at the museum, I spent a lot of time talking to archaeologists and visiting various sites throughout the area, just personally trying to internalize what was taking place, trying to pray.
The epidemic hit hard on Navajo Nation. One third of the COVID-19 reported cases in the state of Arizona are coming from Navajo Nation. My father's from Hopi, and my mother's from Santa Clara Pueblo, New Mexico. One quarter of the COVID-19 reported cases in the state of New Mexico are also from Indigenous communities. So that was difficult, just feeling helpless. I didn't really feel comfortable going back home, riding a train and riding the bus, and riding another train to be with my mom, so I sat out here in Flagstaff.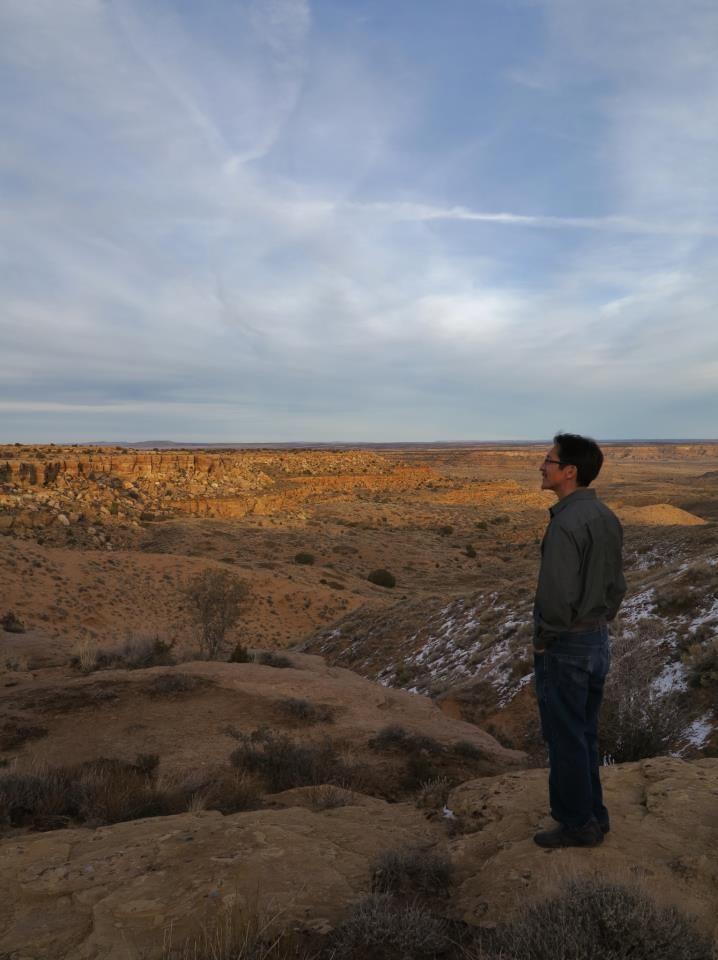 Technology is really not my—I don't want to say best friend. It's not a bad thing, I just tend to resist it. I like to keep my life fairly simple, but I felt like the only way to begin to connect with audiences was to do it via internet. Monica Nuvamsa is the director of the Hopi Foundation back home, and she shared with me that the Hopi Foundation had established a fund for specific needs in Hopi. The COVID-19 epidemic is kind of compounded with the closure of the Black Mesa [Kayenta] Mine, which brought in a lot of revenue for certain operations in Hopi. So it really put an added strain upon our communities.
The Hopi Foundation established what's called the Hopi Emergency Assistance Fund so they could address needs that would arise for people not only looking at the pandemic, but also looking forward into needs that might be anticipated for the future. So I created the Coyote Inna Quarantine show initially to bring attention to the various funds that were being created to help Native American people with immediate needs in the pandemic. Most recently, the last couple of shows have been more in reaction to the racial violence that we see spreading through the country. The other epidemic.
In your most recent installation of Coyote Inna Quarantine, "Distance Between Hate and Hope," you cover a lot of important topics, but overall, what would you say is the distance between hate and hope?
In some ways, I think it's the distance between our head and our heart. I feel like, again, kind of going back to how we think, how we perceive, how we feel. How do we move forward with so many things taking place right now? On one hand, I'm at a loss, but on the other hand, I feel like it's very evident how we move forward. And that was the focus of the last Coyote Inna Quarantine show, an emphasis on faith. It was Malcolm X who pointed out that—and I'm not quoting him directly—until we can conceive of a universal higher power, we're really not going to be able to also conceive in that oneness of man concept.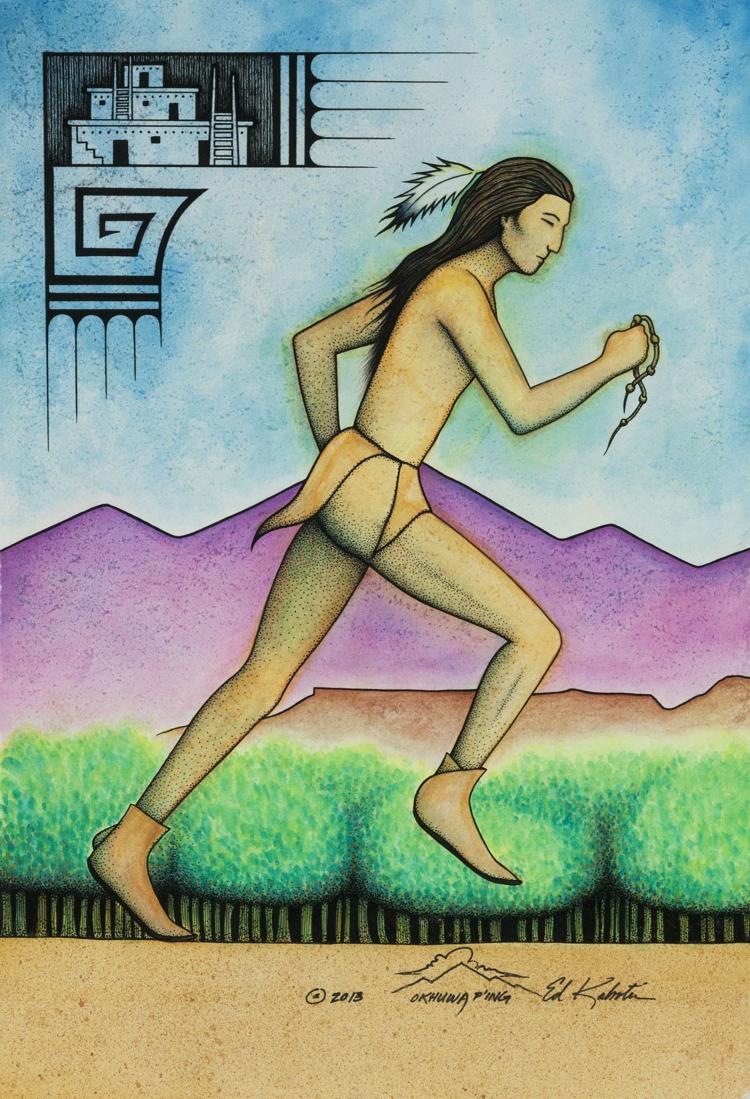 I tend to focus on a lot of issues where it sometimes really feels like [Indigenous people] are never heard, and I get very cynical about it. But one thing that has really inspired me over the last year, working with Flagstaff Arts and Leadership Academy students, working with students at Ponderosa High School, working with students at Northern Arizona University, is just that clear vision of hope that young people have. The concept of hope is really powerful to me, and I feel like that's one of the essential things that we have to have.
And the other is love. Love for one another and relearning to think about others, and, to be honest with you, I feel like it's also really important to examine ourselves. I think it's really easy for all of us to be pointing fingers. I think we all carry our own prejudices in this world, and I'm definitely speaking about myself, and that's something that kind of clouds my own vision sometimes.
What's taking place right now is showing all of us that our society is sick, and that sick society is made of individuals that are also sick. I think the same way we think of COVID-19, we should kind of approach life as if everybody is a carrier in the same way when looking at racism. I think we should assume that all of us are carrying something that we need to let go of so that we can truly begin to get out of our own selfish paradigms and get into the mode of thinking of others.
In "Distance Between Hate and Hope," you mentioned the death of George Floyd was a time bomb. Do you think that if that hadn't happened, something else down the line would have triggered this rise in action we've been seeing with the Black Lives Matter movement?
Oh, absolutely. I've been fascinated by the civil rights movement during my residency here at the Museum of Northern Arizona. I've had the opportunity to visit Washington, D.C. a couple of times, once during lobby week and the other with a delegation of Hopi. We presented at the National Museum of the American Indian. Washington, D.C. is a city of big money politics on one side and a place of extreme poverty and obvious racial discrimination on the other side.
It's remarkable to me what was accomplished in the civil rights movement. But while it made a big difference on paper, it didn't change the institutional [racism]. That hasn't changed on reservations, it hasn't changed for the African American community. In areas such as education, our economies, our environment when we're talking about the tribes of the Colorado Plateau. I mean, the water that we drink, the air that we breathe, all of that is impacted by industrial racism.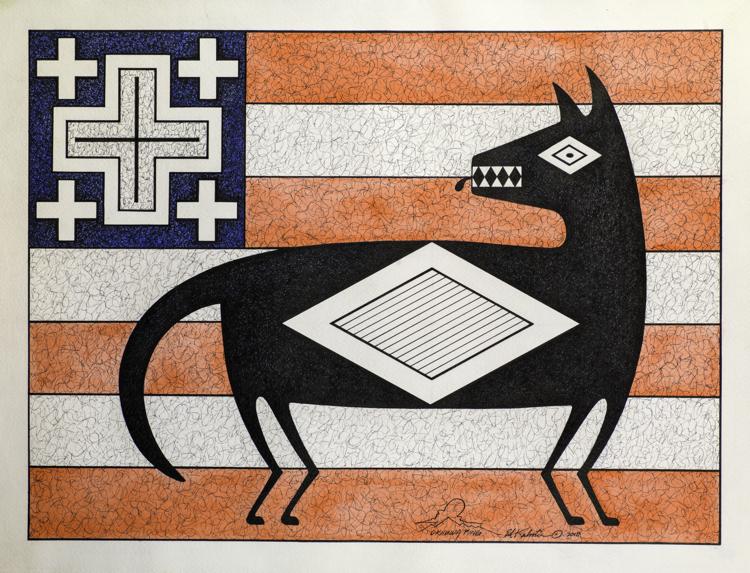 That, to me, is exactly what that ticking time bomb has been. It was just a matter of time so I really hope that with this situation we can get a much bigger picture. Again, kind of going back to the subject of love, learning to not apply our biography to everybody, and to think that we know what other people are going through when we really don't. It's a time to listen and time to learn.
Tha 'Yoties will be performing as part of the Orpheum Theater's At Home with the Orpheum Theater series this weekend. What are you looking forward to in regard to that?
Tha 'Yoties haven't performed at all [since venues temporarily closed], obviously. When the epidemic was touching down, we canceled a lot of stuff. My father passed away in 2009 from the H1N1 virus, so the last thing I wanted in the world would be anybody to pick up something at a 'Yoties show. But I'm really excited to be able to do this and grateful to the Orpheum for giving us the opportunity to use their stage for a live stream.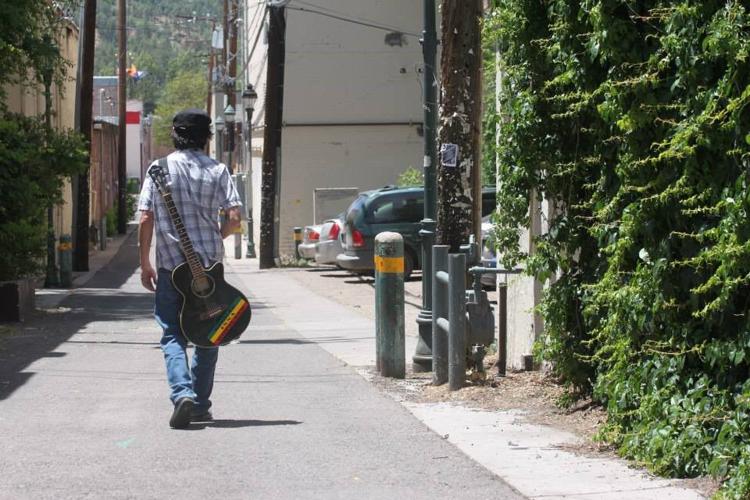 There are a lot of thoughts that we have about what's taking place in the environment during the COVID epidemic. Politicians using the time to snatch up public lands for exploitation. The impact upon Native American people in particular and the obvious in-your-face awareness of racism. Going back to your initial question about edutainment, that's what we're looking forward to do, provide some edutainment about things that are currently taking place during this time.
What are your plans for the future?
I just got a response from Richard Ullmann, [National Park Service Chief of Interpretation and Education for Flagstaff Area National Monuments]. Prior to the epidemic, in anticipation of leaving the museum, I did reach out to the Flagstaff monuments about the possibility of doing a residency there, and it looks like that will be an eventual transition.
I had mentioned that a lot of my downtime during the epidemic was spent doing a personal pilgrimage, and I spent a lot of time hanging out near Sunset Crater and Walnut Canyon, and hanging out at the Artists' Gallery, which I've been a member of during my time here.
There are a handful of landscape artists there who I really admire, and I just love the idea of open air landscapes. That's one thing I would really like to explore while I'm doing this particular residency with the monuments, and also I would really like to interact with the archaeologists, pick their brain. As Indigenous people, we have our own histories, but to compare those with the notes of the archaeologists is pretty fascinating to me. It's the missing discipline in archaeology [laugh] is what my father used to say, mythic archaeology. Those are the two things I'm most excited about, landscape art, and just learning.
Be the first to know
Get local news delivered to your inbox!