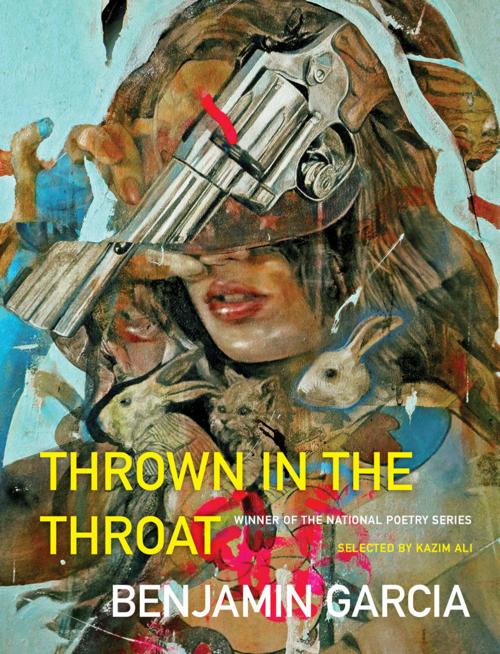 More than simply sounds we assign meaning to, words help us explain and understand the world around us, give us a way to express ourselves beyond gesture. They hold power.
"I guess it's something that I've had an interest in since I was really young. English is not my first language, so I practiced a lot," Benjamin Garcia, a 2019 National Poetry Series winner, says of the power words can hold. "I used to keep us a small journal with words that I wanted to learn in English and phrases that I'd heard. That's kind of my first writer's journal, this little notepad that I would keep to learn those words and the spelling. Sometimes I just look at it and crack up at how I viewed language."
Garcia is one of the featured poets for the Northern Arizona Book Festival, held virtually this year with panels, readings and workshops April 1-4. (Click here to learn more about the planning process in an article featuring interviews with members of the board of directors.) He recalls having to translate legal documents for his parents when his family immigrated to the United States from Mexico.  
"It kind of instilled in me [the idea that], 'Oh yeah, language is really important, it's basically power, right? Not in an abstract way, but a very concrete way,'" Garcia says. "'There are legal documents that are being sent to our house and they would not be able to read them without their kids who are still learning English.' So it made me want to learn English a little bit more, just become better with language."
In college, he began working toward a major in biology, but the possibilities language held continued to call to him.
"When I was supposed to be doing homework for o-chem, I found myself actually reading poetry and writing poetry—it's midnight at some diner and instead of studying with the books in front of me, I was reading poetry and writing. And I was like, 'Well, clearly something is wrong,'" Garcia says with a laugh. "And I'm failing at this thing that I'm supposed to be studying. If I'm going to be writing poetry, I might as well give myself a better shot at that."
Enrollment in an English course led to enrollment in an MFA program, which in turn led to countless submissions to writing contests. Garcia's debut collection Thrown in the Throat was chosen as one of the winners of the 2019 National Poetry Series and published through Milkweed Editions late last year. Described by National Poetry Series judge Kazim Ali as having "deadly superpowers," the collection is made up of poems written over the course of 10-plus years on family, sleeping in the closet of his childhood home—the only place for him when there were 11 people plus a dog sharing a one-bedroom apartment—and more, English interspersed with Spanish to punctuate experiences.
"I thought about providing notes in the back for translations but, you know, it's the 21st century and everyone has access to Google—there were always words that I had to look up in learning English," Garcia says. "I don't think that it's unreasonable to put that on the reader sometimes. And that's also part of why I don't italicize the words I have in Spanish, unless it's dialogue. [Spanish and English are] languages that I learned growing up and to put them in italics would make them other, and for me, they're not."
While the past year has not provided motivation to write many new poems, Garcia accepts that it's also part of a natural ebb for him.
"You're not going to stop being a writer just because you're having this moment of not producing poems," he says. "Honestly that's part of the process for me anyways, I can go through moments of having intense productivity in generating poems and sometimes it's good to consume and kind of take things in before I started trying to put things out.
"One of the things that has helped me get through this pandemic is being able to find community with other writers, and that's come through in a lot of surprising ways," Garcia continues. "I know everyone's Zoomed out, but also it's been really nice to be able to attend readings without having to leave home and see writers that I normally wouldn't be able to have access to, setting up Zoom date nights with other poets and sharing successes and sometimes commiserating.
"The importance of literature during the pandemic is the same importance that it always has held, it's basically a way of surviving, or a way of experiencing life and processing it—only heightened because there's a lot more going on and it's easy to feel alone and kind of overwhelmed."
And the organizers of the book fest understand the need for connection and collaboration during this time. The last event of the four-day festival is the Outspokin' & Bookish Collective Care Zine Making Workshop and Exchange, Sunday from 2-4 p.m. PST.
Hosted by Amanda Meeks, participants of the workshop will receive a free materials kit, creative prompts, guidance, zine assembly tips and discussion to help them complete a zine by April 9 on the topic "Can I Hold This for You?"
"The pandemic itself is hard, but then we also have a whole political and social landscape that we are constantly navigating and reflecting on and responding to not just as creative people, but as people," Meeks says. "I think that it's really important to show up for each other, and in a way that helps us all thrive and build community where we need support. I want to encourage people to reach out to others during this time and really be supportive of one another and caring and find ways to be creative together."
Each completed zine sent back to Meeks will be copied and sent to all the participants, providing everyone with a unique piece of literature art made from a place of understanding that no one can be 100% on 100% of the time; it's OK to let someone take some weight off your shoulders every once in a while.
A librarian by profession, Meeks launched Outspokin' and Bookish when they moved to Tucson from Flagstaff after forming the idea of the project over several years. A volunteer stint with Read/Write Library Chicago in 2012 prompted Meeks to start a book bike program there, expanding the reach of the various zines and Chicago-related materials to art spaces, farmer's markets and more.
"I really loved that project and I wanted to do that on my own in a place where there was a lot of room for the zine culture to grow and flourish," Meeks explains.
They've already organized two zine exchanges during the pandemic, as well as a virtual collaborative zine called "Tucson Walks."
"The thing I love about zines is that they're kind of a niche publication," Meeks says. "They are so diverse in topics and I think that there's something for everyone. There are tons of zines out there if you just Google zine distros or zine archives, there are some even in Arizona. If people have questions, I would also encourage them to reach out to me and I will help find resources on whatever aspect of zines they're curious about.
"Zines are a really democratic medium in that they're cheap to create and they help share ideas that are often not part of the mainstream conversation or officially published media. They've always been kind of this fringe medium that really promotes radical ideas and perspectives that are underrepresented."
Visit www.noazbookfest.org for the full April 1-4 schedule including Zoom meeting IDs and passwords for each event. Check back here next week for a Hot Pick on the festival's ancillary reading events scheduled throughout the month as well as interviews with young adult authors Aden Polydoros and Bill Konigsberg.