Flagstaff has been lucky over the years to host the Pickin' in the Pines festival. Every year features top-notch national acts on the main stage as well as smaller stages that feature a band contest, workshops, jamming, great music and great vibes galore, not to mention the famed camping aspect. This year should be no exception.
Of particular interest to local folk musicians and fans, this year's festival will feature the return of one of Flagstaff's native sons, Dom Flemons, who cut his teeth as a young pup playing open mics and busking in downtown Flagstaff.  In 2005 he moved east to North Carolina where he formed the Grammy Award-winning band The Carolina Chocolate Drops, a band that found its particular niche in the little-known genre of Old Time African American string band music.  
Flemon's decade-long musical odyssey—from busking to the Grammys, Carnegie Hall, the Grand Ole Opry and, eventually, the North Carolina Music Hall of Fame—is a remarkable and fascinating one.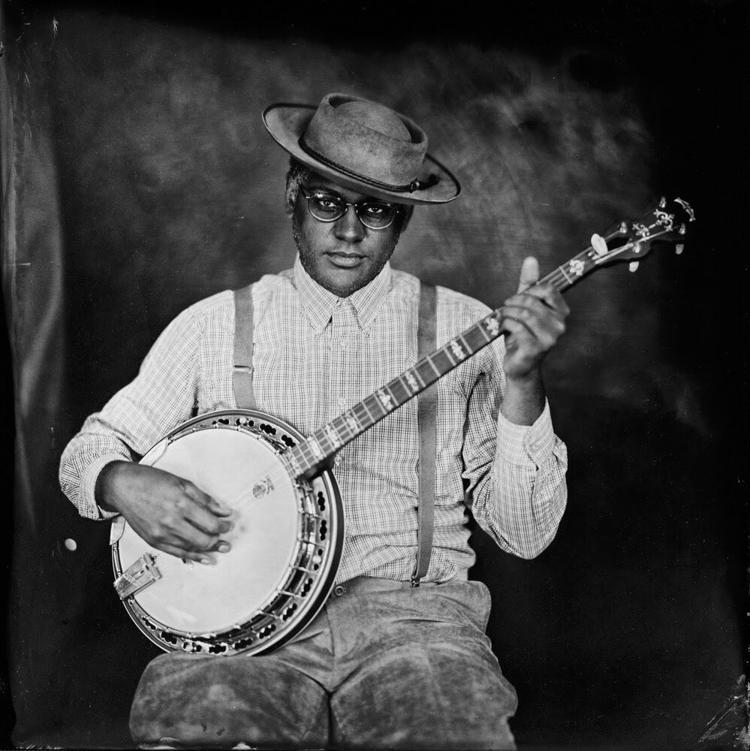 For those who were around Flagstaff in the early 2000s, Flemons was a staple of the local folk music scene and an unmistakable sight. Back then he was a wide-eyed 18-year-old oftentimes seen walking the streets barefoot with his ever-present guitar slung over his back—looking not-unlike the folk music reincarnation of a very young Jimi Hendrix—and soaking up every possible musical experience.
His focus, dedication and insatiable drive to learn about all the individual puzzle pieces that make up the great mosaic of American music was really something to witness.
In 2005, after Flemons had graduated from Northern Arizona University, he had an experience that would change the whole trajectory of his life when he attended Appalachian State University's Black Banjo Gathering which aimed to unite lovers of the banjo and celebrate its African origins. He was so inspired by what he saw and learned there that he packed up all his gear and headed east on I-40 to the very cradle of old time string band music, North Carolina, and formed The Carolina Chocolate Drops.  
Says Flemons, "At the gathering I had heard North Carolina was the place to be as far as the kind of music I wanted to do. That and so many of my musical heroes were from there. I started researching and learning a little bit more about Piedmont guitar and because of that I met Timothy Duffy—who owns the Music Maker Relief Foundation—and that's how the Carolina Chocolate Drops started making records. We did our first demo alone but then when we connected to Music Maker Relief Foundation that's what really made the Carolina Chocolate Drops happen. Through my connection with them I've met lots of other great players over the years, guys  like John Dee Holeman, Boo Hanks and Captain Luke in Chapel Hill—and Mike Seeger later on. A lot of musical mentors like that along the way that really taught me a lot."
Besides schooling the young Flemons on various aspects of the music, Seeger was especially instrumental in Flemons broadening his horizons, stretching out and learning about new styles and rare instruments from the early 20th century, some of which were not being played at all anymore such as the bones, quills and panpipes.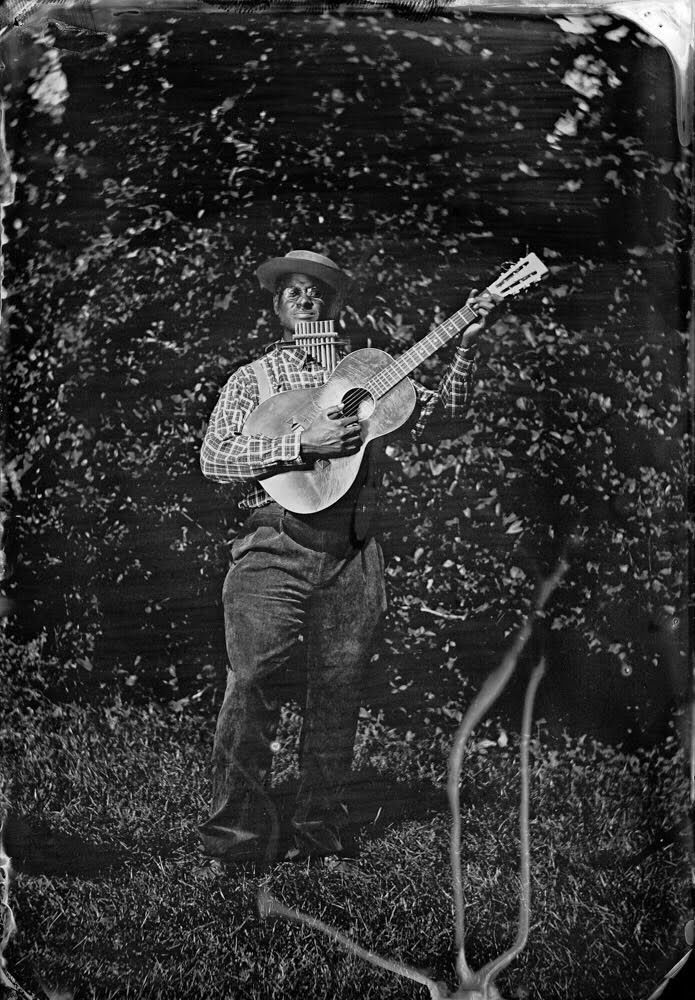 "I learned all those instruments from Mike, and now that Mike's gone I'm the only one that's really doing it," Flemons says. "I inherited all these traditions just by being there and being interested. At the same time, The Carolina Chocolate Drops were kind of a phenomenon all by themselves because that was the first time a lot of people had seen an African American string band."
He refers to himself these days as a "songster," an early American term once used to describe the troubadours who played a whole variety of American folk music songs— "almost like a human jukebox," Flemons says.
This was before the advent of records spread the music like wildfire from a huge interrelated web of styles—mostly based on region rather than race—to the eventual categories and boxes now known as genres—originally based in race and, more accurately, overt racism—that would eventually shape the way we listened to and understood music.
Throughout his career Flemons has sought to defy those preconceived notions based on this kind of marketing rather than on actual music or its history. His research in this area digs deep into the well of our rich musical legacy, both to recreate the sounds of early American music and to breathe new life into it for the modern audience. His newest creative endeavor, the album Black Cowboys, is the latest example of this.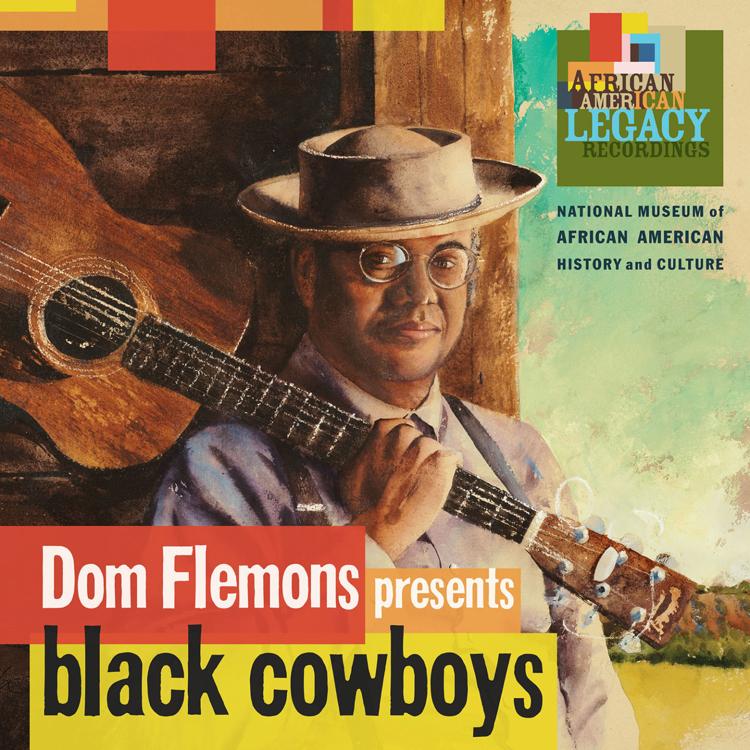 While his earlier work reflects the style typical of his adopted home in North Carolina, Black Cowboys represents a clear return to his Western roots. In fact, it was on a trip west that a certain discovery would spark the idea at the core of the project, striking him out of the blue like a bolt of high desert lightning.
"The idea first started when I came back to Arizona to visit family," he explains. "I was driving down I-40 and I stopped at the Petrified Forest. I found a book in the gift shop called Negro Cowboys. And that's where it mentioned that one out of four cowboys that settled the West were African American! And that just kind of knocked my head off because I never thought about it. Just like black string band music was unknown to a lot of people, including me. Early on, I didn't realize a lot about the African-American cowboy tradition. I was not aware of that particular history, even though it was the experience that was the most like that of my own family coming west. They were part of that westward migration. So I started researching what it means—this whole thing about black cowboys—and it opened into a very elaborate history of African Americans in the West. And this served—after a whole lot of research—as the basis for the new album."
He elaborates in regards to his homecoming for Pickin' this year:
"This year I'm doing the new stuff [and] I'll be playing solo. I wanted to keep it to the stripped-down versions of the songs so I can show the folks here at home what I've been up to all these years. I've also got a lot of cool traditional instruments that I'm using that will make it interesting.
"I'm always glad to make it back home," he continues. "Flagstaff is really a place that helped me to formulate my musical style. Here and North Carolina are the places that were formative for me. I always love coming back to these mountains—down to San Francisco Street and Beaver—all the places I used to hang out and busk, honing my craft. It brings back a lot of memories. No matter how far I travel, Arizona, especially northern Arizona, is deep in my heart and soul."
See Dom Flemons at the 13th annual Pickin' in the Pines Music Festival happening Sept. 14-16 at the Pepsi Amphitheater at Fort Tuthill County Park. Flemons will perform on the main stage Saturday at 2:45 p.m. Camping this year is sold out. Children under 15 are free. For tickets, a schedule and a full list of acts, visit www.pickininthepines.org