"I feel like a lion on stage—I'm ferocious, and then I'm so tender and shy in real life," says singer-songwriter Chastity Brown.
Brown, 35, has been making and performing music for more than a decade alongside near-constant touring. While she loves touring and says the road is "most certainly where my path is and my purpose is," she admits that it can be a lonely and difficult place to maintain relationships, especially when she tries to isolate herself upon returning home, and recently began therapy.
"I resisted it for so long," she says. "I thought it just sealed the deal on, 'You're f---ed up, that's why you're going to therapy.' It's not that I'm f---ed up though, I just realized I don't have all the tools I would like to have to be whole, to fully communicate better to the ones I love."
The stigma surrounding getting help for mental health is a dangerous block. Society says those who go to therapy or use medication are weak, but it really takes a lot of strength and self-awareness to seek help. When she doesn't have a scheduled chat with her therapist, Brown works to clear her mind of negative thoughts by treating her body with respect—going for a run, getting a massage or simply eating more vegetables. Writing songs also serves as an important way for her to sort through the chaos.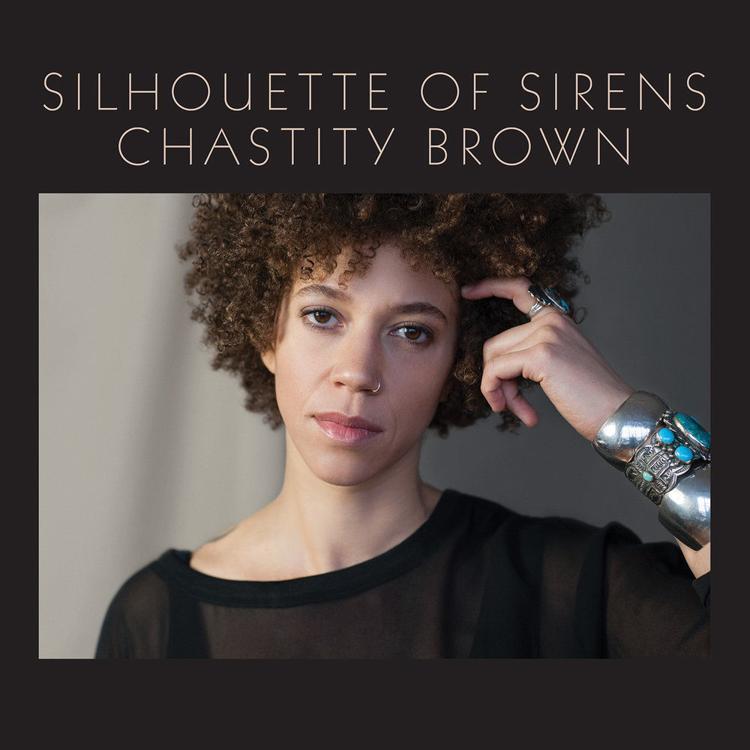 She released her fifth studio album, Silhouette of Sirens, last summer after completely scrapping the first series of recordings, which she felt sounded too perfect and lacked the raw emotion present in her live performances. Rather than recording each of the components separately to be mixed at the end, she decided to bring all her bandmates together in the studio in an attempt to capture that energy.
Silhouette of Sirens opens with "Drive Slow" as Brown sings, "All my life, I was afraid of everything/I wouldn't touch what was beautiful to me," setting the tone for an album that explores self-discovery and patience in the process.
The Minneapolis-based musician blends folk, pop and soul into her work while also paying tribute to her Tennessee roots with a little bit of country influence. She makes full use of her wide vocal range as she goes from soulful crooning in "Whisper" to a powerful force in the grunge-tinged "Pouring Rain."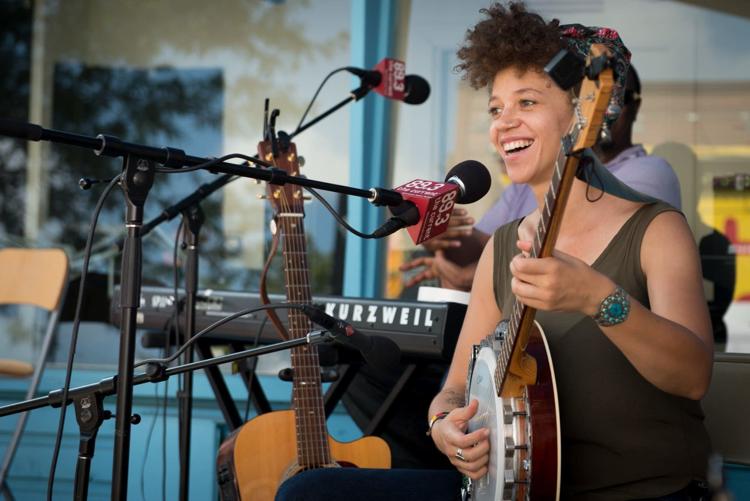 Her influences take many different forms, and she says the music she wrote for Silhouette came from "snapshots of memory, both lived and imagined." Some days, podcasts like Another Round and Two Dope Queens help keep her moving and creating. On other days, authors like Octavia Butler and James Baldwin will do the trick, the latter of which she says has been "a steady heartbeat of influence" in her work the last five or six years.
One particular quote in Baldwin's 1963 essay, "The Artist Struggle for Integrity," sums up Brown's goals in writing and sharing such vulnerable music: "I tell you my pain so that I might relieve you of yours." There is a comfort in knowing that others have experienced similar pains but were able to get back up and live to tell their story. Brown's openness about her past provides a light at the end of the tunnel for those going through difficult times.
She also cites musicians such as singer-songwriter Solange Knowles and up-and-comer Phoebe Bridgers as inspiration, although their musical styles are near opposites, and she toured with folk artist Ani DiFranco for most of 2016 as well as sang backup for her. Currently on tour with poet and activist Andrea Gibson, Brown continues to build connections with those she admires and with which she can find some common ground.
"I guess I'm just really inspired when I feel like people are being their honest selves, and I feel like that is also the power of touring with someone like Andrea," she says. "Her work and poems are powerful but it's also like, what's behind the work in the poems, this human being who's sharing their honest self with the world. You can't erase that type of strength."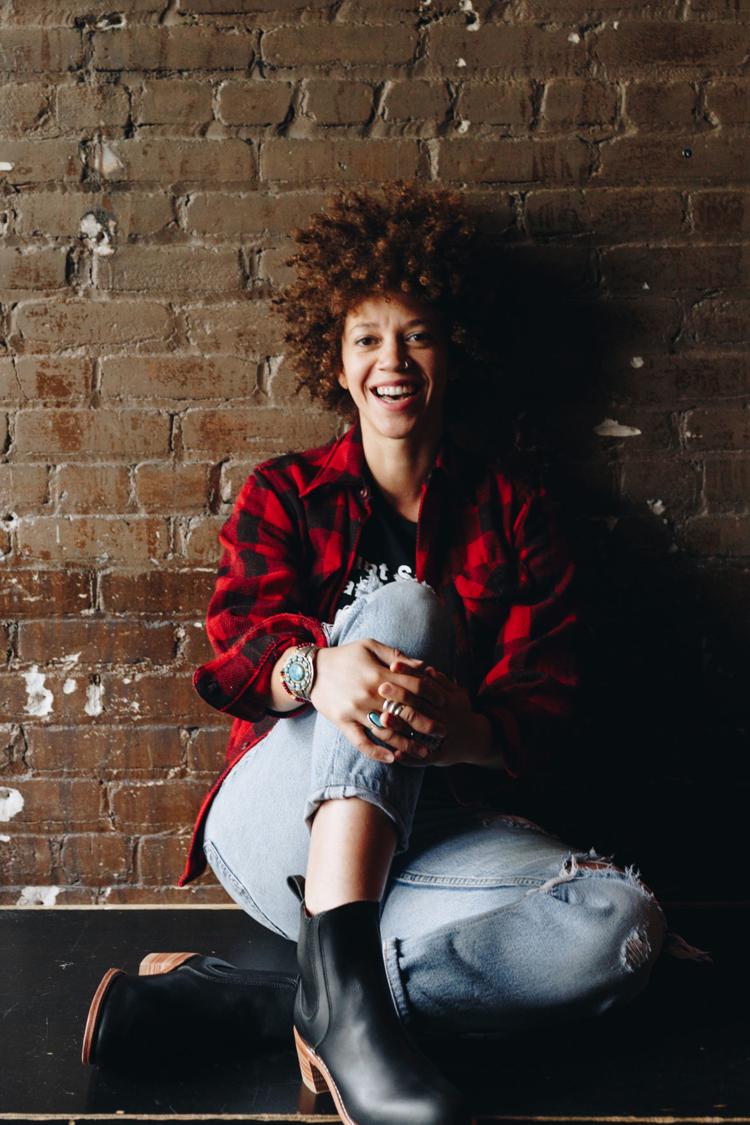 Brown says she has noticed more empathy at the shows she's played with Gibson so far and calls the whole tour supernatural in that aspect of acceptance.
"Andrea's work moves me to tears and moves me in a way that I feel safe, and seen and inspired," she says. "As a woman of color and a queer woman, I'm hyperconscious of my safety and these audiences are so freaking woke."
People with similar morals and ideas about the world tend to be drawn to each other, and as Brown has become more vocal about her support of women's rights and thoughts on race and ideology, she's seen a shift in those who attend her shows. Crowds that react with empathy rather than criticism when someone opens up offer an environment that lends itself to community-building she has experienced while on tour with Gibson.
In between shows and extensive tour runs, Brown has been working on new music and says she aims to have the outline of an album by this summer and then start recording in the winter. She looks to themes within national news and her own life to write songs, such as an altercation at one of her shows when she says a white supremacist tried to get her to physically fight him.
"It was really scary, but after the situation I realized that had nothing to do with me, it had to do with him feeling like for some reason I displaced my power," she explains.
She decided to turn that experience into something positive by using it as inspiration for an upcoming new song called "Mad Love."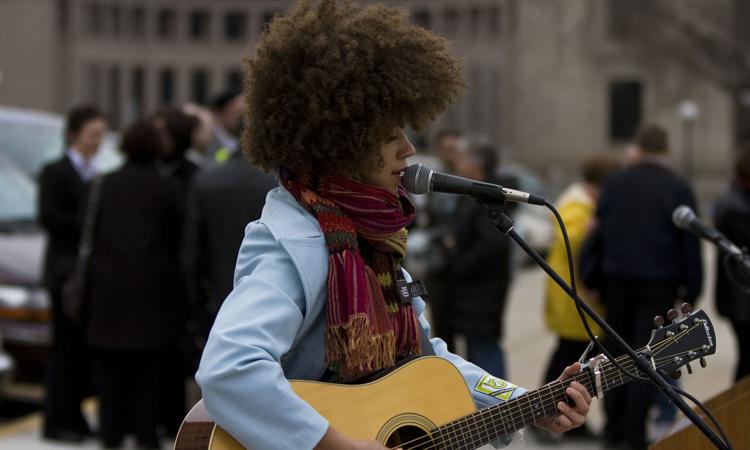 "It's about standing up for oneself in the midst of that but also standing up for oneself for your own peace of mind," she says. "Radical self-love is radical because, for a lot of us, it's just not our first disposition; we always apologize for everything. So that's really been my platform lately 'cause we can see very clearly with the political environment that truth is so easily slighted with distraction and lies but truth still permeates that. That's my role in it as a songwriter, to sing about what I'm seeing and have experienced."
Chastity Brown will open for Andrea Gibson Saturday, March 31, at the Orpheum Theater, 15 W. Aspen Ave. Spoken word artist Buddy Wakefield will also perform. Doors open at 7 p.m., show starts at 8 p.m. Tickets are $14 for students, $19 for the general public. One dollar from every ticket sale will be donated to the Black Lives Matter movement. Visit www.chastitybrownmusic.com for more information.