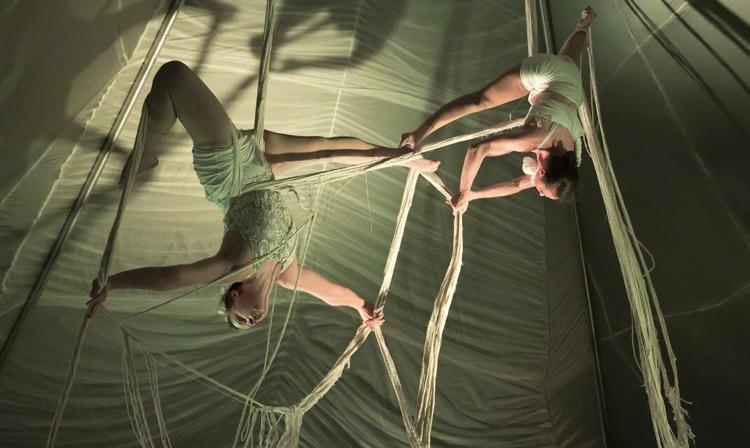 It's not quite a safe space, although all are welcome. It's also not a specific, tangible place. Rather, Aloft Circus Arts' Brave Space brings audiences face to face with their fears and shortcomings, all the while imagining how they can be more open to trust and acceptance.
Take the pole-walking performance by Sarah Tapper. She begins the show with two acts, one of which requires her fellow performers to hold a long metal pole above their heads as she makes her way across. One slip of a hand or twitch of an elbow, and Tapper could come tumbling down.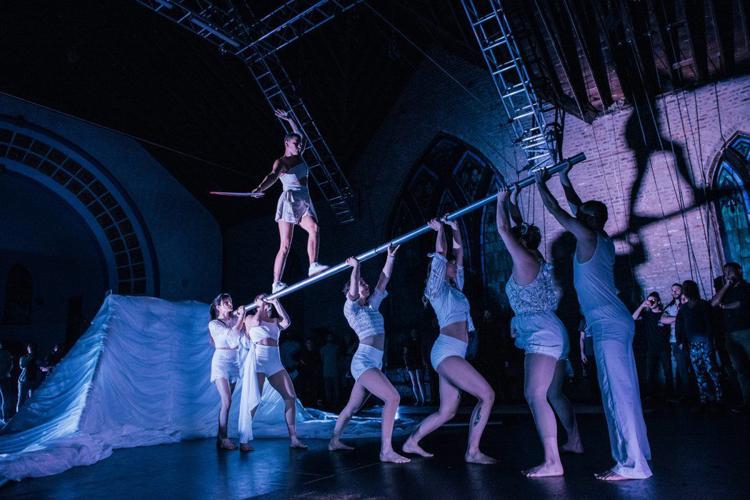 "Nobody breathes through the whole first part of the show," says Shayna Swanson, Brave Space artistic director and founder of Aloft Circus Arts.
Then, from a pile of fabric on the ground, a tent rises to encompass aerial ropes, trapeze, pole acrobatics, juggling and more. Audience members are welcomed into the ephemeral space for a one-of-a-kind experience celebrating the beauty in collaboration.
The pop-up circus creates an immersive environment in a blanket fort sure to be the envy of all our childhood selves, which also acts as its own little world. Participants can leave their everyday lives to step into a realm of billowing walls and poignant messages.
The seeds for this show were planted while Swanson was watching The Handmaid's Tale. She says seeing the dystopian world play out on screen made her feel terrible, so she wanted to create something to negate that, something that could reaffirm her faith in goodness.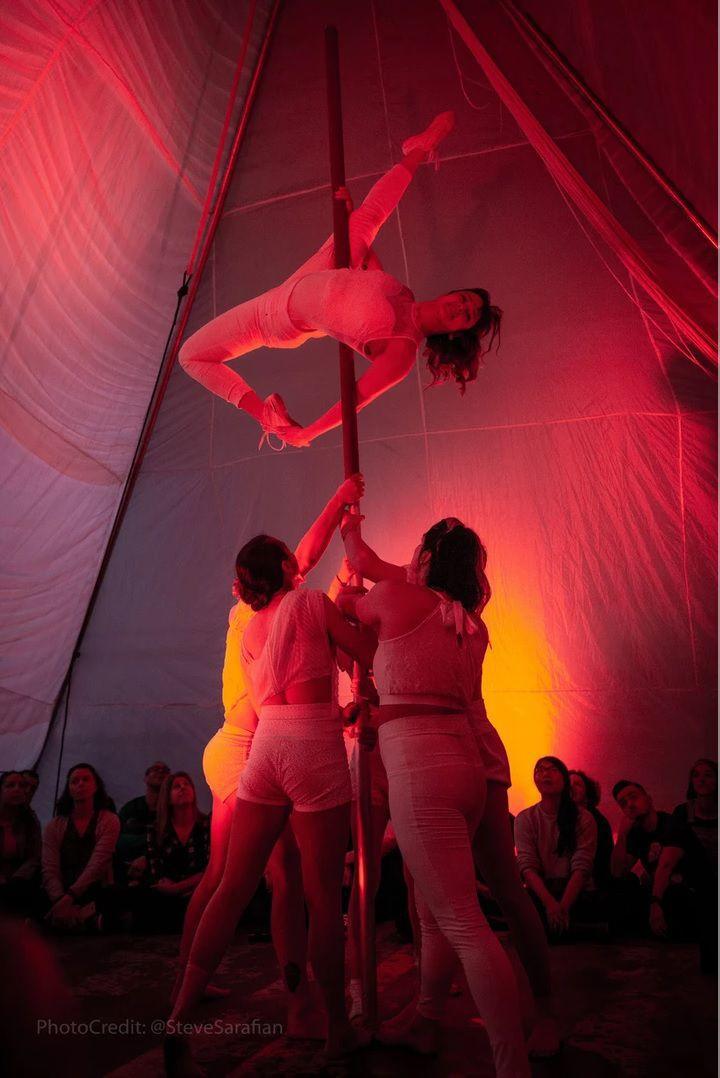 "I thought, 'What if instead of terrible things happening in the world, what if the opposite thing happened?'" she says. "I wanted to create a world that is better and more inclusive and more supportive, what would a world like that look like."
Even the creation of the show is one of support and collaboration. Swanson had the idea for Brave Space in her head for years, but wasn't able to make the story and message line up with imagery. She was encouraged by a business consultant to workshop her ideas after realizing she was burnt out from all the roles she was juggling. She asked for, and accepted help from, fellow performers to shape the show. Now, each of the seven people involved must ask complete strangers for help as they put their safety on the line in each city they visit.
"You have to kind of realize that you're worthy of trust, which I think is not something people get approached with very often," Swanson says. "People just go about their day and they interact with the people they interact with, never outside of their own world, so to go outside that and reach out a hand to somebody you don't know and have someone you don't know ask you for help is kind of a new thing for people. If we can practice asking for help in small ways, then maybe people will be more willing to ask for help and lend a hand."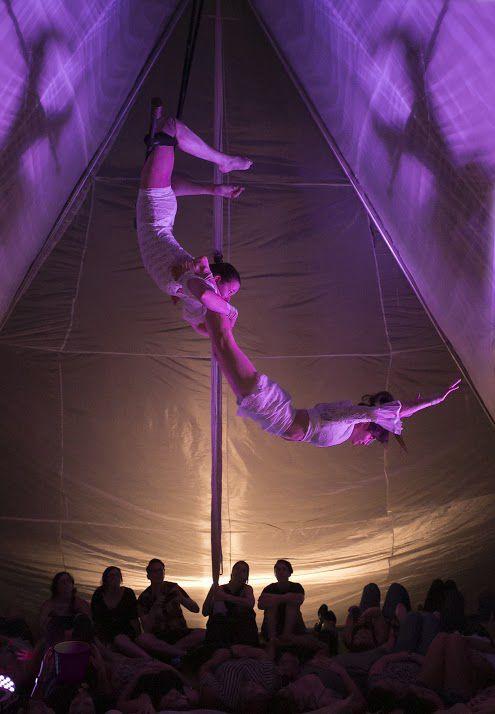 Brave Space premiered in Chicago this past October in Aloft's practice and performance space, a 109-year-old church building, before going on a short tour in March.
You have free articles remaining.
In booking the current tour, which will take them roughly 7,000 miles from Chicago to the West Coast and then up to the Pacific Northwest and back, Swanson reached out to aerial studios along their prospective route to see if they could utilize their studio space. Interest and participation in the aerial arts have been growing over the years, and Swanson says studios have become much more prevalent since she began learning circus arts in the late '90s. Because of this, Aloft has been able to take the show on the road to expose a variety of audiences to their message of connection.
Audience members may be asked to hold onto juggling rings, help carry a pole or support an acrobat. They are given complete faith in their trustworthiness and in turn trust the aerial performers to land each maneuver as they lie vulnerable on the ground.
"I was very pleasantly surprised at people's reaction to it," Swanson says. "I knew we had a good show, we were all very proud of it, but you never know how it's going to translate to other people until you do it."
Because audience participation is such an important aspect, the performers weren't even able to complete dress rehearsals without bringing in students from Aloft to lend a hand. Swanson calls Brave Space's cast "homegrown," as a majority of them learned their skills as Aloft students before taking the leap to perform for audiences.
"I like to work with people who I already have an established relationship with, especially because so much of the work we do is personal and small," she says. "It's not about the biggest backflips someone can do; it's about how they can convey an idea while doing a backflip."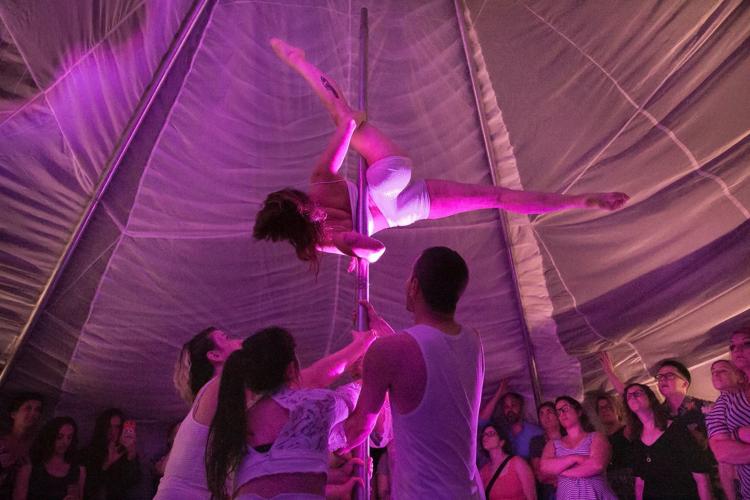 Swanson adds Aloft shows operate largely through a do-it-yourself ethic to create performances that "resonate on more of a personal level than large-scale circuses like Cirque du Soleil."
You won't get this experience at a resort in Las Vegas or anywhere else. One can view the promotional video and look at all the photos they want without fully grasping the message of the show until they themselves are watching a duo trapeze act directly above them.
"What most stuck with me after the show was the serene way they made eye contact and smiled at each other, and at us, throughout the performance," Wendy Arons with The Pittsburgh Tatler writes in a review following a performance in March. "These were smiles that seemed to hold the secret to forging a space of care and connection, and I left with the impression that these artists wished nothing more than to share that secret with all those of us who had come together to build that little magic tent with them."
"We live in a culture that values independence and self-assurance, but they're not as important as we think they are," Swanson says.
Brave Space is a hand reaching out to a stranger as they try to navigate this large, confusing world. We're all fighting our own demons, but perhaps alleviating some of that stress can really be as simple as asking for help when we can.
Aloft Circus Arts will perform Brave Space outside at Momentum Aerial, 1802 W. Kaibab Lane, Suite #170, Monday, June 17, at 7 p.m. Tickets can be purchased at www.brownpapertickets.com/event/4236985 for $20-$30, plus fees. Entry is limited to 100 people. Those in need of mobility assistance can make a note of it at the time of purchase. As of press time, the show was almost sold out. Visit www.bravespaceshow.com for more information.