Otep Shamaya has never been one to shy away from saying how she really feels. A fierce proponent for human, women's and LGBT rights, she has spoken out for issues important to her through her namesake metal band for almost two decades.
Since their debut album in 2002, Sevas Tra, which reads "art saves" backwards, Otep has used music to rail against political corruption, and Shamaya has also published several books of poetry accompanied by original illustrations to reach more audiences.
"I don't want to look back on this era and not be able to say I used every medium I have to speak out on attacks against our democracy," she says.
The current political state has left her with no shortage of material from which to draw influence, and she writes without abandon on Otep's eighth album, Kult 45. Lyrics speak out against rape on "Trigger Warning," skewed gender roles on "Boss," President Trump's scandal-filled administration on "Halt Right," immigration issues on "Invisible People" and gun laws on "Shelter in Place."
"Those are the issues that I thought were prescient and important to cover in this album, not only for my family and loved ones, our fans, but just our country as a whole," Shamaya says. "It's important not to normalize what traitor Trump and his whole regime is trying to do to this country."
"Even if we have different believes systems, we should want to protect our country, our rights, our freedoms. We need to remember who we are," she adds before paraphrasing a quote by writer and social critic James Baldwin: "I love my country and, in fact, it is my duty to criticize her."
TURNING HEADS
Otep got its start when the band's energetic live performance caught the attention of Sharon Osbourne in 2000 and she invited the band to play Ozzfest, the first for a female-fronted group.
While the band tends to be shoved into nu-metal and alternative metal categories, Shamaya finds lyrical inspiration in underground hip-hop and doesn't try to confine the band to one genre. She says she wanted to make sure the music also got its time in the spotlight with Kult 45.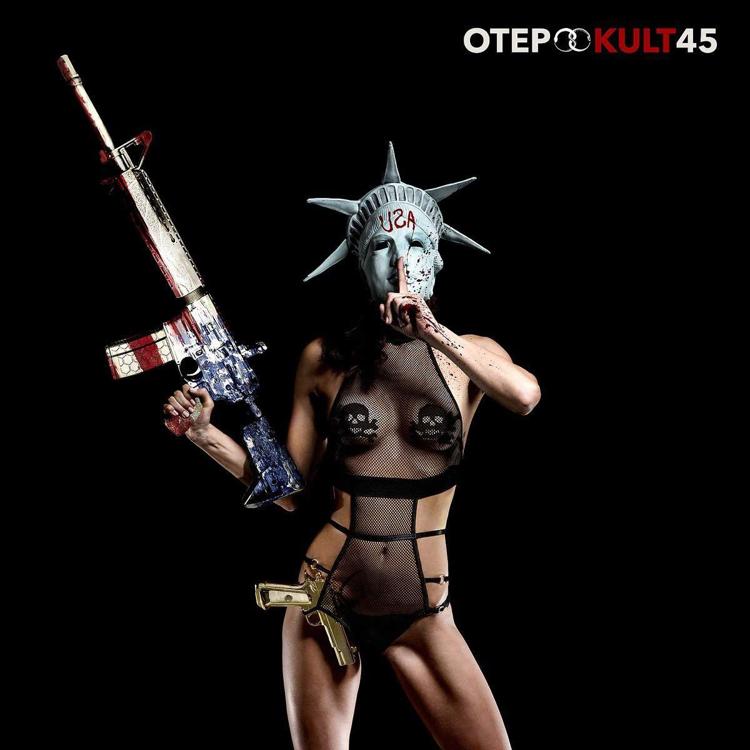 Released July 27 on Napalm Records, the album was self-produced by Shamaya and guitarist Aristotle Mihalopoulos. Drummer Justin Kier and bassist Drew Barnes round out the band, and each contribute their own unique sound to the album, which Shamaya says feels like Otep's most honest release yet.
"These guys are like my brothers. They are the most talented musicians I've worked with and I wanted all the instruments to have a voice," she says. "I told them, don't worry about genre, just let the music flow through you."
The result is a collection of tracks where threads of each instrument weave in and out of the speakers as Shamaya alternately growls and begs the listener to open their eyes to the injustices happening in the country. She speaks hip-hop-tinged anthems in "Boss" and "Undefeated," and there's even a haunting piano ballad with "Be Brave," which urges listeners to keep fighting for a better world in the face adversity.
AGREE TO DISAGREE
"We live in a society where everything is catered to us," Shamaya says. "Spotify, Netflix suggestions, Pandora, Hulu, they all do the same thing. They give us what they think we want to see, and we're never really confronted with things we don't like."
To fight against this one-sided perspective of the world, Shamaya actively seeks out a discourse on controversial issues and tries to educate herself equally on both sides of the argument. She's discussed her opposing beliefs with evangelicals and Scientologists and generally has been able to agree to disagree with even the most stubborn person. Although she says she hits a wall when talking to the majority of Trump supporters.
"All they do is regurgitate what their glorious leader says. What I found is my side is the ocean and their side is a puddle, and all you've got to do is splash your foot in it and it turns into mud and muck. They resort to name-calling, threats, nothing that is germane to the argument we were just having."
On "Halt Right," Shamaya calls out the president's claim that he will make America great again and asks when it was great in the first place. Was it when women weren't allowed to vote or when the country was being built by slave labor and genocide?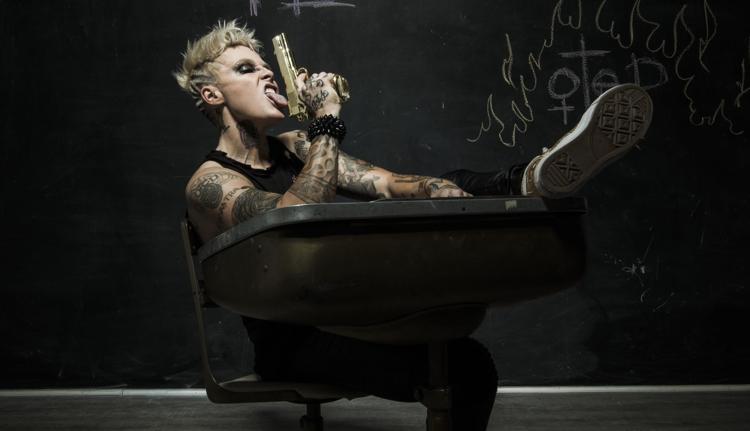 "Shelter in Place" touches on current events surrounding gun rights: "If they gave AKs to the gays/ then the NRA would pay to dismantle them/ If everyone in Compton had an AR-15/ the LAPD would be attacking them."
However, she's quick to clarify she isn't anti-gun. She comes from a military family, owns several guns and says she believes in common sense gun laws, but with high schools like Columbine and Marjory Stoneman Douglas almost synonymous with gun violence, Shamaya wants to know why gun laws haven't been tightened to prevent such tragedies.
"I'm asking, how do send your kid to school knowing someone could walk in and murder every single kid, and not say, something should change," she says. "We need to come together as a country, put parties aside, and remember we have loved ones and these are our children, our f**king children. And if you love your guns more than your children there's something wrong with you."
Otep's calls to action don't stop at the music though. While on the first leg of their Resistance tour last year, the band collected around 60 cases of water along with monetary donations from fans to donate to the Flint Water Crisis, an ongoing issue they wanted to remind people of following the decline in media coverage of that crisis.
"I do try to do the best I can to make sure I'm not just talking the talk, I'm walking the walk," Shamaya explains.
For its current tour, Otep has partnered with nonprofit organizations Rock the Vote and HeadCount to get people registered to vote in time for the 2018 general election in November.
Animal rights are another issue for which Shamaya has long been a proponent. She has been a vegetarian and vegan for the past decade, and her family owns 50 acres of land in Texas where they run a rescue for goats, longhorn cattle, donkeys, dogs and other animals in need of respite from cruelty.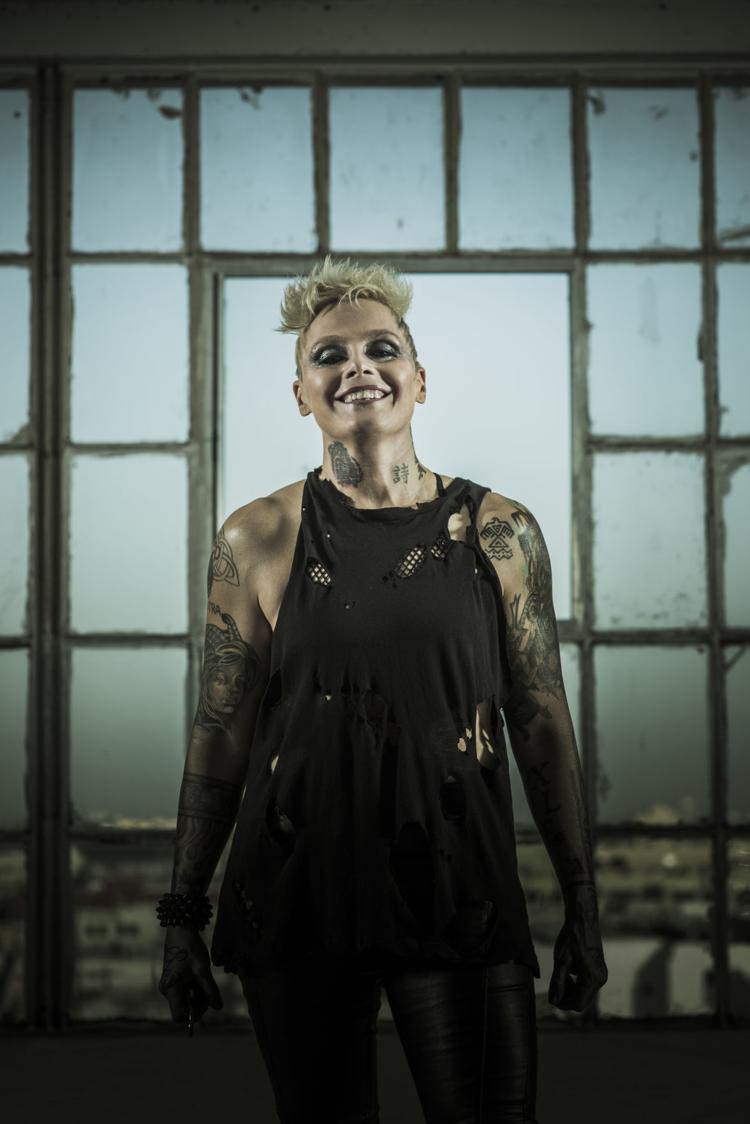 Shamaya constantly checks back in with herself to make sure she's using her platform to speak out for those with no voice and keeps her fans at the forefront.
"Before starting the band I was just a knucklehead floating around LA, doing stupid s**t," she says. "I wrote a lot [and] I thought I was going to be a spoken word poet, but then I found music."
And, in her music, thousands of people have found a place of understanding and support. "The Tribe Speaks," a bonus track at the end of Kult 45, gives them a chance to be heard. Shamaya gave out her personal phone number online for fans to leave a message about how the music has made an impact in their lives, and she received thousands of uplifting messages from people saying they gained the courage to come out or finally fought back against abuse or found a reason to keep living. This proof that her hard work through years of touring and recording have paid off reminds her why she's never backed down from saying what she really thinks.
"When someone says the words you wrote saved their lives, no one prepares you for that kind of thing," she says. "It really is a magical thing that I never thought would happen to me. It's really a blessing."
Otep will play at the Green Room, 15 N. Agassiz St., tonight, Thursday, August 9, with openers Prey to Nothing, Ice Sword, Dropout Kings and Ragdoll Sunday. Doors open at 7 p.m. and tickets are $15, $18 at the door. This show is ages 21 and up. Otep can be found on Facebook, Twitter and Instagram @OTEPofficial.