For the past year, Flagstaff's Episcopal Church of the Epiphany has used space as a platform, space as gathering ground for community, space as a vessel for art that amplifies social issues. Women's rights, uranium mining and indigenous land rights—each have covered the walls of the church's parish hall and gallery in some form or another.
The series, titled Open Doors: Art in Action, has been comprised of four exhibits so far and will focus on elder issues in its next show. In the meantime, however, Epiphany is turning its sights inward.
"This time around we're doing something a little different. We opened the space up to people from within the Episcopal congregation," says Sue Norris, committee chair for Art in Action.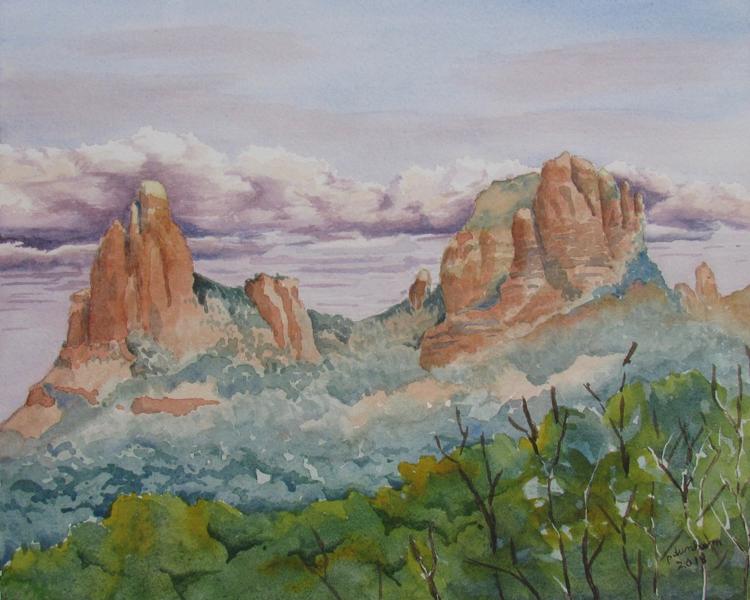 The exhibit, which will be up until Jan. 7, is simply titled Art of the Epiphany and features artists of all ages from within the congregation. 3-D collage, fabric art, photography, painting, watercolor, woodwork and more--the mediums are peppered across the spectrum of visual art and demonstrate the broad scope the exhibit has taken on. 
"It's amazing. When we opened it up, we were expecting something great, but we had no idea the scope of art and talent we would see," Norris says.
The parish hall, which was re-painted in April to accommodate art on its walls, has glass-paned windows that overlook Beaver Street on one side. At the head of the room are two windows that look south, filtering in the late November light. The selfsame light reflects in the glass frame of "Money is in the Safe," an acrylic piece by Priest Marianna Gronek painted from a photograph reference.
Gronek, who has a Bachelor of Fine Arts in illustration from Rocky Mountain College of Art and Design, worked as a graphic designer, illustrator and helped to build exhibits as a carpenter in the Denver Museum of Art before attending seminary in Chicago. Faith and art go hand-in-hand for her, she says.
"This creativity goes into how I live into my priesthood. I think I see things creatively, and that's a vision Epiphany wholeheartedly shares."
It hasn't even been a year since Gronek (who is also the rector of Epiphany), Norris and other members of the congregation and the Art in Action committee decided to open the parish up as a gallery.
"We wanted it to be a force of justice for the community, something that incorporates art on issues of injustice and that is open to all," Gronek says.
"I've been married to a musician all my life, [but] I'd never helped run a gallery before," Norris says. "This has been really important to me."
The Landscape of Uranium Mining launched Art in Action last spring and was most recently bookmarked by the show titled Peace & Reconciliation: A Juried Exhibit of Paintings, Photographs and Mixed Media. Each exhibit has paired with local nonprofits, emphasizing the word "action" in its title.
Gronek's "Money is in the Safe" utilizes acryclic paint, though recently Gronek has enjoyed working with oil most, a material she says lends itself most to the landscapes of northern Arizona.
Marjorie Lacy--whose work titled "My Mother's Hands" hangs near Gronek's--doesn't necessarily consider herself an artist. Lacy, who is an accountant by trade, has been a member of Epiphany for more than 20 years and began scrapbooking in 1999—a pastime that has manifested in several intricate booklets, some up to 50 pages long, documenting everyday life, national parks, trips and people.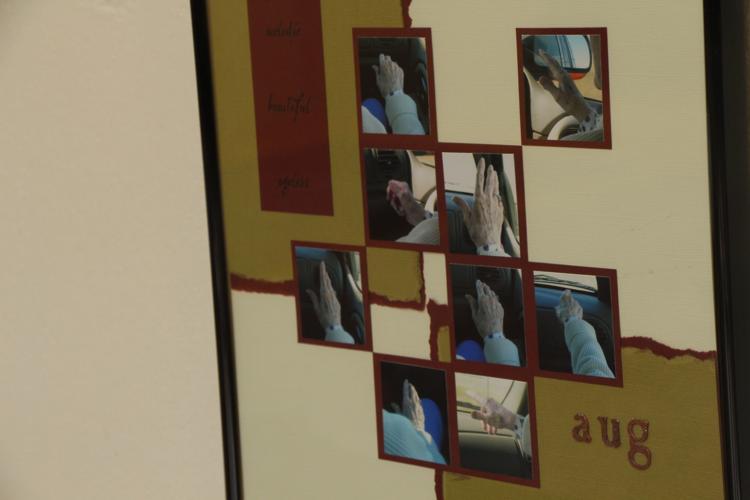 "My Mother's Hands" is two pages out of one of said books from 2005 and shows an elderly woman in the front passenger seat of a car; she is turning around to look at the photographer in the backseat. On the next page can be seen a collage of her hands as they rest or emote in various positions.
"My mother had such graceful hands," Lacy says. "She was a piano player, and after she was diagnosed with Alzheimer's my brother would take her for adventure drives up in Montana every weekend. We'd play classical music in the car and she would play the piano in the air. That's what those photos are of."
The images are a glimpse into an intimate joy between mother and daughter somehow contained in the space of an automobile.
Walk through the parish and toward the south-facing windows and you'll find the computer-generated images of Jim Swift. Swift, who has a PhD in physics and works as a math professor at Northern Arizona University, created two pieces—one generated by a program he himself wrote, and the other by a mechanism called Mathematica.
"['Square Icon 645'] took 13 hours of computer time," Swift says of the image, created by way of a process known as deterministic chaos and meant to imitate the logo of the church.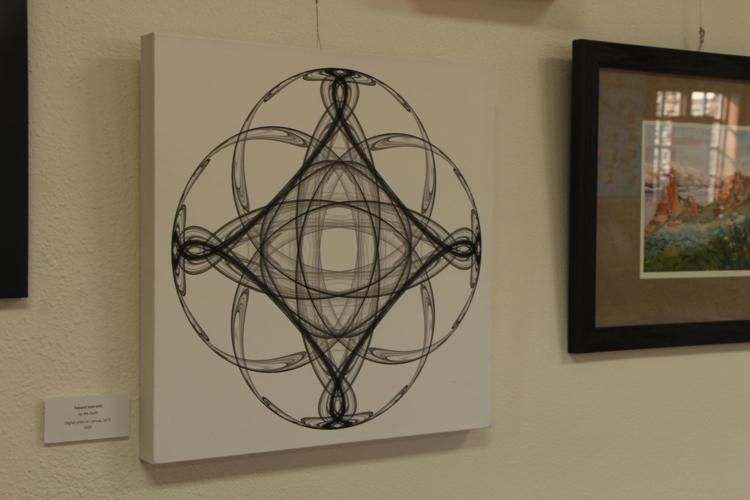 Swift, who has been a member of the church since the early '90s, says he was struck by the grace of the curves in the image titled "Two Fixed Centers."
"It just comes out of the laws of gravity," he says.
Swift began combining the artistic and scientific when he was in graduate school, saying, "I liked drawing the pictures that went with my work."
A slight shift of view reveals two pieces by the exhibit's youngest artist. Lila Dechter, 6, is represented via a painting of crosses at sunset and, below that, a small pumpkin covered carefully in white paint and a crown of leaves. 
"I like to draw cute emojis and make notes to my friends," Lila says of her time spent making art in school and at home—hers is a confident voice over the phone as her mother, Sara, prompts her to speak more about her favorite artist: Frida Kahlo.
"I like that [Kahlo] puts a lot of work into her paintings and that she knows a lot about color," Lila says. According to Dechter, her daughter carries a backpack with the artist's face on it to school every day.
Lila's favorite color to paint with is red, and when asked how she feels about her art being part of the exhibit, she says, "I feel good about it."
Some generations apart from Lila is photographer Margaret Conger, whose pictures hang in a trio: One taken in Mexico, another in Liberia and the third in Norway.
"Liberia was still pretty war-torn and not too much beautiful, but we had gone up for the weekend to a small fishing village where you could see Sierra Leone from there. And it's beautiful and just one of my favorite pictures."
Conger, who is now retired, spent 20 years at Northern Arizona University as a professor in the School of Nursing. Following her retirement, she worked eight years in Liberia teaching in a graduate nursing program.
"I'm like so many people [where] I take the photographs when I'm traveling [but] when you're home you just kind of say, 'OK,'" Conger says.
Her husband volunteered her to display her photos as part of the exhibit, Conger says laughing.
"But I am always delighted to share some of my viewable photographs. We have maybe 30 of them hanging in our house," she adds.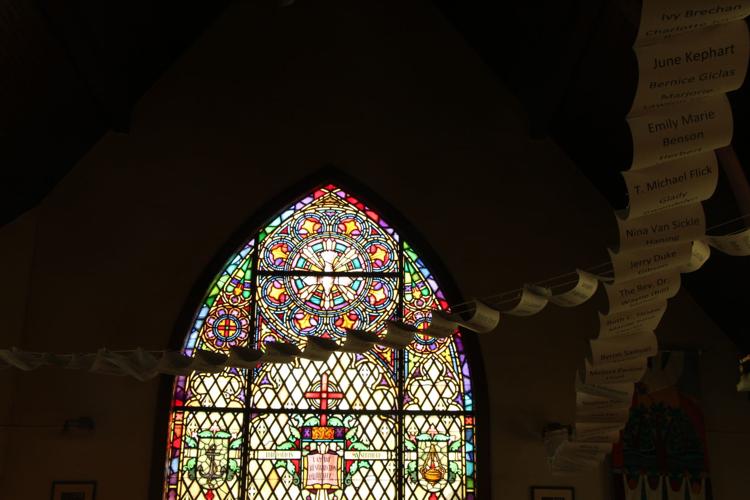 The works of Gronek, Conger, Dechter, Lacy and Swift are nestled between paintings of the Grand Canyon by Pat Dunham, a woodcut by David Spence, the paintings of Susan Golightly and a large fabric-sewn image by Kathy Deasy to name just a few of the members whose art hangs on the parish walls. Not all of those whose work is displayed refer to themselves as an artist. In fact, doctors, accountants, professors and students make up the exhibit. As such, the Episcopal Church of the Epiphany, which was founded in 1912, the same year Arizona received its statehood, continues to ease into its role within the artistic community both inside and outside of the congregation.
Art of the Epiphany  opened Nov. 12 and will remain up through Jan. 7, 2019. Episcopal Church of the Epiphany, 423 N. Beaver St., will host the official opening reception from 6-8 p.m. on Friday, Dec. 7, as part of First Friday ArtWalk. Several musicians from the church as well as two members of the Flagstaff Symphony Orchestra will play music at the opening; Charly Spining will play the church's newly restored organ. Food and drink will be provided; the opening reception is free and open to the community.