Access is not your typical art exhibit. Almost two weeks into its premiere, currently displaying the work of Unsung (Ivan Eric Bronston) and Kim (Kimberly Knight), it's already making a statement about the accessibility, necessity and value of art. Not only that, but the exhibit and art space is taking a firm stance on sustaining artists, propping them up through community and economic support.
Currently operating out of his home studio, Unsung hopes to make Access a reoccurring exhibit that features local artists working with a variety of mediums.
As artists with their own struggles getting by on a daily basis, Unsung and Kim share this vision for art that's accessible. Seeing how galleries operate in Phoenix and even during Flagstaff's own First Fridays, Unsung says prices have the potential to turn buyers.
"When it actually comes to selling a piece, the public sees how much the prices are, and they go, 'I can't afford that.' So they walk out of the gallery," Unsung says. "[Access] is a show where it's like, 'Pay me now $10. I'm not asking for much.' But you get a chance to win a piece. I wanted to make art cheap and accessible to people."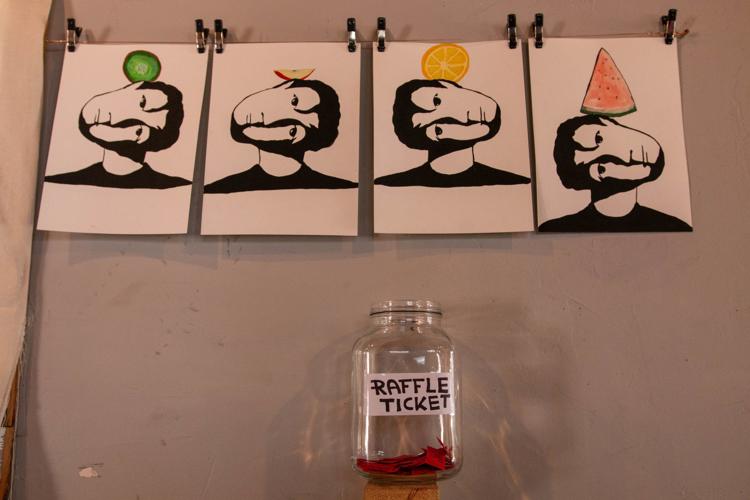 While Access has been regularly hosting open house events in which attendees can meet and talk with the artists about their process, for its opening and closing receptions (the latter occurring this Friday), the exhibit operates on a raffle-based system. It's $10 to enter the gallery, but the entry fee also buys you a raffle ticket. Once the money garnered from the event reaches a certain value, artworks by both Unsung and Kim are arranged to be raffled off. While attendees can still purchase art individually, once an art piece is designated for the raffle it is no longer available for purchase.
"That's what's great about this, because you might end up with a piece you might have not been able to afford," Kim says. "But now 100 people pitched in $10, and you might be the winner and get a piece out of it."
The artists met while Kim was drawing in her notebook with a Sharpie at a bar. Unsung says he took notice of the abstract faces on the page, her freeform style and her lack of materials, how she created beautiful works with very little.
While Kim, originally from Germany, is currently working on obtaining her green card and therefore unable to work, she says art has been her focus. As a result, it's been hard to gather materials to help sustain her craft. When she and Unsung began working together, he put together a box of paints, brushes and other material for her to use. Since September, and with instruction and lessons from Unsung, she's been working on new pieces, most of which are on display at Access.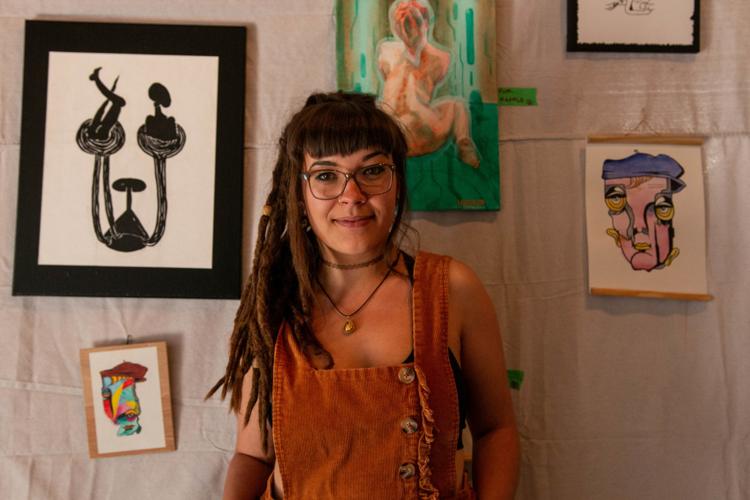 "It's been a blessing because after a full day I feel like I actually did something. It's really healthy for me," she says. "I feel like I do something every day, and it's important to me."
As young artists, both Unsung and Kim say they were inspired by graphic, anime-style work, and much of that is reflected in art that's on display. For Kim, her work focuses on abstractions of the face. Sometimes these faces are in black and white, color, with ears below the chin or with an eye as the mouth. Sometimes it's more hidden, behind layers of paint, barely noticeable, but there. For Kim, finding the faces is part of the fun.
"Everything we're seeing, we're always trying to make a face out of it. The human brain is meant to create faces out of everything. It doesn't matter how abstract the face it gets, everybody is still going to recognize it as a face," she says. "I always like the idea of trying to challenge people to find the faces in the stuff that I do. It's just more fun for me."
For Unsung, his artwork has deep ties to times in his life when he was less fortunate—living out of his car and with various friends and acquaintances around Flagstaff. In exchange for a place to stay, Unsung would clean up his host's living spaces, make food and craft an original piece of art, but he says it was his mom who truly encouraged him to continue being an artist.
You have free articles remaining.
Register for more free articles
Stay logged in to skip the surveys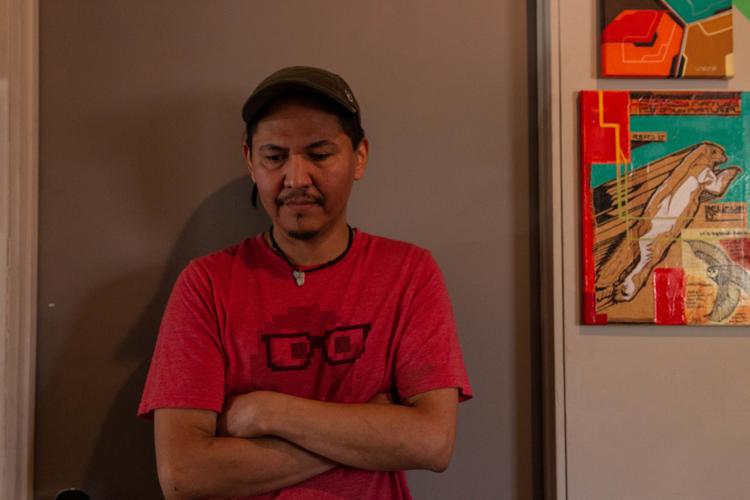 "I was homeless. My fiancée left me. I lost my studio. Eventually quit my job. I was really depressed. Moved back to the rez. I felt like my art career was over," he says. "If it wasn't for my mom I wouldn't have gotten back into art. She said, 'You're not a cook. You're not a skateboarder. You're an artist. Start acting like one.'"
So he started using whatever he could find to make art—house paint, cardboard boxes, Styrofoam and more.
"I literally started using recycled material because that's all I could afford. I was like, 'I'm not going to let me being broke stop me making art. I'm going to make legit art. I'm going to pick myself up and make art the way I want to make it.'"
What you'll find at Access is uniquely crafted work—paintings, prints, sculptures, etc.—built from necessity. It is, after all, the mother of invention, and Unsung and Kim do as much as they can with as little as they have..
Unsung also draws inspiration from artists with whom he's worked in the past, artists who are no longer present. His work now, he says, is for and because of them, and they continue to inspire him to practice and teach.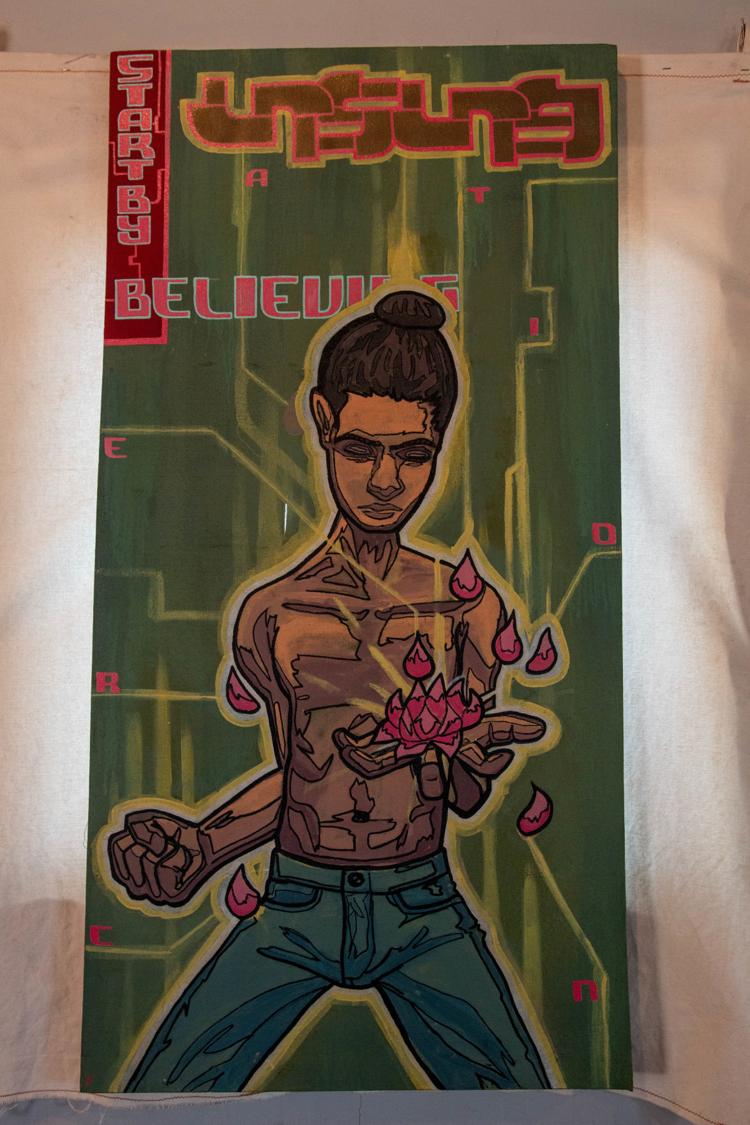 "Because of them, I feel the strength. I feel like I'm becoming more fierce with making art. I take it—I wouldn't say seriously—but I do it now like I'm meant to do it, not like it's just something I'm good at. I try to live it. There's a purpose behind it. When I teach people, I want them to gain a sense of purpose from it," Unsung says. "If there is a heaven I feel like it's in the minds of the people that you inspire."
Access is an idea that has been in Unsung's head for years, and now that it's finally come to fruition, it's clear how community and a passion for creation has informed and shaped the way this exhibit presents itself. It's in the way that many of the canvas and art materials were shared between the artists and given by friends and family. It's in the way the space invites camaraderie instead of competition. It's in the way the community has wanted these artists to succeed.
"Most of the shit I have in here, I didn't pay for it. People gave it to me, and I never take that for granted. I never get boastful about it. I always want to be humble, and I always want to help people in need like Kim. I know what it feels like. I know what it feels like to be at the bottom, and I just want people to rise up together.
"If you want to see a stronger community, you got to reach out to your community. You got to believe in your community. If you think that person's worth saving, go save them. Don't just watch them. That's what they did for me," Unsung says. "That's why I'm here where I am today, and that's why Access was such a great success. It's not just me. It is the belief of the people."
Catch the closing reception for Access on First Friday, April 5, from 6-11 p.m., 100 S. Mikes Pike. $10 will buy you access to the reception and a raffle ticket for an opportunity to win one of several original pieces of work by Unsung and Kim. See the Facebook event page "Access" for more information.