There are many reasons some choose to call Flagstaff and northern Arizona home. Some are drawn to its burgeoning arts and culture scene, indulging in its abundance of exhibits, music, theater and live performance. Some find respite here from big-city life, taking advantage of its vicinity to some of the most breathtaking natural wonders of the Southwest such as the Grand Canyon and the red rocks of Sedona.
But just about everybody can agree that, among the many things that make Flagstaff a special place to live, its night sky is unparalleled. Not only is it something to marvel and behold, our window into the universe reminds us of our place in the cosmos, of what it means to be human.
For more than 15 years, the Flagstaff Dark Skies Coalition has partnered with the Coconino Center for the Arts for NightVisions, a biennial multi-media exhibit that illuminates the night sky as something approachable and beautiful, while also being revered, protected and, ultimately, celebrated. This year, NightVisions VII features more than 50 artists who work in a variety of mediums including photography, sculpture, installation, paints and acrylics, video, poetry and more, all showcasing their appreciation for the night sky.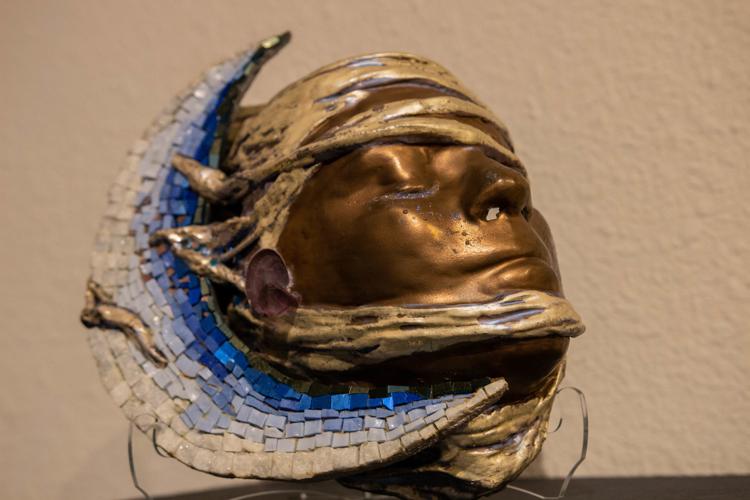 "NightVisions was created by the Dark Skies Coalition as a way to enhance their mission, which is the preservation and protection and honoring of the beauty of a dark night sky," Arline Martens says.
Martens is a fabric artist whose work "Father Sky Mother Earth" won last year's Best in Show prize. Along with Christian Luginbuhl of the Dark Skies Coalition and NAU art professor Debra Edgerton, Martens acted as a juror for this year's exhibit. She says when judging the artwork the jurors looked at how the piece tied together art and science, as well as technique and message. In addition to acting as a juror, she entered a piece in the show, titled "Nocturnal Migrations," which shows silhouetted birds, large and small, in flight above a black, gold and silver backdrop. Strings of stars shimmer across the sky as the birds flock. It's an interpretive piece about how light pollution and reflections from glass buildings have affected the migration patterns of birds that move primarily in the night.
"Usually my work is a little more specific and representational, where this is more of a whimsical piece even though the subject matter is serious," Marten says. "Looking at the night sky, for me, has a spiritual quality. It's almost like when you're a kid. I want that to be more tangible, and I want to share it. It's about wanting to share that sense of wonder."
And plenty of the works in this year's exhibit elicit that same sense of wonder. Take Hariette Tsosie's triptych art works entitled "Supernova 1054," "Pluto's" and "Jupiter." The pieces take up almost the entire length of the wall and were inspired by actual audio recordings of space by NASA. Beside the individual works, a QR code when scanned takes you to a YouTube video of the sounds so you can listen as you scan Tsosie's Japanese-inspired artistry. Tsosie's piece garnered a second-place prize from the jurors.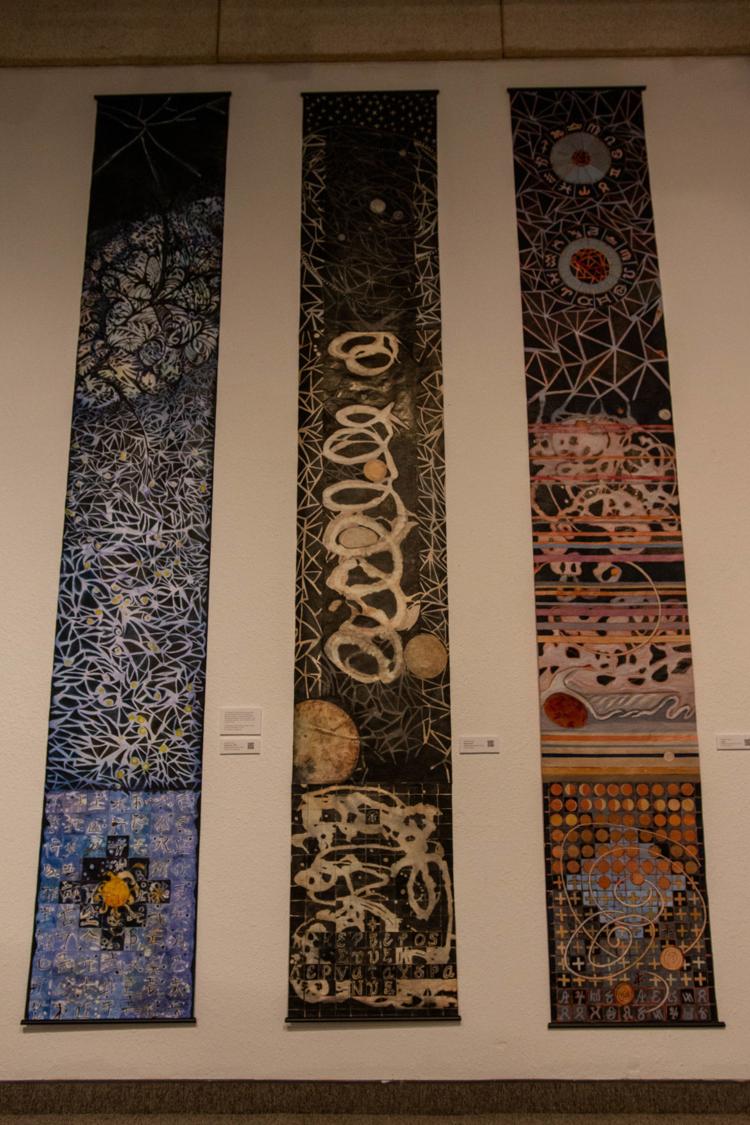 For Luginbuhl, who helped pioneer the exhibit in 2001 shortly after Flagstaff was designated the first International Dark Sky Community, he says the best works have a tendency of tying together science and art. Among his favorite pieces is "The Starry Heavens Above" by Tom McTaggart. The piece explores how the Fibonacci Sequence, named after Italian mathematician Leonardo Fibonacci and often referred to as the "Golden Spiral," finds itself among the cosmos.
"I think there's this presupposition that art and science are separate things. I don't think they are," Luginbuhl says. "I think they belong together because science enhances your ability to see the beauty in things, and likewise art. Art and science inform each other, and that's been another part of NightVisions, bridging that gap between science and art."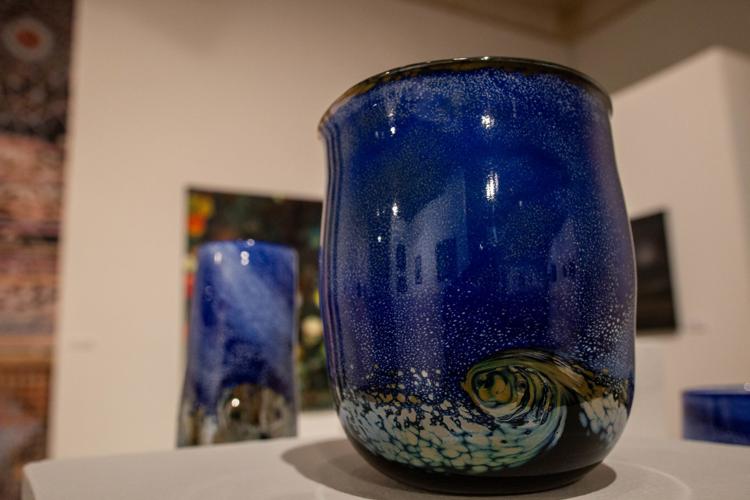 New this year to NightVisions is the addition of six satellite exhibits at Vino Loco, Arizona Handmade Gallery, Criollo Latin Kitchen, The Artist Gallery, Flagstaff Tea Company and West of the Moon Gallery. Each location displays artwork with a focus on night.
Since its inception, NightVisions has coincided with the Dark Skies Coalition's month-long Celebration of the Night. The celebration uses the exhibit, as well as various events such as lectures, hikes, dance performances and a new literary reading to promote awareness of and celebrate our connection to the night sky.
"When you bring awareness of something, people are more likely to protect it, and the night sky should be celebrated by everybody, not just astronomers. Thinking that night skies are important only for astronomers is like thinking the Grand Canyon is important only for geologists," Luginbuhl says. "The coalition as a team, and certainly me as an individual, have always been impressed with the way our local community responds to this idea. Over the years they've been very creative in finding new ways connect to this and explore. It's really helped coalition and community to find value in the celebration of the night."
NightVisions VII is on display at the Coconino Center for the Arts, 2300 N. Fort Valley Road, through June 1. Visit www.flagstaffdarkskies.org for a calendar of events during its annual Celebration of the Night.