The Magnificent Day Drinkers are the opposite of many groups coming out of school as young bucks with big dreams of stardom. The young-at-heart country quartet—the youngest member is in his late 30s while the other three are in their late 40s—with all of its members having roots in punk and rockabilly came together as veterans of past musical lives, now finding time between day jobs and families to create a buzz amid Flagstaff's music scene.
"We are folks, a bunch of guys that really tried to make music a big part of our lives in our early years, then started to make music again," says Eddie Waters, who works as the director of business analysis for the department of academic affairs at Northern Arizona University. 
His past life as a local musician includes playing guitar in 2001 for an outfit called The Baskervilles and, after that, in another rockabilly band called the Boxcar Stranglers. The chief singer and songwriter for the group, Jimmy Spoon, works remotely from Flagstaff for a manufacturer in the San Francisco Bay Area. Bassist John Prior is an X-ray technician for Flagstaff Medical Center whose musical background involved playing Christian worship services, while the drummer, who goes by the stage name Duke Ponderosa, is, as he says, "a proud Flagstaff business owner."
After forming in 2017, the Magnificent Day Drinkers got their big break last fall as the opening act for Reverend Peyton's Big Damn Band at the Orpheum Theater. Waters says the success from that show is a key reason why they are getting more gigs now, including headlining shows this month at the Orpheum and the Green Room, and also later in February at the Museum Club.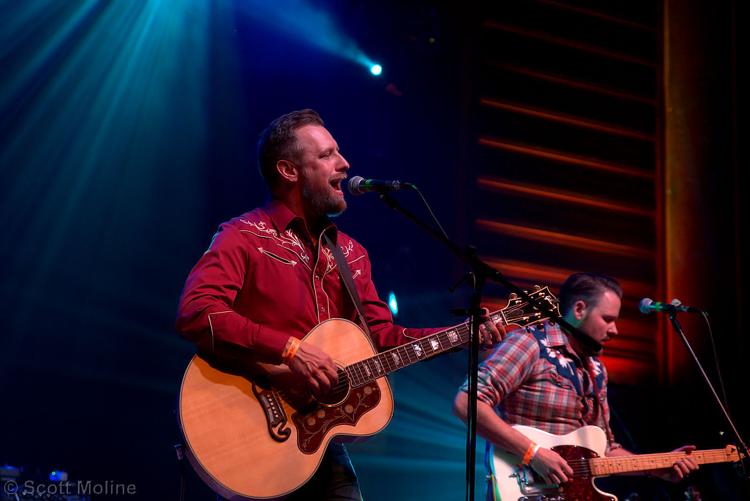 All of the members of the group say they play a lighthearted brand of country rock, and each one of them insists they don't take themselves "too seriously." They also say they are quite different than the usual country band that plays traditional cover songs. The Magnificent Day Drinkers focus on original tracks, usually with a humorous lyrical hook.
"When people talk about a quintessential country bar band, they play Johnny Cash," Waters says. "That's different than what we are trying to go for."
Their sound, as Prior puts it, is closer to "a roots-country vibe with a subtle punk-rock sensibility."
The Day Drinkers have already written about 20 tracks, four of which are available for curious listeners at www.magnificentdaydrinkers.com. Among these is the perfect song for a town adorned with more bars per capita than most towns in the United States, "Whiskey Breakup," featuring Ponderosa's train beat drumming, a light sonorous vocal by Spoon about early morning regrets after a night of drinking, and a guitar riffing by Waters reminiscent of many songs by the Old 97s, but, "whereas the Old 97s are a country band that emphasizes alt, we are an alt band that emphasizes country," Spoon says.
Other tracks on the website offer insights into a band that grew up listening to music from the golden age of Arizona desert rock of the late 1980s and early 1990s, such as the Refreshments, Gin Blossoms and Dead Hot Workshop, bands that sounded like they were bred by the uniqueness of the desert, mountains and sunny blue skies. The instrumentals on "Pistol" follow the same brisk pace, but once again, Spoon uses a warm country baritone style in the vocals. Then there's "I Love You (But I Don't)," which follows along the lines of self-deprecating humor.
"It's hard to put in any category," Waters says. "There's a little more energy than country."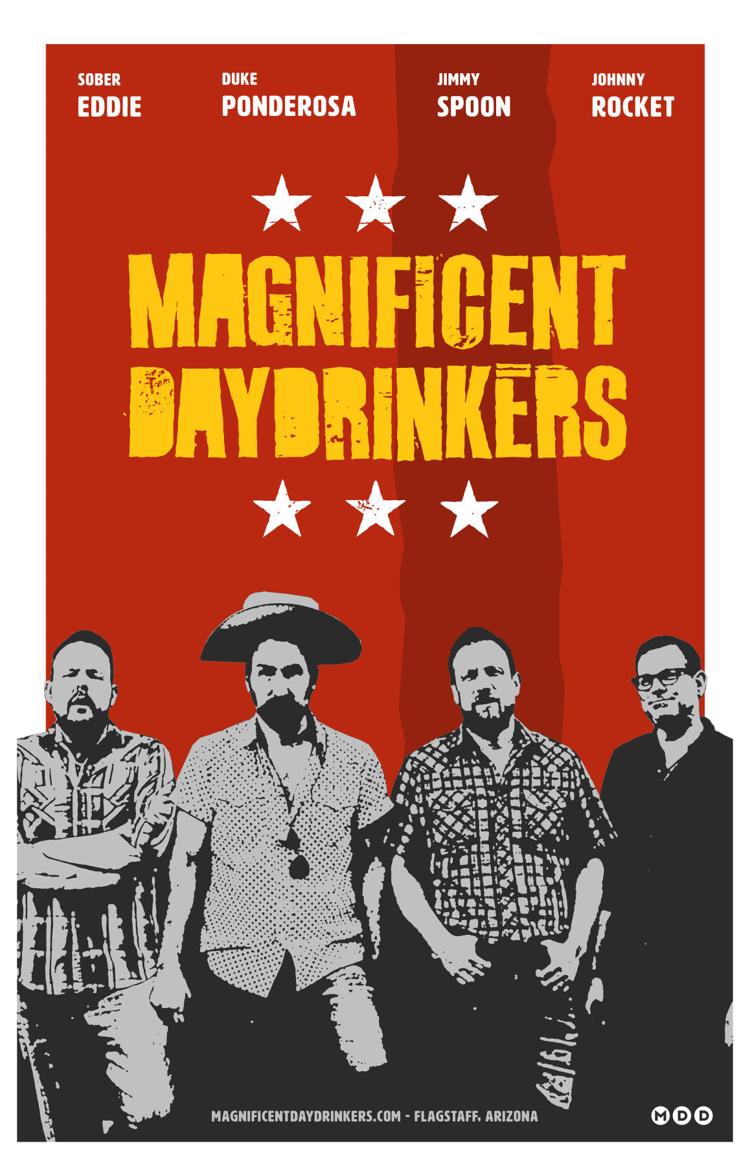 They are all fans of traditional country such as Buck Owens and George Jones, and two members mention Dale Watson, who came up with the term, "countrypolitan."
"It's not like we are trying to sound like them," Spoon says, "but there's a spiritual connection."
All of the members of the band say music is secondary in their lives to their families. They rehearse, as Waters put it, "at whichever house our wives let us play—lately in a garage, which this time of year is pretty cold."
Though the Day Drinkers are not out to beat the world, they do have ambitions to play more shows in Phoenix.
"We are old guys, not necessarily youngsters," says Ponderosa. "After all of these years, fun is what it's all about. It's music you can dance to, and it's not necessarily more than that. We have all been there. The serious route is a younger man's game. That's more of a touring life where you really have to road dog. For us, to be a regional thing is the goal."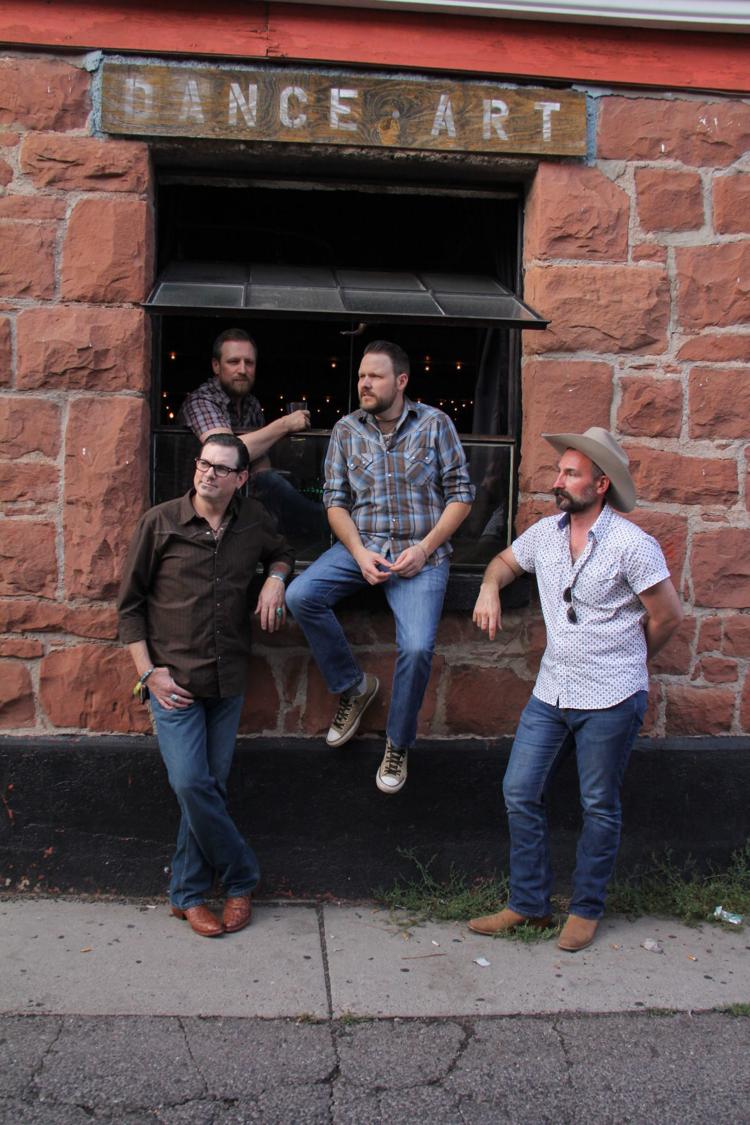 He sees the Magnificent Day Drinkers as just another element in a rich Flagstaff music scene.
"There's something bubbling here," he says. "Flagstaff is a real gem [for music]. The impression is that it's a cowboy town, but there's a lot of diversity, and that's really great for this town. And what's even greater is there's an audience for a really driving music scene."
The Magnificent Day Drinkers will perform at the Orpheum Theater, 15 W. Aspen Ave., on Saturday, Jan. 26. Tickets are $5 and the show begins at 9 p.m. with local Americana group the Shiners getting the night started. Historic Brewing Company is sponsoring this show and will be on site offering samples of new craft brews. Every ticket sold comes with a free Tag Pass for Flag Tag AZ, 1801 W. Rte. 66. The Magnificent Day Drinkers will also play at the Green Room on Wednesday, Jan. 30, with The Booze Bombs. Visit www.magnificentdaydrinkers.com or find them on Facebook for more information.