As Helen Padilla looks around her yard, she sees how the curvature in rocks and the lines in trees, shapes in the natural world, have influenced her work. The 45-year-old artist mostly works in pen and ink, with repeated figures and motifs that collectively take shape into movements that feel abstract and random but are in fact informed by the real world and real feelings. Rock climbing is one muse.
An avid climber, Padilla says the things she'd see on her climbs, lichen and pockets and holes in rocks, all influenced her subconscious. When she draws, they tend to make an appearance.
There's a disparity between rock climbing and art making. One is obviously more physically challenging than the other, but both, says Padilla, are equally absurd.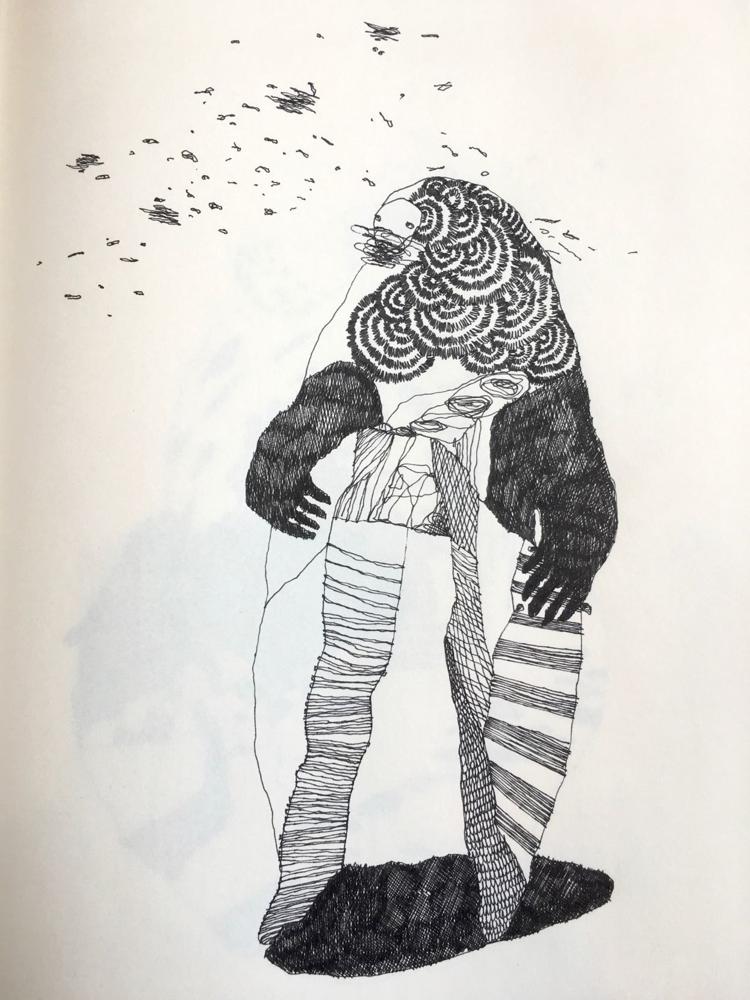 "[With rock climbing] you're doing something that you believe you shouldn't be doing. A lot of people think, 'Well, why would you want to get up on that cliff? What's the point of that?' And it's true. Rock climbing is a totally absurd activity, but so is art making," Padilla laughs. "To some degree you have to shelve that idea and be confident in the direction you're going."
Rock climbing, Padilla says, is more than simply a physical activity. It's also a mental and creative one, much like creating art. What's more, Padilla says there's a problem-solving aspect to both endeavors.
"Every act of creativity is always because you're acknowledging a problem," she says. "A blank canvas is a problem. You got to put something on it. The first mark that you make, you've got a problem. You're constantly just dealing with the problem, and that's the creative process. It's just problem solving, and sometimes some problems are easier to solve than others."
So what's the problem Padilla is trying to solve? Try the whole of contemporary life, of the anxieties of maintaining and engaging in interpersonal relationships and the constant onslaught of information being thrown our way, which is perhaps why Padilla loves rock climbing. As well as being a creative and mental exercise, it's also an escape, one she usually takes with her dog, Pocket. With so much aversion to social interaction, one might think Padilla is an anxious person, but she laughs as she disagrees.
"I wouldn't necessarily say I'm anxious. I would say I'm more avoidant," she says. "I think I always kind of struggled with forming close relationships with other people. I think I just preferred my own company. It was safer, it was easier, and I felt pretty content.  My artist mentor said, 'There's nothing wrong with that, but you'll be limited in what you can actually talk about.'"
So she doesn't avoid it entirely—she's been married once before and maintains long-lasting friendships.
"I have just found how relationships have really had an effect on my overall life, and I like reflecting on that," she says. "It's a learning process interacting with people. It's not easy."
At least not for her. And looking at her work, which is currently on display until the end of December at Fool's Gold in downtown Flagstaff, it feels driven by anxiety, with dozens and hundreds of repeated lines and shapes that expand and evolve around figures resembling something human, fingers and eyes. Through these abstractions though, Padilla is exploring what it's like to feel anxiety or love or anger or sadness.
The work on display at Fool's Gold mostly stems from Padilla's three-week residency at the Anderson Ranch Arts Center in Colorado last winter. She says the residency constantly gives her new tools to bring back to her studio. This time, she learned a few things about herself as an artist. Besides realizing she worked better in the morning than at night, Padilla says she learned how to draw what she wanted with regard to how she felt, as opposed to starting from a traditional method. She learned how to use abstract figures and repeated imagery to personify her internal world.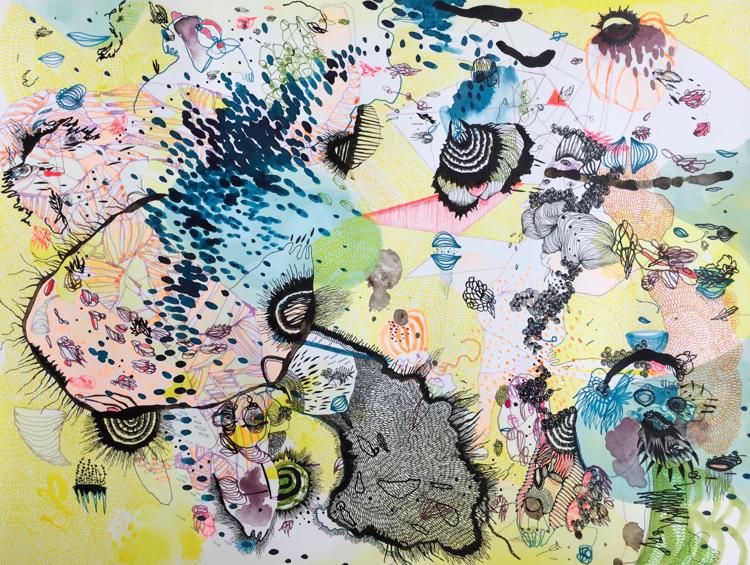 In her first site-specific drawing, "Typing Awareness Indicator vs. Read Receipt," Padilla's black-and-white mural personifies the anxiety and energy that goes into sending and receiving a message. Figures like static electricity and rising hair, touching and responding to an impending message, the swirling confusion and little clusters of data and information. There is much more going on in these moments than a simple text message. There's a convergence of two entirely separate worlds attempting to find a point of relation, and there are a lot of emotions and triggers and synapses firing off at the sound of a word or the sight of those three little dots dancing in space, indicating that someone is typing a response. That external view is fairly simple: two people engaging in a conversation. It's what's happening internally that interests Padilla.
Other works such as "Suspended" and "Separations" feature acrylic ink and watercolor on Arches paper and explore similar themes, an internal exploration of an external interaction.
"I think sometimes I need to stop and ask myself how I'm feeling. At least for me in the modern world, I feel like I go on auto pilot, and I just sort of start doing the things I think I should do without really thinking about how I feel, like what's my human experience like?" she says. "When I start doing the repetition, my mind starts going to those place where I think about those ideas, like just breathing. It helps me to calm down. I honestly feel a sense of peace from it."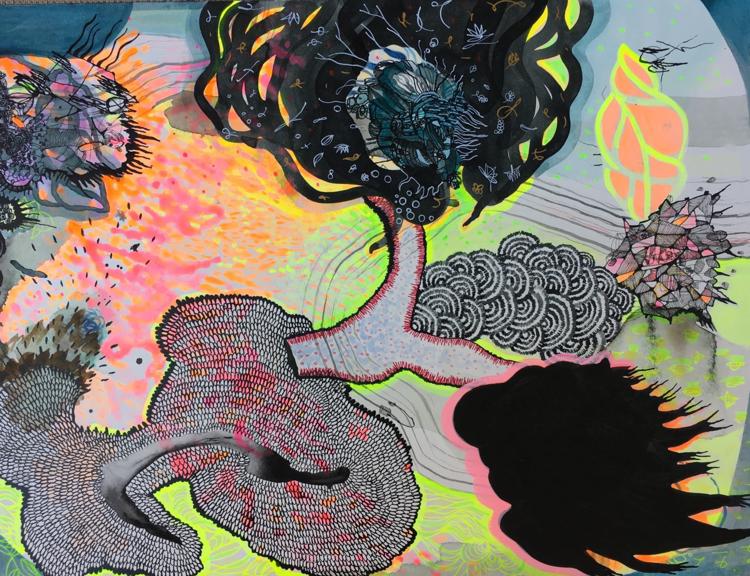 "The idea of trying to draw an emotion or a feeling was pretty fascinating to me," she continues. "And it always seems to be coming from [the] sort of interaction that feels significant to me, and I try to take it apart to understand it."
But can we ever really understand what's happening internally, biologically and physiologically? Can we truly understand that which we cannot control? If there's an answer to the problems of the modern world, perhaps we haven't found it. Perhaps we're not meant to. Beyond rock climbing and text messaging and forming relationships, there's not much more we can understand than our own perceptions of a world that is constantly buzzing and shifting shapes. There's not much more we can do besides feel and react, and then try to understand what we're feeling and why we're reacting.
"Maybe understanding isn't the right word, maybe just acknowledging and just looking at and observing, because there really is no figuring it out," says Padilla. "I just try to be in the moment and see things as they are and draw about it."
Helen Padilla's work is on display at Fool's Gold, 109 N. Leroux St., now through December alongside Meredith Butler Murphy's laser-cut wooden jewelry. For more information about Padilla and her work, visit www.helenpadilla.com