In the depths of the Grand Canyon, bright blue water pours through red rock cliffs into clear swimming holes. Vibrant vegetation and patches of moss add contrast to the desert oasis that lures groups of backpackers each year, but Havasu Falls and its surrounding cascades make up more than just a beautiful landscape. It is the only water source of the Havasupai tribe, a name which translates to "People of the Blue-Green Water." Where they live in the remote village of Supai, about eight miles from the rim of the canyon, this water is a sacred life-sustaining resource.
"Too Precious to Mine," a documentary by Flagstaff filmmaker Justin Clifton, explores these clear Havasupai waters and the dangers of the abandoned Canyon Uranium Mine on the South Rim lurking just above. While the mine is no longer in operation, that doesn't mean people can breathe freely. Potential radiation contamination is a concern as most mines were simply fenced off rather than undergoing a pricey reclamation process after development stalled.
Despite attempts by mining interests to reopen parts of the Grand Canyon to new uranium mining as recent as December of last year, the 9th Circuit Court of Appeals upheld the 20-year ban put in place by the Obama administration in 2012. This allows time for more testing to be done to determine the long-term impacts of mining.
Each year, the Flagstaff Mountain Film Festival showcases documentaries and feature films largely based around environmental issues and adventure themes.
"We have a film jury made up of the board of directors, local artists, outdoor enthusiasts, a professor of anthropology and a filmmaker, all of various ages," says Maria Campbell, vice president on the board. "That ensures our film selection is diverse, and we are reaching a diverse audience with the films we bring."
As part of the 15th annual festival, Clifton will have two short films screened during a special event created to shed light on the issue of uranium mining. He worked in partnership with the Grand Canyon Trust to produce "Too Precious to Mine" and "Half-Life: The Story of America's Last Uranium Mill," which takes an in-depth look at the active White Mesa Uranium Mill in southern Utah.
"My films will show, but it's not about me," Clifton says. "It's about the people in those stories and their lived experiences. That's where the true emotion lies in all this."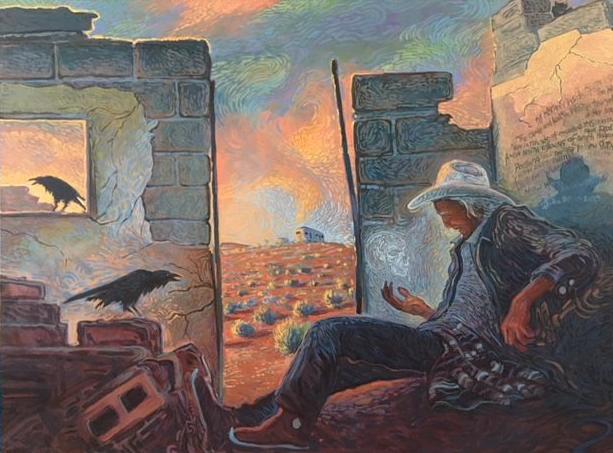 During the uranium mining boom, lasting from 1944 to 1986, almost 20 million tons of the mineral were extracted from Navajo lands, but the people were not told of the potential health hazards. Those who had worked in the mines contracted health issues such as kidney disease and cancer, but a correlation wasn't immediately obvious.
"My grandfather worked at a mill when he was younger," says Sarana Riggs, Grand Canyon Program Manager with the Grand Canyon Trust. "He didn't know the dangers of it, [and] it's not until he passed away that I understood the dangers of it. I'm still trying to be his voice; it's a mixed generation that has to take on this task. How many generations until someone goes, 'Oh, you guys were right this whole time.'"
Jerrel Singer, a northern Arizona artist, grew up north of Flagstaff in Cameron. Looking at a map from the Environmental Protection Agency identifying abandoned uranium mines on the Navajo Nation, Cameron is littered with red dots.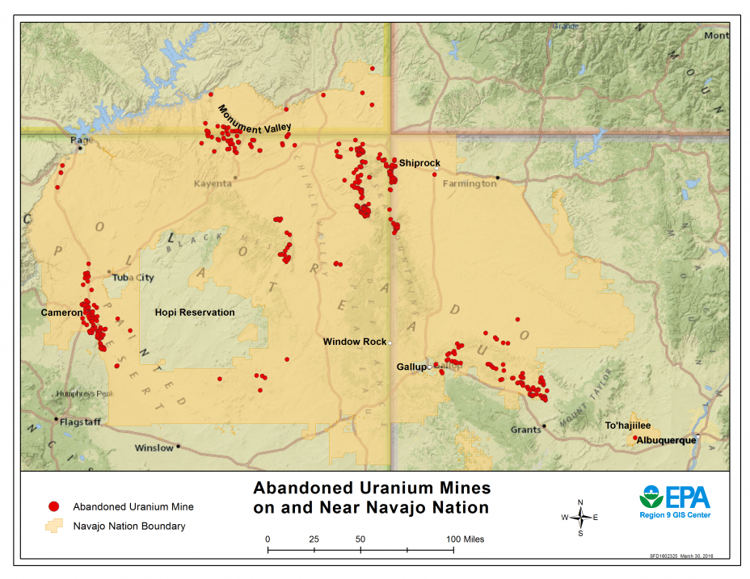 "My father passed away in '97," Singer says. "He was a Downwinder. That's what they call all the people living right there in the Grey Mountain, Cameron area [downwind of nuclear testing sites in Nevada and Utah], and I came from a big family. I probably had about 14 aunts and uncles and there are only four left right now."
More than 100 abandoned mines remain in Cameron. They are mainly located along both sides of the Little Colorado River and are nondescript, save for surrounding fences and perhaps a warning sign.
"If there's a big flood or rain storm they're all going into the Little Colorado River and of course that goes into the Colorado through the Grand Canyon," Singer says. There may be chain link fences that prevent people from walking up to the mines, "but wind and rain go right through that fence" and, with it, the uranium particles unearthed all those years ago.
The Flagstaff Arts Council brought more than 20 local Flagstaff and regional artists to Cameron in October of 2016 in preparation for Hope + Trauma in a Poisoned Land: The Impact of Uranium Mining on Navajo Lands and People, an exhibit which opened at the Coconino Center for the Arts the following August. Over the course of four days, the artists heard from Navajo community members, scientists, health care professionals and other experts about the effects uranium mining and its subsequent radiation has had on the land and on the people.
Documentary photographer Amy Martin attended the workshop in Cameron and had several portraits of the people she met there in the Hope + Trauma exhibit. After it ended, she wanted to continue sharing what she had learned.
"I thought that it was just really impactful and that I wanted to bring it to a place downtown where we could open up the audience," she says.

Martin helped organize Uranium: Ignominious Legacy on the Colorado Plateau for the festival along with Davona Blackhorse, a counselor and advocate for the cleanup of uranium mines, and Clifton. Many of the artists with 2D art were invited to show their work at Firecreek Coffee Company and Singer created three new pieces to be displayed during the film festival, each of them painted in peaceful purple shades and depicting various scenes of his life in Cameron such as sheep grazing and the full moon rising in the canyon. Artist Shonto Begay also contributed a large painting of a dying man leaning against a wall.
Ideally, Singer says the show will be picked up by another gallery and travel around the country.
"Hopefully someone will see it and say, 'What's the meaning behind this, how come it's going on?'"
Begay said a national audience for the uranium show would be good for awareness and to find some "remedy" for the situation.
"We're always facing another adversary, and of course, when you're Native, there's never a shortage of causes to bleed for, and this is one of the major ones."
Eight abandoned sites near Cameron and Tuba City were chosen in January to be assessed by EnPro Holdings Inc. for radiation levels. The company will also conduct biological and cultural surveys. The next step is to reclaim the mining sites, finally getting rid of the poison being let into the air and hovering directly above water sources—separated only by a thin plastic lining in the case of White Mesa Mill.
Blackhorse has been working to educate people on the issues since she was in high school, using them as topics for research presentations and even writing a play about mining on the reservation. Her family was forced to relocate from the White Mountains to Kayenta when she was young so that companies could mine their land.
"I wasn't sure what was happening when the whole relocation happened, I mostly remember a lot of pressure for us to reduce our livestock. I was just living in a place of anxiety, wondering what's happening and not feeling like it's fair and wanting justice," she says. "A lot of what got me to thinking people need to know about this was realizing that the majority of people at my school didn't know what was going on. How can this be happening so close to the reservations and not even my people know?"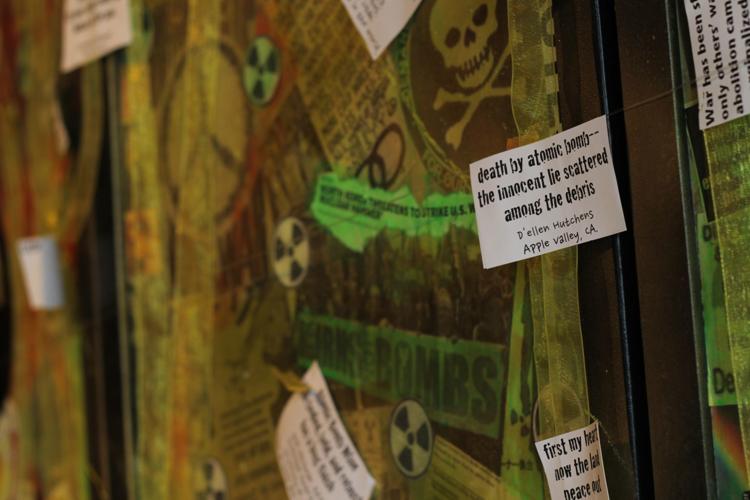 "As much as coal is dead, uranium should be dead now," Riggs says. "Once it's out of the ground there's no way to do anything about it. It's active. It's alive. It's going to be here way after I'm gone."
With the uranium market constantly in flux based on supply and demand and because of its prevalence, a pound of the mineral is currently worth roughly half as much as a gram of gold. That's a far cry from its worth during the mining boom, before people realized there were deposits nearly everywhere.
"Just keep it in the ground," Begay says. "There's no need to rip the side of Mother Earth and extract the things that could hurt us. We don't have the power to handle it. We don't have the sanctity to store it."
"In Navajo culture, when you're born your umbilical cord gets buried into the earth and that's a way we plant ourselves in a place we're supposed to be, the environment we're supposed to take care of," Blackhorse says. "When uranium happened, I think that was kind of a raping of the land, and it took that connection from us."
The Flagstaff Mountain Film Festival brings films and speakers to town each year to share in a passion for cultural issues and the outdoors. Organizers introduced the special events category for the festival's 10th anniversary, expanding a philanthropic reach beyond the Orpheum Theater to the Doris Harper-White Community Playhouse, Firecreek and Rendezvous in the Hotel Monte Vista.
This year's festivities include a tribute to Katie Lee, the late activist often called the "Grand Dame of Dam Busting," with film screenings and parties in her memory across several venues, a film taking viewers through Flagstaff's wide network of mountain bike trails and a film on the ways in which the ocean provides a world of limitless fun for those drawn to it. There will also be special guests such as writer and activist Craig Childs and Diné poet Rowie Shebala.
"We aim to enlighten audiences and try to motivate individuals to bring about change for a better self and world through film, art and the sharing of ideas," Campbell says.
With enlightenment and understanding of environmental issues, natural resources such as the Colorado River will hopefully continue to be around for people to safely enjoy in the future.
The Flagstaff Mountain Film Festival, featuring more than 100 films, will be held February 15-18. Uranium: Ignominious Legacy on the Colorado Plateau is free to the public and a panel of tribal leaders and experts will lead a discussion after the screening of Justin Clifton's films at Firecreek Coffee Company, 22 Historic Route 66, on Saturday, Feb. 17, from 11:30 a.m. to 1:30 p.m. For more information, tickets to other screenings and a full list of events included in this year's program, visit www.flagstaffmountainfilms.org.