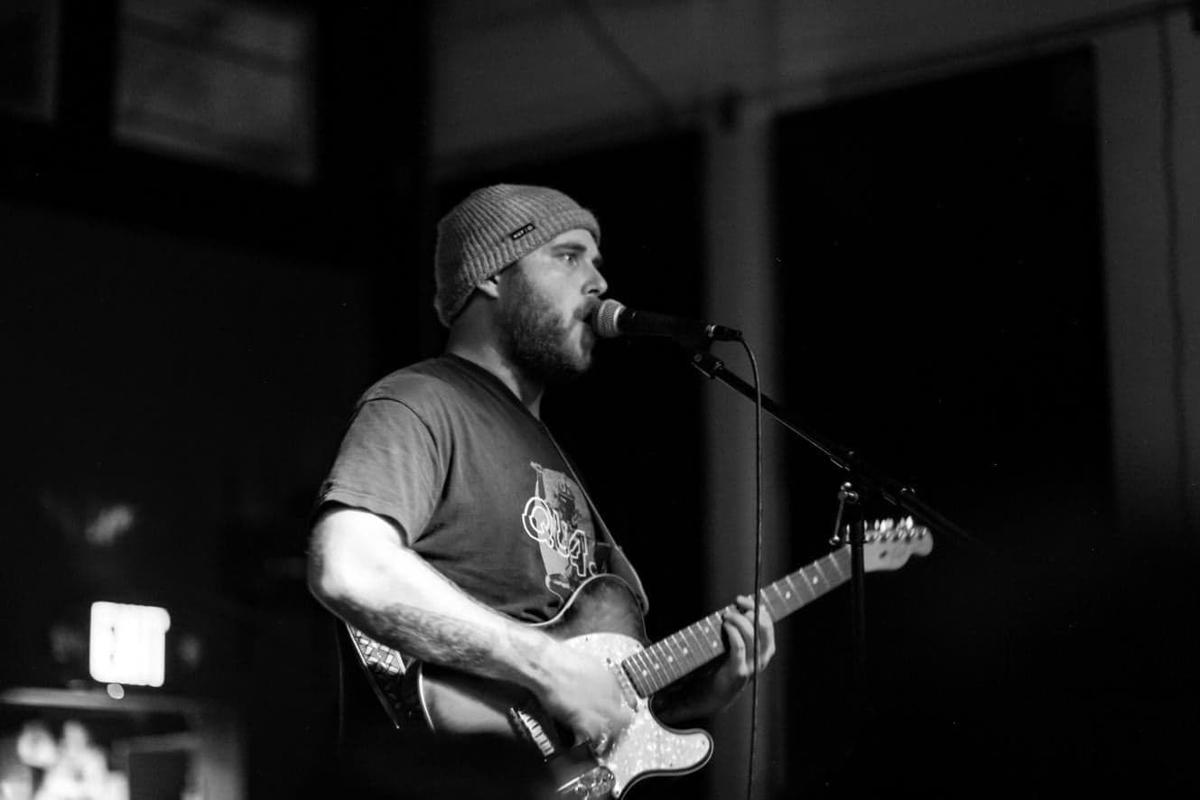 In the middle of a starry, dark-sky city sits a cave-like house. It's old and creaky, but overflowing with character and charm. Its walls are covered with paintings like an art museum, a true representation of a DIY space.
A fluffy house cat pounces on a couch where two guests sit. In the cramped Cave House kitchen, friends serve themselves homemade vegan chili from the stovetop and grab beer from the fridge.
Jesse Cavalari, the drummer, bass guitarist and lead singer for Goddamn Cannibals, weaves through the crowded room shaking a container of cash and coins.
"Cash for the touring band? Cash for the touring band!" he chants. 
House show guests pay their dues in the form of $1 or $5 bills to Noisy Neighbors, a traveling grindcore band from San Antonio, Texas.
After an hour of chatting over chili, a crowd of about 25 funnels down the narrow stairway into the basement where Goddamn Cannibals has set up their gear. Cords, amps, blinking buttons, microphones and assorted music equipment are stacked in corners. The space feels cramped but cozy. 
The band launches into its set with a loud roar, amps squealing and guitars wailing. The band members' faces are painted with passion, pain and anger as hot sweat trickles down their foreheads onto their instruments. It is poetic pandemonium.
The air is sticky and stale. Bare rock peeks through cracked paint on the walls of the basement. Drops of water fall from exposed pipes in the ceiling. A golden drum set glistens in the center of the room, taking up most of the limited floor space. It is a musical cellar, a risky place with a welcoming embrace.
Guests knock into walls and music equipment as they thrash their bodies to the growl of high bass. After Goddamn Cannibals' performance, everyone emerges to smoke or get fresh air before Noisy Neighbors takes the stage.
The loud banging and moshing continues until about 10:30 p.m., but the cops aren't called this time. It's a great night.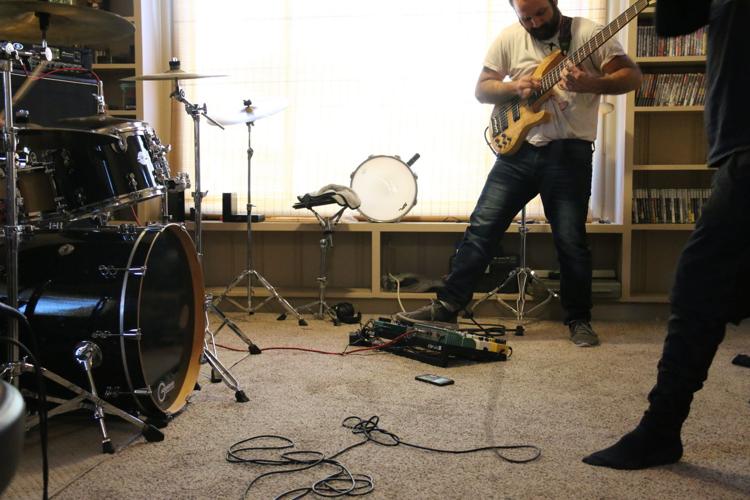 Many current and former members of the punk and DIY scenes in Flagstaff agree that the difference between the two categories is blurry; both seek to create space for expression and community.
To residents of houses that host DIY and punk shows, opening up their space is one way to connect people in Flagstaff. Not only do local and faraway bands play at DIY houses, these spaces can be used for showcasing and sharing, and for community members to gather for parties or organize for social issues.
Ryan McElligott, a former member of the DIY scene in Flagstaff and Boston, among other locations, adds that DIY is about creating space for people on the margins and listening to those who might be socially ostracized.
More than a genre, punk is an attitude, a feeling of being disillusioned with daily life and society.
Even living off the grid and farming are examples of punk for Luna Südekum-Thompson, a local musician who has lived in Flagstaff for five years.
"Sometimes when I think of what punk is, I'm just like, 'That is just basically the most ideal way to live,'" Südekum-Thompson says. "It embodies resistance and authenticity."
Nate Edenhofer, a long-time resident of Flagstaff and former tenant of the Cave House, got into punk and started going to house shows when he was a teenager. In his experience, every part of the DIY scene was based around punks doing things.
"And not to say punks with a bunch of shit stuck in your face and jewelry and mohawks or whatever," Edenhofer says. "I mean that also, but more like people playing in punk bands and expressing a punk attitude."
Musician Klee Benally, an activist who works with the Taala Hooghan Infoshop, a community gathering space and resource center, notes the working class origins of punk in England as a powerful statement that lives on in the spirit of punk today.
"Like, 'Fuck your future. We don't want your future. We want to build our own future for ourselves on our own terms because your future is fucked,'" Benally says.
To him, punk rock has always been political. It's a subculture, a response to a larger culture, and there is inherent tension between the two.
A central idea of DIY is to democratize the means of production and promote sharing among community members.
Although DIY stands for "Do It Yourself," it's really about people coming together, sharing music, skills and art, and exploring alternative ways of thinking. 
"I see a lot of radical potential in the idea of DIY spaces being community spaces," McElligott says. "I think DIY comes from good intentions in a lot of ways. I feel like there could be a lot more than what is often grouped into it."
THE NUISANCE PARTY ORDINANCE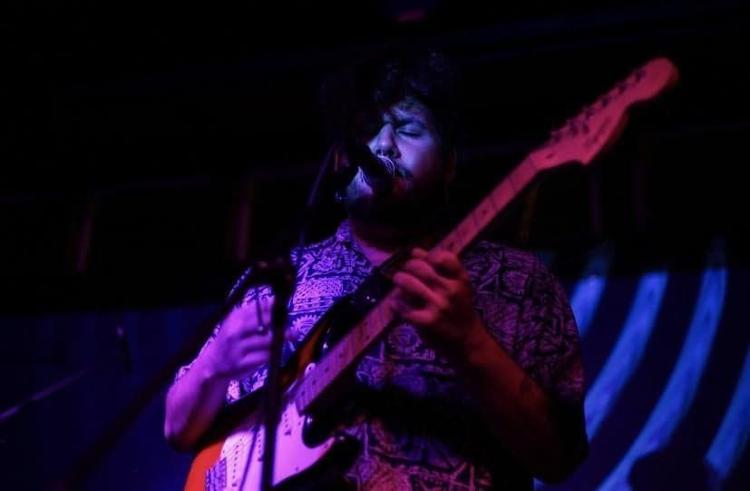 Hosting house shows can be a risky endeavor and often comes at a price.
Since the implementation of the Flagstaff Nuisance Party Ordinance June 19, 2015, by a 6-1 city council vote, local bands such as Tiny Bird, ABC Sports and Minivan have abandoned house show performances all together. The issue has led to a reduction in DIY performances and the dissipation of an intimate part of the Flagstaff music scene.
"We did a house show recently that got shut down, but it was acoustic," JJ Soleimani, songwriter and guitarist for Minivan, says. "No one there had any electric guitars; there were no drum sets. Someone still called the cops on us and we got shut down."
The ordinance defines a nuisance party as, "A gathering of five or more persons on any private property, in a manner which causes a disturbance of the quiet enjoyment of private or public property..." Noise violations range from—among other things— excessive noise or traffic to obstruction of public streets by crowds or vehicles, public drinking, underage drinking, fighting and littering.
First offense noise fines cost a minimum of $250 that must be paid by the residents of the home. If another violation of the ordinance occurs within 120 days of the first violation, a $500 fine may be issued. A third violation within 120 days may incur another $1,000 fine.
Additionally, the owner of the private property on which a party nuisance violation occurs is notified of the violation and may also face repercussions, which can lead to the eviction of residents.
The Flagstaff Nuisance Party Ordinance has been modified many times since its conception in 1997. In 2015, punishments became harsher. The number of individuals considered a party in violation of the ordinance was brought down from 15 to five and civil fines continued to penalize parties at an unprecedented rate.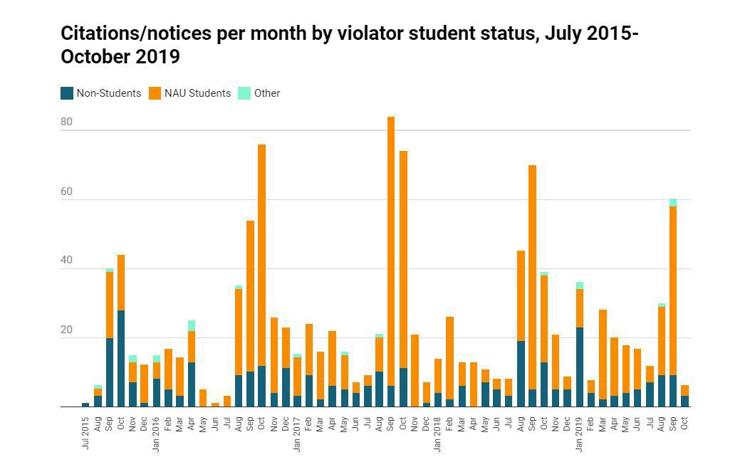 Local bands dread the warnings, citations and fines that may come as a consequence of hosting house shows. Additionally, some members of the punk and DIY scenes don't want police involved because it can bring more trauma or violence to attendees who have experienced one or both in the past.
Often, instead of talking with the residents of the house to work things out, some neighbors default to calling the police on a house show or band practice if noise levels get too high. 
While other neighbors of punk houses don't seem to object to the occasional house show and band practice, most of those who do report noise complaints are more upset about noise in general.
Megan Hosterman, a 32-year-old homeowner in Flagstaff, lives near the NAU football field and next to a house that used to host shows and regularly conduct band practices. 
"The neighbors on the corner have a death metal rock band, and they practice not that often," she says. "They are actually really, really nice. They are responsive when we ask them to be quiet. The noise we have a problem with is the NAU football team."
Flagstaff mayor Coral Evans is a strong proponent of the noise ordinance, saying that it protects quality of life. Those in the DIY and punk scenes disagree.
Members who have been part of the scene for many years attribute the ever-increasing lack of DIY/punk shows directly to the noise ordinance.
"Flagstaff's punk scene has been pretty limited recently. There's always been punk in Flagstaff, but now it's few and far in between with the shows happening," says Edenhofer.
A neighbor of the Cave House—one of the last remaining house show venues—called the police on a show in January 2019, and a 120-day warning was issued. 
Jenny Jensen, a current resident at the Cave House whose real name has been omitted to protect the identities of residents and performers, has seen involvement in the punk music scene decline but continues hosting house shows.
"We've had a lot of cop interference here for the past 25 years," Jensen says. "[But] we try to be kind and congenial with families living here. We are first and foremost a home, and so are all these places."
PROFITABILITY AND ANTI-CAPITALISM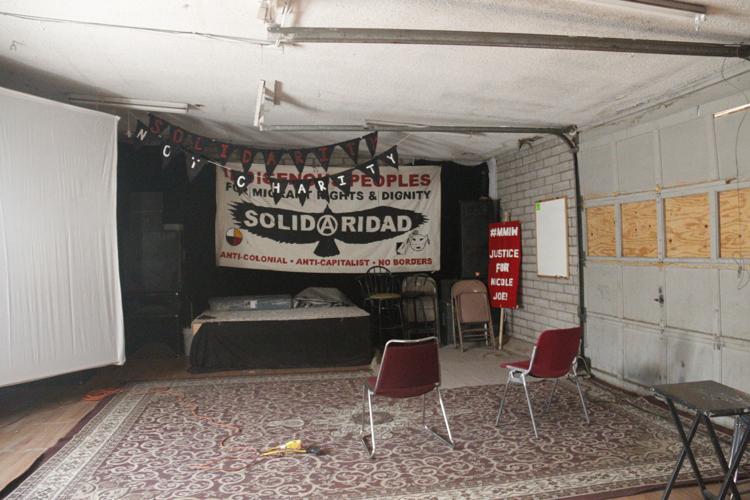 Heavy metal, power violence and grindcore are considered by some to be "unlistenable" genres and are often heard in Flagstaff punk houses.
"If punk only exists in bars, it will just stagnate and die," Edenhofer says.
Many punk and DIY scene members in Flagstaff criticize capitalism for putting a price tag on musical expression. So-called unlistenable genres need spaces that aren't based on profit alone. 
"The DIY movement was in response to corporate domination, particularly for music labels," Benally says. "[Mainstream] punk is just commercialized. It's safe and packaged enough to make something like the Warped Tour."
Genres of music deemed palatable to the masses are granted public spaces to be heard. Because harsher genres aren't, the existence of house shows was, and continues to be, crucial in the evolution of the DIY and punk scenes.
"At a house show, people aren't going to be turned away because they can't pay," Jess Gastelum, a long-time Flagstaff resident and artist, says. "They would be at Firecreek or something, where you have to pay $6 or you can't go in."
While punk music in Flagstaff has always found a home in both public spaces and private houses, venues like bars typically charge bands to use a space. 
The need for free and open-minded venues applies not only to harsh genres of punk music, but also to music with lyrics that express queerness or what it's like to be a person of color. Such is the music played at Wrecking Ball, the monthly Flagstaff queer dance party and fundraiser.
"In the end, it did turn out to be a bottom-line thing," says Tamara Seaton, a DJ and organizer for Wrecking Ball. "Everyone's just trying to make money. It's all about this society that was not built to include anyone who was slightly different—whether it be their sexuality, their gender, their skin color, their ability. We can't keep upholding those dumb-ass standards."                            
THE VALUE OF ART AND MUSIC AS EXPRESSION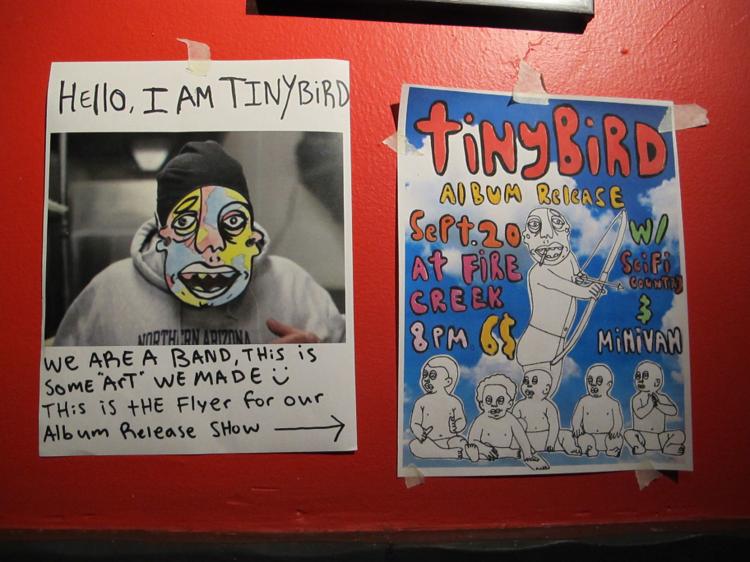 For some punk scene locals, art is an important tool in making a statement, advertising a show or branding a band, whether it be through the music itself or hand-drawn concert fliers and album cover art.  
For Eli Katz, the lead singer and guitarist for Tiny Bird, making art is a transformative process that involves taking something rooted in negativity and turning it into something empowering and beautiful.
Katz also writes songs about dealing with mental health, societal pressures to take medication and being ostracized.
"There is a certain amount of energy that's stored up in my body that is used for live show experiences," Katz says. "Any amount of shit I can take, I let it build up and release it in one night, and that helps me sleep."
Local musicians such as Katz, Benally, Soleimani and Chase Laurier use music to express anger and pain.
"Music is a platform to talk about taboo topics or things that people don't want to hear or don't understand," Laurier says. 
Singing about provocative topics that agitate people also challenges many of the artists to think. A common goal of local musicians is to challenge mainstream behavior and beliefs.  
Music has helped Soleimani accept and become more comfortable with his sexuality. He has shifted the content of his songs from depression and heartbreak to self-love and growth.
"I'm going to do this until I die," Soleimani says. "The pre-show high and during-show high is just something that beats any substance, any experience, anything in the whole world, and it's something I crave."
Read the full version of this article, originally written for the authors' capstone project at Northern Arizona University, on Atavist.
Be the first to know
Get local news delivered to your inbox!