"If you believe breaking is possible, believe fixing is possible." –Rabbi Nachman of Breslev
In Nazi concentration camps during World War II, many Jewish prisoners carried violins with them for comfort. Some musicians were forced to play as other prisoners were sent to their deaths, turning their joy of music sour.
After many of the owners perished, these instruments remained silent for decades before being lovingly restored by Amnon Weinstein and his son, Avshalom, for the Violins of Hope project. More than 60 instruments now make up the collection.
Violins of Hope has traveled all over the world, with the instruments being played in big cities like Rome, Berlin, London and New York. Now, they are coming to Flagstaff.
"Violins of Hope: Music from the Mountains, Lecture and Recital" will be held Thursday, Feb. 28, at Shepherd of the Hills Lutheran Church, 1601 N. San Francisco St., at 7 p.m. Registration for this free event is closed, but walk-ins will be welcome beginning at 6:45 p.m. depending on availability.
"It's a great opportunity for the community to hear these instruments, learn about the instruments and feel hopeful that these instruments have survived, and the music has survived," said Lynne Nemeth, cantorial soloist with Congregation Lev Shalom.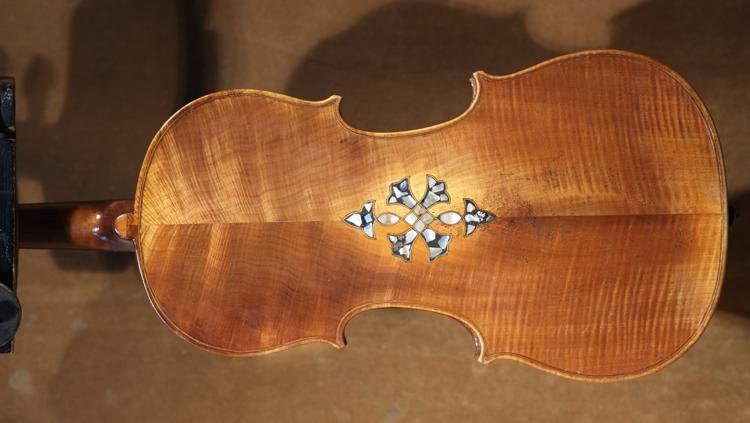 The program will offer performances of several pieces on the restored instruments. It will also include presentations by Amnon Weinstein; brief talks by the congregation's Rabbi Mindie Snyder, Mayor Coral Evans and Jewish Federation of Greater Phoenix CEO Marty Haberer; a presentation on hate crimes by Coconino County Sheriff Jim Driscoll and Flagstaff Police Department Chief Kevin Treadway; a video of a Holocaust survivor's recollections from that time; a presentation by Esther Schon, a teacher and child survivor of the Holocaust; and closing words by Pastor Adam Barnhart of Shepherd of the Hills.
"This is truly a community effort," said Bob Braudy, secretary on the congregation's Board of Trustees.  
He began planning to bring the program to Flagstaff in July with help from the Jewish Federation of Greater Phoenix. Flagstaff will be the smallest city to host the program so far. High schoolers from Coconino County, Hopi and Navajo schools will also be invited to a student program Thursday and Friday at the Coconino Center for the Arts.
"We want to reach out to kids," Braudy said. "Adults are important, but if you look at hate crimes, it starts with bullying and stereotyping, so the initial thought was, 'Let's get education for as many kids as we can.'"
Going with that theme, he reached out to the local sheriff's office and police department to get involved since those responders are the ones who often deal with instances of hate crimes. The two departments utilize a training program called "What You Do Matters: Lessons from the Holocaust."
"Leading up to World War II, law enforcement in most countries got seduced into working with the Nazi regime as opposed to being in law enforcement, so the message through that program is you have decisions to make and we can learn from these experiences," Braudy explained.
The music to be performed during both the student and adult programs was researched and chosen by Todd Sullivan at Northern Arizona University's School of Music. A piece by Hans Neumeyer, titled "D-B-S-G Duo," will make its U.S. premiere during these performances. It was written in a concentration camp, as were two other pieces to be performed, Viktor Ullman's "String Quartet No. 3, Op. 46" and Gideon Klein's "Strong Trio," which were composed in Theresienstadt, a camp in Czechoslovakia.
Quartet musicians include Allison O'Bryant and David Koerner on violin, Kimberly Sullivan on viola and Andrew Hamby on cello, and Nemeth as mezzo-soprano for a performance of the Kol Nidre prayer with Hamby.
The restored instruments symbolize "the beauty that man can bring contrasted with the horrors that he can perpetrate on his fellow man," Braudy said.
Amnon Weinstein undertook the restoration project in 1996, following in the steps of his father, Moshe, who studied violin at a conservatory in Vilna, Lithuania, and learned violin making from Yaakov Zimmerman. Zimmerman is thought to be the first Jewish violin maker and sometimes would give instruments and strings free of charge.
"He wasn't a hoarder; he didn't keep his talent to himself," Rabbi Snyder said. "He gave it away freely and generously, and the Weinsteins have done the same thing."
By restoring these historic instruments, the father and son team reach back to their own ancestry. When the instruments are played, they honor the hundreds of family members who did not make it beyond the war.
"It came from a long history of giving," Rabbi Snyder said, "an understanding of what Jewish history stands upon and how the language of love and the language of music transcends boundaries of all kinds when freely shared."