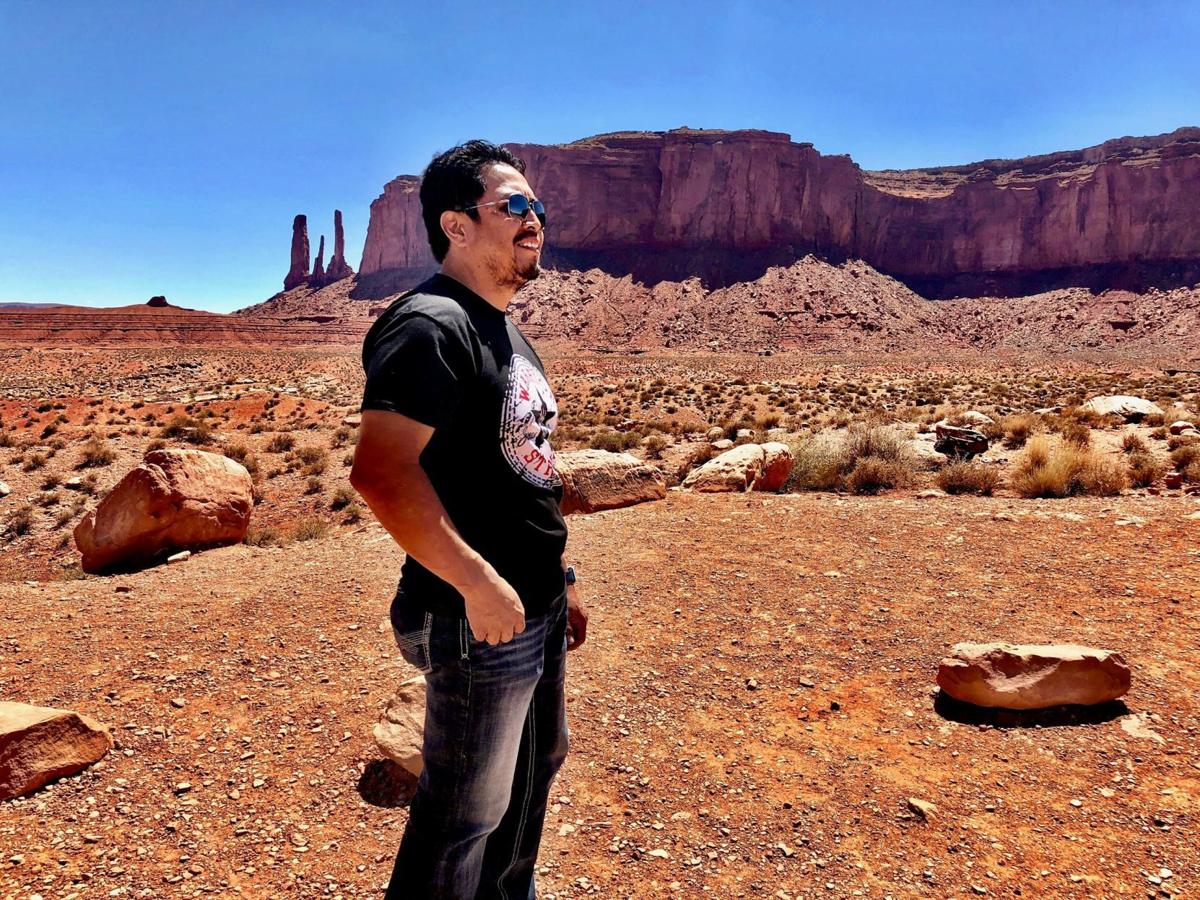 All his life, or so it seemed, James Junes had been told what a funny guy he was, how he should take advantage of this gift, maybe try stand-up or something, go for the big time.
Thing was, Junes had been cracking jokes and employing humor as far back as he could remember for purposes other than fame and laughs.
At school in rural New Mexico, he won over bullies who hassled him for "not being in the upper echelon of the Rez" with zany, class-clown antics. At parties as a self-dubbed low self-esteem teen, he drank and got stoned like everyone else and found a measure of fleeting popularity riffing jokes and doing imitations, back then often bawdy. And as an adult, drug- and alcohol-free, he broke up the guys at work on irrigation projects in Phoenix with a steady stream of jokes and parodies, his way of bonding.
But doing comedy for a living? Microphone and stage and spotlight, all those expectant faces wanting him to make them laugh? Nothing funny about that.
"I never thought about doing stand-up," said Junes, the Navajo comedian, actor and motivational speaker who will serve as masters of ceremony on Monday when the city of Flagstaff celebrates its first Indigenous Peoples' Day. "But maybe we all get something that other people see, but we don't see for ourselves. I'd always brush it off, say, 'Nah, I'm not funny; it's just homegrown stuff.'"
Yet it wasn't until the year 2000, a time of great stress and transition in his life, when, partly out of desperation and partly on a whim, he did, indeed, turn to comedy as a profession rather than a coping mechanism. Well, maybe both, because with Junes, being funny always has served the dual purpose of providing a shield from the outside world and protection from his internal demons.
This time, the request came from his wife, Rose, who saw an advertisement in the Navajo Times that stated, "Looking for Navajo stand-up comedians." She tore the ad out of the paper and showed it to Junes.
"I think you should try it," she said.
"I've heard this a hundred times."
"I think you can do this."
"It's a far-fetched dream," he insisted. "This does not happen to someone like me. It's a pipe dream."
"Just try it and see what happens."
Against all odds, against all of his instincts and good sense, he signed up for the 2001 Native American Comedy Competition in Farmington, N.M., his new place of residence.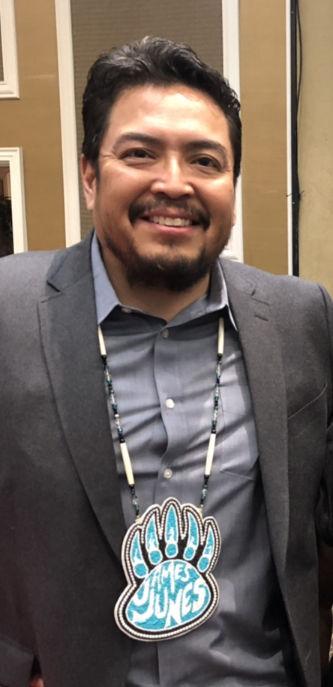 Not only did Junes think it a "pipe dream," but he also thought it was somewhat irresponsible. He had worked so hard to steer his life in the right direction — overcoming a childhood without a father, intense bullying in school, a serious alcohol and drug addiction, a good job with the city of Gilbert's irrigation district, only to lose that — that veering into comedy seemed a risky move. He was, after all, 29 and newly married, with a newborn baby at home.
"The rug had been pulled from under us," Junes recalled of his move back to New Mexico from Phoenix that year. "I was thinking, 'I gotta get back into irrigation and apply for jobs here. Maybe work for the power plant or the mines in the area. That's more solid.'"
Funny how life can present opportunities just when they're needed the most, especially when it involves being funny. Junes tried working up an act, a whole set of related "bits" for that 2001 comedy competition, but he'd always been a guy who just liked to riff. Was he nervous that night? You bet he was nervous, gut-clenchingly so.
He didn't have to win over school bullies that night. He was stone-cold-sober and didn't have a house full of partiers to egg him on. And he wasn't just goofing with the fella at work while laying pipe. All Junes had to do on stage was win over judges and an audience. He looked out at the crowd before his set and felt, somewhat oddly, at home and at peace.
"The crowd was 96% Navajo, so I decided right then to do it all in the Navajo language," Junes said. "I did parodies of '70s, '80s and '90s songs. A did a (riff) on Navajos dancing in public. Stuff like that. That was my angle. I got a good reaction."
He sure did. Junes won the competition, besting this other guy named Ernie Tsosie III. The winner and runner-up met backstage and within a year would form the comedy duo "James & Ernie." James embarked on solo gigs as well and toured far and wide, on reservations and off, with Ernie as part of a Native American comedy troupe.
Working at the power plant or the mines? All that was forgotten now. Rose was right: James was a humorous guy whom others found funny, knowing and even a little inspiring. Junes, both solo and with Ernie, toured Rancherias across the west and Midwest, played gatherings and pow-wows, even had a gig once at the Kennedy Center in Washington, D.C.
Junes had made a career of it. Maybe not Netflix hour-long special famous, not Azia Ansari or Sarah Silverman famous. But he was fully booked, traveling the country, helping to support Rose and his now four children. So why was Junes still doubting himself? He should've progressed well beyond those early days, when he openly wondered if the response he got were just "pity laughs" and whether the whole comedy thing was for real.
"I'm still kind of in that doubt mode," Junes said. "I've always had low self-esteem for myself. I felt the only way I could get people's attention is to make them laugh."
Two decades into his entertainment career, Junes still accomplishes that feat, with or without Ernie. Now, at 48, at the height of his popularity among Native American audiences, he is expanding his reach beyond pure comedy. He still does standup, of course, but he also has become a motivational speaker, employing what he calls "humor healing," dealing on a personal level with his own demons — alcohol and drug use, being bullied as a child, surviving domestic violence, searching for a positive outlets in life — in hopes that others will relate and seek out better choices.
"When I do humor healing now, it's reflecting back from where we came from," he said, "or else we're going to lose ourselves as a people. We've got to remember the teaching we've been given. The healing comes from talking about the way of thinking of our elders, the way we carry ourselves. They call it 'The Good Road of Life.'
"I talk about my sobriety not in a direct way but something deeper than that in your mind and your heart and spirit. You have to deal with these issues that are internal. It comes from our teaching of only you yourself are going to get it done. No one will do it for you."
Alcoholism is a problem in society at large, but studies show it hits harder on reservations. At his rural New Mexico high school, Junes said, alcohol abuse started early.
"My high school was just like that movie 'Dazed and Confused,' that movie to a T," he said. "Getting stoned, going to class, being all buzzed. What I didn't realize then was that I was living with pain deep down inside. I was 24 when I decided to stop (drinking). I'd tried before, made so many promises to my family. I'd broken all of them. I was stealing from my mom and grandparents. I had become what I hated."
Sobriety and personal responsibility are big parts of Junes' message now, not so much in his standup act, but when speaking with youth, groups or businesses. He had a colon cancer scare more than a year ago, but says he is cancer-free and back on the road.
He is solidly on "The Good Road of Life" and wants others now to join him.
Stay up-to-date on what's happening
Receive the latest in local entertainment news in your inbox weekly!