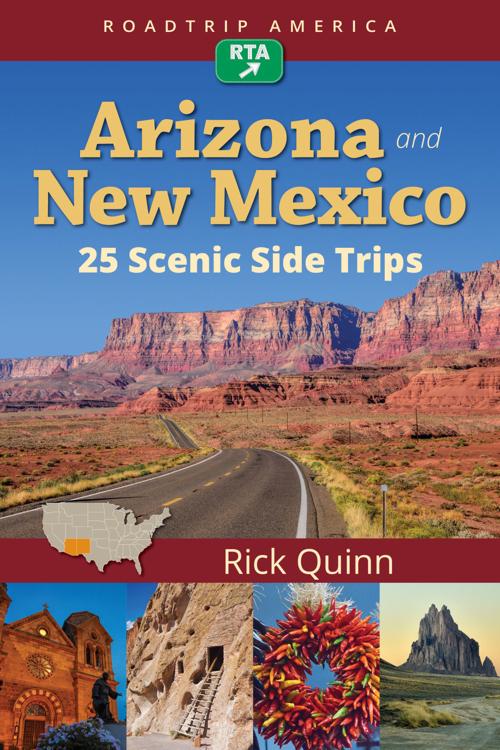 Most Arizonans take pride in knowing their state, so it's difficult to imagine there would be a place that would take an Arizona native and travel writer by surprise. 
For Rick Quinn that place was Coal Mine Canyon. The seasoned road traveler, writer and photographer stumbled upon "the spectacular and all but unknown geological marvel" as he traced routes for his new book, "Arizona and New Mexico: 25 Scenic Side Trips," which is out April 3.
Coal Mine Canyon is just one of hundreds of landmarks and fascinating spots featured in the trips that take travelers off, but not far from, the well-worn pathways of interstates 10, 17, 40 and 25. Sure, the interstates are the safest and fastest roads to travel by car, he said, but they are only rarely the most scenic.
"It's such a shame that people don't deviate from these routes, because there's so much to see and it's all so close to the main roads."
With its byway journeys that lead to iconic sightseeing and lesser-known jewels, "25 Scenic Side Trips" has the potential to become a well-worn guide. Keep it in your glovebox for weekend getaways or pass it along to visitors itching for an out-of-the-ordinary experience. Quinn narrows down what easily could be days of Internet searching and planning to concise, accurate and easy-to-follow directions for memorable trips. All you need is to pack a cooler and possibly an overnight bag.
From the Bosque del Apache National Wildlife Refuge (New Mexico) to the geological marvel that's Coal Mine Canyon, the book is sure to offer some surprises even to veteran Southwest wanderers. New to Flagstaff? Take trips 14 and 15 and you'll have a great introduction to the area's outstanding highlights.
The 25 trips are organized in four sections as scenic alternatives to the highways that connect Arizona and New Mexico's largest cities. Quinn introduces each route with the total miles and drive time and gives plenty of information for a well-planned itinerary.
"Think of this book as your treasure map," he wrote in the introduction. We agree. Turn off the GPS and go old-school with his direction and the provided maps marking points of interest. Supplement those with a designated navigator and an up-to-date paper map or atlas. If you must use global positioning, heed his advice: "Never rely entirely on GPS, especially in remote areas."
Located south of Tuba City, Coal Mine Canyon is off most people's radar because of its unmarked turnoff from Arizona Route 264. Quinn's directions are like those given by an old-time rancher, descriptive and efficient: "There's a two-story house in the distance, set well back from the road, but the important landmark is the windmill … follow the dirt track, keeping to the right of the windmill."
From roadside attractions like Giganticus Headicus to the best time to catch the desert in bloom to how the Tohono O'odham view the saguaro, Quinn covers a lot of territory—11,000 miles to be exact. He gives area fun facts, like where and how Billy the Kid got his outlaw start, as well as local cultural norms to help travelers avoid touristy gaffes. Informative and a good read, the book would be fun for armchair travelers. But don't sit still. There's too much to explore.
Trip 13 goes from one end of Zion National Park to the other, through Kanab, Utah, with a stop at the Grand Canyon's North Rim ("You've got to go.") and then on to the Vermilion Cliffs, Glen Canyon National Recreation Area, Navajo lands and finally Flagstaff.
Speaking of Flagstaff, when asked about his favorite stops in the town Quinn mentioned the historic Hotel Monte Vista, Lowell Observatory, Arizona Snowbowl and the Museum of Northern Arizona. No surprises there.
"Arizona and New Mexico: 25 Scenic Side Trips" delights with more than 300 vibrant images and location tidbits that will keep the pages and your wheels turning.