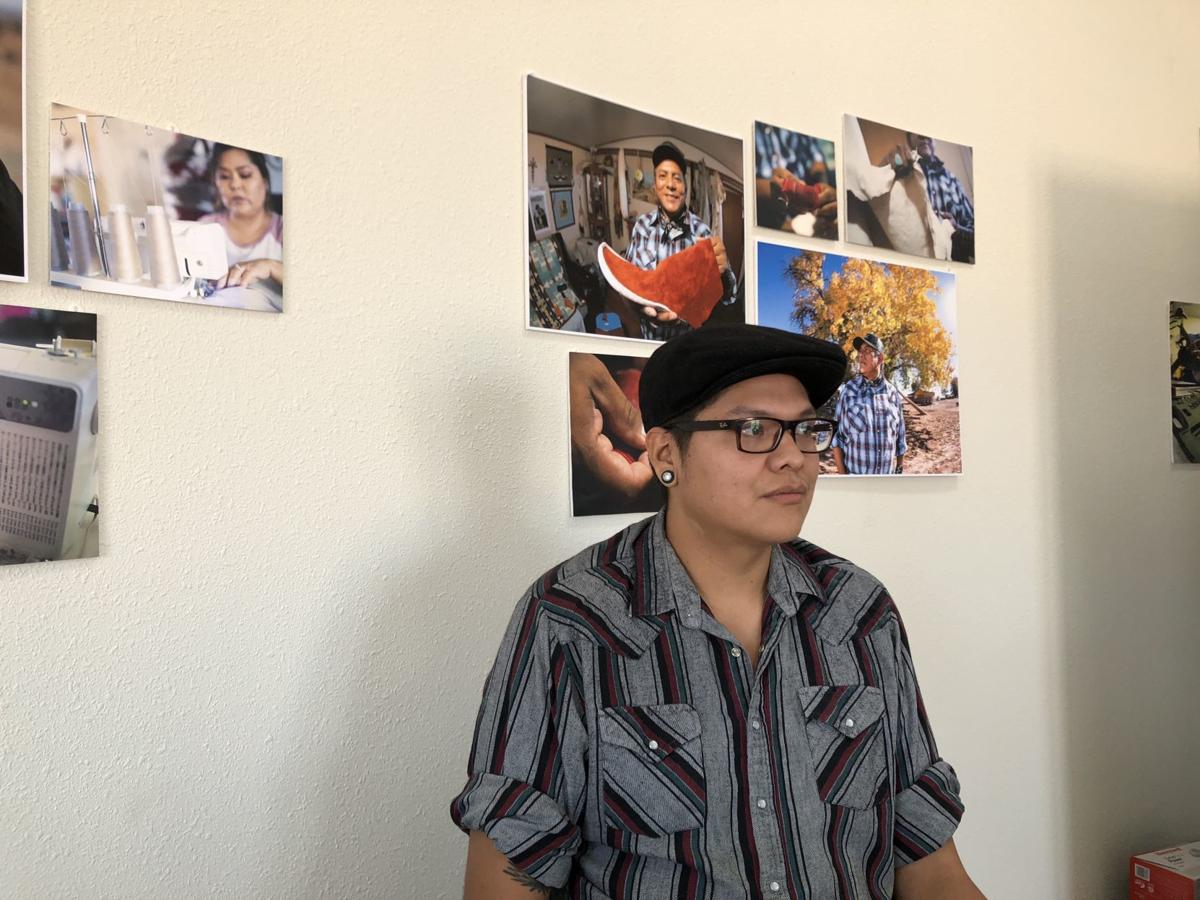 Activist art, Tom Greyeyes' primary outlet for expression for nearly half his life, has the power to affect political change. If not that, then to raise awareness and unite the people. Or, failing that, at least to serve as a personal balm, an emotional tourniquet to stanch the scourge of societal ills visited upon the oppressed.
And Greyeyes, Flagstaff-born and Navajo reservation-raised, was just such an idealist. He believed in the medium's loftiest goals. He sought to create beauty where none existed with pointed messages that, he hoped, would resonate both within and beyond Native American community.
Oppression and sovereignty, colonialism and indigenous rights — these were the overarching subjects Greyeyes tackled with paint and passion. His works appeared on water tanks in the most desolate areas of the reservation, but also in the toniest of galleries in major cities.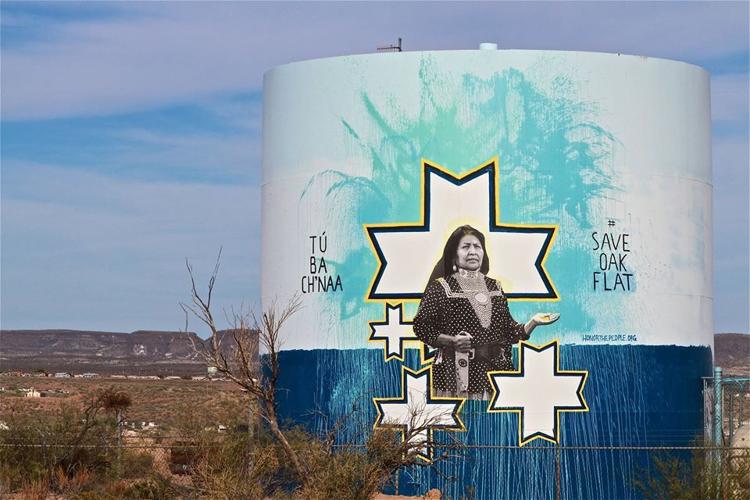 Praised by some as examples of truth distilled in its purest form, and dismissed by others as mere agitprop meant to provoke, Greyeyes'  murals, site-specific installations, videos and more traditional acrylic paintings garnered him a measure of art-world acclaim. Earlier in the decade, he won the Phoenix New Times' "Big Brain" Award. He became part of a well-known collective called The Painted Desert Project, which used art to protest uranium mining and water-rights issues in the Southwest. After earning an MFA in social practice at California College of the Arts in San Francisco, he had artistic residencies at prestigious universities and gave interviews to art journals, was even featured on National Public Radio.
The use of past tense above is appropriate because, close to a decade after his art career essentially began with a night in jail for an installation Greyeyes deemed a protest but Flagstaff police considered vandalism, Greyeyes is, mostly, stepping away from political art in favor of helping the Native American cause in a more concrete way.
Namely, he's becoming a businessman.
Those who know Greyeyes' provocative artwork must consider this a dizzying pivot.
He is starting a graphic design business, based in Tuba City, that he hopes will help boost the economy on the reservation, provide jobs and give other Native American artists experience — and a steady income — creating logos and websites across the region. He recently was selected as one of 11 Native American-owned businesses to be part of the Change Labs Business Incubator, a year-long program that helps nascent entrepreneurs market, brand and manage a start-up.
So, you may ask, what gives with Greyeyes? Has he, from a social-justice perspective, become a sellout?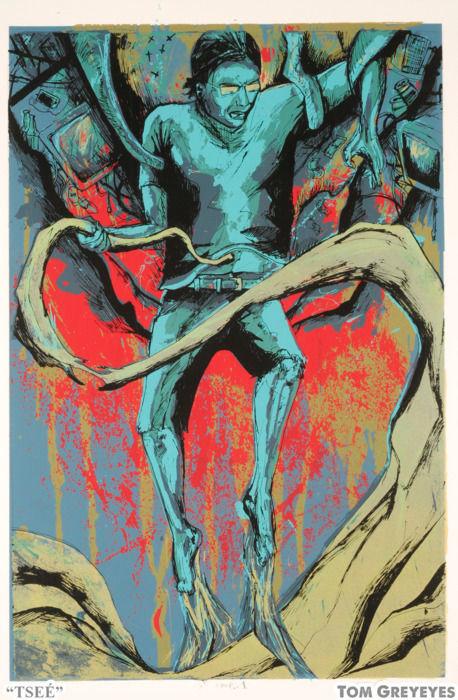 "No, I haven't heard that, not really," Greyeyes said one recent afternoon in his office just south of Tuba City's main drag. "But I'm sure it's coming."
Then he laughed, heartily, a big guffaw that belies his exceedingly calm exterior and measured speaking cadence.
He acknowledged that stepping away from overt activism might strike some as puzzling, but stressed he is hardly abandoning the cause of Native American rights — just changing tactics.
"Right now," he said, "I don't feel an obligation to be political. Not anymore. I was a little more idealistic back then. I did feel some frustration that change wasn't happening. If all the stuff I was doing before didn't end in results, then do I need to change what I'm doing, right? Now, I've become more business focused.
"My values align with Change Labs'. They see an opportunity for Native artists to use their talents for the benefit of people. I want to use my art in that way … to sustain myself and help others, too. If I keep going at this, hopefully we'll see a thriving economy here on the reservation."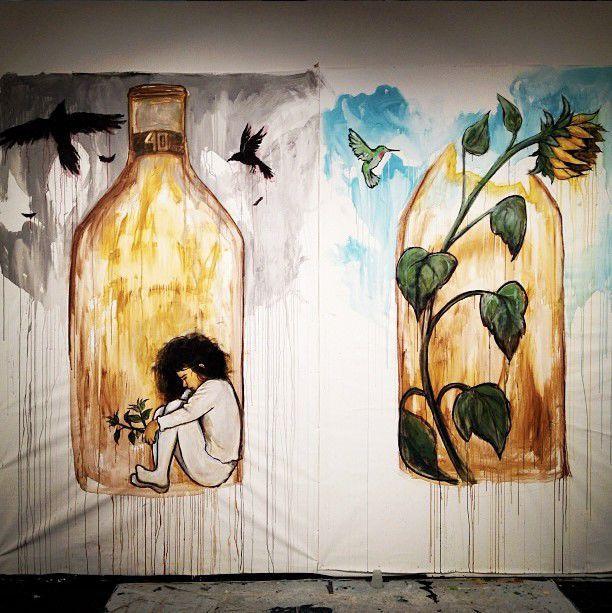 It's not that Greyeyes has become jaded or lost faith in art's ability to transform society; it's just that he wants to help the community in more tangible ways. Poignant and powerful artistic statements — Tó Éí Ííńá ("Water is Life") — on the sides of barns still resonate with him, but he doesn't have to be the messenger anymore.
To illustrate the economic woes that have long beset the Navajo, to put a tangible dollar figure on it, he rummaged through a stack on magazines on a nearby table and read from an article headlined "The Economics of the Grand Canyon."
"Listen to this," he said, index finger stabbing the glossy pages, "'On Navajo (lands), a full 71% of the $880 million in local income is lost through leakage.' So 71% of money made here is gone; it leaves. What I want to do is encourage it to stay on the reservation and circulate a little longer.
"When I was more activist-based, I was more interested in influencing people's personal values and political beliefs. Now that I'm reorienting myself, it's more like, how can I help create a healthier economy to make more stability here? I want to collaborate with Native American entrepreneurs, but at some point I also want to expand my influence to everyone."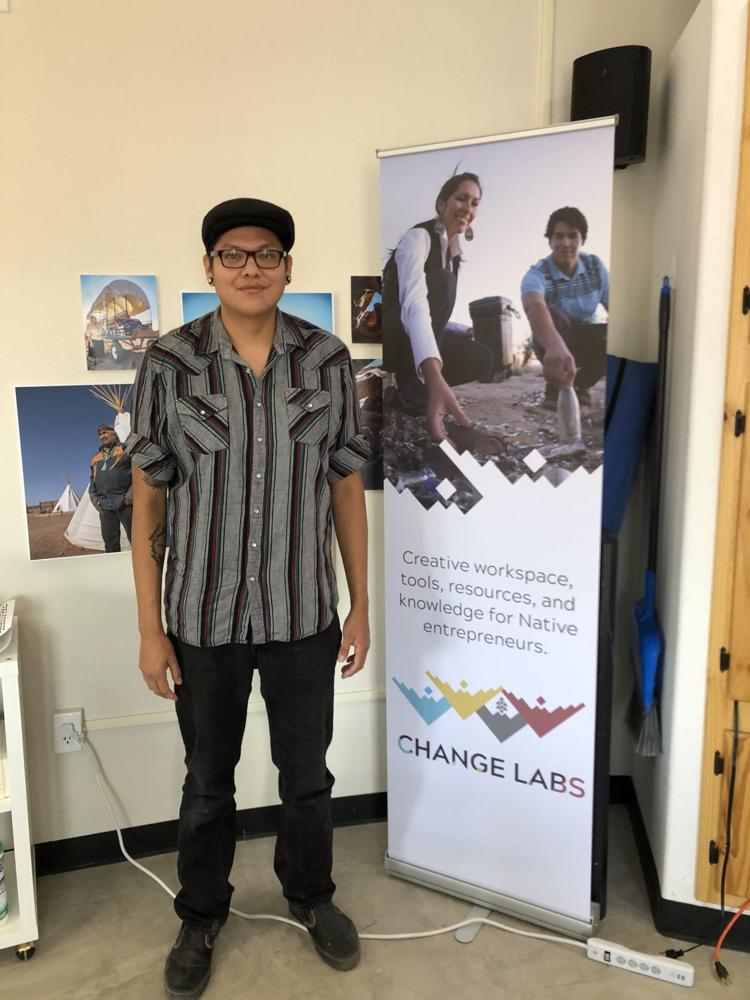 It's not as if Greyeyes is abandoning his political art — his reputation is such that nonprofit and activist groups seek him out — and he certainly doesn't disown his past work. He said making art with an ideological purpose is part of his heritage and will never be discarded.
Art, in fact, helped Greyeyes through difficult times growing up "semi-nomadic" in Flagstaff, Kayenta and at his father's home town, Tséyi.
"My family didn't want me to be an artist," he said. "Why? Because it's hard to make a living. But at that time in my life, it was something I needed to do. It becomes a form of art therapy. When you start doing conceptual art, it reflects things in your own life. If you can look at something objectively, break it down, examine it and potentially go beyond it, you can heal.
"If you have dysfunction in your family — and, coming from the reservation, you have a lot of social ills, like domestic violence, alcoholism, sex trafficking, missing and murdered indigenous women — you need an outlet. It's crazy how many legacies are affecting this place, the uranium mines and water issues are just two."
Greyeyes went from art-as-therapy to art-for-social change about the time he was finishing at Flagstaff High School and preparing to attend Arizona State University. In 2011, while at ASU, he became involved in an offshoot of the Protect the Peaks movement, Youth of the Peaks. Both were protesting further development and the use of reclaimed water for snowmaking at the Snowbowl.
One of Greyeyes' first installations was to plant corn in a circle at spots such as NAU's Cline Library, Heritage Square and City Hall and paint (with muddy clay) the silhouette of the peaks and the word "protect." He and a friend were arrested and charged with criminal damage and booked into the Coconino County Jail.
"I found a lawyer sympathetic to my cause and got it bumped down to a misdemeanor," he said.
The incident, which Greyeyes still finds irksome, did not deter him from pursuing art. At ASU — and later in art school in San Francisco — he became something of a minor celebrity. His unsparing and emotionally wrought work touched a nerve in the activist community. They sought him out, and Greyeyes contributed a project on the San Carlos Apache reservation for "Save Oak Flat," a sacred site that was slated to be a copper mine.
"Art has a way of bringing all things together," he said. "Some might say, 'It's just political.' But to me, that installation piece was spiritual."
His work reflected personal struggles, too.
One painting, 10-by-12 feet and two panels, is of a girl trapped in a 40-ounce bottle on the left, and a sunflower sprouting out of another 40-ouncer on the right. It signifies the trapping of alcohol abuse of the reservation and, using the traditional flower on the Apache reservation, how the girl breaks free of the cycle.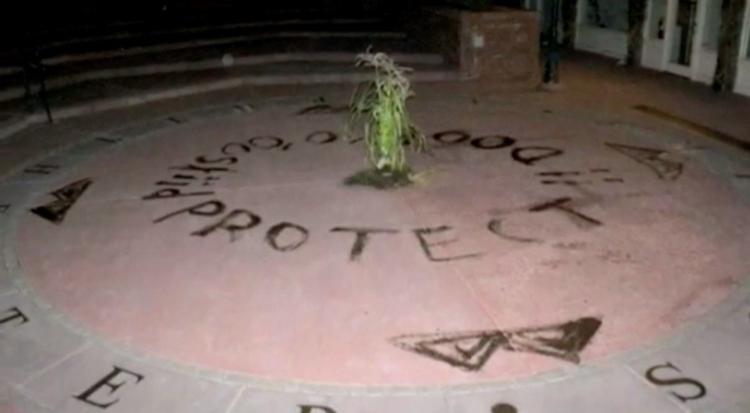 Another is a self-portrait of Greyeyes literally being pulled from his roots by technological cords and cables — a commentary of his feeling of being torn between being an urban and reservation Indian.
Those days are mostly behind Greyeyes now. He says he's always been a dreamer, a seeker of a better life for his people. His art has documented the oppression, in hopes of bringing change. Now, with his start-up, he wants to do it himself.
"There's a step in decolonization where he colonized people start to dream again," he said. "Me being here and starting this, it's just a continuation of that dream."
Stay up-to-date on what's happening
Receive the latest in local entertainment news in your inbox weekly!