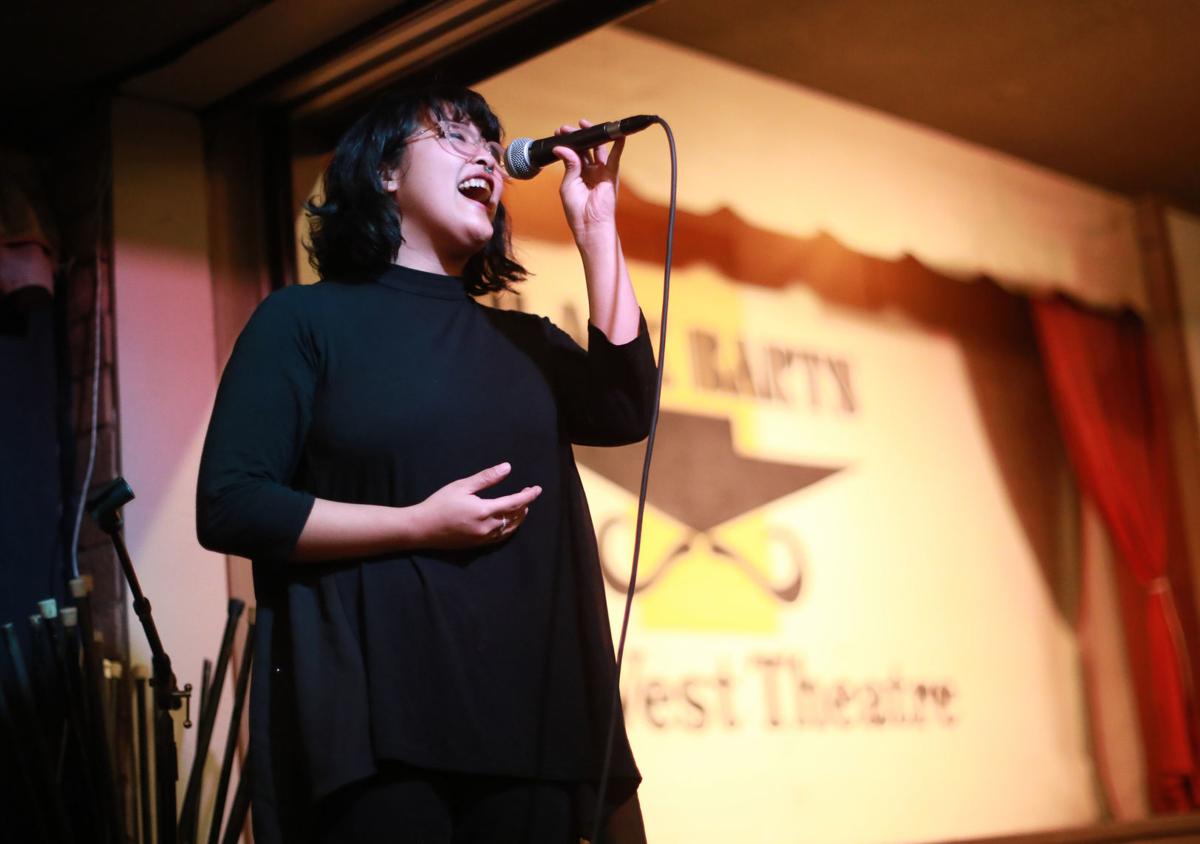 She'd been slinging plates of prime rib for nearly an hour at all three tables in her station, chatting up guests with a professional smile, pointing out specials, wielding the pepper grinder with authority over those side salads, passing out bread as if giving alms, circling back to the bar for refills for guests both parched and a little too well lubricated for this time of night.
Now Jessica Sinodis tucked her order pad in her half apron, next to an armada of pens, and stepped back from her server duties at Black Bart's Steakhouse.
Time to sing for others' supper.
Trading that pepper grinder for a microphone, she hopped on stage, not five feet away from the party of three she just supplied with menus and rolled silverware. Nodding to pianist Daryl Shay, Sinodis cocked her hip in a manner somehow both sultry and demure and transformed into Roxie Hart from the musical "Chicago."
Like some droopy-eyed pup
That sunny honey of mine …
In a perfect world, the lights would have dimmed, except for a lone spotlight and Sinodis would have changed into a slinky dress as she cooed the lyrics to "Funny Honey" while slithering across the baby grand piano, just like her character in the Broadway smash.
But this was not Broadway, not even community theater in Flagstaff. This was Black Bart's Steakhouse on a Friday night. As Shay pounded away on an upright, Sinodis had no time for a costume change so made do with her server attire — black polo shirt, jeans and the half-apron — as the murmur of diners sawing into steak and impaling iceberg lettuce on tines continued unabated.
Still, she nailed that song, belting it out with just enough smoldering emotion to get people's attention and admiration, yet maintaining the "family-friendly," PG-rated vibe for which Black Bart's has been known lo these many years.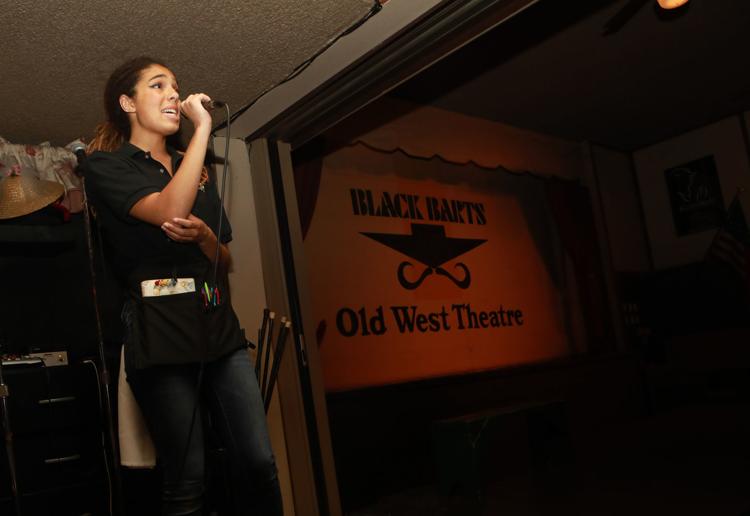 The dinner guests-slash-audience applauded warmly, the clink of cutlery hitting china adding to the appreciative crescendo.
Then, it was back to work, back to getting that extra pat of butter or another dollop of sour cream for someone's baked potato.
Another server, working at another station in the cavernous dining room, would pick up the mic and keep the music going until, every half an hour, like clockwork, the waitstaff, in toto, would ascend the stage for a chorus number — something bright and peppy, such as Glenn Miller's "In the Mood" or "Be Our Guest" from "Beauty and the Beast."
Even if customers failed to pause in their mastication and give full attention to the entertainment before them, you could see more than a few toes tapping under the tables.
Music — Broadway standards, Disney numbers, big-band swing, classics and even a few soft-rock numbers — has been a part of Black Bart's since its opening 40 years ago on its prime spot of Flagstaff commercial real estate off the Butler Avenue exit off Interstate 40. Owners Lee and Ora Pedrick, musical theater lovers, dreamed up this hybrid food-and-follies concept back in the late 1970s, and the tradition has continued unabated under the direction of their daughter, Carol Gabriel, and her son, Nick Gabriel, the current general manager.
Once, in a simpler time, the singing-waiter concept was not so unusual. An offshoot of the standard dinner theaters, musical revues featuring the servers who will fetch you a bottle of Worcestershire sauce while crooning light opera mostly have faded into obscurity in this new century, when piped-in Muzak now serves as bland background noise.
You have free articles remaining.
But not at Black Bart's. The nightly music, sung by servers who often are music and theater majors at Northern Arizona University, endures. The singers may have changed over the decades, but not the songs.
That's the restaurant's niche. People expect it.
"There's still demand for it, and we're still successful," Nick Gabriel said in the lull before opening. "Sometimes, it's more a passion than a moneymaker, but we've got 57 people employed here, so we keep things going for the legacy. It's what we do. And we're successful.
"We wouldn't be here without good food. I'd put our food up against anybody — and I mean anybody — in this town. But the reason we're famous and popular is the singing."
That is evident as soon as the doors open. Like many restaurants in Flagstaff, Black Bart's is Western-themed, with saddles, chaps, wagon wheels and stuffed bison and elk adorning the walls. But farther into the dining room, the motif changes. Hung along the wall, stage left, are a series of framed Broadway musical posters from back in the day — "The Sound of Music," "Singin' in the Rain" and that newcomer, "A Chorus Line."
And when the diners approach the hostess station to request seating, they always ask for the primo tables in front of the stage. Guests are primarily (and euphemistically) "of a certain age," meaning many sport gray hair and sensible shoes and prefer early seating so they can get home to catch "Jeopardy!" on TV. But because Black Bart's has an adjoining RV park and truck stop, the restaurant also gets its share of parents with young children and empty-nester travelers.
Not that management feels the need to radically change its playlist to cater to more current fashion. Sure, a singing server may throw in a number from "Hamilton" or from recent movies like "La La Land" as a nod to modernity, but it's the classics that remain popular.
The crowd on this Friday night swayed along to server Ellie Rutter's version of "Diamonds Are a Girl's Best Friend," and bopped to server Sheilah Utley's "Mama Mia." But they also seemed engrossed in Aaliyah Bancod's torch song, "I Dreamed a Dream" from "Les Misérables."
Such a mix of old and not-so-old songs from Broadway and beyond is what the restaurant is shooting for, said Bancod, who is the co-musical director with her partner, Marty Rickert. The two are graduates from NAU's school of music who started as singing servers and now have ascended to management positions at Black Bart's.
The two hold employment auditions — judging singing chops, not waitstaff skills.
"In the past, we had a lot of vocal performance track at NAU, so they were really opera-heavy," Bancod said. "Right now, we have a lot of people that are into musical theater and pop music too. We're straying away from the classical side of things."
Sometimes, Bancod said, prospective singing servers will audition with something too contemporary for the guests, like Adele or Bruno Mars. "Not quite right for our audience," she said.
And at Black Bart's, the audience always comes first. Yes, they do requests — within reason — according to front house manager Sean Winsor, who has worked at the restaurant for 16 years.
"I once had a request for 'Freebird' (by Lynyrd Skynyrd)," Winsor said. "I told the fella, 'I'll go look in our music library to see if we have it,' knowing full well we didn't. So I go hang out in the music office for a couple of minutes and come back out and say, 'I'm so sorry, sir, I can't find it anywhere.' He says, 'Oh, no problem, I downloaded it. What's your email? I'll send this to you.'"
Long story short, they did the song, a Southern rock anthem.
"But we only did the beginning," Winsor added. "When it got into the guitar solo, we were like, baa-baa-de-bomp. The end."
Guests, usually, are receptive to what the servers choose to sing — pending approval by management, of course. Sinodis, 20, a veterans of musical theater in the Phoenix area since her grade-school years, likes to introduce some new material. She's got a couple from "Hairspray" in her arsenal.
She and other servers, however, are so busy slinging plates that they often fall back on old favorites they know by heart. And by 7 p.m. on this Friday, the place is packed, but the songs still have to be sung. It looks slightly frenzied for the waitstaff, but they cope.
"When you're in musical theater, you have to juggle a lot of things, make sure you're in the right place at the right time and if you have to change (costumes), you only have 30 seconds and have to make sure, so you juggle the chaos then get on and go perform," Sinodis said. "This job is kind of similar. I was able to jump right in. I love it."
After her first solo, Sinodis was able to refocus on serving duties, but part of her was wondering what to sing next. Maybe "Jolene" by Dolly Parton. Or "Memory" from "Cats."
"Or 'Let It Be,'" she mused. "Everybody loves The Beatles."