Art brings much-needed color to our lives. Whether in our homes or on public walls, art expresses ideas and ideals, helps people share stories and taps their creative side. 
"When I first came here in the early '90s there were very few murals," R.E. Wall, executive director of Mural Mice Universal, said about Flagstaff. "In the last 20 years, it's been an enhancement of the downtown area that I think is being received really well."
Even a brief walk through the downtown streets and alleyways reveals a variety of artistic styles, from Joe Sorren's darkly mysterious piece in Heritage Square, "The Veridic Gardens of Effie Leroux," to the whimsical "All From a Moment Alive" by Lyle Motley across from Arizona Music Pro.
One recent addition to downtown Flagstaff's open-air gallery celebrates humanity's differences and aims to draw people together.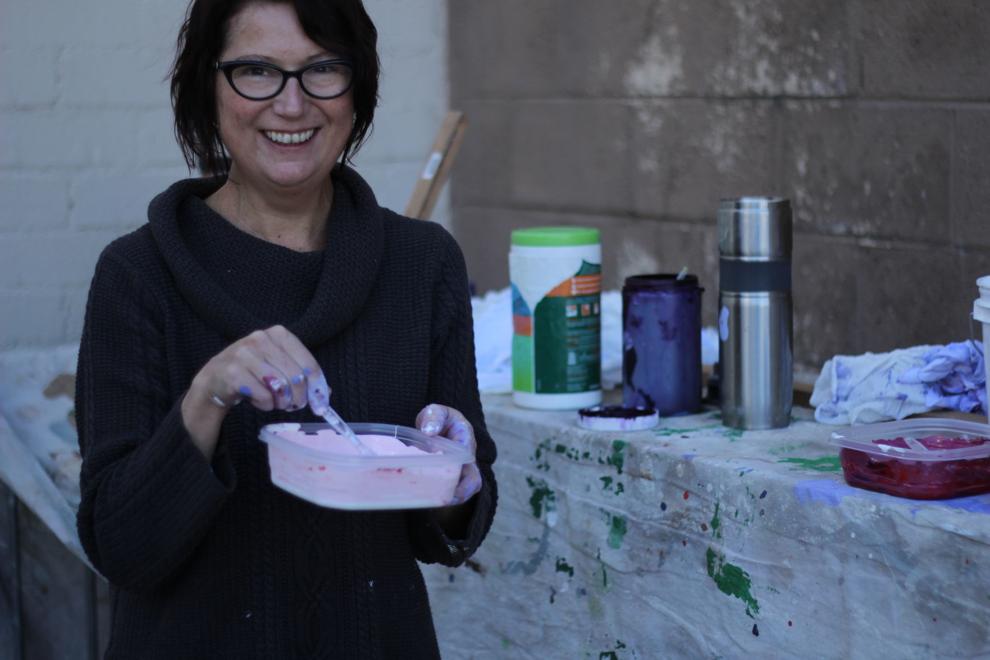 San Diego-based artist Karen Fiorito's "UNITY" mural on the west-facing exterior wall of the Orpheum Theatre features five hands of various colors spelling out the word in American Sign Language against a rainbow-sunburst background. The artist said it's a call for people of every race, creed, gender, ability or disability to come together.
"I think this is something that's really needed now, and I'm hoping that as things get better, this message will be more accepted and become more universal." 
In true collaborative fashion, her mural, which was revealed with a celebration at the Orpheum Oct. 6, would not have been possible without a hand from the community.
After several months of fundraising and with help from the nonprofit Together We Will Northern Arizona, Fiorito was set to begin the mural when she experienced a flare-up of her spondylolisthesis, a spinal condition that causes one of the lower vertebrae to slip onto the bone beneath, making it painful to work on physically-taxing projects like painting a mural. 
"I had never done anything that high up before. I had no idea how complicated or challenging it would be," she said. "I realized I needed help."
She reached out to Wall to ask if he might help her complete the project during the two weeks she was given, and Wall asked local artist Sky Black for his assistance. It was an in-turn favor and another coming together for the sake of art.
Wall and Margaret Dewar—the other half of Mural Mice—had helped Black complete the 4,500-square-foot mural on the east exterior wall of the Orpheum Theater in 2014.
"Helping other artists is what it's all about and just standing together as a community," Wall said.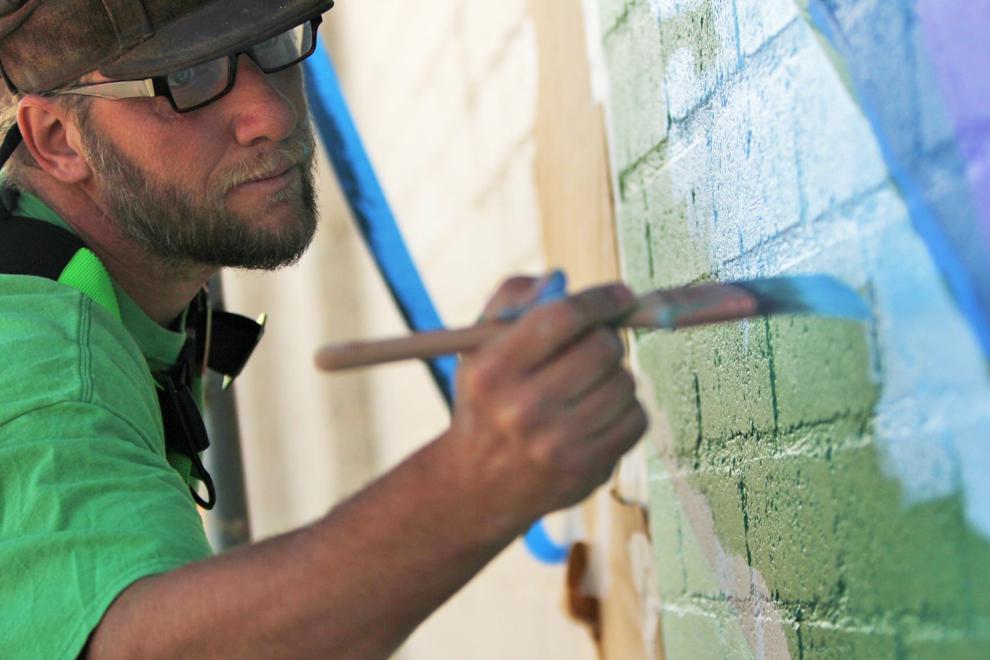 Both prolific artists, Wall and Black have made their marks on Flagstaff and agree that public art is vital to the culture of a community.
"Murals belong to the people," Black said. "['UNITY'] is a lot different than what's on the other side [of the Orpheum]. A lot of voices can be heard, and that's what happens when you bring artists from out of state. It's important as well to show that we're a welcoming community."
"We really feel that it's not fulfilling enough to paint just a picture of people together. We want people to actually come together," said Wall. "It's all about empowerment, listening to the community, listening to what they have to say, and if we think about it that way, public art is everybody's business."
Flagstaff's newest public mural was recently completed on the east-facing exterior wall at Grand Canyon Spirits on North Fort Valley Road by Mural Mice and students from Flagstaff High School in partnership with the Grand Canyon Trust and Beehive Design Collective.
The mural was inspired by a September workshop that 10 students attended at Kane Ranch near the North Rim of the Grand Canyon. There, the teens learned about threats to water systems and learned to use art as a tool for advocacy. They met with Hopi community members and learned about the effects uranium mining and climate change have had on water on the Colorado Plateau.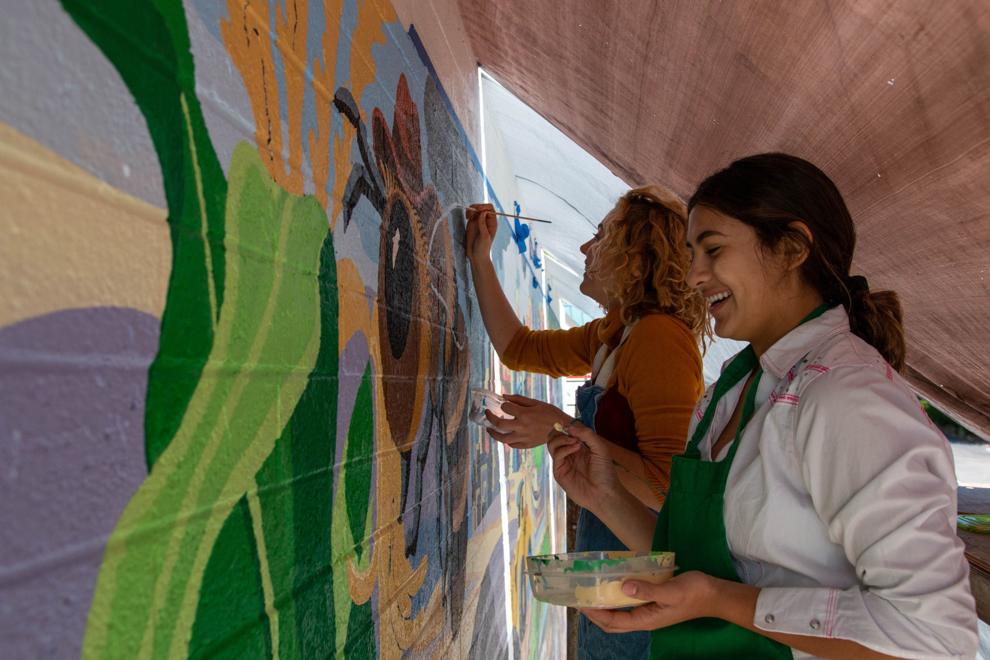 Maria Archibald, Youth Leadership Program manager at the Grand Canyon Trust, was among the mentors during the four-day student workshop. She said she helped facilitate some of the conversations, but the teens brought their own ideas and willingness to learn.
"It was so inspiring and powerful to watch it happen. I think it's such a fantastic opportunity for young people to explore, ask questions and give [the students] a platform," said Archibald. "It's amazing to see this come to life."
After the workshop, more than 75 students began work on the final mural design, which reflected the conversations they had with numerous Hopi and Native community members and leaders. One of their stories, that of Leonard Selestewa, especially inspired the Flagstaff students. They learned how Selestewa's life as a farmer had become much more disadvantaged and difficult after coal mining began at Black Mesa. The students decided to tell his story and the context of countless other Native lives, transforming the white wall of Grand Canyon Spirits into an overarching scene of capitalism, resistance, modernization and spirituality.
At the top left of the mural, water from a mountain, which is personified as a woman, rushes down and across multiple scenes, farmland, a bustling city and a resistance and protest on the ground, with characters like farmer bees, elder horny toads and greedy wolves.
With facilitation from Archibald and only minor direction from Mural Mice, the students at Flagstaff High made the mural unique to their own styles and views of issues surrounding water on the Colorado Plateau.
Rebecca Encinas, 16, and Zia Kypta-Keith, 16, who both attended the workshop, focused on creating the character of the bee as a farmer in homage to Selestewa.
"Listening to his story, we really felt the effect uranium mining has had on his farm, his water, his life—how these big companies affect these small people," said Encinas.
As curious onlookers drive by, they might be quick to think of the mural as a Mural Mice project, but everything from its message to its artistic style was designed by the high school students. One element the students felt particular about was portraying the mountain as a woman.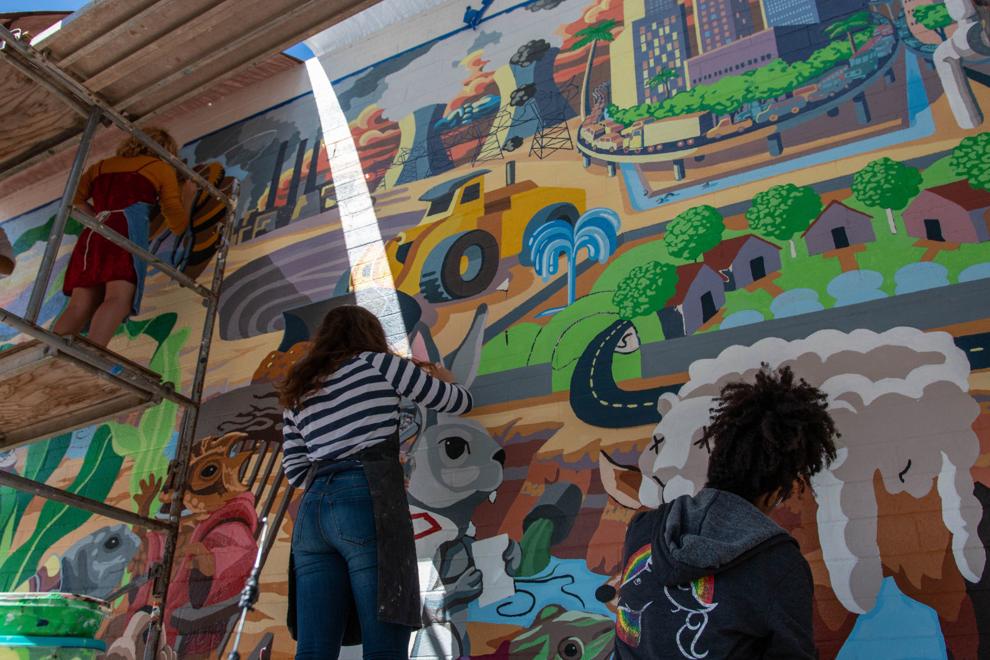 "We didn't want to portray it as an animal," said Kypta-Keith. "We knew immediately that we wanted to portray the mountains as a strong being, something that gives life."
These public artworks reinforce for society that art can inspire, tell stories, make connections and transform lives.
"If we take these spaces that are neglected and transform them a little bit and put a bunch of energy in them it changes the way people behave," said Dewar of Mural Mice. "If we improve our environment, we can improve ourselves. An improved environment creates a more cultivated people."
A dedication and reveal of the Grand Canyon Spirits mural will be held Oct. 24 from 4-6 p.m. at 982 N. Fort Valley Road.