"See how it flows on there? If you need to add water, add water, otherwise it's not going to move, and you end up fighting the paint," Baje Whitethorne Sr. told a small group surrounding him as they dipped paintbrushes into thick puddles of acrylic paint. A light breeze hits the trees at the Museum of Northern Arizona's Mary Colton studio as the renowned Navajo artist and his students ponder a large canvas, taking turns brushing colors over the stretched linen, reds, ultramarines and yellows gradually coating its surface.
The students, six in total, are the first ever participants of MNA's new artist residency, the Namingha Institute. The program consists of a week of intensive studio time and is open to graduate and undergraduate art students. Each participant came with several artistic skills to their name: photography, graphic design, painting, drawing, basket weaving, jewelry making and fabric arts are just a handful of the media among them. Over the course of the program, which was in its fourth day Thursday, the students have been expanding their skills under Whitethorne's tutelage.
"Baje is a great instructor, and we're all learning from each other and [from] what we bring to the table. We're family being right here with each other," said Orinda Goddard, who came to the program from Washington.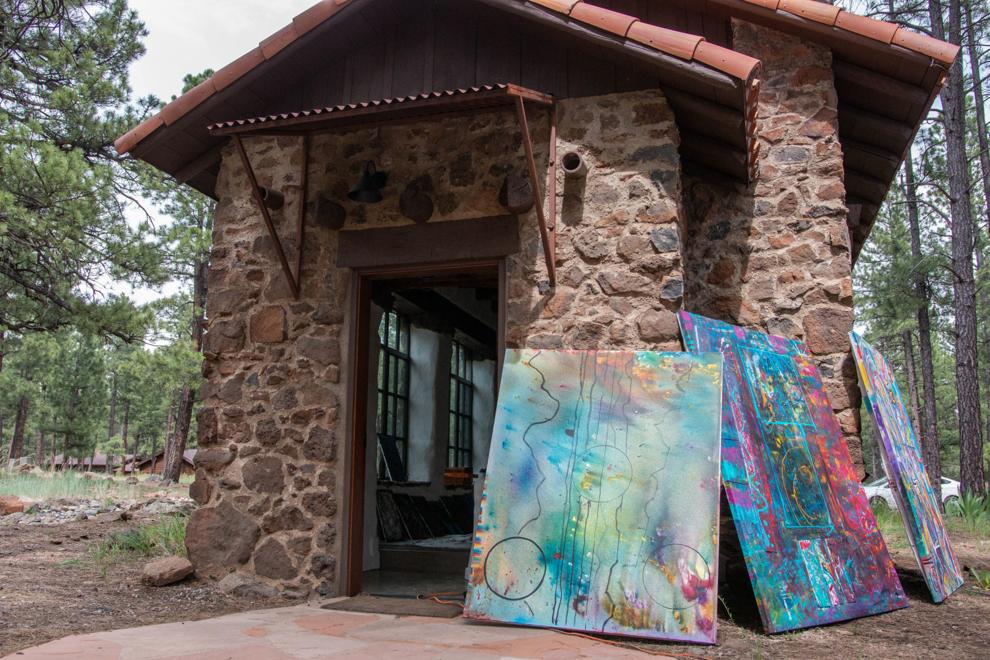 The Namingha Institute was named after the famous family of Hopi artists from New Mexico and has been in development for close to eight years. The initial idea stemmed from Phil Smith, a geologist and frequent donor to MNA, alongside Dan Namingha himself.
"Phil and Dan thought it would be a good initiative to establish some form of institute that could provide for a practical education in the form of mentorship for young artists," said Alan Peterson, curator of fine art at the museum.
MNA has exhibited art from different members of the Namingha family over the years and both Namingha and Smith agreed it was their preferred venue to establish the residency. The program is funded by an endowment from Smith and other donors, and covers room and board for the students as well as several hours a day devoted to studio and instruction time.
The residency's first year has brought in students from across the United States and Canada. Kayla Jackson and Khalid Honie, both BFA students at Diné College, heard about the program through their instructor there. Krystal Coughlin, a member of the Selkirk First Nation tribe, came from West Minster British Columbia; Orinda Goddard, is a member of the Chehalis tribe and applied from Centralia Washington; Antoinette Thompson, who has worked with Whitethorne in the past, is Navajo. Among the group are bachelors students, masters students and still others who already have one or more of both degrees.
All of the work that has come out of the residency so far is group-based.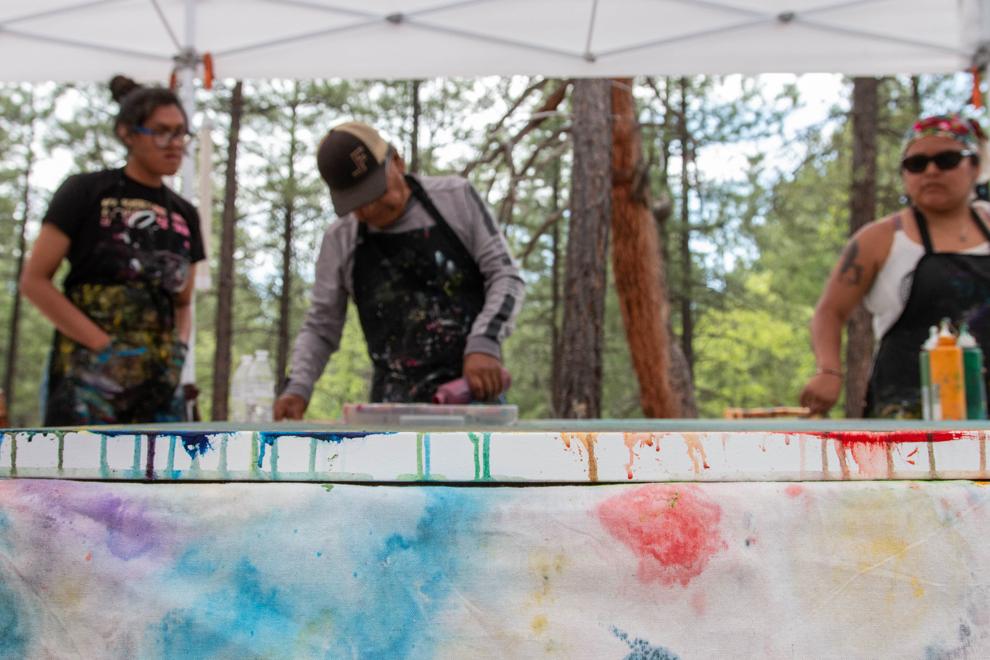 "What we're doing here is working as a team and that has to do with honoring both the individual beside you and everybody else in the group and also being open to see what happens. At the same time, I've been introducing them to different washes, working on raw canvas and raw burlap," Whitethorne said.
Whitethorne, who grew up on the Navajo Nation and whose art has been on display across the globe, takes a very hands-on role in the teaching side of things, instructing the students and giving them advice, while also letting them work within and cultivate their own styles, he said.
"I've just shared with them my experience doing art, how to get away from the grades you got in school. This way you're just open to whatever way you want to work and create what you want, how you want, and it gets you working. The biggest thing is work, the biggest improvement in your work is actually working," he said.
Next to Honie, Thompson watched as more colors made their way to the canvas via palette knife, brush and fingernails. The former healthcare worker quit her job to pursue art, and since then, her pieces, including a mural in the Navajo Nation Museum Library, have been displayed at MNA and the Diné College.
"I feel like an older sibling amongst these guys," she said. "I like to watch them and then I'll help them out in other areas."
The students arrive daily at around 9 a.m. and stay at the Colton Studio until 5 or 6 in the evening. Together, they've completed four large canvases, which they continuously add to. On Thursday, they were painting a tall corn stalk with six dancers on its limbs—one to represent each student.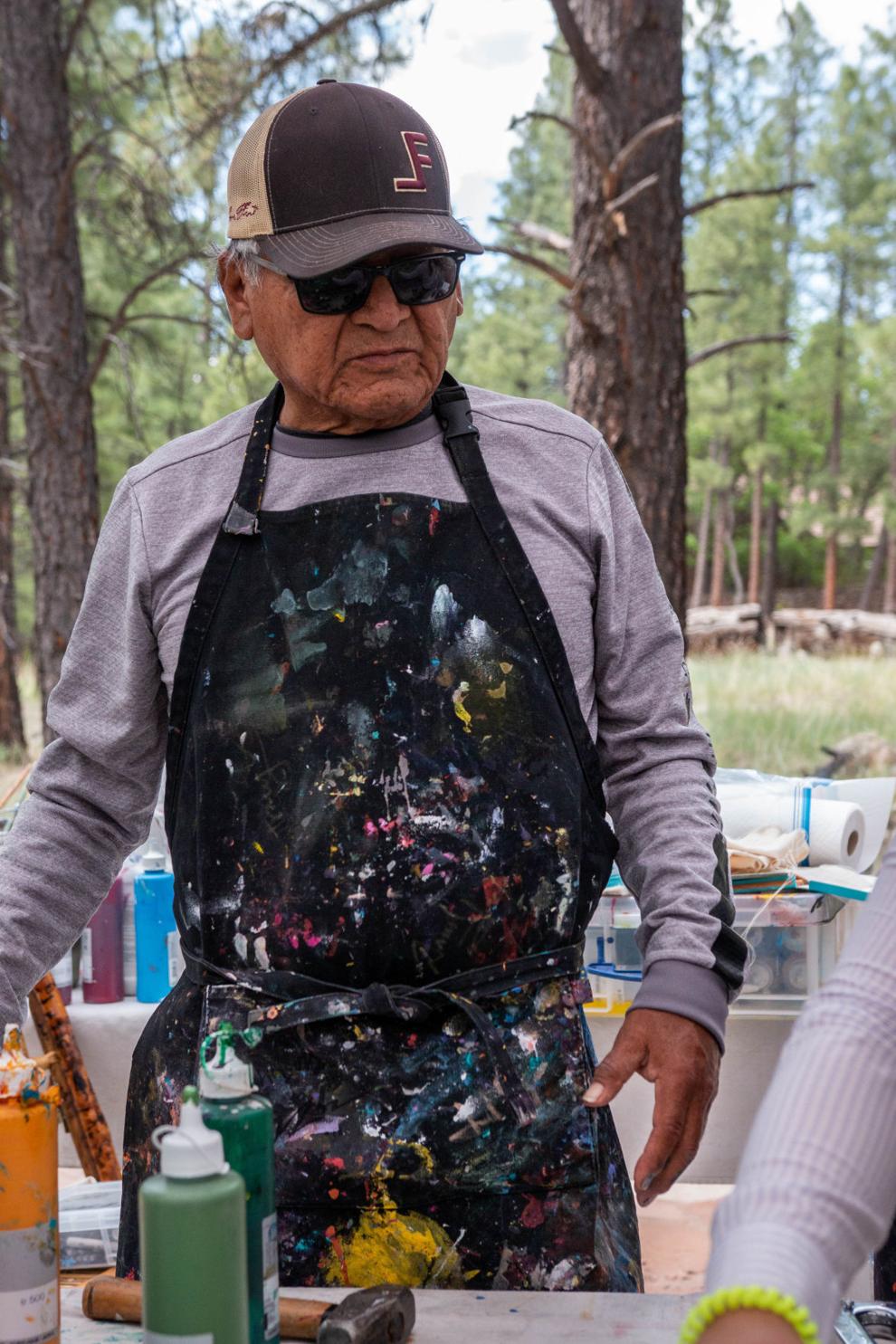 "We are having to understand how we work as a group because we all have different strategies. You have to learn to use each other's space and how to work with each other as a team," Honie, who works primarily in graphic design and photography, said.
"In its first year, I hope that the young people who come here go away really inspired and that this is a formative part of their career. In the longer term, I hope it will grow in [a] sustained way and it will become a really important permanent piece of the sort of cultural expression that happens here on the MNA campus," Mary Kershaw, MNA's new executive director, said. "I see it becoming a really important component of what we do and who we are. I love that the founding of this museum was the combination of art and science, so I see this as really grounded in who were are."