During his farewell party at the Coconino Center for the Arts, John Tannous took a moment from his final speech as executive director of the Flagstaff Arts Council to issue a challenge to the community: Keep the arts moving forward.
"This town has the capability of doing even greater things than the great things you've already done, and I believe in that, and I believe in all of you. And I want you to carry that torch forward and do even greater things," he said. "Build a new arts center for this community. Hell, build three new arts centers for this community. And give the people in this town the opportunity to experience art in new and amazing ways."
On Aug. 10, after 11 years, Tannous stepped down as executive director of the Flagstaff Arts Council. He's moving on to a new position as executive director of Washed Ashore, an Oregon-based arts organization. Becky Daggett was named interim executive director while the arts council board conducts a nationwide search to fill the position.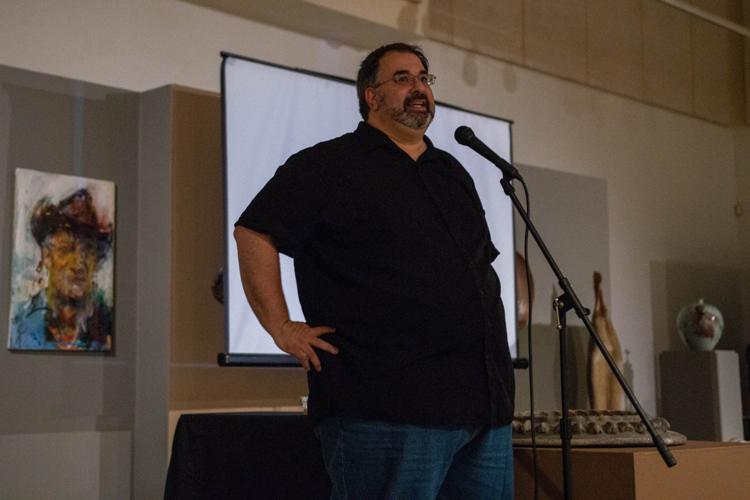 The Aug. 9 farewell party was attended by more than 50 artists and community members, many of whom lauded Tannous for his persistence and determination as executive director.
"[Tannous'] imagination and vision made him such a pleasure to work with," said Flagstaff Arts Council President Dorlee Henderson. "So many things the Flagstaff Arts Council accomplished was because he saw the possibilities and made it happen."
When he accepted the position at the arts council, then called Flagstaff Cultural Partners, 11 years ago, Tannous was 34 and had just moved from Prescott.
"I think there's a sense of nervousness with any new position, but I was also very, very excited. I had a lot of confidence in myself, maybe a little naïve confidence," he said with a laugh. "I didn't come into the job knowing the path the organization should take, I came into the job wanting to listen to our partners, our constituents and artists in the community and from that try to get a picture of what Flagstaff needed in arts, culture and science."
Shortly into his role, the housing market crashed and the U.S. entered the Great Recession. While everybody felt the effects of the recession, Tannous said the nonprofit world, especially nonprofit arts, "was turned upside down."
At the time, Tannous was the only full-time staff member, but a couple of years later, he said the arts council managed to fund its first First Friday ArtWalk, a monthly event that is ongoing. The council also began the annual Viola Awards, something he said is one of his biggest sources of pride and a byproduct of bringing the community together.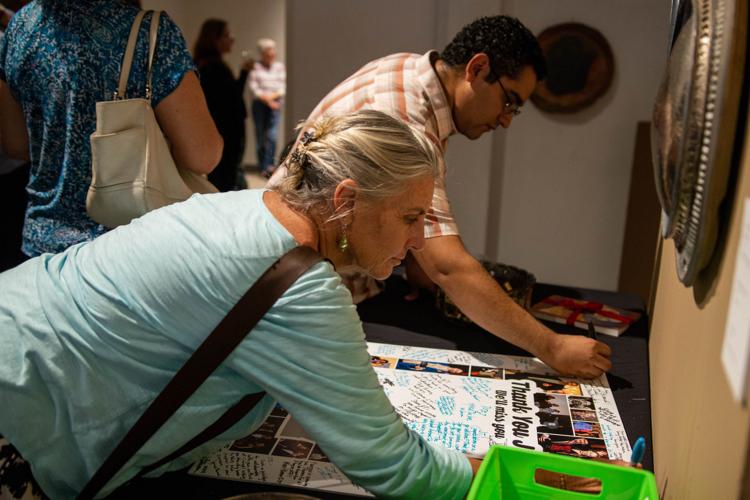 "With the Viola Awards, we saw an arts community that had a lot of talent and creativity and a lot of positivity and a lot of amazing individuals and not necessarily a full sense of cohesiveness. And the Viola Awards were created essentially to bring that whole community together once a year, have a reason to celebrate, sort of raise a glass to say, 'You've done a lot of work,'" Tannous said. "I look back on it and there's part of it that I'm really proud of, and I love the way the community has really embraced it, and I think that it is really Flagstaff's thing."
While living in Prescott, Tannous said he fell into a rut of depression. As a young father, he said he struggled raising a toddler and trying to find his place in the world. When a neighbor asked Tannous if he would like to participate in an annual performing arts and culture festival, he took a position as executive director because, "I needed something to get out of the struggles I was having at the time." That festival became Prescott's annual Tsunami on the Square.
"Art changed my life, to be really blunt about it," said Tannous.
Coincidentally, Tannous spent 11 years in Prescott before moving to Flagstaff, where he would spend another 11 years in service to the arts.
An eight-minute video produced by Firewatch Media and shown during the farewell party listed Tannous' top-10 accomplishments. Among them were various exhibitions — "Virga," "Fires of Change" and "Hope & Trauma in a Poisoned Land." It also listed his efforts in Flagstaff 365, the online events calendar, and the Navajo Rug auction. Number one was his initiative for a new arts center.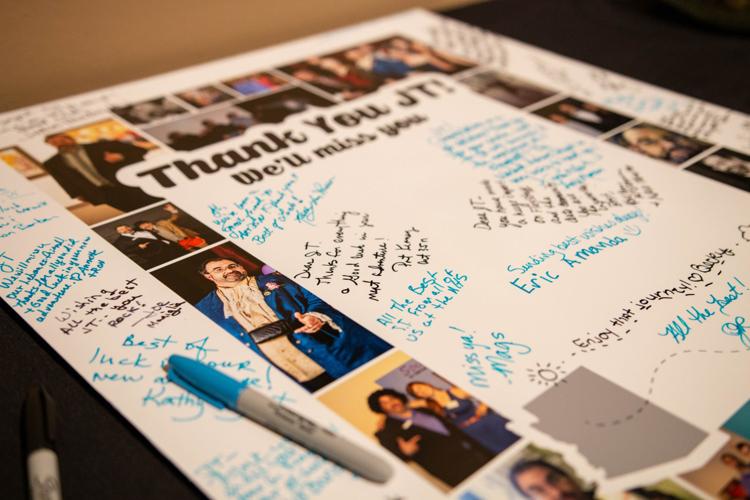 Progress on a new arts center, however, has been stalled due to a weeks-long legal battle between the arts council and ArtsMarket, a consulting firm from Bozeman, Montana, that was hired to conduct a feasibility report for such a facility. ArtsMarket was fired in April.
An Aug. 1 report prepared by the Flagstaff Arts Council used the data collected by ArtsMarket and recommended a six-point plan of action, which includes convening a coalition of arts, culture and science nonprofit organizations in Flagstaff, focusing its efforts on the entire sector and developing a funding model for the sector rather than a model for a single facility. The report said this work should begin in 2019. Specifics about a new arts center were not mentioned.
Tannous said he wished he hadn't waited to begin progress on the search for a new arts center.
"Back in 2010 or 11, we knew that Flagstaff was starting to grow considerably, that we didn't have the facilities, culturally, to serve this population, both its residents and its visitors," he said. "If we had started that conversation back in 2010 we might have been that much farther ahead now than we are now."
As the arts council moves forward with its proposed recommendation, Tannous said he is positive and hopeful, saying a new arts center is "an inevitability."
Tannous said he was touched to see so many familiar faces during his farewell speech, laughing and cursing to himself as he held back tears. His legacy, though he'd argue shouldn't matter, lives on in Flagstaff.
"I'm not the kind of person who's interested in, is there a legacy I've left behind," he said. "If the arts council moves forward from this point and helps this community build a new arts center and address its need for better venues in the community, and the community and the arts sector here in Flagstaff grows and continues to flourish in new and exciting ways, that to me is success."