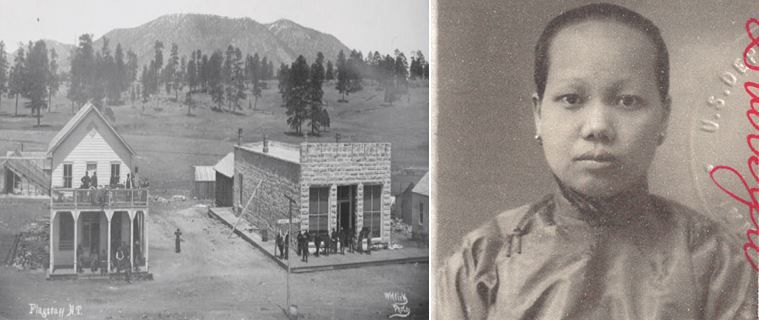 Immigration to the United States goes back centuries and covers immense geographical and cultural ground: German, English, Italian, Polish, Mexican, the list of nationalities goes on and continues to define the country into the present.
Post-Civil War United States saw a large influx of Chinese immigrants, spiking in Gold Rush-era California, where people opened businesses, worked physically demanding farm and rail jobs and started families. Come 1882, however, the Chinese Exclusion Act would change the way Chinese people were permitted to navigate the realms of business and daily life. It also halted migration for roughly a century as a familiar narrative to one heard today came to the fore: The idea that American jobs were being taken.
Similar to places like San Francisco and San Diego, though not as big, Flagstaff had a flourishing Chinese community in the late 19th century, and come 1882 it too began to see the discrimination the Exclusion Act left in its wake.
Emma Jane Wilson's life would, at several junctions, intersect with the Chinese community in Flagstaff as she became a voice in countering hate routed in its direction.
Wilson, featured in Resilience: Women in Flagstaff's Past and Present, would become the owner of 120 acres of land in today's historic downtown Flagstaff, write several letters to the Arizona Daily Sun (then Coconino Sun) editor advocating for the disenfranchised, and, like several other women in the exhibit, would do so while she herself operated within the confines placed on women at the time. 
Holly Filsinger is a 2018 graduate of Northern Arizona University. She was one of several students who helped research subjects who would become part of for the Resilience exhibit. Filsinger worked on the project both during her senior year as a comparative cultural studies major and in a supervisory role after graduating to help complete the project.
"[Emma is] definitely the person I spent the longest time researching. It was not easy finding things on her—there was one mention of her and it was when I was researching the Asian American and Chinese population of Flagstaff," Filsinger, who also researched Resilience's Dew Yu Wong, said.  
According to Wilson's panel in the exhibit, in the 1880s, several structures within Flagstaff Townsite burned down, and many of Flagstaff's white residents blamed the Chinese, calling it "the Chinese Problem." A group of men published a call to arms in the paper, imploring people to kick Chinese residents out of homes. Wilson bore witness to the discrimination and, in response, wrote a letter to the editor.
Wilson is the subject whose life dates the furthest back in the Resilience collection. Filsinger and others searched long and hard for a photo of her but could not find one. Instead, Wilson is represented in a black-and-white capture of the corner of Route 66 and San Francisco Street—a portion of her land.
"I'm sure [a photo] exists somewhere, but I think [the absence] speaks to the idea of women being historically left out of the narrative," Filsinger said.
Wilson faced physical abuse in her second marriage. She would be granted a divorce and later marry again. The 120 acres she purchased from two settlers when she first arrived in Flagstaff were taken by the city for public use. Wilson sued, and, though the city would eventually win, she took her lawsuit all the way to the Supreme Court. The land she claimed was hers stretched all the way from Lowell Observatory, crossed the tracks at points, and buttressed Cherry Hill and beyond.
"Being part of the beginnings of a town and defining yourself within those boundaries, that really stuck out to me and why I wanted to learn as much as I could about her. She was standing up for a very disenfranchised population and demographic; she struck me right away as a selfless person," Filsinger said. "At a time that it wasn't very encouraged to do so and on top of that, speak up for a group of people that it was not popular at the time to stick up for. I think she's the coolest in that way." 
FLAGSTAFF'S ONLY CHINESE FAMILY
Dr. James Wong's memories of his mother Dew Yu Wong, one of 21 subjects in Resilience: Women in Flagstaff's Past and Present, have faded over the years, but what he remembers is her work ethic. Dew Yu moved to Flagstaff in 1915 where she ran a laundry with her husband. She died when Dr. Wong was just 13.
"I never really knew my father. I don't even remember what his voice sounded like," Dr. Wong said. "My mother, though, I was her baby. We were very close and she was suddenly taken from me. I knew her since I was a baby, but I never got to learn much except from my brothers and sisters."
Dew Yu died in a tragic hunting accident more than 70 years ago, leaving Dr. Wong to be raised by his siblings, the eldest of whom was 26 years his senior. Dr. Wong, a retired dentist of 45 years, is 84 now. He and his 96-year-old sister Margaret are the only two left out of 12 siblings. 
"We were a close family and my mother, before she died, made them promise that they would take care of the minor children," he said.
Dew Yu and her husband June opened the American Laundry in Flagstaff in 1915, a hand wash laundry in its early days that would later become a commercial laundry. The business was housed in a wooden building on the corner of Phoenix Avenue and San Francisco Street in what is now historic downtown Flagstaff.
"We all were born in our laundry on the second floor," Dr. Wong said. "My mother had her babies and went back to work in the laundry as best she could."
The family was tight-knit and after June died, when James was just 6, Dew Yu continued to work, but life was not always easy. First and foremost the Chinese Exclusion Act made immigrating near-impossible for a Chinese person; Dew Yu, who immigrated from Canton, China, never attained citizenship. It was not for a lack of trying, however, as she struggled to overcome strict language barriers. At the time, a US citizenship test required applicants to recite the entire preamble to the Constitution.
"I remember this part well," Dr. Wong said. "Because she couldn't say the words of the preamble, we all helped her, my siblings and I, to get through the preamble. But she never went past five or six words, she just couldn't say the words. So she had to give up and the story would go on."
Representing Dew Yu in Resilience are her immigration papers, Cantonese lettering decorating their pages.
"She struggled physically and grew up as a foreigner not knowing anything and she never became a citizen because they made it so she virtually couldn't," Dr. Wong said.
Dew Yu had to carry her papers of reference so she was not mistaken for Japanese and placed in one of Arizona's many internment camps during World War II, according to her panel in the exhibit.
When her husband died, Dew Yu was unable to become the owner of the laundry due to her immigration status.
She is remembered in the exhibit as a great cook, a skilled gardener and a valued part of Flagstaff at the time, so valued in fact that the community would also help care for her children after she died.
Though Dr. Wong made dentistry his profession, he was always learning and collecting on the side, mostly ephemera from his mother's and father's lives: letters, objects, papers from Angel's Island in San Francisco where his family first set foot on American soil. With help from his sister and editors, a book on his family's life both in China and the United States will be published later this year.
Stay up-to-date on what's happening
Receive the latest in local entertainment news in your inbox weekly!