For the cast of the Flagstaff Shakespeare Festival, the idea of finally returning to the stage for a full performance in front of a live audience after a year of curtailed and virtual events is like coming up for air.
"As artists, we need our art," actor Racquel McKenzie said. "We live on that and not being able to do something you love is so painful and the moment you get to do that is like… finally."
And their return to the stage is a big one with an 11-actor ensemble performing two drastically different plays — the drama "Hamlet" and the comedy "A Midsummer's Night Dream" — at their largest venue to date, Fort Tuthill's Pepsi Amphitheater.
Shakespeare's classic comedy features four lovers fleeing the city and roaming into a fairy-filled forest, where romance and hilarity ensues. While, in the famous drama "Hamlet," the titular Danish prince seeks to avenge his father's death and struggles with his own morality.
The cast takes on the classic drama first before transitioning into the beloved comedy just hours later during the multiple performance days.
"It's definitely night and day, '' Mckenzie, who plays Ophelia in "Hamlet" and Midsummer's feisty Hermia. "We earn our stripes [performing "Hamlet"] and then we get to do "Midsummer." We've gone through the mud and the emotions and then it's like our little prize. It's a nice balance because doing dramas all the time is wearing."
But for Cadence Lamb, playing Hamlet demands everything from her and there's no looking toward the next show as she makes her way through the elaborate sword-fighting scenes and extended monologues.
And that's the key word — her. Lamb's casting as gender-swapped "Hamlet" bucks tradition. Lamb keeps her hair long for the role, while her costuming appears slightly androgynous, letting her own personal femininity and fierceness shine through.
Lamb said she wasn't worried about taking on the traditionally male part or how it would be perceived.
"To me, these are people and the reason Shakespeare is done all over the world is he writes real people that are still relevant and relevant to any type of person regardless of gender or background," she said.
She has noticed some reaction when she tells people she's playing Hamlet, but gender-bending isn't new to her, FlagShakes or other productions. Productions have a long history of across-gender casting.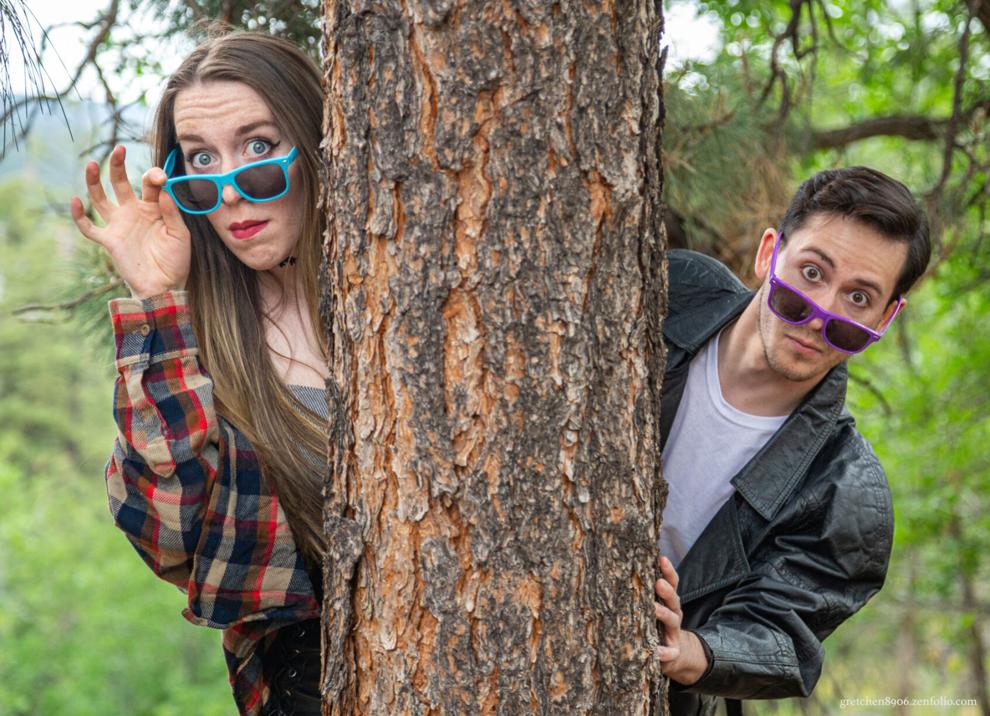 "We are all masculine and feminine and I love messing with that in my own life as is," Lamb explained. "I'm surprised it's a big deal to people that a woman is playing Hamlet. It shouldn't be surprising when reading the text as he's just a really relatable person."
Director Jim Warren's "Midsummer" brings a pleasant meeting of old and new. Warren, who is back after directing the 2020 production of "Twelfth Night," brings the audience into the show by placing seating on three sides in a thrust-stage or "three-quarter-round" style. The staging is frequently used by FlagShakes and helps them fully bring the audience into the performance.
The actors fully embrace it, locking eyes and even seemingly conversing with the crowd, a technique known as audience address. It's as though the audience is in the forest with Helena (Hannah Fontes) as she's being pursued by Lysander (Edward Peace) and Demetrius (Dylan LaRay) alongside the mischievous Puck (Gustavo Flores).
Fontes especially uses it to her advantage as though she's trying to convince the crowd to be on her side during an argument with Hermia.
"It's like I have support through audience address," Fonte said. "Some are even cheering Helena on."
That connection is even more valuable to Fontes, Lamb and other cast members following the isolation of the COVID-19 pandemic. FlagShakes did a few events during the pandemic, but this is their first return to full face-to-face performances.
"It's really genuine and cathartic trying to connect with these strangers," Lamb said. "It's like human connections on steroids that we've been so thirsty for."
But the classic staging is coupled with modern touches, including two full musical numbers and a few references to "Star Wars" and "Harry Potter," alongside kazoos and bubble guns for a fun, eccentric ride. 
Both plays officially open July 8 at Fort Tuthill's Pepsi Amphitheater and run July 8-11 and 15-18.