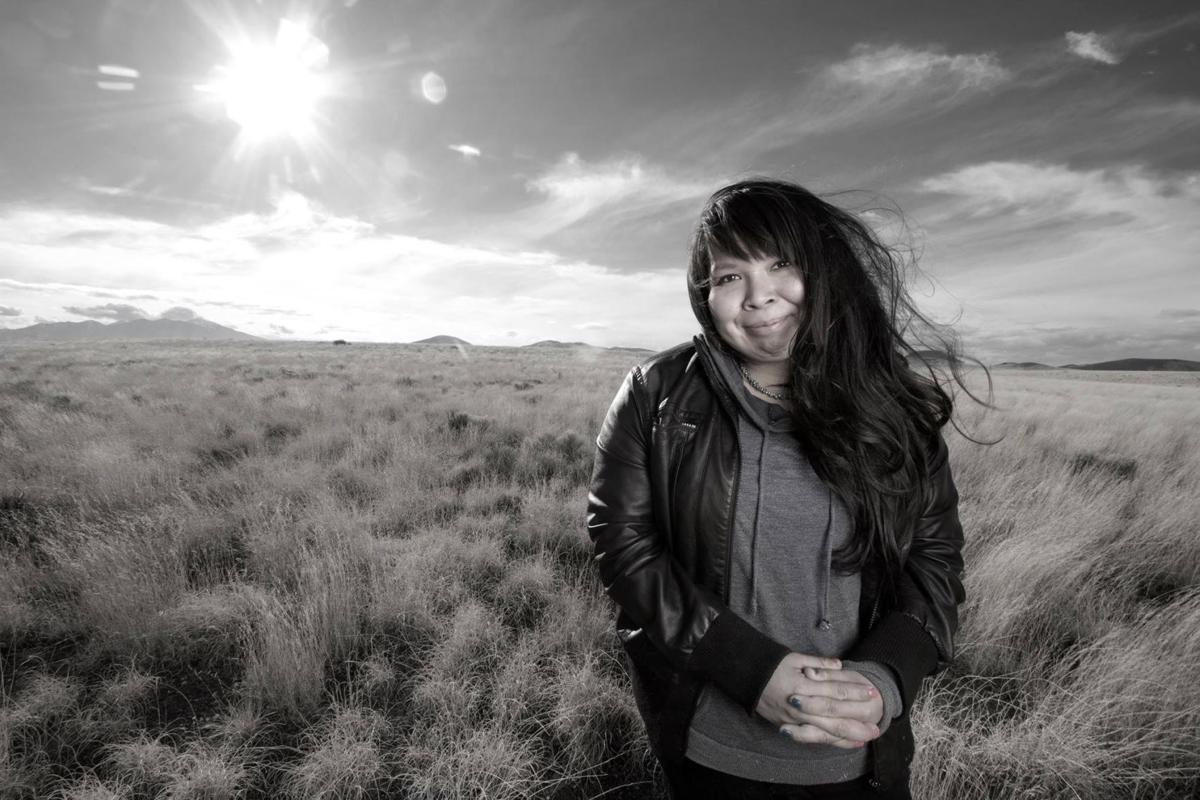 Deidra Peaches has been making films since middle school. Raised in Flagstaff, she met fellow filmmakers Donavan Seschillie and Jake Hoyungowa in grade school where they'd make shorts inspired by Martin Scorsese and Quentin Tarantino. That passion flourished in high school, and she eventually brought her talents to Northern Arizona University's School of Communication where she made her first documentary "Shimásání," about her grandmother.
As a director, producer, editor and writer, Peaches has worked on a number of films, and in 2011 she produced and co-edited "The Rocket Boy" with Seschillie. The film was an official selection at the prestigious Sundance Film Festival later that year. That same year, Peaches, Seschillie and Hoyungowa started Paper Rocket Productions, an independent media company with a focus on indigenous communities. Peaches is currently working on her feature documentary "Protect."
This year, she's participating in the inaugural Flagstaff Red Screen Film Festival, five days of films made by, for and with indigenous people, where she'll give words of remembrance for Hoyungowa, who died earlier this year. Ahead of the festival, Peaches talked with the Arizona Daily Sun about her experience at the Sundance Film Festival, indigenous representation in film and what she learned from Hoyungowa.
Gabriel Granillo: I'd like to start with your and Seschillie's film, "The Rocket Boy," which went to Sundance in 2011. What was that experience like?
Deidra Peaches: We thought it was a joke because all of the other film festivals that were Native-oriented, they all rejected "The Rocket Boy" because the themes in it weren't super exclusive to Native people. It was more of a broad subject of loss and being a single child and not having a father, so there was no emphasis on it being tied to Native culture. So I think that's why it wasn't really accepted into other festivals, but it was totally a shock. It came from out of nowhere, because we submitted it just for the heck of it.
Just being there was a whole other experience because we got to see the interworking of how films are really made on a financial, networking way.
Was there a moment or experience in your life, as a filmmaker, that made you say, "I could do this"?
I'd say [Sundance] was a big accomplishment.
Also in 2013, Jake and I had gone to Paris for a film festival. Being able to talk to people and share our perspective was something that was super vital in creating conversations. So having those conversations in those areas where really I thought it was super important, because just us, being Native and seeing our perspective, it needed to have an outlet. I definitely saw filmmaking—and still do—as a way to give a voice to anything that's happening, discrepancies and social justice issues and the environmental impact. It's definitely been a catalyst to help tell ways of feeling, even beyond documentary.  
Tell me about Paper Rocket Productions and its mission.
The mission of Paper Rocket was basically to tell our stories and use film as a way to articulate it to a wider audience. From that, Jake and I leaned toward more environmental issues, water rights and uranium contamination. We became deeply invested in those problem areas in our community.
In 2015, we held a series of youth workshops throughout the Navajo reservation. In those workshops we were able to utilize photography, filmmaking and music. The whole goal was to help foster a voice for the kids and reminding them that they have a story to tell, like how they perceive themselves, their culture, how it is living out on the Rez. All of that is important, and that's what makes them strong.
Is there a particular style of filmmaking that you're drawn to especially?
I really like "Eternal Sunshine of the Spotless Mind" and [director] Michel Gondry. I really like that imaginative aspect of filmmaking, of it being surreal but then also it being some form of reality. I'm really drawn to that sort of filmmaking, and I aspire to make a film like that someday.
But I think documentary has primarily been a vehicle for me to learn my own identity as an indigenous person. I grew up here in Flagstaff, and even though the reservation isn't that far away from here, I still felt like I had a huge disconnect with it. So filmmaking has definitely been a way to learn more about my culture, learn how it is to be Diné. It's been a way to foster my own identity and what values I want to carry on for people who may be in my situation, who feel like they're in limbo with their culture and their identity.
You'll be opening up a presentation on Jake Hoyungowa's work as a photographer and filmmaker. How has working with him inspired you?
Jake inspired me [to] care in the subject and the culture.
Also, having that person that was there throughout the whole experience was super important. It was like we were both learning together. What I can take away from the whole experience is how patient he was when he'd talk with people and when we heard all the different travesties happening in the Colorado Plateau area. Just listening and being compassionate, because a lot of the people we've interviewed have gone through so much trauma, and I think just being there and having someone listen to what they had to say was part of that healing process.
I think it is a lot of weight to hold as a filmmaker, especially if you're going into areas where people don't feel like they have a voice or they don't feel like they're worth anything. That weight can carry on to you. In a lot of respects, that's something I've seen the cause and effect on a very visceral scale. It's been pretty intense, to say the least, but I just feel like there's a lot that needs to be done in telling these stories, and listening to them is the first step.
When you look at film, with regard to Native representation, what is something you hope to see more of in the future?
Seeing content made by the next generation, and them not being afraid of overstepping boundaries and using what they feel is their voice. I want to foster, as much as I can, and help the next generation in being comfortable with who they are and not being apologetic to what their stories are. They're speaking from a place that's not only their trauma, but the trauma felt from their parents and their great grandparents.
What I see as the future of Native filmmaking, I only see it as a place of growth.
As we're approaching the Flagstaff Red Screen Film Festival, what is it that you feel we can learn by watching films made for, by and with native people as opposed to someone looking from the outside?
I think one thing to take away is how vastly different all of our stories are. I think Native film in general is so ambiguous because it could be anything. For an audience, what they should take away is how vast our voices are, how vast the content is in that it's not pertaining to this one style. We're all contemporary in the context of not looking like an Edward Curtis photo. We're here now—living, breathing people.
Flagstaff could definitely be a place for there to be a broader communication of whatever discrepancies that are happening in this community. I think this could definitely garner more perspective and have more of a broader outreach to our community. I just feel like there is so much possibility here to advance the conversation and really see Native people in a light that's like, 'We're not just something of yesteryear. We're here and now, and we're ready to tell our stories. And we'll do it regardless of what may hold us back.'"
Stay up-to-date on what's happening
Receive the latest in local entertainment news in your inbox weekly!