Historically, art has helped people process emotions during times of strife, more important than ever now as each day seems to bring new traum…
Highway 89 north of Flagstaff beckons travelers through the high desert, ponderosa pine making way for junipers and pastel mountains in the di…
"Art enables us to find ourselves and lose ourselves at the same time."
As the holiday season sets its gears firmly into motion, people around the country and the world prepare to celebrate and maintain festive tra…
Something of an alchemic transformation, both magical and very much real, took place one recent morning behind the bright red door of a Flagst…
In a town full of creatives, the holiday season marks an important time for sharing all that has been accomplished throughout the year. Art ma…
Some have brought the story into today's times, others have positioned it as a radio play. Here's a selection to get you in the holiday mood.
In the fictional town of Tuna, Texas—the third-smallest town in the state—residents are preparing for the annual Christmas Yard Display Contes…
The Theatrikos Theatre Company, which saw several productions canceled due to the coronavirus pandemic, has decided to reopen on a limited bas…
It feels like it was just yesterday the 2020 Viola Award winners were celebrated at the beginning of March. Every year, the Viola Awards recog…
On a recent crisp fall day, Tempe-based artist Mark Jamnik thumbed through his shrink-wrapped canvases inside Late for the Train. The canvases…
In addition to finishing his first book, "Mixed Plate," Koy wrote a movie that he and his writing partners sold to Steven Spielberg's producti…
First came water, then life. Still, many take the nonrenewable resource for granted on Earth, comfortable enough existing in their modern home…
Pitch dark, save the flickering lantern dangling from his lapel, and Dreadful Dre stood ramrod straight in a deserted parking lot on Leroux St…
In 1931, Museum of Northern Arizona co-founder and Curator of Art Mary-Russell Ferrell Colton created an annual exhibit that she hoped would e…
The deep reds, oranges, purples and blues evoke a taste of dust, a dry feeling, a sense of expansiveness.
Within a digital forest, an 8-bit character moves across the screen, and a voice from a headset reveals itself to the other players. Through a…
For many in Flagstaff and beyond, the COVID-19 pandemic highlighted the importance of social services as newly unemployed residents found them…
Flagstaff's First Friday ArtWalk is set to return after a monthslong hiatus due to COVID-19. The monthly art event will reopen in October with…
What do the internet and William Shakespeare's Forest of Arden have in common? What does a digital world share with a paradisical woodland? Th…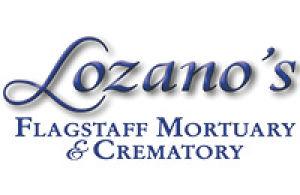 Lozano's Flagstaff Mortuary & Crematory
In July the City of Flagstaff and the Flagstaff Arts Council announced their Stay, Play, Distance & Mask Responsibly Art Contest. Last wee…
For Lomayumtewa Ishii, art and heritage are two parts of the same whole.
Like many great origin stories, that of Coco-op starts with a cup of coffee.
Gaylene Soper, a Flagstaff resident of 13 years and office administrator with the Flagstaff Federated Church, recalls visiting Bozeman, Montan…
He started, as all artists must, with a blank canvas. Or, in Adam Finster's case, a bare white, six-foot concrete wall spanning more than 20 yards.
A typical summer for Ballet Folklórico de Colores would find students of all ages and ethnicities performing at festivals throughout Flagstaff…
As the Flagstaff community braces for yet another increase of COVID-19 related health and safety precautions, Jill Sans, curator, owner and fo…