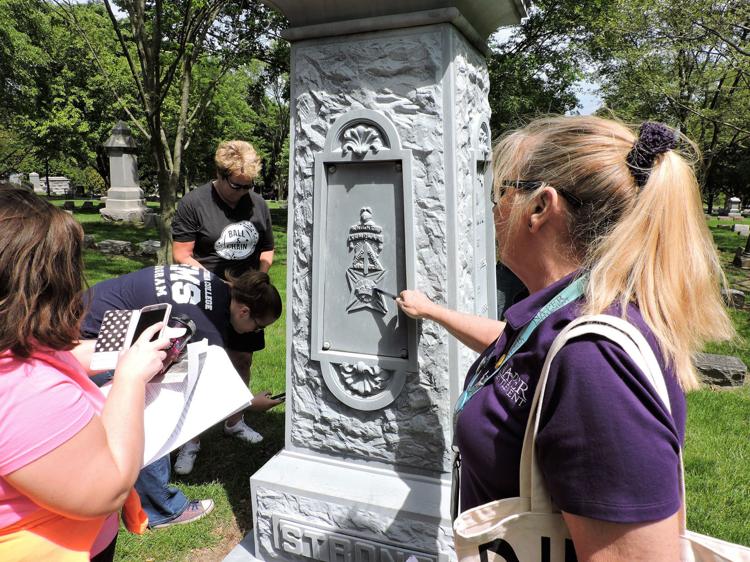 Madeline and Ken Kwiatkowski paid a visit to the Naperville Cemetery, but they weren't there to remember loved ones.
Instead, the couple was drawn by a Naper Settlement program, Victorian Memory and Mourning, which explored the death and bereavement traditions practiced in the 1800s and offered a primer on how to interpret the symbols seen on 19th-century grave markers.
"I love history, and I see this as a way to learn more about things from the past based on the artifacts and the various designs used on graves and the meanings behind them," Ken Kwiatkowski said.
The program was led by Sheila Riley, Naper Settlement's director of learning experiences, who said she has more than three decades of cemetery interpretation experience.
"I've only moved to Naperville recently, but I've done this type of interpretive work as well as the museum business for over 30 years," Riley said. "The goal here is to show something about how people during the Victorian period dealt with death."
Riley offered nearly an hour of background information and presented mourning artifacts before leading the group out to the cemetery. She highlighted a number of Victorian practices that vastly differ from today's customs, and she covered such things as what was to be worn during bereavement and how long a loved one was to be mourned.
"A lot of these practices began back in the middle of the 19th century, and at the time, there was a social etiquette, as rules of behavior were followed that included both religious and folk traditions," Riley said. "Mourning typically went on for two years if you were middle class or above. They wore black and were not seen in public. They went through various stages to honor a loved one."
When Queen Victoria lost her husband, Prince Albert, in 1861, she made wearing black "socially acceptable," Riley said. The topic of death was very much part of the everyday life of the time.
"You had the Civil War going on, so there was always talk of death, and Queen Victoria set the pace for what was acceptable at the time," Riley said. "She mourned her husband for 40 years."
Mourning was also a big business in the late 1800s, she said. Not only did mourners need to purchase black clothing, but there was also accompanying jewelry and other accessories, artwork and numerous items to preserve the loved one's memory.
"There definitely was a market for goods in the mourning industry as death was common, unlike today where you can often take a pill and you're cured," she said.
Much of Riley's presentation focused on decoding many of the symbols engraved on grave markers.
"Symbols were often used as people couldn't read, but they knew what the pictures and carvings stood for," she said.
Ivy, for example, signifies immortality, Riley said. Ferns were used to show humility, roses for love and empty chairs for the void left by someone's death.
"Sometimes you'll find a glove in memory of a woman, or a broken column, which meant that someone's life was shortened," she said. "There were also large cosmetic memorials that hung in people's houses."
One couple said they like visiting graveyards because of their historic nature.
"We enjoy going to old cemeteries and have done tours of this one in Naperville as well as others before," said Donna Connell, of Wheaton.
"I enjoy history, and I like looking at these grave markings and sort of reading between the lines," added her husband, Joe. "You see a lot of the family names from people here in Naperville that have streets named after them, and I find the insights intriguing."
Deb Dima said she moved here three years ago and likes learning more about the area.
"I personally think the art of the tombstone is fascinating, and I'm curious about the Victorian era," Dima said. "Things have really changed over the years, and people don't put the same amount of panache into it as they did before. I'm new here and want to know more about the movers and shakers of Naperville."