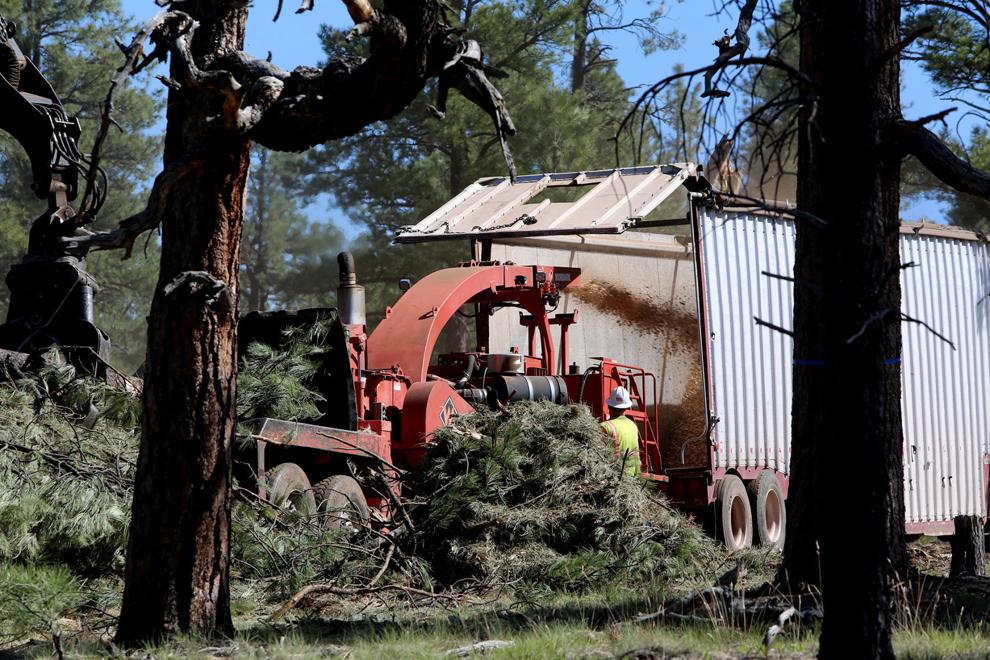 Just over a week after the U.S. Forest Service surprised many with the cancellation of the second phase of one of the country's largest forest restoration projects, local stakeholders, environmentalists and industry leaders found themselves chewing over the implications of the change Wednesday.
The meeting was largely forward-looking as groups endeavor to make the Four Forest Restoration Initiative achieve its end goals: treating millions of acres of forests across the Coconino, Kaibab, Apache-Sitgreaves and Tonto national forests in order to improve forest health and reduce the risk of catastrophic wildfires.
Nonetheless, some stakeholders questioned whether the initiative, often referred to as 4FRI, should change the strategy to best achieve those goals moving forward.
Others called for much more transparency about what went so wrong that it led to the canceled phase 2 after so many years of work, and the creation of a more open process moving forward.
"It seems to me that there is this line where some information needs to come out so that we can actually understand, because I've been scratching my head a little bit over the last week," said Pascal Berlioux, executive director at the Eastern Arizona Counties Organization. "If we don't know what did not work out, do we fix it?"
The Forest Service had listed several challenges that had led it to cancel the phase 2 contract, including road maintenance, compensation for companies' investments should the project end early, the destination for biomass created, and determining the number of acres and location for the project.
The meeting also came as 4FRI has found itself in a moment of internal change as well. The meeting was the last one to be attended by Jeremy Kruger in his role as 4FRI chief executive for the Forest Service.
About a week prior to the Forest Service announcing it would be pulling back on phase 2, Kruger informed 4FRI stakeholders that he would be moving to a position in New Mexico with the Bureau of Land Management.
Kruger said Tami Conner, who served with the Forest Service for over a decade, will be taking over as 4FRI chief executive.
"We have our work laid out for us, our sleeves rolled up, and we're ready to go," Conner told the stakeholder group.
That work could include yet another request for proposals for phase 2 of 4FRI, said Elaine Kohrman, who is with the Forest Service's southwestern office.
But Kohrman and other forest officials suggested that the Forest Service is open to moving forward in other ways depending on the feedback of industry partners and stakeholders.
"We know, lessons learned, that we designed this effort in kind of a black box mode and we don't want to do that again. We want to design it in a very transparent, open way, where everyone can show up and offer what their needs are and their objectives," Kohrman said.
Still, that may be easier said than done, especially if a second federal contract is in the works. Federal contract law often prevents details of the process and design of the contract from being public.
A meeting of industry partners, including New Life Power that recently opened a sawmill just west of Flagstaff, is planned for Oct. 12 in Holbrook to begin discussing those issues.
But during the meeting, some stakeholders said they believe the end of the phase 2 contract showed another strategy was needed if 4FRI was to meet its goals.
That point was most succinctly voiced by Grand Canyon Trust Executive Director Ethan Aumack.
"The cancellation of the most recent RFP combined with the fact that we've seen less than 5 percent of the first contract treated with less than one year left in the contract provides us two very clear and convergent signals," Aumack said, adding that he believed managed and controlled burns may be the best way for 4FRI to move forward.
While industry partners would always be part of the solution, Aumack said, he didn't want that side of 4FRI to hold back forest treatments across the board.
"I believe our large landscape objectives restoration would need to be met will need to be met by using relatively limited, strategically placed mechanical thinning treatments and fire at a much more extensive level than we had originally planned," Aumack said.
And he wasn't the only one who felt that way. Several stakeholders, primarily those representing conservation groups and environmental organizations, spoke in support of a change in strategy.
But Brad Worsley, president of Novo Power -- which operates a biomass plant near Snowflake -- pushed back on that sentiment. Worsley pointed out that outside the now-canceled RFP process, industry has been making steady progress on treating acres of the forest off of individual timber sales.
Worsley added that burning leftover biomass in facilities makes more environmental and economic sense.
"We have to prove that this can be done. And I would just argue that current industry, especially on the east side of state, has shown the ability to [treat] 15,000 plus acres year over year because of this little biomass plant," Worsley said.