Cats in carriers line the pre-op, exhibiting a grim stoicism for whatever is in store. Dogs in kennels dot the hallway, yapping either in anticipation or anxiety. And the bunny, that portly, black-furred gent found wandering Kachina Village? He's nibbling grass spread before him in a separate prep room, a tad skittish because he shares the space with feral cats.
All await the arrival of Dr. Carly Bennett, in-house veterinarian at High Country Humane.
It is surgery day at the Flagstaff shelter, contracted by Coconino County to provide services for stray and adoptable animals, and it looks to be a full slate of spay and neutering — though the whiteboard listing the procedures as of yet remains blank.
As vet techs sort paperwork and start taking the vital signs of the patients, in strides Bennett just past 8 a.m., resplendent in purple scrubs with matching mask and surgical cap. She holds her morning tea in one hand, a smoothie in the other. That'll do for breakfast. Lunch? Well, Bennett works right through lunch, usually, on surgery days.
Now she's filling in the blanks on the whiteboard in her distinctive left-handed scrawl.
First, the felines: Four ferals. Diana, a female from HCH. Tommy and Lunchbox, two males brought in from the Ark Cat Sanctuary in Parks. Diesel, a curiously named petite female from Northern Arizona Animal Search and Rescue. And Thunder and Artemis, two females brought in for spaying by a private owner under HCH's low-cost clinic program.
Then, the canines, all from HCH: Foster care pups Piglet and Cow, and Tanya, all of whose designation is OHE (ovariohysterectomy), and males Blue Jay, Luigi and Mater, ORCH (orchiectomy, aka, neutering).
And at the list's bottom is Floppsy the rabbit, on tap for ORCH, so he doesn't breed like a — well, you know the simile — once he's adopted.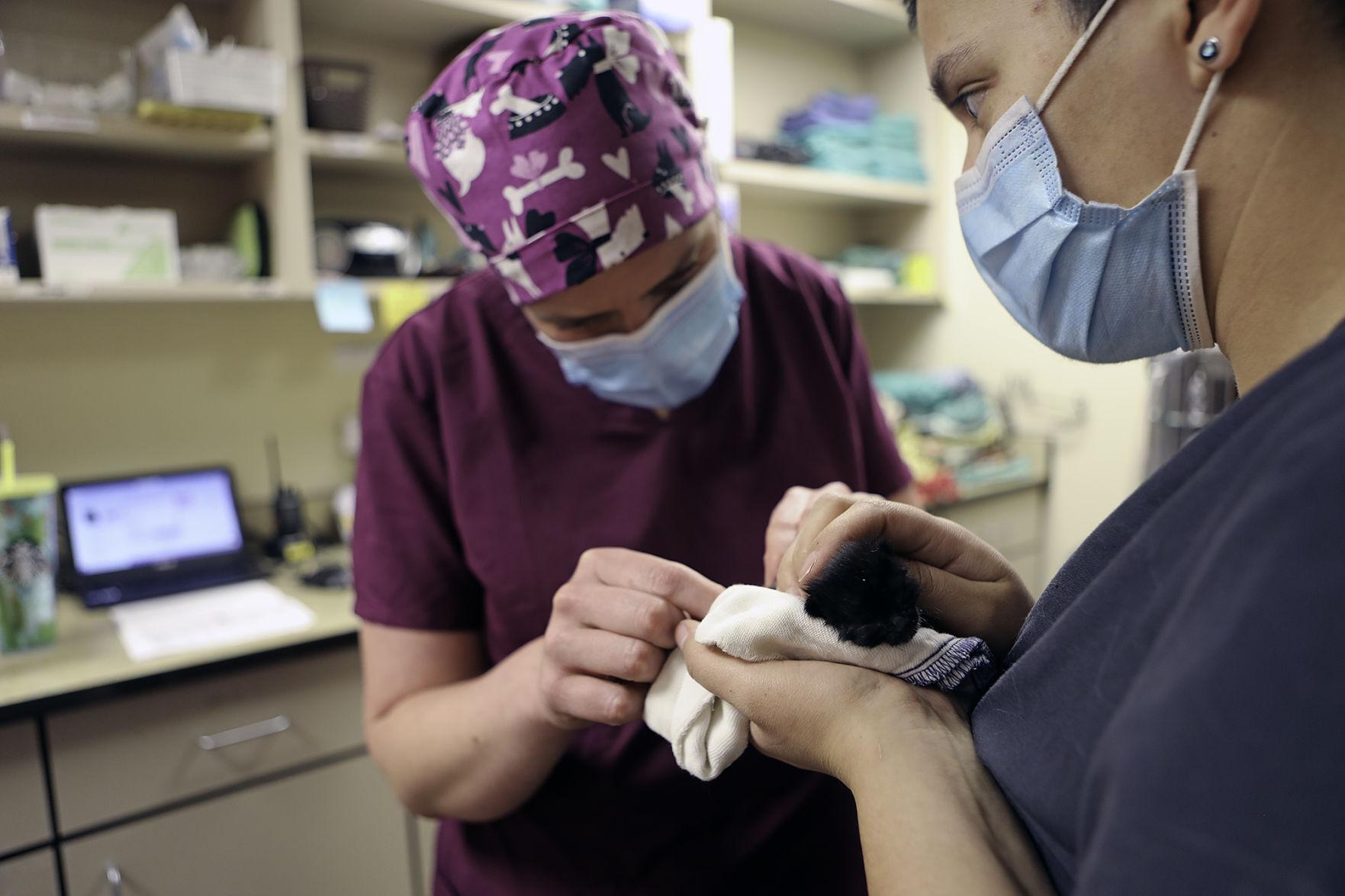 Before beginning, Bennett takes a swig from her 24-ounce mug of tea and inputs data on the day's patients, as the Toshiba boom box softly plays classic rock, Bob Seger's "Night Moves." Meanwhile, her vet techs weigh, check temperatures and pulses, then eventually will inject the cats with a pre-anesthetic to lull them into a stupor that not even a Bob Seger ballad could induce.
Why tune to a classic rock station when all the workers are in their 20s and 30s?
"Rock 'n' roll!" shouts tech Lydia Arnold. "It gets you in the mood for some spay and neutering!"
Thunder and Artemis, however, will not go gently. Thunder gives tech Ashley Chambers a Clint Eastwood-style squint when taken out of the carrier and put in a pre-op kennel, a thin towel draped over the opening to encourage relaxation.
Artemis, a striking mix color pattern of tortoise shell and seal point Siamese, has major attitude. Arnold kneels and opens the career door, but Artemis scurries to the back, curled and wary. She cannot be coaxed out, so Chambers is called over, and the two unscrew the carrier from the top and pluck the reluctant feline out to do vitals before getting "hit" (vet jargon) with the pre-anesthetic, a prelude to "getting the gas" (more argot) right before surgery.
Bennett notices none of this. She's on the walkie-talkie with the front desk checking on another case. Arnold walks over to consult, and Bennett asks about Tanya, the Chihuahua, up for spaying.
"How is she?"
"Angry."
Bennett turns and notices Thunder, squinting still.
"Hi, Thunder, what's wrong with your eyes, bud?" she says brightly to the skeptical cat.
"She squints like that all the time," Arnold says.
"OK," Bennett replies with a head shake, then turns away. "Let's go hit some feral cats!"
A shelter vet's rewards and challenges
Bennett, who turns 35 this month, has been a veterinarian for eight years, having completed her undergraduate degree at Northern Arizona University before attending vet school in Dublin, Ireland. Her first vet job was at Kaibab Vet Clinic in Flagstaff, where, among other duties, she regularly performed procedures on shelter dogs and cats brought in from the Coconino Humane Association. When HCH opened in 2018, Bennett was hired as the area's only full-time shelter veterinarian, a job she jumped at accepting.
That's because Bennett has a long history in and affinity for shelter work. While at NAU, she volunteered at Second Chance, the precursor to HCH, at first cleaning kennels and walking dogs. But she progressed from there.
"I've done every job you can think of — receptionist, kennel tech, vet tech," she said. "I worked at Flag Animal Hospital, then again at Second Chance in the mobile clinic. I've just always wanted to be a vet."
Yet, it takes a special type of veterinarian to specialize in shelter medicine. Often, she sees animals in distress, medically and emotionally. Some don't make it. Some must be euthanized. Many, though, thrive and find permanent homes. And while Bennett may occasionally encounter a duck with a hook in its beak, or a stray snake in need of care, mostly it's a steady parade of cats and dogs that keep her busy.
"I fell in love with (shelter medicine) because I have the ability to focus on the good," she said. "Sometimes we have a tendency to focus on all the bad stuff that happens at the shelter, but when I really look at my daily life, it's more good than bad.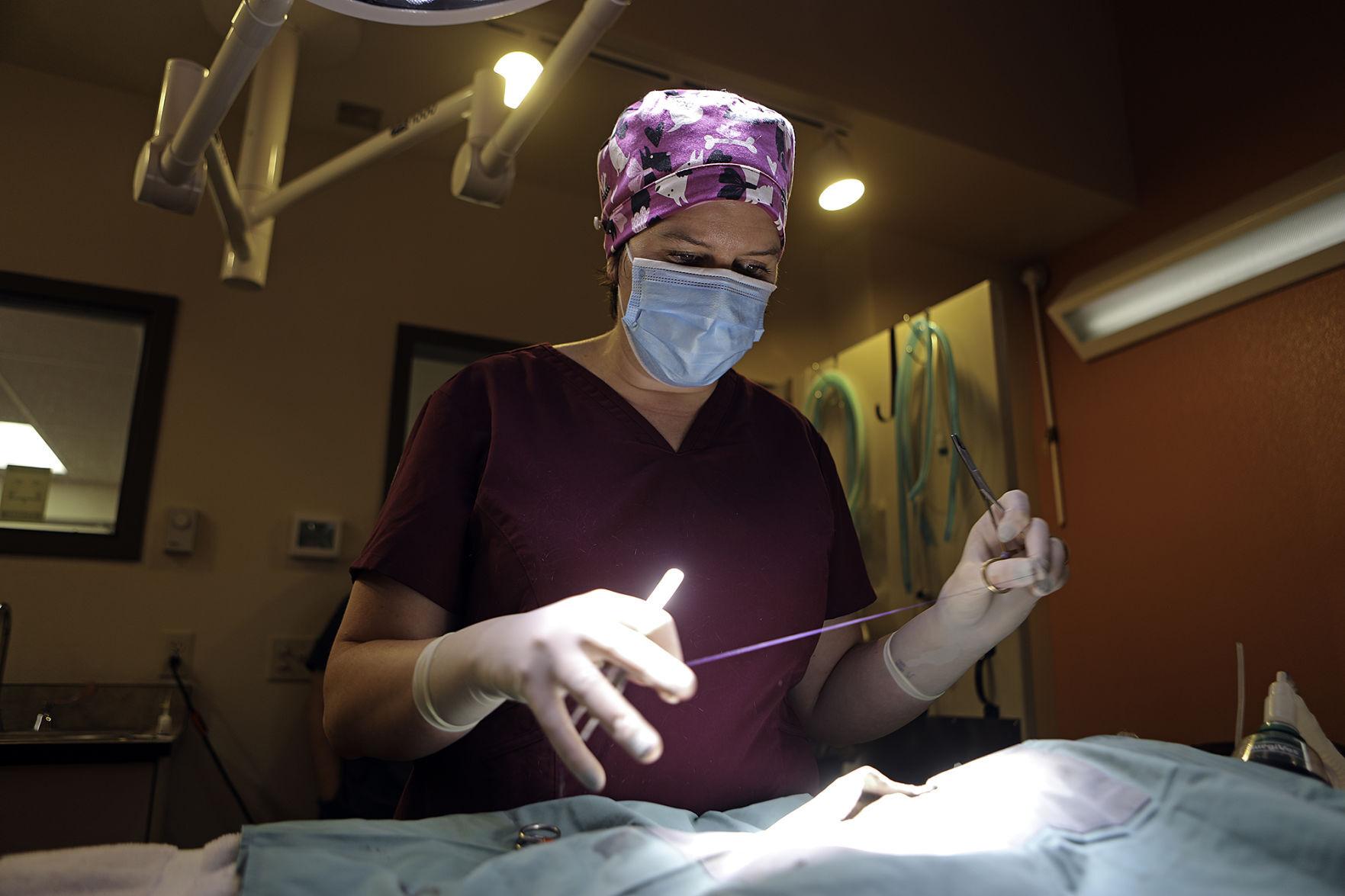 "For example, it's (hard) losing a parvo puppy, but then you turn around and say, 'Look, this dog came in hit by a car and is doing fabulous, and we're going to be able to save it and send it home.' You really have to have the ability to focus on the good stuff. A lot of people look at shelter medicine and think, well, you're not allowed to do anything and it's kind of lower quality. Honestly I get to pursue, diagnose and do whatever I want with our shelter animals more than having an owner walk in (to a private practice) and say, 'I have this much money, so you can only do A, B and C but not D.'"
Bennett, seemingly blessed with boundless energy, schedules three surgery days per week and spends the rest of her time checking on new arrivals with issues and tending to animals awaiting adoption. It can be a grueling schedule and, despite her sunny outlook, not every dog or cat survives.
It's a fact of life for a shelter vet, but she combats the heartache of lost life with memories of successes.
It helps, she said, that she lives 45 minutes away in Parks — where she tends a 5-acre spread with partner Keith Hayes, overseeing a menagerie of animals — and can "decompress" on the drive home.
"Mental health in the veterinary world is big right now," she said. "Vets as well as their techs burn out, and compassion fatigue is huge. Some days I feel it more than others. I think I'm able to take that moment, deal with it and move forward. That's how I've always dealt with these things and I think that's why I'm in this position now."
The reward, she says, comes from the successes. One she fondly remembers involved a "cute little terrier I named Pinecone" who had been attacked by another dog on the Navajo Nation.
"She was in severe shock when the people brought her in, so I actually thought she wasn't going to make it," Bennett recalled. "We put her in my office for the evening. By the next day, she was still hanging in there, but there were huge wounds all over her body that weren't closable. We had to treat them openly. She lived in my office for a month."
In time, Pinecone recovered and, Bennett said with an arm sweep, "as soon as we made her adoptable, she just flew out the door."
Smooth as an assembly line
No such emergency cases on this morning, though. Bennett snaps on her pair of surgical gloves — she will go through a whole box in a day — and waits for the techs to finish shaving the genital area of Lunchbox and Tommy, already fully sedated with a gas mask affixed. For male cats such as these two, Bennett doesn't even have to transfer them to the operating theater.
Snip, snip, snip. Tie up that spermatic cord neatly. Clean up the area, though little blood is involved. And, voila, neutering is completed in less than a minute.
The procedure is slightly more complicated and time-consuming for the females. It's obviously more invasive and requires three layers of internal stitching but, still, a routine spaying takes Bennett no more than five minutes, six, tops.
"I've gotten a lot faster with experience," she says, scalpel poised over the supine figure of the black cat, Diesel, paws banded to the table in the unlikely event she'll stir during surgery.
Meanwhile, back in pre-op, the Rolling Stones' "Start Me Up" is wafting, as Arnold carefully opens Artemis' kennel, a needle holding the pre-anesthetic in hand.
Suddenly, Chambers and another tech yell out, "VACUUM," as they start up the loud machine to hoover the shaved fur from the cats on the pre-op table. "Vacuum" shouts are required, because the loud noise might freak out a cat being handled by a tech. But Artemis is cowering, not pouncing, now. Arnold tries to coax her out, but it takes Chambers coming over to steady the shaky Siamese before the injection can be given.
Artemis' buddy, Thunder, finally has stopped squinting after his injection. In fact, her pupils are dilated like saucers, and she occasionally stumbles around, showing the shot's effects. Artemis, though, refuses to fall asleep, staring daggers from inside the kennel. Maybe the strains of "Proud Mary" from the radio are keeping her up.
"Oh, she's fighting it," Arnold says, as Chambers scratches Artemis behind the ear. "Just go to sleep now."
In minutes, the roommates are suitably out of it, shaved and put under, all the while the Eagles are singing "Heartache Tonight." Artemis is carried by the techs into the operating room, where her heart rate, blood pressure and temperature are monitored and oxygen and anesthetic are pumped in via tubes.
In six minutes, the incision is closed and the procedure done. Artemis is carried back to the kennel to recover, and now it's her buddy Thunder's turn. By the time Thunder returns, Artemis still has not awakened. Chambers and Arnold rub Artemis' paws, flip her occasionally from side to side. In the middle of Heart's chorus on "Crazy for You," Artemis' eyes blink open and she groggily comes to.
"OK, girlfriend," Arnold praises her, while a tech blurts out "VACUUM" after the first dog, Piglet, is shaved down and prepped.
Dezbah Palmer, the lead vet tech, walks in cradling a 6-day-old bottle-fed black kitten, so tiny that it fits in Palmer's palm. The kitten has an abscess and its foster "bottle baby parent" is concerned this one, like two others from the litter, might not make it. Bennett inspects the wound and order an antibiotic for the "bottle baby," then asks Palmer how the foster people are "holding up," since this is the family's first experience nursing newborn kittens.
"So cute," Bennett says.
Back to work. Piglet's been spayed, and Cow is all prepped. Tanya, the Chihuahua, still is yapping and angry, but soon she will be sedated and the procedure carried out. By 1 p.m., Artemis and Thunder are recovered enough to be taken home, and the rest of the cats back to their respective organizations.
As the day wears on, the rest of the dogs and Floppsy the bunny are fixed and, injected with the 24-hour pain medication all the patients are given in recovery, are ready within 24 hours to be adopted. What happens after that is out of Bennett's hands, but she hopes they all will find homes.
No doubt, her 45-minute drive home will be peaceful — and, perhaps, free of classic rock.