The first youth rugby club has started in Flagstaff. Officially they are called Sharks Youth Rugby Club, and affectionately "The Sharkbites."
Sharks Youth Rugby creators Mark Cox and Ross Nicholls both played and coached for the Landsharks at Northern Arizona University in the 2000s. While the club is based at NAU, it is open to all men in the community.
"The Northern Arizona Rugby Football Club was originally formed in Flagstaff in 1978," said Nicholls of the Landsharks. "Over the years we have grown to add a women's club (Lady Landsharks) and a high school club (Cobrafists)."
The trifecta recently combined to become the nonprofit NAZ Rugby Inc., to help combine resources and "develop the great game of rugby in northern Arizona," Nicholls said.
After tearing his ACL, Nicholls stopped playing for the Landsharks, but that doesn't mean he isn't still involved with rugby. Nicholls, who is a financial adviser with Edward Jones during the week, dedicates his weekends to teaching kids the sport he loves.
Nicholls and Cox started thinking about creating a youth league when they and other Landsharks members had children.
"It wasn't until (the kids) were in the 5-12 range we thought 'hey, let's just get started,'" Cox said.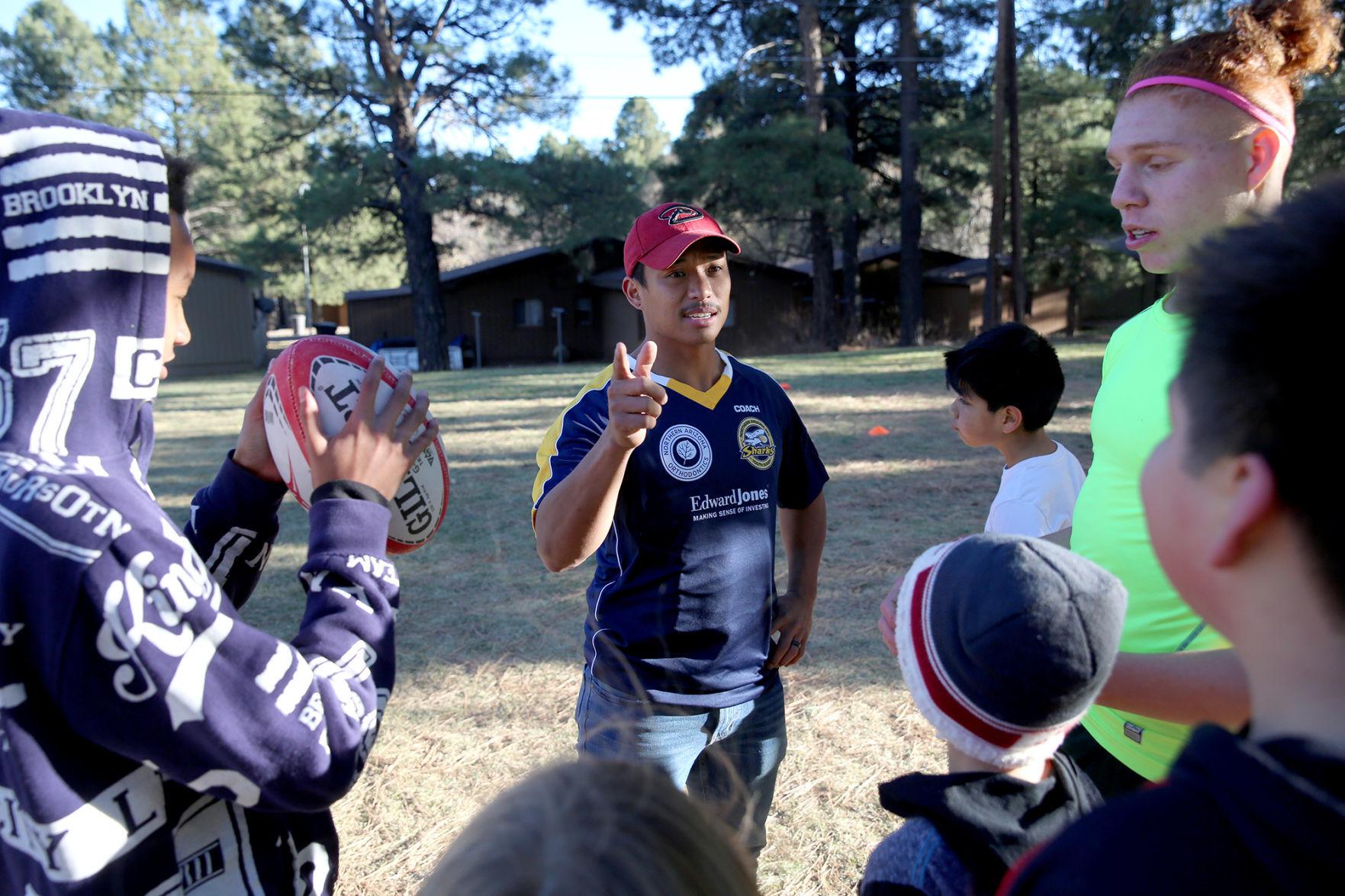 Fifteen kids showed up to the first Sharks Youth practice Oct. 21 at Ponderosa Park. The following week, the amount of kids doubled in size, Nicholls said. Of the current 30 players, about a third of them are girls.
"We want to develop interest and excitement for rugby in Flagstaff for both boys and girls," Nicholls said. "We are open to all boys and girls aged between 6 and 12. Rugby requires players of all shapes and sizes and athletic abilities."
Since Sharks Youth is a non-contact and non-tackle rugby club, it is allowed to be co-ed. The non-contact aspect also eases the concerns of parents who are worried about the dangers of tackle sports, Nicholls said.
The AZ Union has addressed further concerns about rugby safety by splitting youth members up into different age groups. There is a 6- to 8-year-old group that plays with flags, and 9- to 10-year-old and 11- to 12-year-old groups.
Nicholls, who has two boys ages 5 and 7, and Cox, who has a 5-year-old boy and 2-year-old girl, list a myriad of reasons why rugby is worthwhile for children.
"Rugby promotes fitness, leadership, communication skills and teamwork," Cox said. Nicholls added positivity, respect, hard work, toughness and fun to the list of accolades.
About half of the Sharks Youth members came from a football background. Now that the football season is winding down, many parents decided to get their kids involved in rugby, Nicholls said.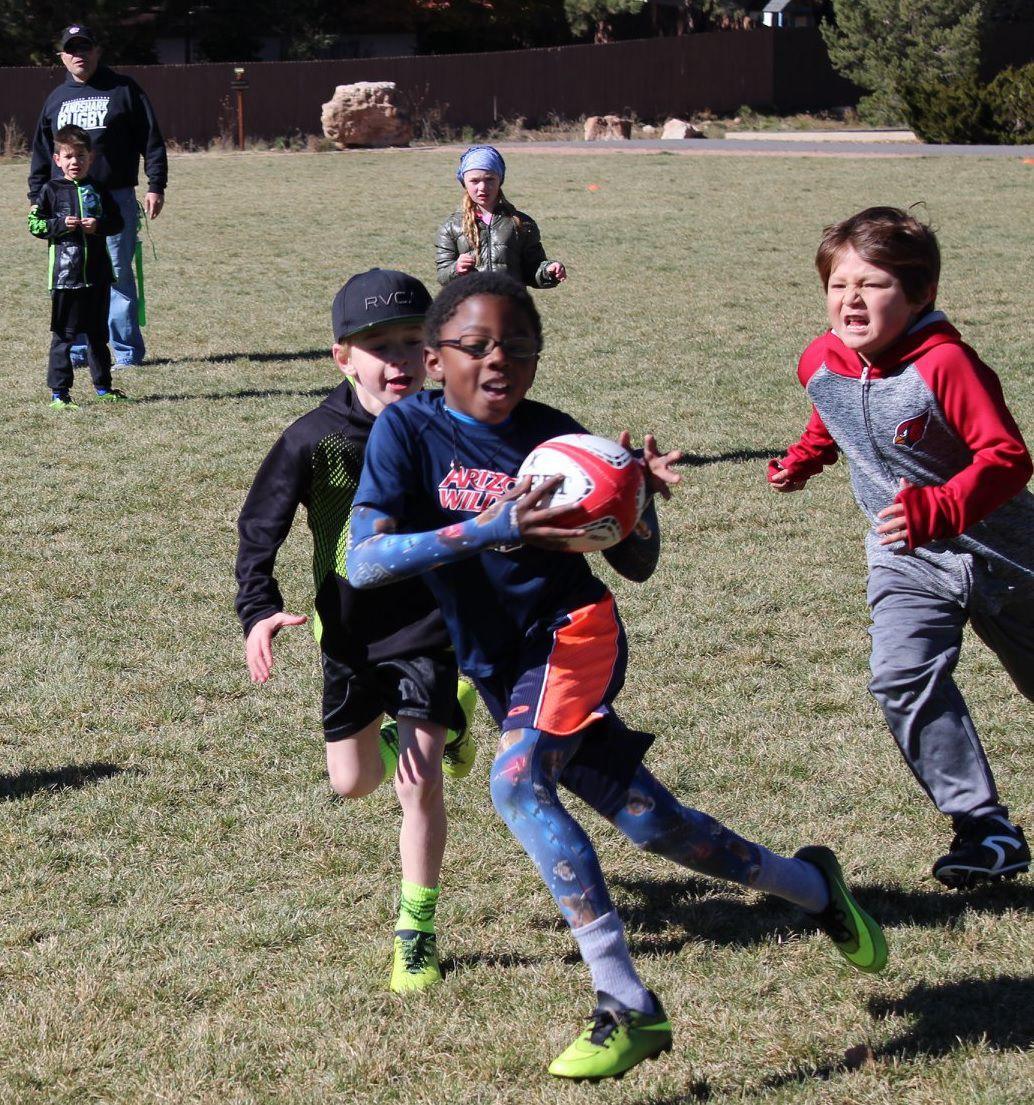 Rugby is often compared to football due to the similarities of the look of the ball, using goal posts, kicking and blocking opponents. But Nicholls said rugby is unique from football in many ways.
"Players who play both sports appreciate that rugby has far less stoppages, is far more free-flowing, and players are not fixed to their one role or position during a game," he said. "Every player can take the initiative to create something in the moment. No one player is more important in their position than any other. (All) have the opportunity to score and are vital to the team."
Nicholls, who also coaches youth soccer, said in rugby "it's up to the players to make decisions and not the coaches telling them what to do."
The other big difference is that in rugby, players can't throw the ball forwards, only backwards to other teammates. Nicholls said it has been a challenge for him and Cox to break this habit from kids who came from a football background.
Although rugby is rapidly growing in the U.S., with the Rugby Sevens representing the States for the first time at the 2016 Rio Olympics, it is still much more common outside of the country.
In fact, many international families living in Flagstaff have enrolled their children in Sharks Youth Rugby, including three from South Africa and one from France.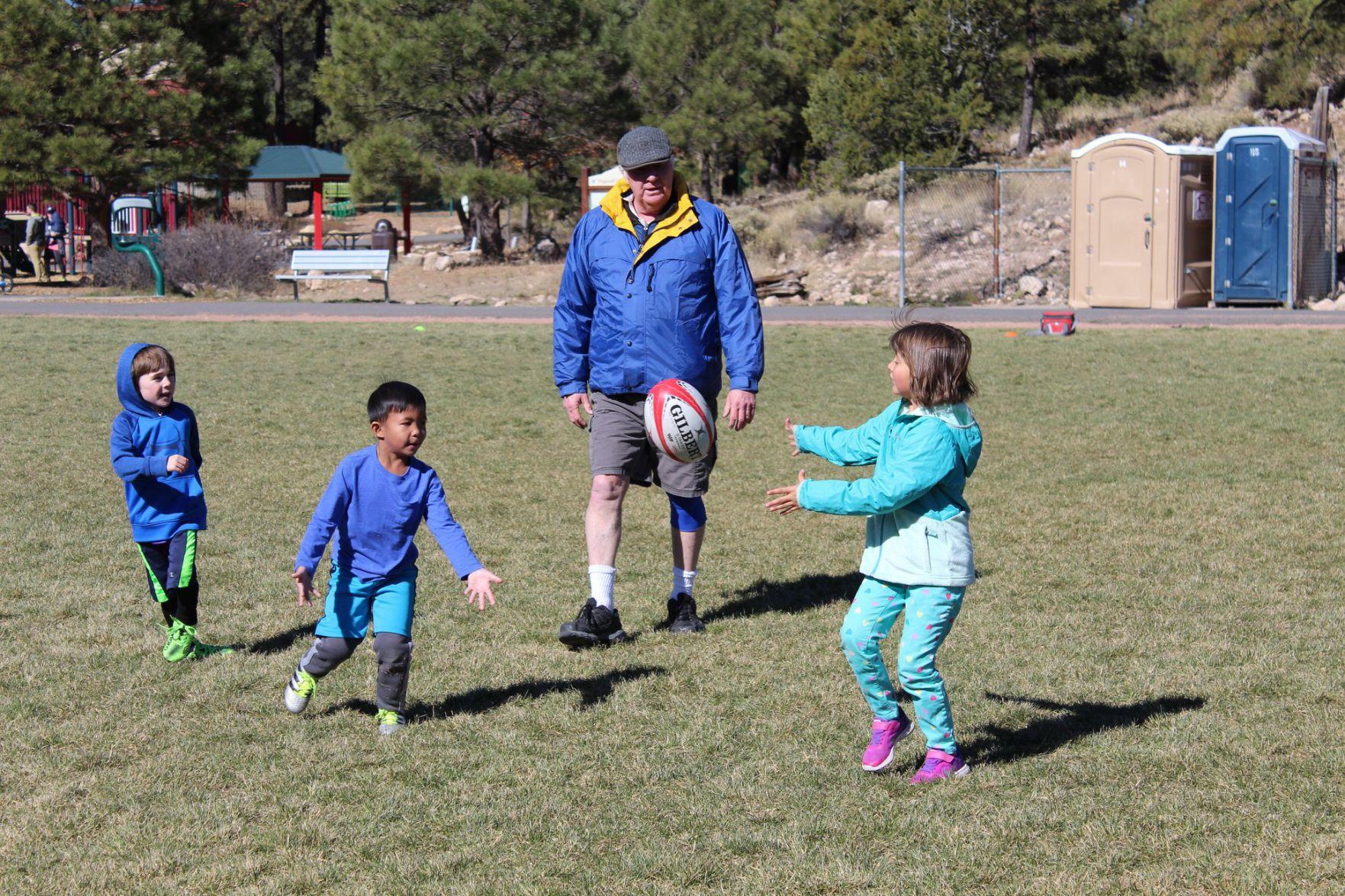 One of the South African families is Nicholls' own. "In South Africa, rugby is like a religion," he said.
Nicholls started playing rugby at 12 years old and continued through high school and college. When he came to the U.S. in 2003 to attend grad school at NAU'S Franke College of Business, he joined the Landsharks.
"Youth rugby is becoming well established in Arizona," he said.
"In Phoenix, rugby is huge," added Cox, who started playing the sport in Mesa.
In 2007, Cox left Mesa to attend NAU, based partly on the fact that he wanted to play with the Landsharks. In 2014, he started assistant coaching. "With time and knowledge it was easy for me to coach. I'm an educator at heart," he said.
Cox's day job is the CEO of the Boys & Girls Club of Flagstaff, which sponsors Sharks Youth Rugby. Recently, the Boys & Girls Club received a $20,000 grant for its new Healthy Lifestyles program.
"I saw there was an opportunity to bring a new sport to our club," Cox said.
Some of the grant money was spent on rugby balls and other supplies for the Sharks Youth. Several Boys & Girls Club members play for Sharks Youth. Cox noted one 10-year-old boy who has been going to the Boys & Girls Club for a few years.
"He has a lot of energy, so having rugby as an outlet to blow off steam and have fun has definitely benefited him," Cox said.
Although around 90 percent of the Boys & Girls Club members are there on scholarship, the ones that aren't and want to play rugby are paid for out-of-pocket by the coaches.
"We know the impact that it can have on a kid's life," Cox said.
Sharks Youth are currently having regular scrimmages and are looking ahead to playing in club matches within the region in spring. "We don't intend to be a travel team, per se, but we will have a number of games planned out of town," Nicholls said.
On Saturday, several of the older members will play in the Arizona Rugby Festival at the Scottsdale Sports Complex.