Earlier this month, several Flagstaff residents found themselves walking the streets of Moscow and St. Petersburg alongside a 6-foot-5, 73-year-old sporting a bright blue ponytail and wearing the world's largest men's underwear.
They weren't embarrassed, not even when the man asked people to jump inside the underwear and sing with him. The man was legendary doctor and social activist Patch Adams, and they were on a clown mission with him in order to help bring "joyful service" to Russian orphanages, hospitals, hospices, rehabilitation centers and special needs residences.
Patch Adams' organization, the Gesundheit Institute, has been leading clown missions to Russia and all over the world since 1984. The nonprofit healthcare group runs on Adams' philosophy that "laughter, joy and creativity are an integral part of the healing process," according to its official website.
Lisa Heath, a cardiac nurse at Flagstaff Medical Center, has been going on Adams' clown trips for six years. Heath and her husband Ron Dovzak, a dietitian, met Adams for the first time at a California performing arts and clowning camp in 2003. Their youngest son, Rumi Heath Dovzak, was 1 at the time and now works as a counselor there during his summer breaks from Flagstaff High School.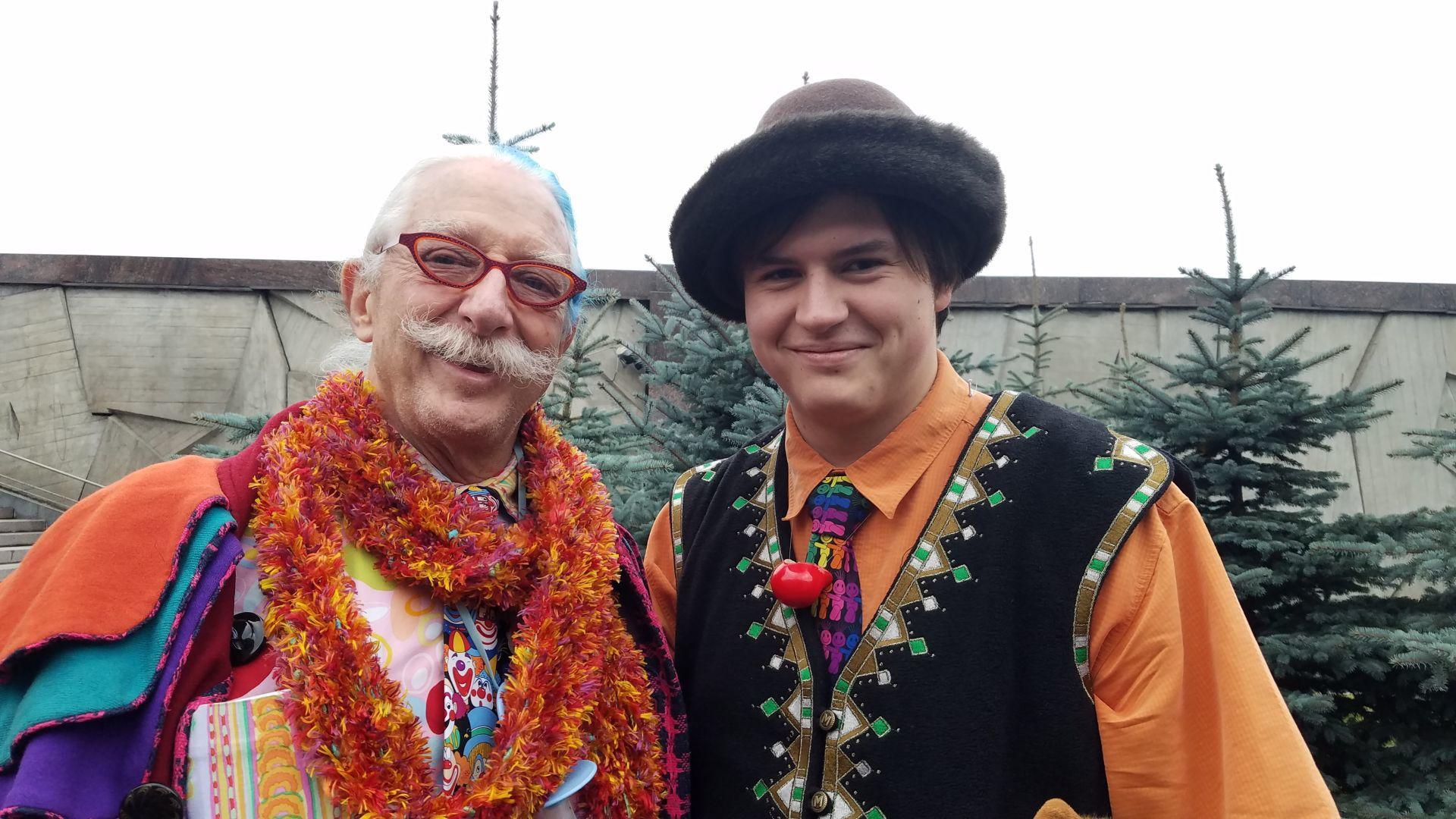 Previously, the family spent a week clowning in the Amazonian jungle city of Iquitos, Peru, helping with medical and mental health classes there. The November 2018 trip, however, was two weeks long, and had Heath and her son traveling through Russia with 36 clowns from 14 different countries.
Some of the other clowns on the philanthropic trip were Heath's friend Teresa DelVecchio, a student adviser at Northern Arizona University, and Rumi's friend Zachary Hansen, a junior at BASIS.
The outfits packed in their suitcases were far from the clothes they usually sport in Flagstaff: Rumi wore wool dress suits with patches, bright shirts and ties, while Hansen donned a smiley face beret and long fake nose with his colorful vests and bow ties. He also had his balloons on hand to make balloon animals for the kids they met at the orphanages and hospitals.
DelVecchio wore mismatched patterns of oversized or undersized garments. Heath switched out her usual scrubs for bright pinks and purples with sequins.
"My clown outfits are very flashy and very unlike me. I never liked these colors, but my clown does," Heath said, noting that everyone has an inner clown that can be totally different than their everyday personality.
While Heath's nursing background and penchant for helping others was useful on the trip, the type of help the clowns offered while in Russia was very different.
"As a nurse, I've always been involved in fixing something with medications, procedures, etc.," Heath said. "Clowning gives you the opportunity to just sit sometimes and hold a hand, dance with a wheelchair-bound child or adult, play music and sing with folks without knowing the same language."
Translators were on hand, but it wasn't as important for the visits as one might think.
"Clowning gives you the freedom to communicate with people in many different ways. It allows you to come into a person's world," Heath said. "At a hospice we visited, an Italian clown and I got a wheelchair-bound 94-year-old woman up, holding her on both sides, and danced with her to music being played."
DelVecchio said that some of the disabled people in the group were still able to respond to the clown antics despite both language and physical barriers. She was reminded of some cerebral palsy patients that could barely move: "Even though they could barely look at you, there was still an acknowledgment with a squeeze of a hand or a smile."
Music is also a universal language.
"An instrument is great for blind and deaf children to hear or feel the vibrations," Heath said.
Heath played some ukulele while DelVecchio played the kazoo and sang. Rumi played the guitar everywhere they went, including the metro and streets.
"We sang a lot of Beatles, which the Russian people love. Singing 'Revolution' with the Red Square in the background was epic," Heath said.
Rumi explained that the Beatles had a big influence on the Soviet Union's pop culture ban in the '60s. "It represented the west and a crack in the wall," he said.
For Rumi, getting to spread joy to people in need in Russia with his music was a life-changing experience.
"Seeing the old Russian people that have lived through so much war and oppression smile and respond with laughter and joy to what you are doing is magical; it is powerful," he said.
Rumi is now making up all the work he missed from the time off at FHS, but he said it's worth it.
"School is important and all, but you just can't pass up an opportunity like this," he said.
Clowning is still hard work, too, even if it is a blast, Rumi added. The group rushed around visiting two facilities a day for two weeks.
For Heath, the most rewarding part of the trip was also the most challenging. "When you put on a red nose, you bring down the social boundaries -- walls, if you like -- and open up a dialogue of smiles and love," she said. "It fills you with hope for the world." But to be constantly "on" all the time and so exposed is exhausting at the end of the day, she added.
Heath added that sharing laughter with the Russians and making new friends created an atmosphere of understanding. "Our issues and history aren't about the people but about governments and power," she said.
DelVecchio also noted that a lack of free speech that some of the Russians have experienced growing up made the clowning even more powerful. "You could see in their faces that they loved this kind of free-form goofiness that we were laying out there," she said.
This was DelVecchio's first clown trip, and she hopes to bring some of what she learned back to the workplace at NAU, where she is an adviser for biology students.
"I work in an atmosphere where stress levels can really climb high, and if I can try to bring a smile and a laugh to that stressed-out person that is all for the better," she said.
Additionally, DelVecchio hopes to pass a message on to her students who plan to go into medical school: "Laughter is indeed the best medicine."