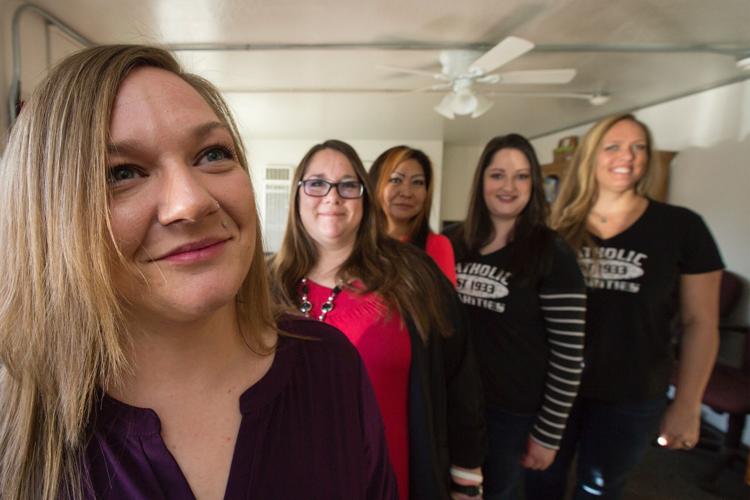 Casey Dennison's heroin addiction landed her in prison for two years after she received convictions for forgery and theft – crimes tied to her addiction.
In prison, she built sobriety, and the prospect of release into the world was not a comfortable one.
"I was terrified," Dennison said. "But all I knew was that I didn't want to go back to the life I was living."
Her good friend, Robin Hebert, a person with whom she had been in the Exodus drug and alcohol treatment program at the Coconino County jail before she went to prison, told her about a place she could come to rebuild her life. With luck, space would be available when Dennison was released.
There was, and her life has changed.
Dennison is one of eight women living at Juniper House in Flagstaff. Juniper House is a re-entry program for women addicted to drugs or alcohol leaving incarceration. The program is run by Catholic Charities Community Services.
"Providing stable housing can reduce recidivism and the toll taken on our community," said Camie Rasband, housing manager for Catholic Charities. "Success of the program shows in the reduction of recidivism, increase in employment and income and increased self-sufficiency."
According to information compiled by Catholic Charities, in the two years of the program's existence, 33 women have passed through the doors of the five-bedroom, four-bathroom Juniper House. The average stay has been a little over six months, but there is no time limit on how long the women can stay. Of the 25 women who have left Juniper House, six moved back in with family, seven moved into rental homes, three moved to an inpatient treatment facility, six returned to jail for probation violations, and three were told to leave because they did not comply with the program. The annual budget for the program is currently $45,000.
The women who enter pay $325 a month and have 30 days to begin working toward gaining an income. Until they get income, they are supported with scholarships. While at Juniper House, the women are assigned case managers to help them create a plan and find services available to them to find stability in their lives, but it is up to the women to create their own strategies for moving back into productive lives.
AFTER PRISON
Dennison said that she maintained contact with Hebert while in prison, and Hebert told her about Juniper House. Hebert, who was the first resident of Juniper House, has served as a sort of "house mother" to the other women entering the home.
Dennison became a resident in April.
"The process has been amazing," she said. "I honestly don't know where I'd be without this program. I've had so many opportunities come my way. I have a support network I've never had before."
Dennison currently works as a Forensic Peer Support Specialist for a nonprofit called Hope Lives. Hope Lives is dedicated to getting people with mental illnesses and addictions out of the revolving door of the criminal justice system.
"It allows me to give back to the community I took so much from in my active addiction," Dennison said, adding that she directs clients to services, helps them build job skills and get people through the court system while advocating for them. "Some of us need help rebuilding happy lives."
Hebert, who told Rasband that she would commit to spending two years at Juniper House to help create an environment of stability for the women, has a full-time job with the county's Criminal Justice Coordinating Council. She is also a full-time student at Coconino Community College and is striving to complete her desire for a degree in the field of criminal justice at Northern Arizona University.
"Life is good," Hebert said. "And since I've been in school, live has been exhausting."
NEXT STEPS
Dennison and Hebert have decided that they are preparing to move out of Juniper House and find housing together. Both have their feet on the ground and have learned to live life without heroin. Their plan is to create their own supportive environment because, to them, communal living is a necessity against the life-and-death struggle of addiction.
"This house has given me so much stability," Hebert said. "Addiction is an isolating experience. Recovery is learning to connect. I want to give that opportunity to somebody else."
Hebert paused and added, "The thought of moving onto what's next is scary. This is a family to me."
Evelyn Mitchell, another resident of Juniper House, was also in the Exodus program in the jail and currently is a participant in the county's Recovery Court, which takes nonviolent, drug- or alcohol-addicted offenders through a yearlong program giving them the skills needed to break the cycle of recidivism.
"I really like that Juniper House is here for people like me," Mitchell said. "Juniper has given me a good, stable place. I don't have to stay in a shelter or on the street."
Mitchell has a job at a local motel as a housekeeper. She is an electrical technician by trade and is applying, but her job prospects are hampered because she currently doesn't have a driver's license.
She plans on moving back to the Valley after she completes Recovery Court.
"I will miss them," Mitchell said of her roommates and staff at Juniper House. "They're good people. We're all doing our best. I'm just happy that they're here for us."