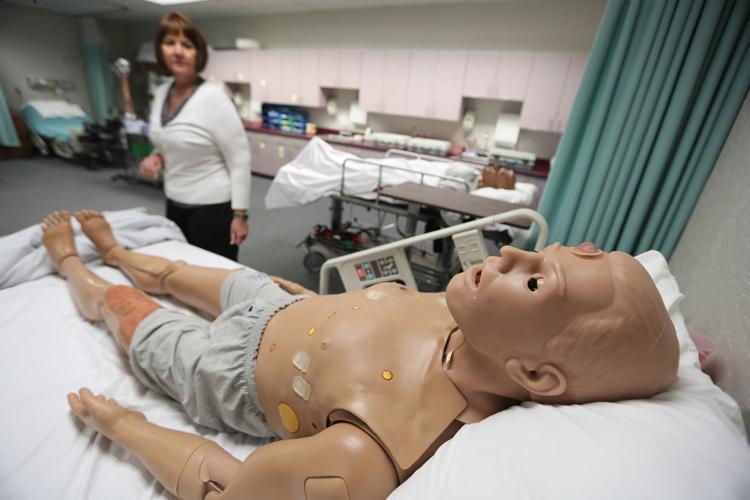 Coconino Community College recently appointed a new nursing director and is using the opportunity to rework the program.
Lori Edwards has been replaced by another nursing instructor at the college, Katherine Costa, at least temporarily. Faculty were informed of the selection Jan. 28.
"Currently, Lori Edwards is on special assignment by the Provost, and Katherine Costa has been appointed Acting Director of Nursing in her absence," said Larry Hendricks, public relations coordinator for the college.
Regardless of the change in directors, Hendricks said the program remains in good standing with the Arizona State Board of Nursing and the Higher Learning Commission.
Nicole Zygadlo, one of the second semester class representatives, explained that administration has kept students informed throughout the transition in leadership. She said CCC Provost Nate Southerland visited the nursing students at the beginning of the current semester to inform them an investigation had occurred, but that the full report has not yet been released.
"They have been keeping us involved and in-check from day one, right as people started whispering," she said of CCC faculty and administration. "They were really good at making sure we were aware and that there was a transparency within the program. Everyone has been so welcoming to our questions."
Zygadlo and Hannah Ahlers, in her fourth semester in the program, agreed that Costa is fitting for the director position.
"[Costa] was my first-semester teacher," Ahlers said. "She's been a huge support while I've been here. She will bend over backwards to make sure her students are successful."
Costa's promotion has opened up a period of re-evaluation for the program.
Just last week, Southerland visited the nursing classes again to ask for student ideas about how to improve the program, Zygadlo said. Recommendations included a more personable website, bringing students to meet the certified nursing assistants (CNAs) who want to become nurses and making the nursing program application point-based to avoid biases.
"We are reshaping CCC. This is a time we get to take advantage of the changes that are happening and make a difference," Zygadlo said.
STUDENT ALLEGATIONS
Although the college did not comment on the reason for Edwards' reassignment, it occurred shortly after a student contacted school officials about poor conduct and mistreatment from Edwards.
Madison Miller, who is no longer enrolled in the CCC nursing program, said her first run-in with Edwards occurred at the beginning of the 2018 fall semester, when the former director responded to Miller's outdated tetanus shot record by throwing the student's entire file in the trash.
"She told me, 'As of right now, you're no longer in the nursing program. I recommend you get your stuff and leave,'" Miller said of the incident. "It was traumatizing."
These words remained inaccurate, though, until Miller's grade in a class began to slip. The requirements of the CCC nursing program requires students score at least an 80 percent on all course requirements, but Miller scored a 76 percent on a psychology exam.
Miller said program representatives called her in for a meeting shortly after Thanksgiving to inform her she was being dropped from the program due to her academic performance – without being given the opportunity to take the course final to improve her grade, or to even take the final for her second class, which she was passing with a 92 percent. Retaking the course was also not an option.
"You do bad on one exam, you're done," she said. "They were saying I had to completely reapply for the next semester. Maybe I'd get in, maybe I wouldn't."
Miller had completed her CNA through CAVIAT, a dual enrollment program at Coconino High School. Nevertheless, she said it took her two years to get into the CCC nursing program, where she said she had such a poor experience that she is no longer interested in nursing as a profession, even at a different institution.
"It's disappointing because Ms. Edwards and Ms. Costa made me feel like I would never succeed at it because of those grades I was getting," she said. "My experience really discouraged me, so I switched my major to social work."
Zygadlo also noted that Edwards' behavior could sometimes be intense.
"She's just a very strong personality person and, human-to-human, she could come off hard," she said. "We all deserve grace. I never took anything personally, if there were ever any remarks made."
CONTINUED RIGOR
CCC students and staff agreed that completing the program is no easy task.
Ahlers said the program is, at times, both daunting and overwhelming, but she feels thankful because it has prepared her for her career.
"All of us at CCC take pride in our nursing program. It is a rigorous, demanding program that strives to help students become the best nurses they can be," Hendricks said. "Because CCC is dedicated to helping produce the highest quality nurses for our community, the administration goes the extra mile to preserve the rigor and demands of the program."
Despite this intensity, though, the program has displayed a large completion percentage. In 2017, 85 percent of participating students completed the program and last year, 95 percent of students were able to finish.
Many of these students go on to work in the Flagstaff area, Hendricks said.