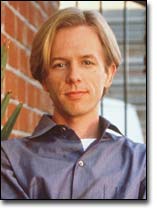 BEVERLY HILLS, Calif. (AP) — David Spade's former personal assistant pleaded guilty to assaulting the comedian with a stun gun and agreed to seek counseling for drug and psychological problems.
Beverly Hills Superior Court Judge Elden Fox also sentenced David Warren "Skippy" Malloy on Thursday to five years probation and ordered him to stay at least 100 yards from Spade and perform 480 hours of community service.
Spade, 36, suffered minor injuries when Malloy used a stun gun on him after entering his Beverly Hills home the morning of Nov. 29.
The co-star of the NBC sitcom "Just Shoot Me" and the new movie "Joe Dirt" said at the time that Malloy, a 30-year-old aspiring actor, was a friend who "is obviously mentally troubled right now."
Malloy's lawyer, Howard Lowe, said his client was angry and "in a psychotic state due to cocaine" the morning of the attack.
A 180-day county jail sentence was stayed pending a Sept. 10 hearing on Malloy's progress. A burglary charge was dropped as a result of the plea.
LOS ANGELES (AP) — A car driven by a woman who ran a stop sign collided with "Friends" co-star Matthew Perry's silver BMW at a West Side intersection, police said.
Neither Perry nor the 75-year-old woman, whose name was not released, was injured. The actor's BMW, so new that it still had dealer plates on it, was badly damaged, however.
Officer La Donna Cissell said Thursday that drugs and alcohol weren't involved in the Wednesday morning crash.
His publicist, Lisa Kasteler, released a statement saying: "Matthew Perry was involved in a car accident in Los Angeles yesterday when he swerved to avoid a car whose driver had run a stop sign. There were no injuries."
The NBC sitcom actor has acknowledged being treated in 1997 for what his publicist called the "early stages of chemical dependency." Earlier this year, he entered a rehabilitation clinic for treatment of an undisclosed condition.
Perry, 31, crashed his Porsche into the front porch of a house in the Hollywood Hills last May. He was not injured in that crash either, and investigators said there was no evidence of drug or alcohol use.
The actor said he hit the house after swerving to avoid another car on a narrow, winding street.
NEW YORK (AP) — Rosie O'Donnell is returning to "The Rosie O'Donnell Show."
The TV host has been out since April 4, under doctor's orders, recovering from an infected hand. She returns Monday but will make a brief appearance on her show Friday.
O'Donnell cut a tendon in her hand last August while trying to cut a price tag off a fishing pole. She's had three surgeries since then, spokeswoman Laura Mandel said.
A succession of guest hosts have filled in for her. They include Barbara Walters, who is Friday's host, and comedian Caroline Rhea, who is rumored to be a candidate to replace O'Donnell when she quits the show next year.
LONDON (AP) — Nicolas Cage had to study more than just a script for his role in the upcoming film "Captain Corelli's Mandolin." He spent hours preparing for his on-screen musical performances.
"I dedicated myself to going home every night and practicing the songs for hours," Cage told reporters Thursday before the film's premiere in London. "I have had no musical training in my life but I do come from a musical family."
Cage plucks the mandolin in the film, in which he plays an Italian officer who woos a village doctor's daughter in World War II Greece.
The 37-year-old actor said he fell victim to a local curse while filming on the Greek island of Cephallonia.
"There is a curse that says if you stay any length of time you get bad dreams," he said. "I had some fairly violent dreams while I was there. I had dreams about soldiers killing each other."
The film, co-starring Penelope Cruz, is based on the book by Louis de Bernieres and directed by John Madden ("Shakespeare in Love"). It's due in theaters in August.
NEW YORK (AP) — HBO has a happy employee in Jamie-Lynn Sigler.
The 19-year-old actress, who plays Tony Soprano's daughter, Meadow, on the hit series "The Sopranos," hopes to be filming episodes of the mob drama 10 years from now.
"It's kind of a nice schedule," she told The Associated Press. "We film for six months and get six months off."
While on hiatus from the show, Sigler is playing the title role in Rodgers and Hammerstein's "Cinderella."
Sigler said there definitely will be a fourth season of "The Sopranos," but she — and the rest of the cast — have no idea whether the series will continue after that.
"It's kind of hard to say. We all hear different rumors, and we don't even know," she said.
The third season of the "The Sopranos" airs Sundays at 9 p.m. EDT.
NEW YORK (AP) — Political conventions are the perfect places for parody, says "The Daily Show" host Jon Stewart.
"We're a fake news organization covering a fake news event," the actor-comedian says on "60 Minutes" in an interview airing Sunday night on CBS.
A political convention is politicians' "promotional ad for the party. We, as a fake news organization, should have been the only ones there," he says. "But there were 15,000 of you (journalists) just walking around."
But the Peabody Award the Comedy Central show won for its 2000 election coverage is real, and Stewart says he's fully aware of the program's popularity with journalists and politicians alike.
"Who loves more than to come on (the show) and go, 'You're right kid, we're full of hot air,' and then go back to running the world?" he asks.
"The Daily Show" airs weeknights at 11 p.m. EDT on the cable channel Comedy Central.
NEW YORK (AP) — Ewan McGregor says the breakup of his "Moulin Rouge" co-star, Nicole Kidman, and her husband, Tom Cruise, did not delay the film's release.
Director Baz Luhrmann's musical, set in turn-of-the-century Paris, initially was due in theaters at Christmas — around the time Kidman and Cruise were splitting up. Now, it's the opening night film at the Cannes Film Festival before hitting theaters May 18 in New York and Los Angeles.
A rumor arose that Kidman didn't want to do interviews about the movie while her breakup was breaking news, but McGregor says that's not true.
"The delays were purely due to the huge task of putting all the music together," the 30-year-old Scottish actor tells Details magazine in its May issue, on newsstands Friday.
McGregor says he was unaware of problems between the Hollywood power couple. Cruise filed for divorce in February after nearly 10 years of marriage.
"It wasn't anything to do with me, though. … I didn't have an affair with Nicole Kidman," he says, laughing.
SEATTLE (AP) — The Bill and Melinda Gates Foundation will give more than $3.2 million to 14 state schools.
The money is part of the foundation's high achievement model school grant program. It will go to improving teaching and increasing access to technology, the foundation announced Wednesday.
"It was clear to me when I visited the principals of these schools that all have adopted some successful strategies for improving their students' education," said Kyle Miller, program officer of school grants for the foundation.
Eligible schools must have fewer than 600 students, use research-based teaching and have at least two teachers trained to use technology for learning. Schools also must provide a budget match of at least 20 percent of the grant.
NEW YORK (AP) — Michael Jackson plans to travel to Africa to study the plight of children sold into slavery.
"The existence of child slavery shakes me to my very core," the pop star, a father of two, said in a statement Thursday.
Jackson will be joined on the trip, later this year, by Rabbi Shmuley Boteach, a co-founder of Jackson's Heal the Kids organization, and the Rev. Al Sharpton.
"The other night, Michael called me crying like a baby when he heard about the child slave ship lost off the coast of Africa," Boteach said.
Earlier this week, a frantic search was launched for a ship believed to be carrying child slaves along the coast of western Africa. Police have detained the ship's captain and some of the crew but, so far, no evidence has emerged to prove the ferry was trafficking child slaves.
Jackson insisted he will take time off from his music schedule to spearhead the African mission. A date for the trip had not yet been set.
"Children need a childhood," Jackson said. "They can't be forced to work."
Jackson is releasing a new album soon and plans a Sept. 7 concert at Madison Square Garden, his first U.S. show in more than a decade.
Be the first to know
Get local news delivered to your inbox!