Flagstaff transforms into a picturesque snow globe during the holiday season. 
City streets are lined with shimmering Christmas lights, blankets of freshly fallen snow, wreaths and giant Christmas tree displays. Flagstaff turns into a winter wonderland seemingly pulled straight from a Hallmark movie during the Christmas season. 
While some home and business owners decorate on their own, some professional decorators step in as Santa's helpers each year. 
Flag Landscaping Inc. focuses on landscaping during the warmer months, but they pivot to Christmas decor during the holiday season.
President Dustin Mast and his small team of 18 employees trade in their lawn mowers for strings of lights starting each fall with some decorating jobs scheduled for as early as October.
Mast started the landscaping business in 2006 and later purchased the Northern Arizona Christmas Decor franchise in 2014 to keep his employees working throughout the entire year. Christmas decorating is guaranteed each year, while snow removal is not always the most reliable trade in Flagstaff.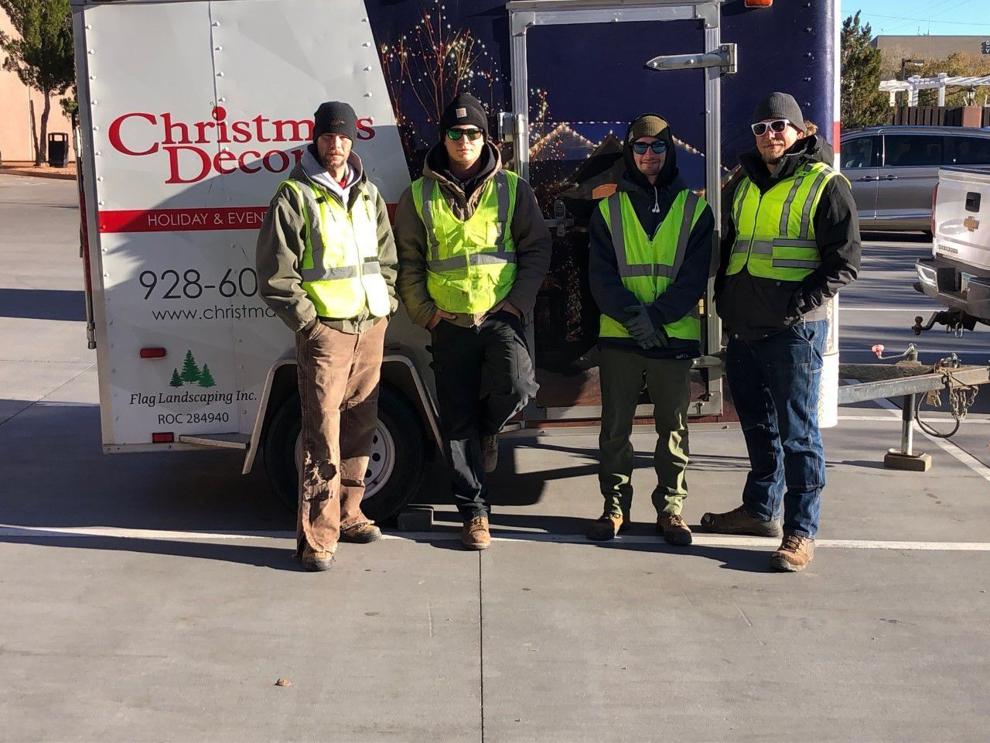 Northern Arizona Christmas Decor is an all-inclusive company, Mast explained. They take care of all aspects of decorating for the client, from crafting the overall design to finding the right supplies and then the installation. 
"We come out and provide all of the materials," Mast said. "Everything from the lights, greenery, extension cords, timers. We set it up and then we maintain it for the season. If the snow knocks a strand down or the wind comes and blows it over, we'll come out and fix it for free."
The team then returns at the end of the holiday season to remove everything and store it until the next year.
Northern Arizona Christmas Decor takes on houses, businesses, outside displays and, in some cases, entire towns. One of their clients is the City of Williams. Mast and his team transform historic downtown Williams into a twinkling dream, including City Hall, the Visitors Center and the downtown Rotary clock.
While some may enjoy decorating their own homes, Mast said hiring a professional decorator is an option for those who don't feel safe or comfortable enough to decorate on their own.
"It's a safety issue for a lot of people," Mast said. "They might not have the right equipment to get up on the roof or roofline to hang things. Or maybe they're an elder or have an injury. One thing we stress to people is that it is a safety thing. Our entire crew goes through training and we have a dozen different sizes and styles of ladders and lifts that we use."
Beyond the safety precautions, the Flag Landscaping Inc. team goes through many training sessions and spends several months out of the year decorating. It's not only a good option for those who need the help, Mast explained, but the finished product also looks more professional and polished.
"A lot of people think they can hire a handyman to hang lights but a handyman doesn't have the same expertise as far as training," Mast said. "[They] discount this as just hanging Christmas lights but there's a lot more that goes into having a professional appearance and having custom lights. We cut the wire to fit the lights exactly to the roofline, so we won't be short or have any hanging extra."
It's hard to imagine Christmas without decorations, and Mast said his team feels privileged to bring the holiday cheer to Northern Arizona.
To Mast, seeing the large crowds acknowledging their work is a gift in itself each and every year.
"This is probably the most fun and rewarding side of our business because it's that time of year and people are stressed out," Mast said. "We get to take that stress away from them. People love having lights but might stress out about it, so we take that burden off of them so they can just enjoy them. It's a really rewarding experience for sure."
While the Christmas season is still a few weeks out, Flagstaff Landscaping Inc. is already busy prepping homes for the holidays. Their schedule's been packed since the early fall and will likely stay that way through the New Year.