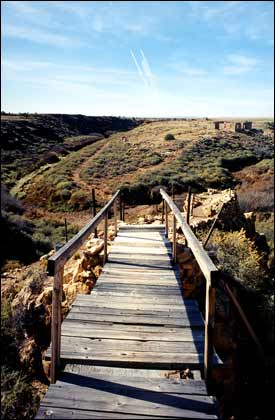 Crumbling ruins, a stone wall with the words "Mountain Lions" written in block letters and a cement bridge beckon tourists to pull off Interstate 40 about 30 miles east of Flagstaff and cross Canyon Diablo to a long-deserted gas station. From 1996 to 2002, barbed wire fences, a "Not Welcome" sign and a surly caretaker prevented visitors from entering the 320-acre site.
Today, Two Guns is a ghost town whose ruins are symbols of bygone days. Rickety wood bridges and sliding rocks make it a hazardous place to visit on your own. Real estate agents sometimes arrange special guided tours for groups.
Prior to the automobile and the designation of Route 66 in 1926, the Canyon Diablo region was a crossroads for travelers on foot, or utilizing a variety of transport including horses, wagons, stagecoaches and trains. Another ghost town, Canyon Diablo, a railroad town established in 1880, enjoyed a brief and lawless history just north of the Two Guns area.
Even now, there is something slightly creepy about Two Guns, including its location on a canyon named by Lieutenant Whipple in 1853 when it presented such a daunting obstacle to his 45th parallel survey party that he thought it must certainly be the Devil's Canyon.
Two Guns, located midway between two other Route 66 attractions, Twin Arrows and Meteor City, has been the scene of bad luck and tragedies. Two arson fires that burned down commercial structures in 1926 and 1971, a feud between two business partners in 1926 that ended with one of them dead, and weird, unexplained accidents, including a record number of auto fatalities on the Two Guns section of Route 66.
Two Guns is also the legendary site of the massacre of Apaches by Navajos, in the so-called Death Cave in the summer of 1878, according to "Route 66 Chronicles, Volume 1," by Gerald M. Knowles (2002). Word of mouth accounts have it that Apache raiders came into the Navajo homelands and met their death.
In an article in The Arizona Republic (April 18, 1993), writer Bob Thomas said a party of White Mountain Apaches attacked two Navajo communities on Garces and Newberry mesas, at the northern end of the Painted Desert. More than 50 Navajo men, women and children were killed, according to the article.
When Navajo warriors tried to track the Apaches, they lost their trail. A small party of searchers checked out Diablo Canyon. They were surprised to hear voices coming from inside the ground and to smell smoke from cooking fires. The Apaches had hidden in caves so large they had led their ponies inside.
"A lot of pre-written history comes to us with stories and traditions," said Flagstaff historian Richard Mangum, who is fascinated by local history, including Two Guns. "Apache generally did not come that far north, but occasionally they would. The point was to make a fast raid, get some horses, take them back. That's what they were doing. The Navajos would go after them. Finally they found them in the cave, but they couldn't get to them with arrows. They built a big fire on the entry and the chimney effect pulled smoke in and the Apache suffocated."
Navajo believe that the Two Guns area is possessed by Chindiis, the Navajo term for "ghosts of the dead," according to the Knowles chronicle. They avoid the site and urge others to do the same.
Early business speculators did not avoid the site, trying again and again to make it a premier tourist attraction, including Ed Randolph who set up a business upstream of Two Guns in 1915, after the first cement bridge spanned the canyon.
Then, in 1924, came Earl Cundiff, a World War I veteran who came from Arkansas to homestead at Two Guns. He bought the claim from Randolph for $1,000 and built the Canyon Lodge store, providing tourists with free campgrounds, wood and water, and rooms and cottages for rent. He also set up a post office and became the postmaster.
In 1925, local legend Harry "Indian" Miller, who claimed to be Apache, set up shop at Two Guns. He took out a 10-year lease from Cundiff for part of the property. Miller built an extensive stone structure on the north rim of the canyon and constructed a zoo with wild animal cages fashioned from brick and chicken wire. In the heyday of Route 66, the zoo became a popular tourist stop and housed mountain lions, panthers and bobcats.
Miller dubbed himself "Chief Crazy Thunder" and called his venture Fort Two Guns. He built a restaurant, a curio shop and living quarters, using Hopi craftsmen to fashion pueblo-style buildings. Miller also put up signs advertising the "Apache Death Caves" and put fake ruins in the caves to lure tourists.
Cundiff and Miller fought bitterly over rights and boundaries at the property. Things came to a head March 3, 1926, when Miller shot Cundiff to death. Although Cundiff was unarmed, a jury acquitted Miller. The murder and trial created quite a sensation and left many questions unanswered, Mangum said.
Inevitably, the curse of Two Guns and the murder caught up with Miller. Several attacks by animals in his zoo, including a mountain lion, a lynx and a Gila monster, left him in intense pain. Business gradually fell off at the site, dwindling to almost nothing.
EFFORTS TO REVITALIZE DREAMS
"It was a classic Route 66 tourist attraction, one of the earliest ones," Mangum said of Two Guns. "They used the signs and all the gaudy attractions to get people to turn off road and to have a chance to sell them something."
Ben Dreher bought the property in the 1960s and tried to make a go of it, until a fire destroyed his business in 1971.
"It ended in a ball of fire," Mangum said. "A huge fire leveled almost all of the modern stuff. Then the freeway came in, and they tried to take advantage of it. It's had a succession of owners who've tried to pump money into it and turn it into a first-class attraction, and it isn't working."
Even though it got an official highway exit, Two Guns went into decline with the building of Interstate 40 in the 1970s.
In 1992, Howard Armstrong, a major player in Quartzite attractions, bought the property and was the last owner to try his hand at Two Guns. He saw it as a natural tourist attraction, with no other developments around it for miles. His efforts came to naught. In 1995, he had a stroke, continuing the bad luck tradition of the place.
Two Guns may yet have the last laugh. Currently for sale, it awaits an owner with vision to come along and breath life into this Route 66 dream.
Reporter Betsey Bruner is looking forward to the challenge of finding interesting people, places and things to examine up close. Have any ideas? Bruner can be reached at bbruner@azdailysun.com or 556-2255.
Be the first to know
Get local news delivered to your inbox!