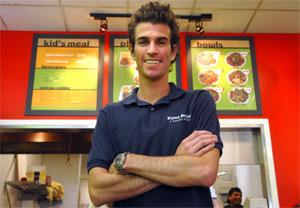 To many people, healthy fast food is a contradiction in terms.
But a southern California businessman is hoping to convince residents that he can offer a quick and healthy meal at his new restaurant.
Looking over his shoulder toward South Milton Road during the lunch hour rush, The Flame Broiler owner Brian Bautista says he wants to tap into Flagstaff's health-conscious residents by offering a selection of inexpensive rice bowls.
Bautista admits the competition for business is fierce along the heavily traveled South Milton corridor, where residents have more than two dozen restaurants to choose from.
Bautista's business plan hinges on offering an alternative to meals served by those he sees as his biggest competition — national fast food chains.
The key to his plan is what isn't in the food he serves — every meal is free of trans fat and MSG, nothing on the menu is fried, and the restaurant only serves skinless chicken in its chicken rice bowls.
Customers have a choice of marinated beef, sauce-basted chicken or steamed vegetables on a bed of white rice. The most expensive items on the menu cost less than $7 before tax.
The most popular dish is a half-chicken, half-beef chicken bowl, he said. Bautista says one of his favorites meals the short ribs plate.
Located inside the Greentree Shopping Center, The Flame Broiler opened the doors three weeks ago.
He concedes he had some initial problems getting the right vendors to deliver to Flagstaff. But he has since worked out those problems with local merchants.
The restaurant has its roots in southern California, where Bautista already owns two locations. Currently, there are 29 The Flame Broiler restaurants operating in California and one in Lake Havasu.
Bautista said he chose to expand into Flagstaff after carefully studying the local demographics. He believes residents who spend their weekends on the local trails will chose his restaurant over national fast food chains.
He said he also hopes to tap into the thousands of NAU students living on and off campus looking for a healthy alternative.
Bautista said he invested several hundred thousand dollars to open the restaurant in the Flagstaff market.
The small eatery currently employs four full-time employees and several part-time employees.
But Bautista has ambitious plans for Flagstaff and hopes to open a second location in downtown next year before branching out to the Phoenix market.
The Flame Broiler is open Monday through Friday, 10:30 a.m. to 9 p.m., Saturday and Sunday, 11 a.m. to 9 p.m.
Greentree Shopping Center
1800 South Milton Road, Suite 22
Hours: Monday through Friday, 10:30 a.m. to 9 p.m., Saturday and Sunday, 11 a.m. to 9 p.m.