The first thing clients notice when they walk into Deni Kahn's Sunnyside studio is the fragmented photograph of a wolf pack above the massage bed.
"Wolves speak a lot of freedom and healing and community," Kahn said. "That's a big piece of my inspiration. For me, we heal best when we're healing together."
The wolves watch over the white dreamcatchers, the blue cloths that line the ceiling, the sage bundle from Mount Shasta, the vulture feather that dispels fear and the intricately wrapped crystals from a virgin mine in Brazil.
These crystals are just some of the earthly elements that Kahn uses for her body work, along with marble and basalt for her hydrotherapy sessions, where she alternates the stones to create a cooling and heating effect.
Making little circles with the crystal wands on her clients' backs, the crystals work directly with the chakras and "stimulate and reset the nervous system," Kahn said, adding that much of the work is similar to acupuncture, but without the needles.
Kahn knows people are still familiarizing themselves with polarity therapy. That's why her most popular service since opening June 1 has been the 90-minute artisan massage that blends some polarity work with a more standard massage.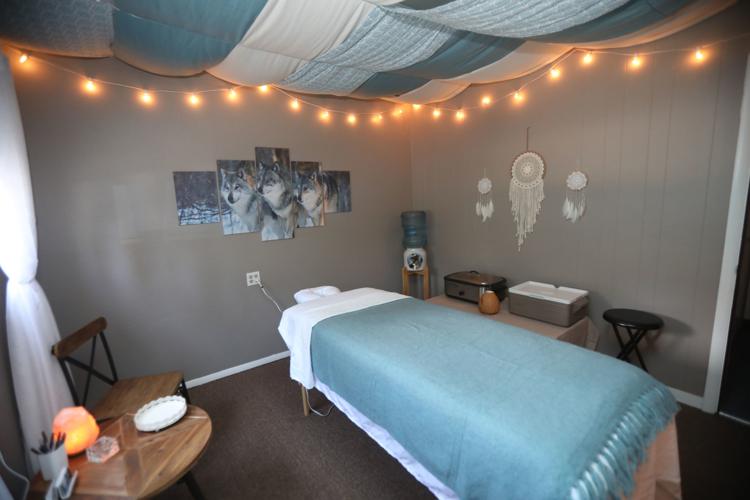 When polarity therapy was introduced in the 1940s by osteopath Dr. Randolph Stone, it wasn't well-received by the medical community, Kahn explained. In the 1970s, there was a resurgence of interest in Stone's energy work and other healing arts.
Now, "it's a lot easier to try to put into layman's terms that we basically operate just like a battery does," Kahn said. "The planet earth has a positive pole and a negative pole and so does the human body. We have a positive charge on the right hand and a negative on the left."
Based on ancient ayurvedic medicine from India, hermetic sciences from Greece and traditional Chinese medicine, polarity therapy attempts to cure both physical and emotional pain by balancing energy flow throughout the body.
"Adults start out in chairs with a reflective session just to get some refinement around intentions for the session, like what it is they're needing to receive, what it is they're needing to release, and then we move to the table," Kahn said of her treatments.
Unlike regular massages, polarity sessions are not always quiet.
"It's a somatic work, so we're working to connect the mental and emotional process with the physical," she said. "If a client has a lot of grief that needs to move through, it's important that they have this space to let that happen so that there's not more trauma layered over by shushing them."
All ages can participate in Kahn's sessions; she has worked with children as young as 5 and there is no age limit.
"With kids I like to meet them where they're at. If they need to be outside and stomp their feet, we go and do that; if they need to draw some pictures and just rip them up, we do it that way. They're not always going to lay on the table," Kahn said.
Kahn experienced the benefits of polarity therapy firsthand in her early 20s, while she was studying to be a massage therapist at Southwest Institutes of Healing Arts in Tempe. At the time, she was also suffering from a herniated disc in her back.
"I found the massage work kept kind of reigniting the injury and when I found polarity, I had friends that would practice the techniques on me, and my back within two months probably got 80% better," Kahn said. "Whereas in the massage journey it seemed like it kept getting worse within a period of nine months."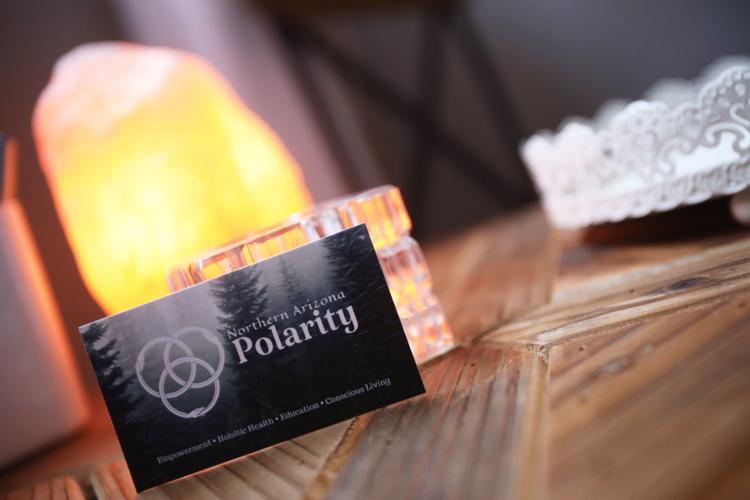 At that point, Kahn said she knew she had found her life path.
"When I was very young my mom was diagnosed with cancer and it was a big part of my childhood walking her through that journey," Kahn said of her experiences growing up in Conifer, Colo. "As a child I had a belief that healing was possible so it kind of became a mission for me in my life to find the way to bridge [holistic concepts and allopathic medicine]."
After receiving 1,000 hours of study and around 125 clinically supervised hours with the American Polarity Association, Kahn believes she is the only board-certified practitioner of polarity therapy in the area.
Kahn moved to Sedona in 2013 and spent six years as a massage therapist at Mii Amo Spa. In August of 2018, Kahn moved to Flagstaff with her 14-year-old son and 12-year-old daughter and began teaching massage and polarity therapy at the local Arizona School of Integrative Studies.
Everything seemed to come together in the right way for Kahn to be able to start renting her own studio space from Music Together Flagstaff, something Kahn attributes to "little miracles." One such miracle was finding $200 cash clipped to the outside of her door when she needed extra money to begin renting the studio. To this day, Kahn has no idea where it came from.
Kahn plans to hold workshops in Music Together's large, matted floor space, focusing on healing, nutrition, simple yoga and eventually more advanced classes to practitioners after she finishes her certification of registered polarity educator in September. Her first workshop will be based on the book "Women Who Run with the Wolves," and focus on feminine empowerment. 
"Polarity in particular is about empowerment," Kahn said. "So I work with [my clients] to support their energy to move. But the goal is for them to take their energy back, and to take their space back."
Kahn also has a retreat planned for July 17-21. The 5-day all inclusive retreat in Pine, Ariz., will help re-work participants energy using storytelling and nature.
The business news you need
With a weekly newsletter looking back at local history.