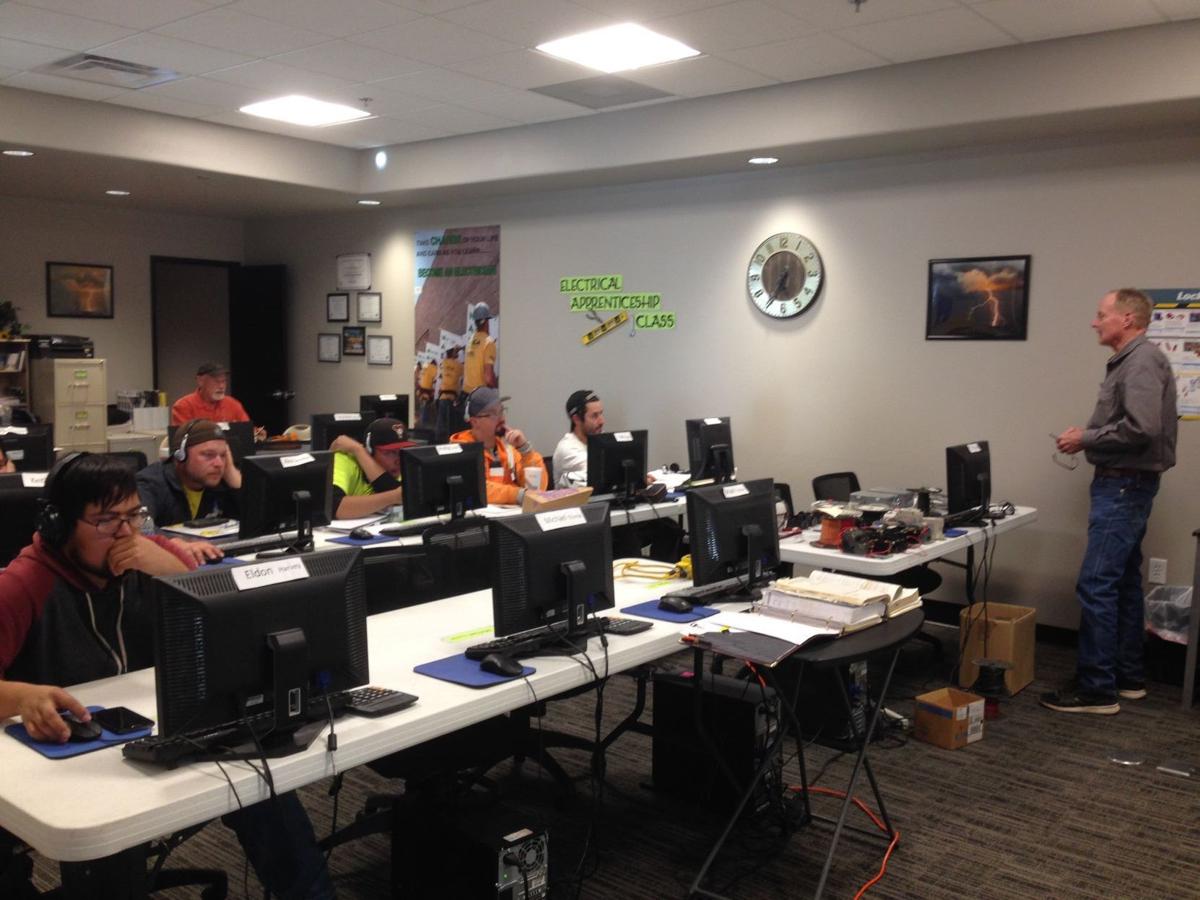 The Northern Arizona Electrical Contractors' Association is helping local residents make the jump into a new career and feed the growing need for electricians through an apprenticeship program.
The Association was formed in 2008 by six local companies that specialize in electrical work, said Catherine Miller, NAECA's administrator. The founders included AEC Electric, Shaum Electric, Northland Electric, 5J Electric, Goodman Electric and Lakin Electric. The companies saw a need for more and better skilled electricians in the northern Arizona area. In order to improve the skills of their employees, the group started a local apprenticeship program.
The program takes about four years to complete and starts with the basics of safety, tools and diagrams, then tackles the complexities of residential, commercial and industrial electrical work and motor installation and control. Each student has to complete 8,000 hours of on-the-job training and attend class once a week from 4 to 9 p.m.
The program is accredited through the National Center for Construction, Education and Research. It provides students who finish the program with a state and federal certificate and graduate as a journeyman electrician. Students are also paid an hourly wage for their training.
Each student has to apply to the program and be working for an electrical contractor. They have to be at least 18 years old and have a high school diploma and be physically capable of doing the job. Each applicant is interviewed by a committee. The per-semester cost for the program is around $900, with a $100 fee for the committee interview, she said. But most employers help cover some of the cost. How much depends on the employer.
Ricardo Baca, Jr. said he found out about the program through a flier on the wall of his church meeting room. Switching from a landscaper to an electrician has made all the difference in the world to him and his family, he said.
"This course gives you all of the fundamentals to get in the door anywhere you want to go," he said. "It covers so many different facets that when you're finished you can do any type of electrical work you want."
However, being an electrician is both a physical and mental challenge, and may not be for everyone, Baca said.
Michael Toth moved into the electrical field about three years ago.
"I was working at McDonald's and moving my way up the career ladder there, but it just wasn't for me," he said. "This program is awesome. You can only learn so much from someone on the job. This teaches you the why behind what you're doing."
There is a lot of work behind the classes, he said. You have to make a commitment. But there are lots of possibilities available after getting your certificate.
Kyle Thomas started in the electrical contracting field right out of high school and has worked in the business for more than 30 years.
"I wish I had taken this class sooner," he said. At the time he graduated from high school, Coconino Community College had an electrician course but it was canceled for lack of interest.
He's learned a lot from the course that he didn't know from his on-the-job experience, he said. On-the-job experience is important, but the course teaches you about all the different kinds of electrical work that can be done and allows you to broaden the kinds of work that you can do.
"There's book smarts and street smarts," Thomas said.
There's a big difference between residential, commercial and industrial electrical work. Knowing how to work in each of those scenarios makes you more desirable as an employee and gives you greater flexibility, he said.
The business news you need
With a weekly newsletter looking back at local history.