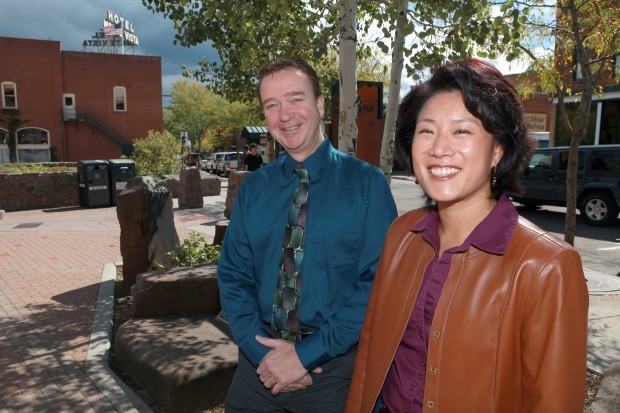 After more than six months of silence, Navajo Public Radio in Tuba City returned to the airwaves in September after a lightning strike and subsequent power surges destroyed $60,000 worth of equipment.
Flagstaff residents Jim Anderson and Alice Ferris with GoalBusters Consulting were at the center of the rebuilding efforts, working with engineers, advertisers, local officials, the U.S. Department of Commerce and Federal Communications Commission.
Anderson, who eventually took the title of interim station manager for KGHR Navajo Public Radio, remembers getting involved in putting the station back on the air by offering to find $8,000 in pledges to rebuild the main 100,000-watt transmitter.
"I told them I could have it by (next) Tuesday," Anderson says.
The pair understood that the radio station was an integral part of daily lives for many in the community of about 9,000 and much of the western Rez. Their company, GoalBusters Consulting, works with various nonprofits to improve their fundraising, sales and marketing efforts.
But fixing the transmitter wasn't going to be as simple as they hoped.
What was going to be a week's worth of phone calls and handshake business deals to come up with enough money to fix the transmitter quickly turned into several months of work, with new problems creeping up nearly every day, the pair says.
Anderson remembers a call with an engineer he had sent out to the Tuba City station to review the damage from the lightning strike and to review whether several subsequent electrical surges had destroyed other station equipment.
He heard the bad news in his friend's voice long before he got the assessment.
"I told him, 'Don't tell me it is going to cost $20,000.' He said, 'No, it is going to be over $60,000,'" Anderson remembers. "I said, 'I can't have that by Tuesday.'"
Ferris explains that the rural station had put off major repairs over the years, leading to additional costs to get the system functioning properly.
"One of the biggest challenges in running a radio station in a rural environment is that it is hard to find a broadcast engineer in Tuba City," she says. "They had accumulated a number of technical problems over the years, and they hadn't gotten an engineer out there."
The dwindling number of employees at the station who knew how to use the equipment compounded the issue, with the station manager quitting shortly after the lightning strike.
The pair formally joined the staff in March, with their first assignment to seek $65,000 in federal funding from the U.S. Department of Commerce for a Public Telecommunications Facilities Program grant.
Ferris was familiar with the program and knew Congress had set aside funding specifically for emergency repairs.
A few weeks later, the federal grant program was abruptly canceled.
"Almost since it was started, it was threatened with being eliminated," she says. "We had to come with other options for creative repairs."
Careful budgeting, salvaging existing equipment and using leftover funds from previous grants helped get the repairs under way, but Anderson notes fundraising is ongoing to help pay for repairs.
Residents first heard the station chirp back to life in early September with a series of test messages, including rebroadcasting a holiday program from last year.
"It might have been a little weird hearing a Christmas program from last year," Anderson concedes.
"From a dude in Yuma," Ferris adds.
The pair learned in the months they spent in Tuba City that KGHR was more than just one choice on the radio dial.
"There is only one station listed as local in Tuba City, others have a signal but are from Flagstaff or Window Rock," he says.
He notes that Navajo Public Radio is the only station broadcasting the Friday night high school football game. It is at 91.3 on the FM dial.
"They would be out there (at the games) for those who couldn't be there, who couldn't travel or chose not to travel," he says.