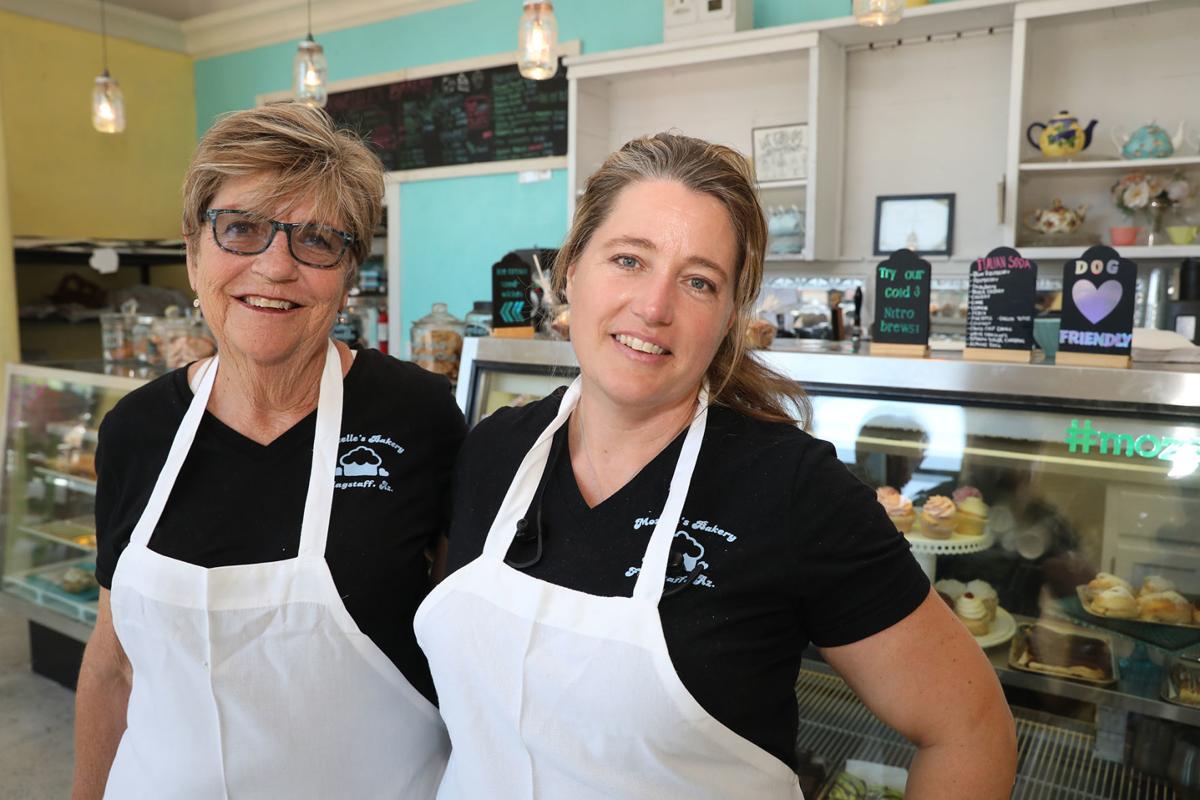 Andrea Knott and her family members have been busy since relocating Mozelle's Bakery from the small, hidden office building on Aspen Street to the expansive shop in the heart of Heritage Square down the road.
Knott said her customers have doubled since they moved Mozelle's into the old Cuvee 928 location.
"It was kind of dark because it was the wine bar type of vibe, so we had to lighten it up. So we just painted everything," she said of the interior.
Mozelle's is now anything but dark: pastels of yellow and blue brighten the walls, with tons of natural light coming in from the several massive domed windows. Knott painted the chairs and tables to match the walls herself, adding a combination of antiques and knickknacks.
The display case takes up a good portion of one wall, and the same popular array of made-from-scratch eclairs, cream puffs, cheesecakes, cannolis, napoleons, lemon bars, brownies, pies and cake pops decorate the shelves.
However, now that Knott has a larger display case and kitchen with pastries baking nonstop, she is able to offer some new menu items.
"We branched out our breakfast menu so we added just different strudels and danishes and morning buns – things like that," Knott said. "We tried to add more savory to the menu, so it's not all sweet all the time."
Knott also delved into the world of beverages for the new location.
"Definitely the drink menu has exploded," Knott said. "And I had no idea how popular coffee and kombucha and all this stuff was."
But after an intervention from Firecreek Coffee, Knott and her team are bonafide experts when it comes to specialty espresso drinks.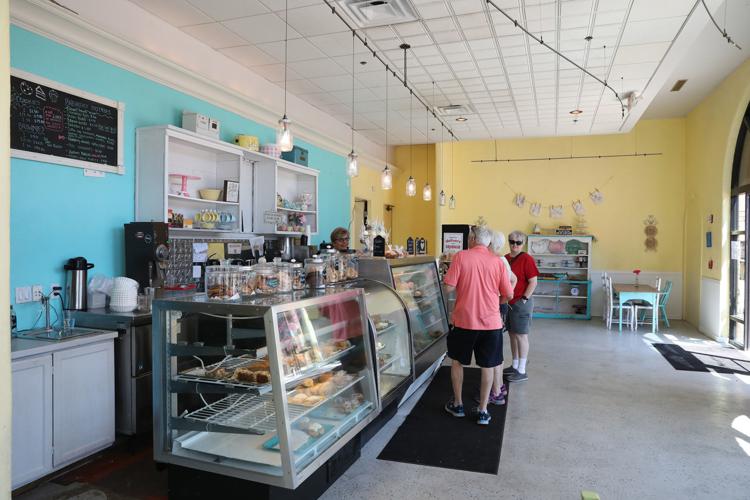 Since Knott uses Firecreek Coffee's beans and products for all Mozelle's coffee needs, Firecreek owner Mike Funk gave them classes on latte making and "all that good stuff," Knott said, adding that "he showed us exactly how to measure out the coffee and to grind it and to make the coffee."
Along with lattes, Mozelle's now serves cold brew, americanos, espresso, mochas and chai, along with dozens of non-coffee drinks like kombucha from Hensley, Italian sodas, juices and of course a variety of different-flavored milks to dip cookies in.
Oatmeal walnut chocolate chip, peanut butter white chocolate, snickerdoodles, spicy ginger molasses and red velvet are just a few cookie options that can be selected from the old fashioned cookie jars on display.
"People love the cookies, they fly out of here," Knott said, adding that other top sellers are brownies, cinnamon rolls, sticky buns and the new ham and cheese croissants.
Knott doesn't plan to stop with cookies.
"The move from there to here has been so much more foot traffic and so much more business that just we've just had trouble keeping everything stocked to add too much more but we're going to do breads and then we're going to start the whole wholesale thing," Knott said.
With so much on her cake plate, it's no wonder that Knott enlists the help of her family. Knott chose to call her bakery Mozelle's after her grandmother when they opened in 2016, and it has been a family affair since, with everyone helping out from Knott's husband to their five children, ages 11 to 22.
"The whole family's been in here. I drag them in here whether they want to or not. Most of the time they want to," Knott joked.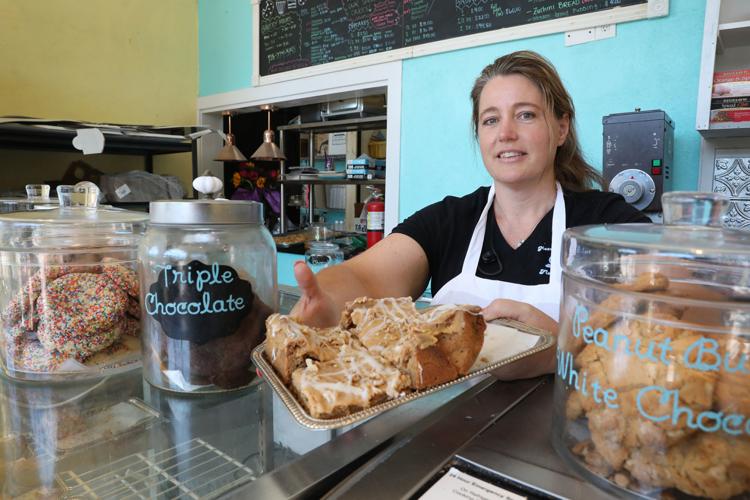 Knott's mother, Jeanie Boggs, works at the front counter and helps Knott with pies. Knott attests, however, that she didn't learn to bake from "nana," but being allowed to experiment in their southern California kitchen as a child did help, she said.
"I just would make up things and throw it in a pan. Some gross things that you never would have [thought]," Knott said. "But it was fun. I've always loved cooking."
Knott originally went to culinary school, but after transferring to Los Angeles found the cooking classes were full.
"So I did the baking and pastry and I really loved that, so I kind of went more in that direction than the culinary," Knott said.
Although Knott loved her baking classes, she did not love the twice daily hour-and-a-half commute to campus, and she put baking on the backburner to go in a completely different direction.
"I actually just started talking to an Army recruiter and decided I would try that. And put the whole baking thing on hold," Knott said.
Knott spent four years with the Military Police in Virginia and South Korea, where she met her husband. When he was stationed in Flagstaff, she moved with him here.
Twenty years later, Knott found love in baking once again and started working at different bakeries in town before starting up Mozelle's.
But eating her own baked creations, however, is another story.
"My favorite thing to eat would be the blondie bar. It's very sweet so I can only do a few bites at a time," Knott said. "I allow myself to have a blondie bar at Christmas every year and that's it."
The business news you need
With a weekly newsletter looking back at local history.