Mark and Mary Schroeder met in high school, he was a junior at Flagstaff High School, she, a sophomore at Coconino. Thirty years later they're married, have two kids and, as of April 1, run their own business.
Java Juice Cafe is the newest addition to the Flagstaff shopping plaza that also houses Bookmans and Sprouts.
The shop specializes in all things sweet but healthy. It's also vegan. Schroeder and his wife have chosen to avoid meat and dairy products for 20 years, he said, and everything they sell keeps to that standard; Juices, smoothies, ice cream, crepes, even coffee. Organic food and drink is prominent at Java.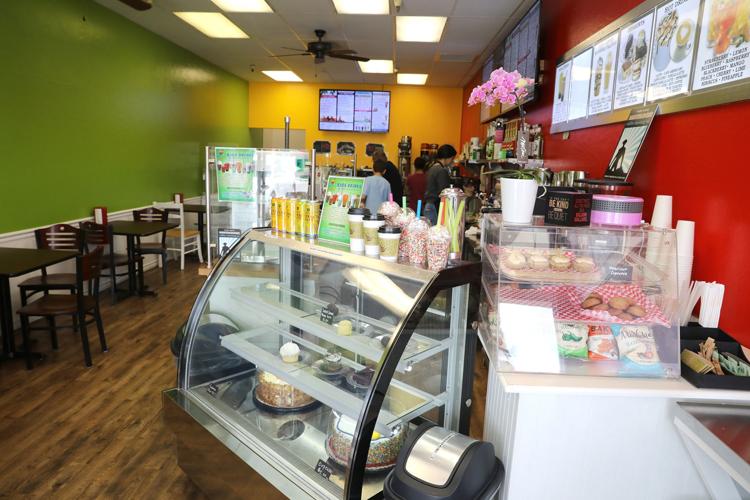 "We had been looking to do something healthy like this, something that is vegan and designed to keep people on the healthier side of life," Mark Schroeder said.
The shop's soft-serve ice cream is coconut based, instead of milk or cream, and whipped creams and coffee additives use almond or coconut milk. The juices are made using fresh ingredients, the ice cream is fruit-based. And, nearly everything is made in house, Mary Schroeder said. This includes vegan baked goods, ice cream cones, waffles and the crepes.
"Plus, I think our Boba tea is the best in Arizona," Mark Schroeder said.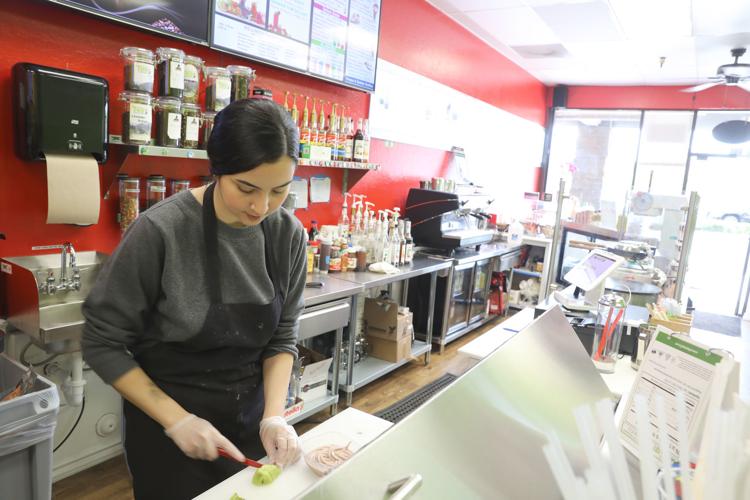 In opening the business, the couple has made sure to test all the recipes they develop before they hit the mouths of customers. Even their kids, 13-year-old Eric and 11-year-old Jonathan have helped to create and perfect several of the recipes, fine-tuning them to perfection.
"I give all the credit to my beautiful wife and kids," Mark Schroeder said.
You have free articles remaining.
Currently, apart from the Schroeder's children, Java Juice Cafe has six employees. That, and business has been good and steady according to the Schroeders.
"The positive feedback from customers is that they can enjoy and feel great about themselves. I think we're offering something that can bring joy to somebody," Mark Schroeder said. 
The crepes are the most popular menu item, he said, especially with kids — both his own and those of customers. Second-most popular is the soft-serve, according to Mark. 
The family is doing its best to make the menu affordable, something that can be a challenge for vegan restaurants, which often require a higher overhead than their meat and dairy alternatives.
"A lot of times you'll go and get vegan things and it'll cost you 25-30 dollars just for two desserts," Schroeder said. "We're slightly above other dessert places, but are trying to keep it affordable while providing the highest quality product we can. People have been grateful, happy and supportive overall."
And, in an homage to Peak Sweets and Popcorn, whose former space Java Juice Cafe is now leasing — the couple has kept the puffy, crunchy treat on the menu. There are 20 flavors of popcorn to choose from, and while most of the popcorn toppings are vegan, there are one or two that are not. That's the only item that isn't, however. 
"But we make sure to mark everything so people know what is and isn't vegan," Schroeder said. 
The vegan dessert spot is open daily from 10 a.m. to 8 p.m. Starting on Memorial Day, Java Juice Cafe will shift to its summer hours, which will be 9 a.m.-9 p.m. every day.