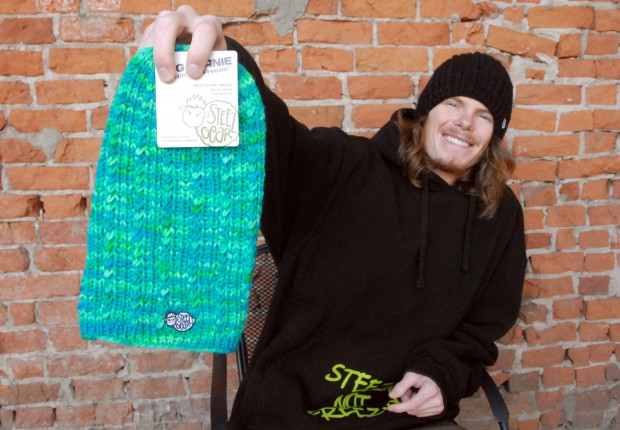 The story behind the start of a Flagstaff man's wool clothing line for skiers and snowboarders is a bit gruesome.
Eleven-year-old Josh Lannan found himself in tremendous pain from a severe frostbite after a long day on the ski slopes.
"A lot of the skin around my nose and my mouth was really badly burnt, and it was really painful," Lannan remembers.
There are no scars, but it changed what Lannan wears on the slopes.
"Since then, I've been wearing face masks to try to protect myself and so I wouldn't repeat that situation."
He spent the next few years looking for the holy grail of face masks -- a breathable material that can keep his face protected from the harsh elements.
"I tried every product under the sun -- I tried wetsuits, things made out of funky felt and acrylic meshes," Lannan said.
"Every product out there either froze, I couldn't breathe through it or I'd stand in the lift line and everyone -- including their grandmother -- would have the exact same face mask," Lannan said.
It was two years ago that Lannan asked his mother to knit a face mask of his own design. It was simple, lightweight and quickly became a hit on the ski lifts.
He chose to use Merino wool -- often used in other athletic gear -- to keep him warm.
"Even if it is wet, it will still insulate," he said.
Soon everyone was asking him for their own mask.
"My mom got pretty mad at me because I kept sending her orders and she couldn't keep up," Lannan said.
It was in that moment that Steez Gear was born.
Lannan, who admits he doesn't know the first thing about knitting, learned quickly that he would need to contract with an outside company to compete with established winter gear companies.
"In order to compete in the industry, we needed to outsource," he said. "I am not a knitter."
It would take about a year for Lannan to find a suitable company in China to fill his orders.
Quality control problems slowed the development, he said -- prototypes from overseas came back that either didn't hold up or didn't precisely match the pattern he created.
"It was a really long process," he said. "Things didn't happen as quickly as we wanted."
The most expensive item in the Steez Gear catalogue is an 8-foot long wool scarf for $85. Small headbands are sold for $22.
The company primarily sells gear online, but Steez Gear can be found in one store here in Flagstaff.
"We sell out of Oncore (Skate and Snow) simple because he is a very rider-driven shop," Lannan said.
Currently, there are no plans to expand this catalogue of snowboarding gear to other types of clothes.
"The snow is kind of my life," Lannan said.