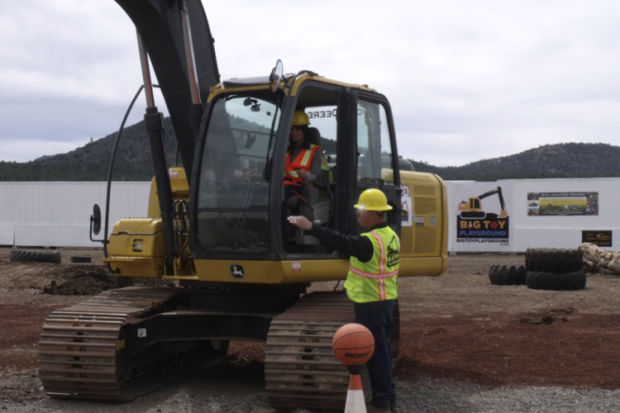 Local fans of the Arizona Highways TV show may see some familiar faces and construction equipment on the show this summer. The show recently shot an episode at Big Toy Playground in Williams.
Sharon Fox of Big Toy Playground said she received two calls from two different producers for the show asking if they could shoot an episode at the attraction. Big Toy Playground allows adults over the age of 14 to live out their sandbox fantasies of driving and operating construction equipment such as backhoes, skid steers and front loaders.
Skid steers are also known by the common brand name of Bobcat.
Fox said she and her husband, Larry, started Big Toy Playground last fall after Larry made a visit to a Phoenix convention and saw the line of contractors waiting to try out the latest equipment.
"We own an equipment rental business. So we already had all of the equipment," Sharon Fox said. "We started out a bit late, but business is starting to pick up."
The cost to play starts at around $250 for 90 minutes, she said.
Visitors must make a reservation so that the Foxes can be sure to have the equipment ready. They currently take reservations at 10 a.m., noon and 3 p.m. but will accommodate other hours, if they can. They also offer specials on their Facebook page. They also offer gift cards.
Visitors are first taught the basics of operating the equipment by one of the company's certified operators, said Fox.
"They start out digging and then move on to other things," she said. "But some of them don't want to stop digging. They like it that much and that's fine."
The other attractions include an obstacle course where visitors have to use a front loader to pick up a pole, maneuver it over a series of moguls and then put it back up on rack.
There's also backhoe basketball. Visitors have to pick up a ball using the scoop of the backhoe and deposit it in a basket that the company has made.
"It's not as easy as it looks," Fox said.
She said the company gets a pretty even mix between men and women who come to test their skills.
"I think men have more opportunities to use equipment like this. That's why we have women who come too," she said. It doesn't require any particular skill.
An instructor can walk anyone through the process and there is always an instructor on the course to help out.
The company also puts on regular shows for kids under the age of 14.
"We let them watch us operate the equipment on the course and then afterwards they can climb on it and check it out up close," Fox said.
671 S Garland Prairie Road