Fans of the former La Bellavia in Flagstaff's southside will be pleased to know that despite the brunch restaurant's renaming to Brandy's Café, much of the menu will stay the same.
This is because Ed and Brandy Wojciak, who opened Brandy's Restaurant on Cedar Avenue in 1993, were also the owners of La Bellavia, which they founded in 1976. Menu items between Brandy's Restaurant and La Bellavia have been similar for decades due to the shared ownership.
A few years after Jamie Drayton and her husband Kelsey acquired Brandy's Restaurant in 2014, they looked into buying a second restaurant. In 2018, La Bellavia went up for sale and the Drayton's bought the 18 S. Beaver St. fixture in September of that year.
"We thought we could have a stronger presence in Flagstaff by creating one unified brand," Jamie said of the recent renaming of La Bellavia to Brandy's Café. "As Flagstaff continues to grow and add new restaurants, our intention is that with two locations and our shared history, our award-winning food and service will be more accessible to people who live downtown and on the west side."
The current Brandy's owners have a personal connection to the former owners of Brandy's and La Bellavia. Kelsey, a Flagstaff native, grew up playing Little League with the Wojciaks' sons and was coached by Ed as well as Tim Gomez, who previously owned La Bellavia with his wife, Pat.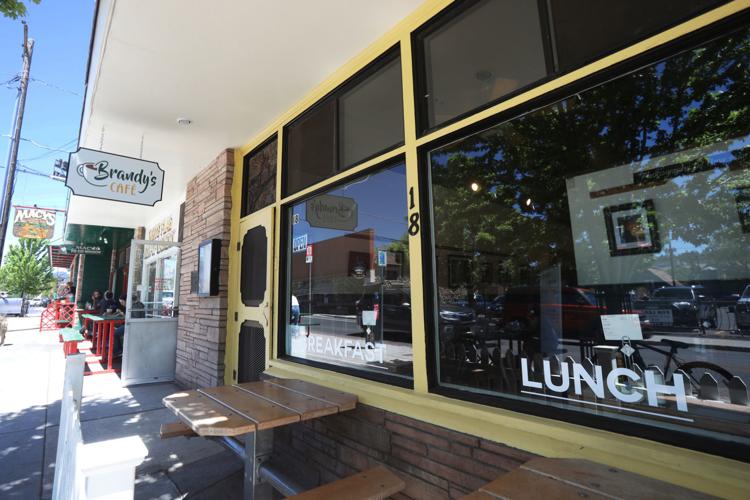 Kelsey was hired at Brandy's in 1995 as a dishwasher while he attended Coconino High School, and worked at both Brandy's and La Bellavia up until his Northern Arizona University graduation. Jamie and Kelsey met at NAU, both tried their hand working for television in Los Angeles and then moved back to Flagstaff in 2011. After returning, Kelsey started working at Brandy's again, eventually making his way up to general manager.
Kelsey's deep-rooted connections with both Brandy's and La Bellavia, as well as the eateries' owners, prompted him to lean toward preservation rather than a remodel with the takeover of the café.
In fact, the original wooden "La Bellavia Sandwich Shoppe" sign from the 1970s is prominently displayed above the espresso machine, in what Kelsey calls "a little homage to the original shop."
THE SAME, YET DIFFERENT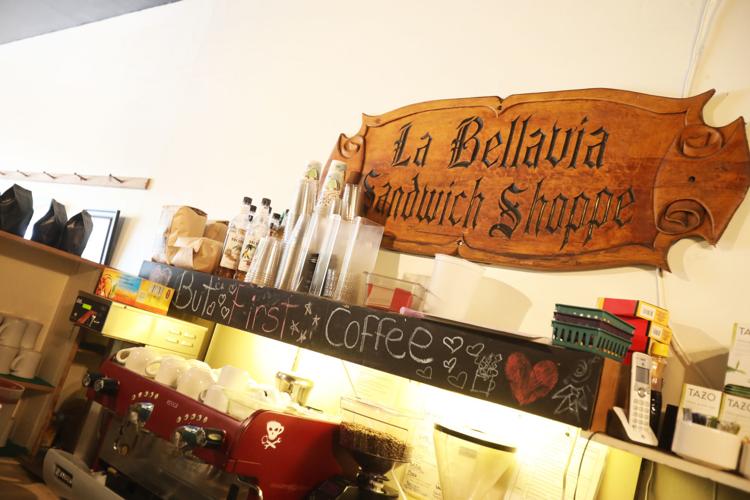 "Many of the items on the [La Bellavia] menu were already the same as Brandy's, so there was a lot of overlap," Jamie explained. "Benedicts like The Jesse and The Beaver Street were very popular on the La Bellavia menu so we kept those at the café and will be adding [them] to Brandy's Restaurant's menu later this year."
One improvement to the previous menu was the addition of more sandwich and salad options, Jamie said.
However, with Brandy's Café being a much smaller area than Brandy's Restaurant, the menu doesn't have everything that Brandy's Restaurant has on it.
"We had to eliminate some things, like french fries, because we don't have room for a fryer," Jamie said.
Despite the fryer, Jamie made sure that Brandy's Café still had all of Brandy's Restaurant's "greatest hits," and the made-from-scratch pancakes and benedicts are now the best-selling items at both locations. The baked breads and bagels sold at the bakery at Brandy's Restaurant are regularly brought down to the café, with the cinnamon rolls, sticky buns, muffins and scones to follow.
While Jamie's favorite café items are the Strawberry Walnut Chicken Salad and the Eggs Brandy, a benedict served on a house-made bagel, Kelsey opts for the Breakfast BLT with apple cider cured bacon and the Brandy Melt with Swiss cheese melted over smoked turkey and green chilies on a grilled house-made baguette.
Jamie and Kelsey also found Brandy's Café's smaller area difficult to work with at first.
"Changing one thing [had] a ripple effect throughout the restaurant," Kelsey said. "But me and some buddies (including Brandy and Ed's son Bret Wojciak) would come in after hours and just start working on things. We added some new siding, new flooring, tore down some walls, painted and got some new equipment."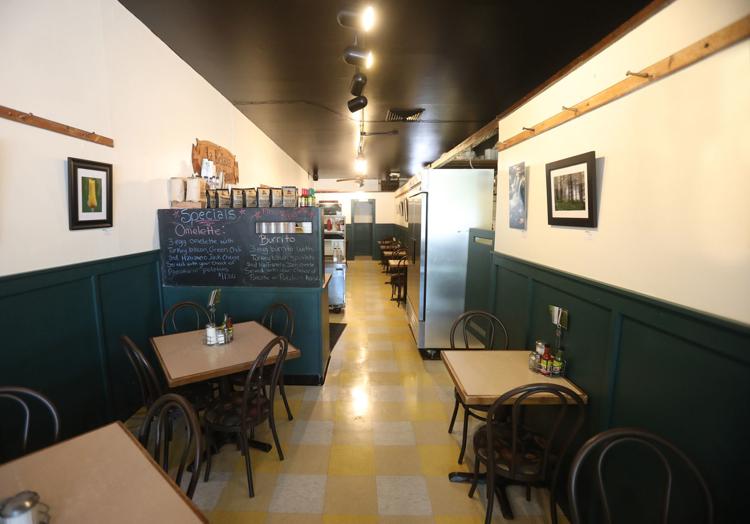 Kelsey said they hope to open up the space a little more, and started by removing the front wall that was at the entrance. New tables and chairs are in the works, as well as a renovated front patio with a fenced bar top facing the street.
"We wanted to create a space that was reminiscent of Brandy's Restaurant but still had that cozy, downtown old school vibe," Jamie said.
Local art still lines the walls at both locations, rotating between professionals and high school students, which Brandy started long ago. Jamie and Kelsey needed to be careful not to make Brandy's Café too similar to the restaurant though.
"The downtown clientele tends to be a little younger and includes more tourists," Kelsey said. "We wanted to make this kind of like Brandy's younger, hipper sister."
The couple are also hoping Brandy's Café will attract more business professionals and locals downtown during the weekdays. Brandy's Café will have its grand reopening celebration later this summer.